Updated May 31, 2023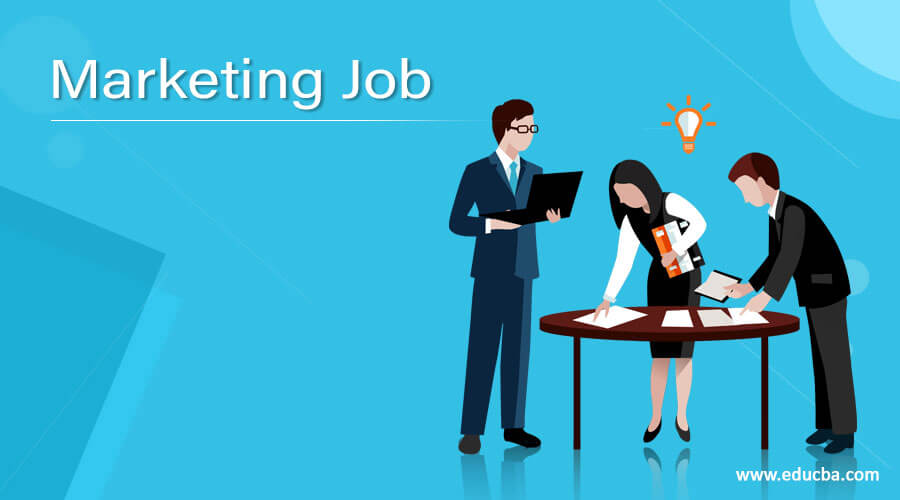 Types of Marketing Job
Marketing normally is defined as the moving of goods from the originator to the final consumer, but is it that simple? Marketing is the culmination of behavioral and management disciplines. It is driven by instinct, ingenuity, motivation, and modernization. Marketing employs scientific methods to build a unique brand. It necessitates expertise to spot new ways to sell a product. A great deal of vision is required to execute marketing designs and plans efficiently. If you are planning to take up a marketing job and work in this challenging field, there are various options you can consider.
Top Marketing Jobs
Some of the various marketing jobs are as follows:
1. Social Media Marketing
Social Media Marketing is the biggest platform for a business to market itself around the globe. Mostly all industries today have taken this marketing up. The most sort after marketing tool of the modern era. It is a billion-dollar market and on the rise for the foreseeable future. Giants like Facebook, Twitter, Instagram to name a few are self-sustaining business models.
From a restaurant to a manufacturing business, everybody wants a strong presence of their business online. Every company needs an online existence these days to survive the cut-throat competition, and for this businesses require marketing managers who would handle such marketing online. The marketing job is not only to build a brand image for the business but also to bring in business through marketing methods that would connect with the customers. They can do this through various strategies, this can be blogging, handling various social media pages such as Facebook, Twitter, LinkedIn, etc. These services help in building a unique brand value for their businesses.  Forum participation and posting is another way through which marketing is undertaken and traffic is diverted towards the client's concern. This kind of marketing is subtle but hits the target by increasing the business's bottom line.
2. Healthcare Marketing
With healthcare the main priority for the general public due to rising pollution and diseases, this field has become one of the most lucrative career options. Physicians, Doctors, Hospitals, etc., undertake this marketing to publicize their standing in the market. Healthcare industry includes hospitals, nursing homes, diagnostic centers, etc. Marketing in this industry can be either B2B (Business to Business) or B2C (Business to Customer). Marketing opportunities related to healthcare and hospital services are escalating, as India is now focusing on healthcare and giving it major importance. Spending on healthcare is now 5% of the GDP and is estimated to increase at 12%. Showcasing hospitals' medical arsenal, doctor profiling, and patient benefit are some of the core marketing strategies behind which healthcare marketing takes place.
Some of the strategies adopted by marketing professionals are ATL or BTL, which are above-the-line and below-the-line marketing strategies. ATL or above-the-line marketing deals with promotion with TV, radio, pamphlets, etc, while BTL includes direct mails, interactive seminars, events, etc. In the case of healthcare marketing, holding an event at another corporate office would be categorized under BTL activity.
3. Public relations
Public relations or commonly known as PR, is one of the most popular marketing in the industry. They play a vital role in marketing for any organization. PR has a plan of action wherein many strategies can be used. Inbound marketing strategy is one of them. Talking to press, blogging, familiarizing customers about the product/business, building relationships, and providing after-sale services to the clients are some of the strategies that PRs use.
Negligent marketing of new upcoming talent could land them in deep waters. On the other hand, a deep analyzed projecting of the talent could lead it to unimaginable success. A tricky yet straightforward sector where jobs are increasing at a supersonic rate. Believing in what you are marketing is the key asset in this sector.
Recommended courses
4. SEO Marketing
SEO or search engine optimization deals with pulling traffic to a particular site. As search engines have gained popularity, rating high on these engines adds popularity to the client's business. To pull this traffic, such work is given to the experts who can make their business look glamorous. This can also be done through paid promotion. To avoid payments for advertising, such SEO marketers are hired.
SEO, or Search engine optimization, marketing is one of the most important marketing of our times. In this golden age of the online era, anything to everything is listed on the internet. SEO marketing tells us where to find what. A customized and specific strategy is provided for the seller by the SEO marketer. Due to a congested market on the web, a seller must survive the odds. Search engine optimization is the only viable and affordable option. However, nowadays, the jobs in this sector have relatively increased, as the seller wants their products to not only have an online presence but also be visible at the right place to prospective customers.
5. Content marketing
Content marketing plays a vital role in any business if done correctly. For any business, content should be fresh, new, and engaging for anybody to read. Without good content, even SEO marketing fails. SEO is a part of content marketing. The market is full of cutthroat competition, a new idea, a new catchphrase, or maybe a name that the business comes up with would already be taken by some other business. Therefore, to have content that stands out and screams your business' USP is something that should be highlighted. Case studies, guides, e-books, blogs, etc, are some of the strategies content marketers use.
Due to the Ascension of the online portal system, the need for content has also risen. The content companies have reliable sources, but due to this huge surplus demand, they are lagging in the overall distribution. A huge employment opportunity is available in this sector as the content does not sell itself. You just have to know the right places to market.
6. Product Marketing
A product will only sell if it's marketed to the right audience. This is a very apt sector where a product analysis could give insight into its targeted audience. A stream of new ideas and new blood is required in this sector for rejuvenation. Product marketing will always be an evergreen job sector for seekers. In-depth analysis and careful product assessment are the key elements of this marketing strategy. The strength and weaknesses of a product define the lifecycle. Moreover, proper channeling of the product's strength could lead to positive marketing and brand building.
7. Education Marketing
Another form of marketing job that has come up is marketing in the field of education. With the advent of private universities and a competitive market being the driving force, education marketing job has become the need of the hour. Higher education marketers work with the universities and industry market. Some strategies adopted to reach students are marketing through smartphones, newsletters, email marketing, etc. These marketers tie up with the best brands to promote the universities' talent in these companies. They use digital marketing to generate and convert leads. Education is a national agenda and requires private and government support. With their help, education marketing is bound to become the biggest market in the near future.
8. Market Research
These marketers conduct market research about a product/individual or an industry. This means handling both qualitative and quantitative research of a particular section. This kind of research is one of the key elements for business planning. It helps the organization in strategy formulation. This would ultimately result in an increase in ROI. While conducting such research, it is imperative for the marketer to segment the market, research the market and finally conduct the SWOT analysis. SWOT analysis deals with the strengths, weaknesses, opportunities, and threats that are looming in the market. Some of the strategies that marketers can adopt can be conducting interviews, focus groups, surveys, tabulating data, etc. Good written skills are one of the mandates for this kind of marketing job.
9. Event Marketing
Event marketing is one of the most sought-after jobs in this industry. The ever-growing business has a lot of scope for innovation and vision. From décor to entertainment, venue to catering supplies, this field of marketing is bound to enhance skills. Event marketing job has different range of variety. Selling out an event is a very difficult task, but in this specific kind of marketing you could use all the mediums of communication. Social media, banners, and advertisements are the benchmark of event management. With the help of these entire sources at your disposal, one could thrive in event marketing. A little innovation, creativity, and out-of-the-box thinking could do wonders in event marketing. Further, event marketing broadens a person's vision and forces them to venture into different prospects in the field. Event marketing not only enhances your knowledge of a specific topic but pushes you into lots of carrier-defining aspects.
10. Fashion Marketing
Fashion marketing is a very trendy and up-to-date marketing job. This fashion marketing job requires regular and intensive research about the current fashion trends followed worldwide. By gaining that knowledge, one could build up appropriate strategies for its product to stand out in the market. Fashion marketing gives you a current insight into the latest influx of all the products in the market and helps you to design your own marketing layout.
A good advertising campaign can spell all the difference for any brand. This field has many types of marketing, such as sales pitches to the customer, branding, retail operations, retail buying and selling, and many more. Fashion marketing managers may require to advertise, brand, and public relations. These marketing managers may have to travel for new store openings, and they form a liaison between the brand and the customer in B2C marketing. In B2B marketing, large brands tie up with various malls to have a superior display of their products. Fashion marketing can sometimes be tricky, but a researched approach and proper analysis could help you achieve your goals.
11. Sports Marketing
Sport marketing is a very glamorous and high-pressure marketing job. Excellent oral and verbal skills are crucial in sports marketing. Persuasion of clients with communication techniques and skills is a must in sports marketing. Sports is one of the biggest industries in the world, which could help one to venture into an infinite implementation of ideas and strategies. Sports marketing also requires client relations and budget allocation scenarios. This kind of marketing job also requires building up efficient writing skills and forming interpersonal relationships. From Kabaddi to Football leagues, many leagues are coming up in India nowadays. All sports, including these, have marketing managers who help connect managers with great team players. Further, sports marketing helps one connect different mediums and advertise the product on a larger scale.
Whatever the marketing job, all marketing officers must be creative, smart, and up-to-date with the current market trends to generate and convert leads. This helps the organization increase the ROI and builds a strong reputation for the company. Marketing forms the backbone of any enterprise and if the marketing department runs effectively, it can make a substantial difference to the company. There are umpteen marketing jobs in our country. Excellent communication skills, both written and verbal, and the driving force in an individual are some of the key skill requirements for any marketing officer.
Recommended Articles
Here are some articles that will help you to get more detail about the Marketing Job Titles so just go through the link.