Updated April 25, 2023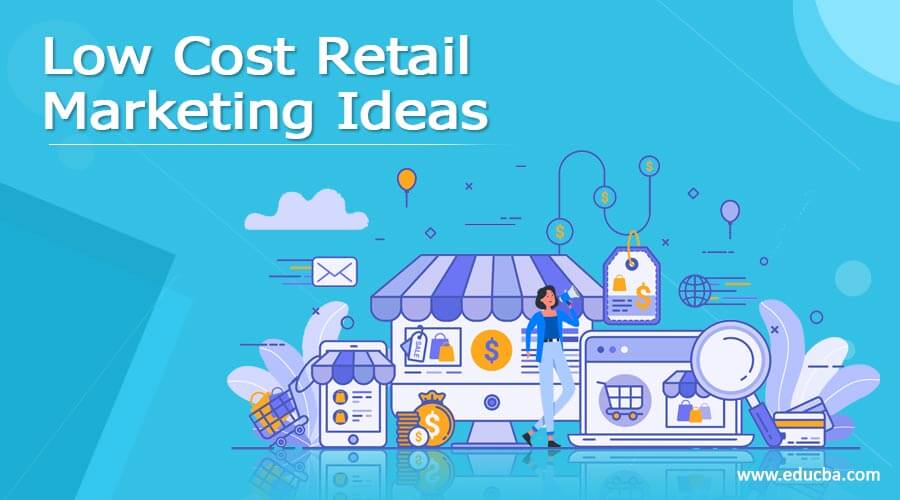 Introduction to Retail Marketing
Sometimes, just by throwing up a fresh and innovative marketing program, a company can discover new ways of delivering value to its customers. So, keeping this point in mind, we will give our readers 15 main fresh, low-cost retail marketing ideas that are easy to implement and can be implemented using minimum communication skills and within budget. This may also involve offering a slight discount at some point in time, but we can guarantee that by learning and following these tactics, you would greatly benefit as a company.
The main idea behind applying such new concepts in retail marketing is that they help increase foot traffic, increase word-of-mouth and loyalty, or a combination of any of them. We will mention each idea's merits (and possible demerits) and how other successful retail marketing companies have implemented them. We would also be discussing any problems that may arise whilst its implementation.
Problems that may arise whilst its implementation
So, here are they:-
1. Create a card that asks the customers to give online reviews
This is a significant step as it would improve your search engine performance. Google is, nowadays, keeping track of all the reviews and suggestions provided by customers about a particular brand through its algorithms. You can be assured that whenever a customer searches for a piece of info, Google looks up reviews posted related to that search and then shows up the search results.
As a real-world example, an inquiring customer was helped by his consultant to get established on Google Places, TripAdvisor, and other related directories. Now, that client plans to introduce variations of this card to its customers. Such an easy and profitable idea!
2. Create a combo of products that offer discounts instead of buying them separately
One way of increasing the average transaction amount is to increase the overall revenue. Thus, you should offer your products in packs or combos, which would be liked by the customers and would start to be content with your brand. Hence, satisfied customers mean returning customers, and your business will flourish.
For example, McDonald's had to introduce the Happy Meal, which worked wonders for them. Similarly, other retail and fast-food joints launched the idea of offering combos of coffee, pastry, sandwich, chips, and a beverage. Those in the women's boutique business ensemble hats with handbags saw their fortunes slide upward. So the moral of the story is to be creative!
3. Create a photo contest for customers
This is a very efficient tactic to help showcase their talent and your products to the customers. Many of your loyal customers would take pictures of your products, which would be shared and reused on your website, stores, and marketing materials. After all, it isn't said for nothing "a picture tells a thousand words."
For example, a chain in San Francisco by the name of Pizza Orgasmic has a gallery of its customers on its website wearing the brand's t-shirts and also hangs framed photos of some of its top customers. Another chain, George's Music in Pennsylvania, runs a photo contest via its Facebook page and asks its fans to post their pictures with their instrument onto the wall.
4. Announce your own Group on-like offer on your Facebook page
Your Facebook fans would most likely observe the offer and will bring in non-Facebook users in a group to your store. This process of introducing new customers via existing customers is a win-win situation for everybody. For example, Tropic, a Mexican restaurant in San Francisco, offers free drinks to a customer who brings in 5 new ones. Thus, in my view, if you run a restaurant chain or a pub, you must consider implementing an offer just like that or introducing a Happy Hour scheme to get in more customers in the unoccupied hours.
5. Tweet or e-mail a special word that customers can share to cash a discount or a free gift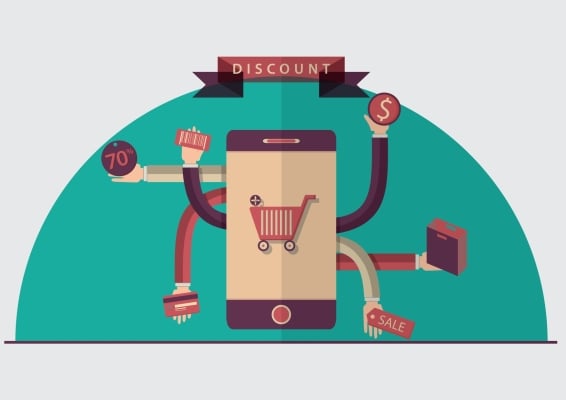 This is a new scheme introduced by many retail marketers, especially through social media platforms. In this, the marketer shares a specific word or phrase that a customer can see on the company's official Twitter or Facebook page. They can then memorize or note down the word and share it at the cash counter of the company's retail store to avail of special discounts or, in some cases, a free gift for themselves.
For example, Domino's Pizza frequently shares a unique word or code with its loyal customers on its Twitter page or via e-mail, significantly reducing their order price or making them eligible for a gift toy or something like that.
A conscious marketer always knows how difficult it is to draw in more and more customers and fulfill their wishes. Yes, this activity involves a lot of time and effort, and one has to overcome many challenges to be a successful marketer.
Low-Cost Retail Marketing Tips
So, we will present a few tips for the benefit of low-cost retail marketing to help our aspiring young marketers and the more experienced ones as well. Some of them are as as follows:
1. Keep track of all marketing activities
You may not have ever calculated the ROI (Return on Investment) on your most recent previous marketing activities. But this is not a good habit. You may not even know whether the last marketing campaign was a success. Were your goals measurable and specific? However, it's very important to set specific and achievable goals and then develop a mechanism to track those objectives for each marketing effort launched, whether online or off. You must also be very clear about what exactly you are trying to achieve with your marketing efforts. Is the goal to get more visits to your site, generate more revenue by sales, or get more and more post-sales customer reviews?
Whatever your goal is, make sure to track all progress made to get a valuable understanding of how to go about in the next marketing campaign. An effective retail marketing strategy is to learn from your previous mistakes and try not to repeat them. You can also get some help with this, especially with the help of retail training software.
2. Free marketing openings
A good marketing strategy is to use the upcoming trends in social media in your business and get customers involved. Place your company's posters and flyers on your community bulletin boards and busy places on the road. You can contact other local retail marketing companies to share your company's marketing material and broaches so that to have them placed on their spaces at various spots. For example, you can collaborate with a partner organization similar to yours in size and domain, and you could be sold for each other! For example, your retail store dealing in grocery can partner with a fast food joint to offer a special package, a gift from your store, or a dinner for family or movie tickets for free. Such marketing innovations may cost you little in terms of printing and distribution; however, the overall benefits are large and encouraging for your business.
3. Repetition
Due to unresponsiveness, many frustrated (or lazy) retail marketers send one or two postcards via mail and never bother to send them again. But this is not right. After all, repetition sells! Have you heard of the rule of seven? A customer must see an ad seven times before he decides to buy. It doesn't mean you need to get your message across seven times, but two or three times won't harm you. That's a promise! Try to send your message as often as possible, especially with flyers, ads, banners, and digital marketing.
4. Follow-up
Do you keep track of your customer's after-purchase behavior? A satisfied and happy customer is a big asset to the business. He may not only get back to you for future purchases but refer you to his friends. Now, how you deal with those new prospects is up to you. Typically, you can send them a free gift or a discount coupon to encourage and entice them towards your brand. Remember, happy customers always mean more business!
5. Be a resource for your customers
As a marketer, it is useful if you can act as a resource for your customers. You can do so by asking open-ended questions about how they feel about you. Ask them questions like who they normally shop for. Or what are their suggestions to you? Offer them advice on giving themselves or a loved one a nice gift and becoming a trustworthy resource. All your input, advice, and help in any form don't go worthless and make your business stay on top in customers' minds.
6. Workers' training
Workers' training does not only consists of how to open and close, work the register or keep the items stocked. It should include another significant aspect – selling. It has been witnessed that when a company trains its employees, the art of selling its overall chances of success greatly increase. Customers automatically become more content and loyal when your employees are skilled, efficient, and knowledgeable.
7. Test
Just like a mechanic tests for the fault before he can proceed with the actual repair process, you, as a marketer, must also test your marketing campaigns' degree of success. You must also test your marketing materials in conjunction with one another to ascertain which is doing better. Test a segment of your mailing list for the appropriate version and send that version to the entire list after getting the result. Such a testing procedure is also very valuable for email marketing, direct mail, and landing pages.
8. Targeted Approach
You have done a good job if you can know the common traits of five of your most repeated customers. The reason is that it would be extremely difficult to target your next customers without such knowledge. Thus, try to find everything related to your best customers and develop a customer profile base. Once you create sufficient customer profiles, you can send similar ones to your ads and other marketing materials to better target your prospects.
9. Construct customer relationships
Getting personal can sometimes help. Yes, it's surely true in the world of marketing. It is an effective way to tell your customers that "you care." Marketing doesn't always mean selling. This is proven by your effort, which helps build long-term relationships. Believe me; your customers appreciate it when you wish them on their birthdays and anniversaries or remember other important life events.
10. Public Relations
Although they are different terms, marketing and public relations have a common objective; to make the customers aware of the company's products, services, and offerings. Whenever you have made a new product, hired someone, conducted an event, or made a charitable contribution, first make a press release and send it to local newspapers, magazines, TV stations, and websites. Optimum coverage isn't always guaranteed, but your business would definitely earn the public eye when prospects and customers see your press release through the media.
Retail Marketing Conclusion
These were some effective and powerful low-cost retail marketing ideas every business could adopt to be competitive in the industry. We hope you also have got your idea for starting or reinstating your business objectives in the retail marketing line. These 10 simple retail marketing advice should help your business make desired sales and boost more effectively with your marketing.
Recommended Articles
Here are some articles that will help you to get more detail about Retail Marketing Ideas & Tips, so go through the links.