Updated June 13, 2023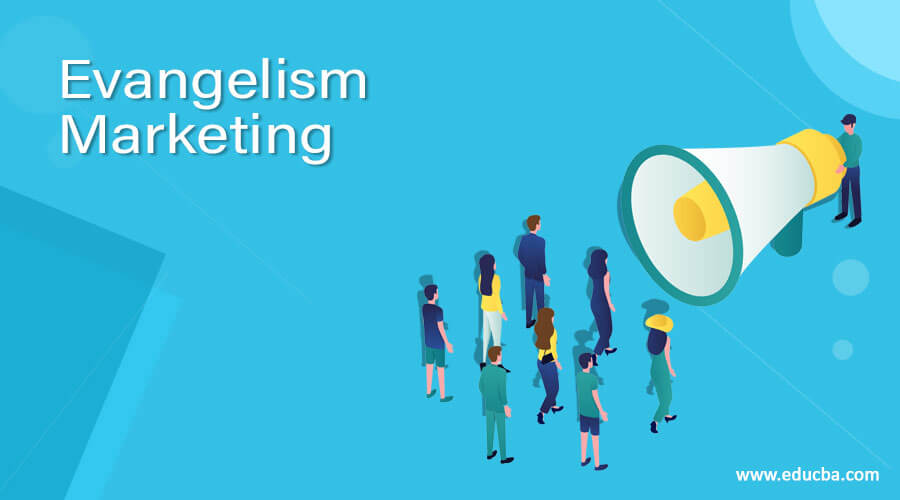 Evangelism Marketing –
When we think of marketing, most people know about mass media marketing, where radio, newspapers, and television are used for advertising products or brands to a large audience, which helps create brand awareness and sales conversions. Then came the inbound marketing strategies, where informative content drove traffic to a web page or social media page resulting in passively driving leads that have the potential for conversion into the customer.
A marketing concept borrowed from religion can bring the organization long-term business and customer loyalty.
It is known as evangelism marketing. In religious terms, it denotes the preaching of the gospel or the practice of giving information about a particular doctrine or set of beliefs to others with the intention of converting others to the Christian faith.
Many companies, including Apple, have effectively used this strategy to convert customers into evangelists. Apple is the most quoted example of a success story in evangelism marketing.
Guy Kawasaki, a former evangelist at Apple, and author of bestsellers The Macintosh Way and Selling The Dream, recalls that in 1984 when Apple launched Macintosh's personal computer, it was only an assembly of plastic, metal, rubber, glass, and silicon. It unleashed a new wave of competition to market leaders IBM, which ran on MS-DOS. However, Macintosh didn't have the software to make it popular. It ignited a wave of fervor and zeal in early adopters, hobbyists and college students, software developers, and employees of Apple itself to like and spread the new technology.
Mike Murray, the marketing director at Macintosh, introduced evangelism in the company in mid-1983. The official and unofficial software evangelists carried the Apple brand to new heights, thus overcoming the shortage of software, poor initial sales, and brutal competition with IBM. Macintosh's success was that it made users feel more creative and productive. They spread it by word-of-mouth as using the product made them feel better or perform better; they got zealous about it, and when they are zealous of something, it becomes a cause.
Some ways to make evangelism work for industry:
1. Let it begin In-house
There is a saying that charity begins at home. Small and medium businesses should first get evangelism to work in-house. Employees, managers, and salespeople can carry the brand's enthusiasm to its vendors and customers to win them over when the company staff members become its evangelists, which raises confidence among prospective customers.
2. It's not for big businesses but also ideal for small and medium businesses
When Apple tried out evangelism, it was not a big player but a startup struggling to get a foothold in the market. Small retail businesses can create product evangelists from their own customers. They can try out the products, report on its quality and pass on the information to other prospective customers. Arizona-based Buffalo Exchange created a set of evangelists for its used clothes from among high school students interested in fashion design. Rewarded with gift cards, the students dressed the display mannequins in their preferred styles. This activity helped create a buzz around the product among their friends and classmates.
3. Go for Party time, not product demos or conferences
Party time creates feelings of happiness that can enable the passing of product messages to friends. Discovery Education created a party atmosphere for engaging educators and administrators to excite prospects about their catalog. They, in turn, went back to school to spread the message of Discovery's products. It is only possible if they do it through a product demo or a presentation at technology conferences.
4. Mainstream customers should be the focus
Early adopters of a product, especially for new technologies, would constitute only 2-3% of the market, while the mass market constitutes the majority. If the new product is optimized for the minority, it won't help in the long run, according to Dorie Clark, marketing strategist and a teacher at Duke University.
5. Rely on big data
Unlike Steve Jobs of Apple, not all CEOs and marketing heads may be quite instinctive, and they need to rely on market data to develop the right evangelism marketing campaign. The best example is Amazon, with its Kindle, which grew on the basis of thousands of customer reviews. Alex Goldfayn, author of Evangelist Marketing: What Apple, Amazon, and Netflix Understand About Their Customers (That Your Company Probably Doesn't), opine that the cornerstone of creating an evangelist is a deep understanding of what the customers think and want and how they use your product or service.
6. Rely on Qualitative Research
It is not only in structured and unstructured data (big data) that customer preferences and wants lie, but in direct interaction with customers and not internet surveys. Ideally, the company should send people to conduct a 20 or 30-minute interview with customers to understand their thoughts and interactions with the products.
7. Use social media to reach customers
According to Gerald Hanks of Demand Media, social media has emerged as an ideal medium for evangelism marketing examples. Even small businesses can employ Facebook, Twitter, and YouTube to create a community around the lover of their products. On these platforms, customers can express their likes and dislikes. Domino's Pizza made several changes in its business after listening to conversations in online communities. Domino's taking care of customers made them feel like they were being taken care of, and they became evangelists for Dominoes.
8. Evangelize the right people at the right levels
Guy Kawasaki opines that marginally successful companies and start-ups turned out to be the best Macintosh software developers and not established players. MS-DOS market leaders may have cared less whether Macintosh failed or succeeded as they had no motivation to do so.
Similarly, in an organization, the right people to evangelize are not at the organization's top as they only manage not to do the real work. When someone bypasses the real workers and approaches those at the top, it could also annoy the real workers. Johnny Carson sent a copy of his new book to NBC staffers, who started to talk about it, and soon it was noticed by the producer, who in turn scheduled the program with Carson.
The company's employees are the people who directly interact with the customers. And if they are dissatisfied with the work environment, they will just do their job for a living but will not take the initiative to spread the good word about the brand- or preach. Therefore, it is important to increase job satisfaction and employee satisfaction levels in the company to get good evangelists in-house who will preach to customers and others about what the product, company, and promoters stand for.
Performance-led incentives, bonuses, discounted movie tickets, company picnics, free lunches, etc., can improve employee satisfaction.
9. Blogging is effective for evangelism marketing
In a Forbes column, Aj Agrawal feels blogging is a great way to go further in evangelism marketing. The blogs should be about what's happening behind the scenes in product development, release product snippets and get people to talk about it. Engagement is an essential part of a business blog. To engage effectively, you should end the blog with a question, post a reply when an answer, tag the person who responded and ask another question. This will create an atmosphere of interaction, and soon more people will join the community as soon as it is shared on social media.
10. Understand your competitor/competing brands
A start-up company often finds getting a foothold in the market difficult despite having a good product. It is very important to use market research to understand what the competition offers.
Why do customers choose competitors' brands, and how do they perceive their service, product quality, and brand value?
Advantages of Evangelism marketing examples
1. Cost-effective
Evangelism marketing is not for big businesses alone; Small and medium businesses find it most suitable as it offers a high return on investment (ROI) and typically results in higher sales conversion than the money spent, as referrals are usually free. Evangelists support the cause of the product or brand with their money and word-of-mouth publicity which is much more valuable than a celebrity's endorsement of a product he or she may have never used.
2. The Best way to brand your product
Unlike mass media advertisements and hoardings, evangelist marketing aims to determine how a brand fits into a customer's life and make that fit as easily as possible. The company's support in achieving customer satisfaction with the product leads to referrals.
3. Evangelists are ordinary people
According to Guy Kawasaki, there is a myth that evangelists are people with special skills, dynamic personalities or charisma but very ordinary people. What makes them stand out is not their educational and career achievements but their passion for the cause. High achievers and gifted people can become evangelists, but they may end up selling themselves instead of the cause. And the best way to find an evangelist is not to look for them at all; they'll find an opportunity and come, Guy Kawasaki opines
4. In evangelism marketing, you are not selling the product but a cause
Taliq Corporation in California produced liquid crystal technology in its glass products. This makes the office walls translucent for privacy or clear for a spacious feeling. It lets workers remain cool in direct sunlight and lets customers see inside the restaurant while picking up their orders. Taliq succeeded not because it sold LCDs in the glass but because it sold the dream of comfort and privacy.
5. It breaks conventions regarding product and solution
The success formula in marketing is often to find and fill a need. In evangelism, the opposite can happen; a solution can run in search of a need. Virtual reality was a concept in the University of North Carolina graphics lab looking for a need. Dr. Julian Rosenman stepped into the lab one day and got the idea for using it in cancer radiation treatment- to beam where the cancer cells were and away from where it wasn't.
Conclusion
How to identify evangelists? They are driven to a cause, committed, have leadership quality, and are willing to listen and learn. Evangelism marketing examples may look easy from the outside, and most of all, hearing the success stories alone. However, some good books are available for the discerning entrepreneur, including Guy Kawasaki's Selling the Dream, published by Harper Business, or Alex Goldfayn's Evangelist Marketing: What Apple, Amazon, and Netflix Understand About Their Customers (That Your Company Probably Doesn't).
Several case studies in business magazines also help develop evangelistic qualities in everyday living, such as joining the Parent Teacher Association at your child's school, volunteering to help the elderly learn a new skill, or providing medical aid to poor children in a locality. Evangelism marketing leads to seeing products beyond profit-driven business promotions.
Evangelistic people advocate for superior products and find new uses for existing solutions to enhance our quality of life. Since it works well for all sorts of businesses, start-ups should be the ones eagerly trying it out first.
Recommended Articles
Here are some articles that will help you get more details about evangelism marketing, so just go through the link.