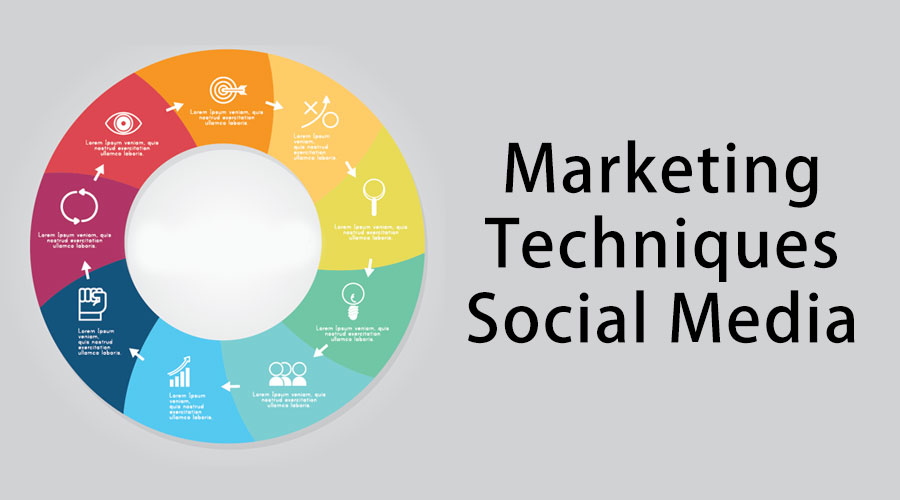 Introduction to Marketing Techniques Social Media
Marketing Techniques social media to use Strategies – In business, there is a perception that even an average product can do well in the market because it all boils down to how you sell it. 'It's not the product that matters, but how you sell it'. Naturally, enough companies employ different marketing techniques for social media to reach out to consumers.

Dale Carnegie, the legendary success guru, has said the most basic principle in influencing people- it should not be 'I' that should be the focal point of conversation but the other person but 'you'. This can be at the core of your marketing techniques social media you adapt to win consumers to your fold. The focus should not be on we have created a great product, revolutionary technology, and awesome features, try it out. Consumers will sure be happy to learn all these but purchasing decisions would take place only if it is seen to solve a problem, help make life convenient or add value to the customer.
In a crowded marketplace, the best way to get noticed is through branding which in a nutshell means creating value in the minds of the consumer. Value is created when a product or service fulfills the genuine need of the consumer.
Market surveys help assess the need for a particular service but in some cases, buyers may not be able to conceptualize a need but may wholeheartedly welcome a new product if that satisfies their need or is a solution to some problem they are facing. For. Eg. dandruff, hair fall, fat buildup, or something that makes vegetable peeling easier in the kitchen.
To evolve effective marketing techniques in social media, a marketer needs to work as a psychologist- understand what drives and motivates customers. They should go beyond traditional customer demographics. It includes age, gender, race, income and geographic location which are used to analyze market trends. For a pizza outlet, if the majority of people are in the 18-15 group in the area, another motivating factor such as taste, ambiance, convenience, media campaigns should be assessed before evolving marketing techniques social media to boost sales.
Most often pricing is not the only reason a product is preferred over others. It could be safety, quality, durability, convenience, technological features, perceived value for money, design aesthetics, and so on.
Top 10 marketing techniques social media for success
Here are ten marketing techniques social media for success:
1. Stand out from the crowd and the USP
There are several products launched every day but not many become household names. If you need to stand out you need to create good campaigns in the media if it is a mass-market product as a bar of soap, hair oil, electronic appliance, mobile phone. Without being seen or talked about, there is little chance of the product or brand succeeding in the marketplace. In order to stand out, every product should have a unique selling proposition (USP) which should become the core focus of your marketing techniques. It is a quality or a set of qualities that differentiates you from the competition.
Skypark courier ran the campaign- 'we deliver, wherever on earth, on time'. In one sweep it identified itself as a global player and promised delivery on time which is a vital concern for courier customers. Tata's Nano car positioned itself as the cheapest, smallest car and hence also succeeded in getting export orders.
It is on the strength of the campaigns on TV, newspapers, magazines, and radio that people start asking the retailer for the product. By the time the campaign starts running, the Point of Purchase (POP) hanging ads should be ready at retail outlets and simultaneously there should be a minimum inventory of goods with them to cater to first time buyers.
Many a time mass media campaigns are on and POPs are also ready but the product may not have reached the retail shelves as proper distribution channels haven't been put in place. Retailers may be reluctant to stock new brands and hence a sample set may have to be given on credit and cash collected on an after-sales basis to get entry into the market.
Depending on the popularity of the initial media campaigns, many consumers may be urged to make their first purchase and hence timely availability is vital to get the first feedback from consumers.
2. Hoardings & Electronic banners
Any mass-market product will start to get noticed once they appear in banners and hoardings across cities. Commuters may only just have a glance at the ads hence it is better to focus more on visuals than words. The hoardings of S-Cross, the new version of Maruti SX-4 introduced in India in hatchback has an imposing photo of the car and just these words- S-Cross, The Premium Crossover. It is indeed a hatchback with the features and power of a sedan. Or that of ACC Cement- Cementing Relationships.
Just as in mass media, hoardings and banners have a mass appeal when displayed across cities and towns as the commuting crowd is mixed and belongs to all walks of life. Since hoardings are booked for six months to a year, frequent commuters are most likely to see them and closely associate the brand, its looks, and design when they see in retail shops or any point-of-purchase.
For garments, jewelry, consumer goods, and most products, young women models are more likely to be featured compared to men. It is general psychology that women tend to attract more views in ads that influences marketers to portray them. Exceptional cases are in the case of automobiles, cement, steel and related ads where men tend to be featured prominently.
3. Public Relations and Media coverage
If the product is good or is quite exceptional, it makes sense to announce the launch of the product in newspapers and TV channels. If the launch is by a celebrity, it makes more new value for the product as well as the medium. The launch can be announced by the top management in a press meeting which shall be followed by cocktails and dinner.
The prominent features of the product, company profile, and future plans can be announced in the press meet which is usually published in the business or market promotion pages of newspapers. The value of a news item is that it is seen as more credible by readers than an advertisement. Moreover, corporate image building is better done through the media which in turn would also help in the future. Moreover, product launch news with photos can add value to the marketing campaign of the company. It may be recalled that the legendary Steve Jobs of Apple used to hold a press meet every time there was a product launch. This tradition is now being continued by the new CEO and CMO. Hence, these marketing techniques of social media have been successfully used by corporates across the world.
Recommended courses
Online Certification Training in Neuro-Linguistic Programming
4. Events and promotions marketing techniques in social media
Events and trade fairs are widely attended by the public, which is perhaps, the right platform to launch and display new products. Companies that sponsor beauty events, music shows, reality shows, fundraising events for charity such as cancer care, Alzheimer's disease, heart care apart from getting good visibility for brands through hoardings and stage backdrops. According to marketing experts, events are capable of driving sales as customers need a reason to shop and events create that particular reason. Macy's Thanksgiving Day Parade turns out to be a major event that has become part of American culture. It connects two events that consumers love-thanks giving and shopping.
5. Online and social media promotion
No company can ignore online promotion in this digital era when people look for now information about products on the web and mobile. Websites may give the primary footprint on the web and its mobile site but social media promotion has become an inevitable marketing technique social media for any organization as people see the Facebook, Twitter or Google Plus updates first before watching anything else. Companies have the option to boot the FB and Twitter posts through paid services provided by them and enhance the reach of their messages. Companies should focus more on FB if the content is more image-oriented either as infographics, photos, illustrations, and videos while the media, entertainment, manufacturing, services industry can gain through Twitter paste better.
The frequency, quality of posts, and pictures will have an impact on the conversion of business through social media. Company promotion at the corporate level can be done through LinkedIn which will also be good for getting talented people to know about the organization.
6. Inbound marketing
Blogs and expert views published on the company's website, Tumblr, and WordPress and also published in other popular sites can go a long way in creating consumer interest in a company, product or brand.
Inbound marketing is cost-effective in this list of marketing techniques and strategies but much would depend on the relevance of the topics and its importance for the consumer. Articles are highly valued in industries that require specialized knowledge, skills, and expertise. Articles related to new technologies, innovations, research findings can be shared in the form of articles or white papers. Such technical information enables buyers to make informed decisions on purchasing. A proportion of white paper s in Amazon.com is devoted to cloud computing. This has now become a sophisticated marketing technique targeted at specialized buyers.
7. Differentiated, undifferentiated marketing techniques and strategies
Companies can use both differentiated and undifferentiated marketing techniques social media to promote products. In the differentiated strategy, campaigns appeal to at least two market segments or target groups. A retail store can promote sales in two different cities and also market a product that appeals to women in two age groups. On the other hand, a concentrated marketing strategy is targeted at one specific market segment or audience. They are meant for smaller groups of people and will appeal to a specific segment.
8. Direct marketing techniques social Media
There are several success stories in the direct marketing of products to consumers. The main categories that have benefited from such marketing techniques are vacuum cleaners, water purifiers, personal computers, educational books and CDs, mobile phones among others. Direct marketing can be done through house-to-house visits, online promotion through websites and social media and through participation in trade shows and events. A lot of companies sell through a network marketing approach whereby each consumer is also an independent distributor of the product and earns points based on purchases made by them and those in their network.
The first phase of the direct marketing techniques and strategies is to identify the target market but care should be taken not to offend consumers either through direct contact, mail or social media. But if executed well, direct marketing can reap rich dividends. The success of retailer LL bean is an example- here customers look forward to receiving their communication.
9. Cold calling
In some industries such as finance, insurance, banking, and cellular services, cold calling is done to increase awareness and sales. Some people do object to such marketing control techniques efforts by companies as it is an intrusion into their privacy and also a disturbance especially if the call comes at odd hours. However, these marketing techniques force the company to sell the company as well as the product. As opposed to face-to-face communication, the phone on the phone does have the benefit to abruptly end a conversation. The advantage of cold calling is that it does make you think on your feet and encourage creativity and adaptability when facing potential consumers.
This type of marketing control technique is also referred to as telemarketing or telecalling or telesales in the UK and Ireland. It can also include recorded sales pitches programmed to be played over the phone via automatic dialing.
10. Incentives and promotional marketing techniques and strategies
In a crowded marketplace, freebies, incentives to buy, reward points all add up to a company's marketing techniques and strategies of keeping ahead of the competition. Contests offer an attractive marketing vehicle to acquire new client and awareness building. Coupons are provided to consumers for buying products. Sometimes, allowing consumers to sample products before purchase forces them to buy more. Publix supermarkets give free samples of their lime pie not because people question the goodness of the pie but make them buy more.
Conclusion
Companies now have the challenge of using a mix of online, offline, outdoor and point-of-purchase marketing techniques and strategies to keep ahead of the competition in a globalized milieu. How best they use the marketing control techniques outlined would decide their success or failure in the marketplace.
Recommended Articles
This has been a guide to Marketing Techniques Social Media. Here we have discussed the basic concept,10 marketing techniques social media for success. You may also look at the following articles to learn more –