Updated June 9, 2023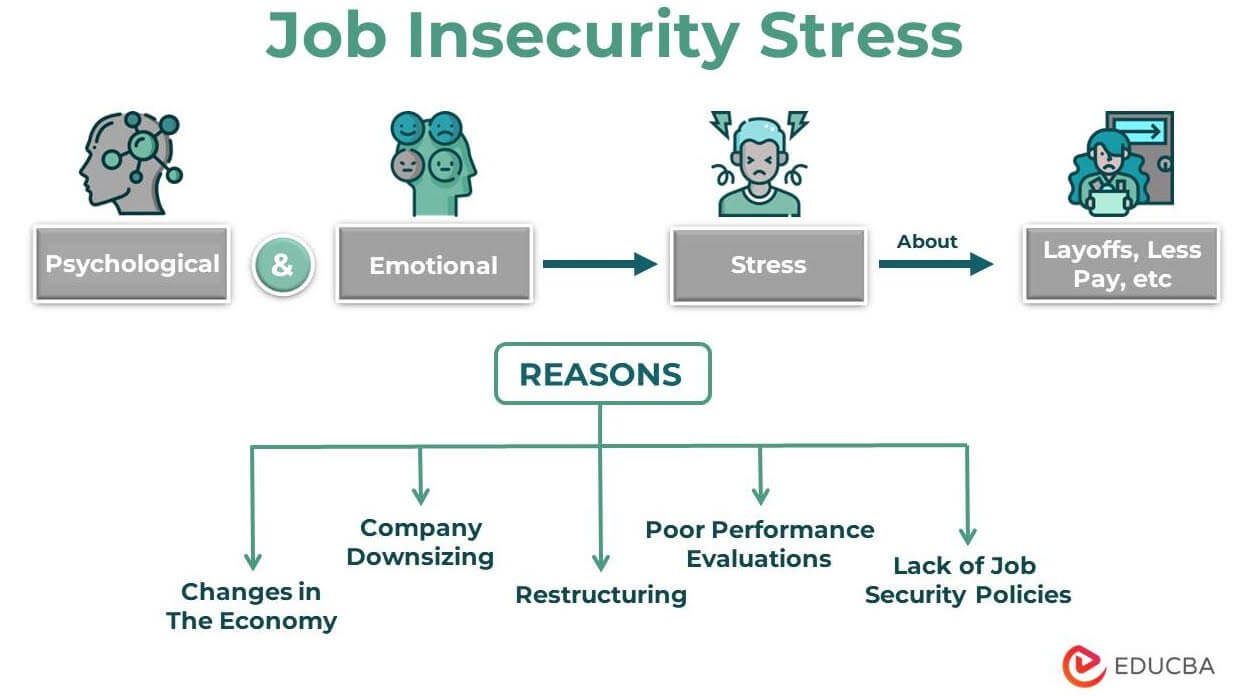 What is Job Insecurity Stress?
Job insecurity stress is a psychological and emotional response to the uncertainty and fear associated with the possibility of layoffs or facing a reduction in work hours, pay, or benefits. It is a type of stress that can occur when an individual feels that their job is at risk or uncertain, and it can significantly impact their mental health and well-being.
Various factors, such as changes in the economy, company downsizing or restructuring, poor job performance evaluations, or a lack of job security policies in the workplace, can cause job insecurity stress. It can manifest in various symptoms, including anxiety, depression, physical health problems, decreased productivity, and reduced job satisfaction.
Introduction
Jobs are temporary. No one has remained in the same job for years. In today's world, finding a new job is not a big deal. With start-ups budding up now and then, the job market offers unique opportunities to the youth. Thus job security is relatively minor. It might be a case that you are sensing danger because your company is laying off employees or is not doing so well in the industrial scenario. Or it may be a case that you are too nervous or panicky about losing your job.
If you need more skill sets, you must also practice those skills and build your lost confidence. Also, communicate with your colleagues and discuss why and which areas you lack and how to work on those weaknesses. Also, one must learn to manage and cope with stress. It's different how different people handle job insecurity stress.
Someone has rightly put forward by saying, "Whenever one door closes, another one opens." It gives a ray of hope when you realize that even if one door closes, the other is open anytime for you to meet your goal. When one lives with uncertainty, one learns how to adjust to new challenges.
You can update your technical skills easily in today's marketplace. Practice or enroll in some technical training courses and see if you'll get another job. Think outside the box and realize why you feel insecure in your career. Remember you are adaptable, can adapt to new challenges and circumstances, and build upon organizational skills like time management, team-building, leadership, and communication. Share your thoughts with the team, and communicate well. Expressing your feelings is any day a better solution to deal with any problems.
5 Ways To Tackle Job Insecurity
1. Have an Updated Resume
You should have an updated resume and cover letter, irrespective of what you expect to happen in the future. So keep your resumes updated in portals to know your job requirements and the job profile you are looking for. This is your job seeker marketing kit which will help you find a match to your job requirements. You will feel better knowing you are confident about self-marketing and find well-suited jobs for yourself.
2. Nurture your network
People within your network can contact you and inform you anytime about job openings in their respective domains. Professional favors such as employee referrals, recommendation letters, etc., are the product of solid professional relationships built over time. Setting up an apt professional network is very important.
3. Save money
Keeping oneself economically strong and well-to-do is the best option. One should avoid the crisis of money. Saving money should be the highest priority. Open fixed deposits and recurring accounts to save money. Avoid big purchases at the time of job insecurity stress. This is the time when you should identify your vital areas. If you find a technology you are good at, improve your skills, upgrade your skills, join some crash courses, and enhance your confidence limits. Following retail therapy, yoga classes can help you relax during a job crisis, but this is not the solution to the problem.
4. Planning & Time Management
Allocate adequate daily hours to build your skills. Your skills will boost your confidence. Try to pick up something you love, like a hobby or passion. Make a plan for your actions and how you want to portray yourself. If you like to switch to marketing, HR, or other areas that interest you, go for it. Plan out adequate time to allot each area of your interest. Improve your listening skills. "I am no less, and the day is not far when I will convert my job into the highest-earning job as this is my hobby cum job."
5. Maintain your Reputation
People like being around you when you maintain a good reputation. They want your presence and will refer you for any job referral because they know you are hardworking and a go-getter who will go to any extremes to meet deadlines. They know you are passionate about work. This will help you reach out to better jobs and relax you as there are people around you willing to help you out, and job insecurity stress is no longer an issue. So be professional – people love job-oriented, experienced people and are ready to help them in adverse situations.
Essential Tricks To Enhance Confidence
1. Work Deadlines
It is something that a professional worker needs to cope with at any stage of life. There were tons of assignments in school, and now, in the office or college, we are overloaded with pending client work, presentations, word documents, etc. Work for the client is still pending, and assignments are still under review –don't panic. Coping with this stress requires you to be mentally and physically strong.
2. Declutter
A tidy desk is a clean mind. A free sense and a neat environment help to work correctly and efficiently. A tidy desk is a place where you can concentrate well. A to-do list is a tool that can help you track your work. It enables you to keep track of all the pending work and work pre-planned or postponed. Remember, tracking work left or pending can help you solve half your problems.
3. Distractions
Generally, we log on to our Facebook or Twitter accounts during peak crisis hours. Keep these distractions away. Try to concentrate on work, or you can use your earphones to concentrate better.
4. Procrastination
Make a plan to create real-time expectations. Consider all your productivity hacks and improve upon them. Motivate yourself and set up a procrastination equation. Logging on Facebook What's Up chats can get you distracted. Avoid unnecessary activities, set targets, stay motivated, and see how it helps your productivity.
Develop Soft Skills To Reduce Job Insecurity Stress
Communication skills: Improve your verbal skills as well as non-verbal communication skills. Your speaking skills need to be taken care of. Feel how others would feel when you are around them or talking to them.
Eye contact: It helps one to acknowledge someone else's presence by looking them in the eye. It is just like speaking through the eyes. Wandering of eyes and looking down is a wrong impression of your communication skills.
Body language: Take care of how you talk and your body language. Show interest by sitting up and leaning forward. Threatening gestures create a terrible impression.
Posture: Do not tap your feet. Practice speaking by looking into the mirror and improve your communication skills. This includes both public speaking and conversational speaking. Be conscious of your pace, eye contact, and volume when. Try to make the listener comfortable. Practice with close friends and family relatives to speak up in public. Volunteer for presentations and remove public speaking fear.
Also, improve your writing skills by proofreading, reading blogs, getting into the writing styles, and seeing how you can outperform others in the race for existence.
Planning and Holding Effective Meetings
Effective meetings with effective planning are significant in reducing job insecurity stress.
Setting forth the objective and outcome of the meetings.
Put on the agenda of the meeting, and the key points to discuss, email all the attendees, and notify all about the time and place of the meeting to be the help.
Make sure to note the minutes of the meeting.
Keep an attendees list to decide who will attend the meeting.
Send all the agenda, place, and timings details before the meeting.
Ensure meeting facilitators are available to help you proceed with the arrangement.
Determine that all resources needed are available, including the required technical assistance, projector, laptop, whiteboards, flipcharts, the person recording the minutes,
Use practical time management skills to keep up with the schedule and ensure the attendees are engaged in the agenda of the meeting.
Conclusion
Post-meeting activities like the actions taken, the topics discussed, issues traced, and decisions must be tracked and reported after the meeting. These skills, if well practiced, can help you to develop your business skills and will undoubtedly improve your communication skills to be better managers and successful women entrepreneurs, such that you will never face the effects of job insecurity. Joining free newsletters can help you get the latest job updates from portals and keep yourself updated on the job requirements.
Recommended Articles
We hope that this EDUCBA information on "Job Insecurity Stress" was beneficial to you. You can view EDUCBA's recommended articles for more information.