Significance of Good Health
We all live in an incredibly fast-paced, congested, and busy time. We have to work hard every day to make more profit, but we often forget that being in wellness is just as important to living a well-balanced life as having access to oxygen and water. To acquire some fictitious money, we neglect to eat healthy food on time, exercise regularly, relax, etc. Never underestimate the true riches of time on earth, which is our health. A broadly accepted fact is that health is wealth. In this essay on health is wealth, you get information about why health is more important than anything.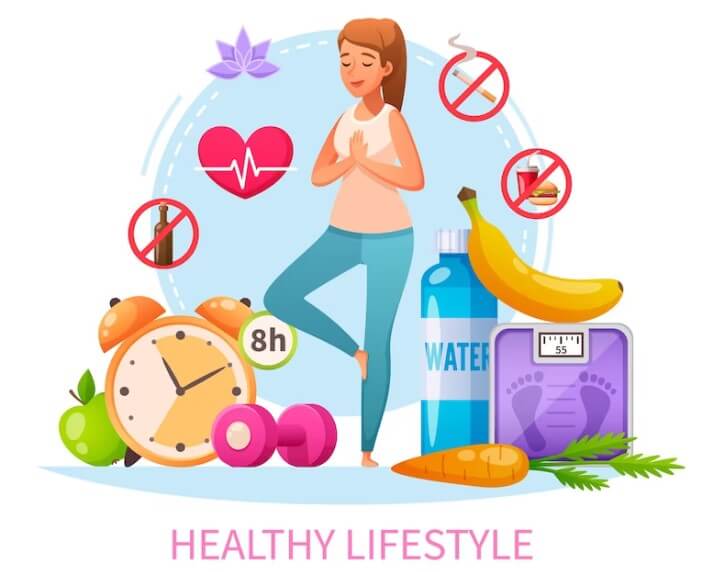 Life wasn't as chaotic in ancient times. Compared to now, it was easy and accessible to many obstacles, with a healthy environmental setting. People were in good health since they needed to use their hands and bodies to do everyday tasks. However, as a result of competitiveness, life in the technology age has changed from being pleasant and comfortable to frantic. Nowadays, a simple life is unattainable because everyone strives to accumulate more wealth to live higher than others. Due to the contamination, infection, and pollution of everything, including the air, water, atmosphere, food, etc., life has become expensive, difficult, and unhealthy.
Essay on Health is Wealth
All of the key elements are necessary for the body to function properly. The individual's overall fitness is a crucial factor. When individuals keep up a healthy standard of health, their life span increases. If individuals dedicate themselves to working out and eating a healthy diet, they can achieve a positive mood and even protect themselves from long-term disease, disability, and early death. The following points are the advantages of developing physical exercise.
Being active can improve mood.
Achieve fat loss by exercising.
Exercise is beneficial for joints and muscles.
Exercise promotes energy levels.
Exercise can lower your chances of developing chronic diseases.
Fitness can benefit healthy skin.
Mental health can benefit from exercise.
Exercise can improve your mood and sleep habits.
Exercise can help with pain reduction.
Enhances the Lungs
Exercise enhances body posture
Exercise increases Courage
Minimize symptoms of stress and depression.
A healthy mind is just as important to well-being as physical strength. The term "mental health" refers to a person's mental and behavioral status. Being upbeat and practicing meditation are the greatest ways to keep your psychological state in good shape.
Nevertheless, the body requires relaxation frequently, unlike a computer. The body needs 9-12 hours of sleep to operate at its best. Good nutrition and taking enough water are also crucial for the body. If individuals break the fundamental rules of good health, such as working late hours, skipping physical activity, and consuming unhealthy food, it will result in a variety of illnesses like high BP (Blood Pressure), heart problems, and other serious disorders.
Health for Children
Children must maintain mental and physical well-being. Children are sacrificing the most valuable resource for their health due to increased academic stress and self-indulgence in advanced technologies. They rarely visit parks, choose unhealthy food, and invest more time in front of computers. Their health ruins steadily by these bad practices. Parents should focus on their children's physical and mental well-being and instill healthy living patterns in them from a young age. Below points listed are majorly important.
Another important aspect of keeping excellent health is hygiene. To keep healthy, it's vital to practice routines like neat hands before eating, taking a daily bath, wearing clean clothes regularly, and brushing your teeth daily.
The increased use of computers, mobile devices, and the Web by kids and their parents is causing grim expressions in the community. They are unaware that these electronic tools may be harmful to their health, but they use them all the time. Youngsters are commonly found fixated on their digital devices, which leads to problems.
Digital gadget use usually causes tension and animosity. These devices have, in turn, been associated with cancer, loss of sight, weight gain, and sleeplessness when used excessively.
Another important factor is psychological growth; it influences whether or not a person is healthy. An individual who is psychologically well ought to possess a strong grasp of reality, awareness, and viewpoint.
Final Thoughts
Mahatma Gandhi said, "Health is the real wealth, not gold and silver". Therefore, being well and happy is a necessity.  As a result, the secret to managing everyday life is to keep your mind and body balanced and engaged. Nevertheless, many people have experienced health-related problems as a result of their desire for luxury and money accumulation. A well-balanced mind is a symbol of a healthy body, while an unhealthy body decreases an individual's performance and achievements in life. In this essay on health is wealth, you got all the necessary information about health. Therefore, everyone should be aware that maintaining a healthy lifestyle is crucial if they hope to achieve true wealth.
Recommended Articles
We hope that this EDUCBA information on "Essay on Health is Wealth" was beneficial to you. You can view EDUCBA's recommended articles for more information.