Hobby
A hobby is one of the essential parts of our life. It is the source of rejuvenation our mind needs to bring back the essence of life. It is the best stress-buster that allows us to take a break from life without guilt. Having hobbies show that we live for ourselves and not just for the world. An essay on my hobby will not just help you revisit the moments of bliss during those moments but also help you know what to say when your interviewer asks about your hobbies.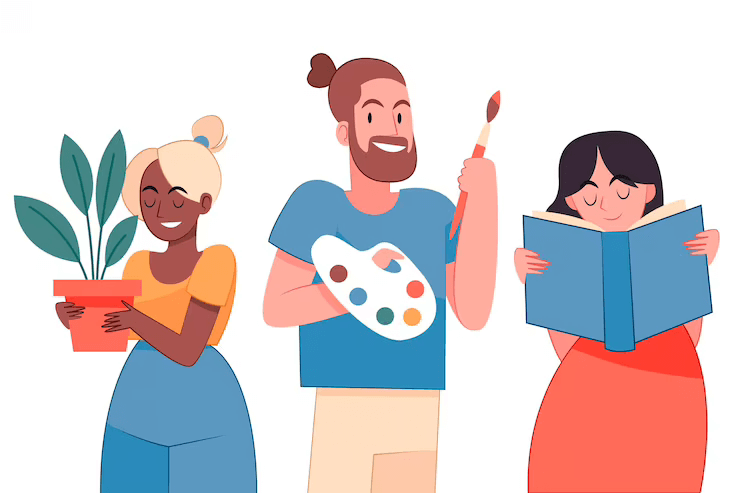 Why is Essay on My Hobby Important?
The admission committees must judge what of a person you are and your interests. Even most employers look for one with a creative bent of mind and who is more than just a workaholic.
Our Top 2 Essays on My Hobby
Sample Essay #1
Hobbies are one's guilt-free escape from the demands of life. My hobby is reading, which includes anything from magazines to novels. Taken up when I was just 10, reading helps me focus better and dive into different worlds. Self-help books are my top favorite as they are the best to learn more about life and its unspoken rules.
Starting with fiction like Harry Potter to the Self-Help genre, my love for books grew to an all-time high during the COVID-19 pandemic. When anxieties of uncertainty loomed in my world, I found solace in books. At that phase, I became an avid e-book reader. However, today I prefer hard copies over soft copies.
Recently, I read 'Rich Dad and Poor Dad, which changed my viewpoint on the importance of knowledge of finance. The book made me realize the importance of financial literacy and how important it is to gather assets than liabilities.
How Reading Books Help Me?
Pass my free time with no pressure of being productive.
Decrease FOMO (Fear of Missing Out) as I take a voluntary break from the digital world.
Improves vocabulary and grammar.
It boosts creativity, especially when reading fiction.
It helps improve my emotional intelligence and habits, like through Atomic Habits.
Increases awareness as we can learn anything from Machine Learning to Aviation, all through books.
Reading helps improve my attention span and prevents multitasking.
Sample Essay #2
Life without hobbies is like a fruit without its taste. Similarly, hobbies make our life purposeful as we cut ourselves off from life's stresses to indulge in something that relaxes us.
I picked up gardening as a hobby when COVID-19 shut us in our homes, away from our social circle. While gardening has fascinated me since childhood, my busy work life has yet to help me pursue it seriously.
I love watering plants and talking with them about my life, including any stressful encounters. The vibrant colors and sweet aroma calm my nerves and help me ground. Whenever I feel anxious, I look at the lush greenery, and touching the velvety flora feels like therapy.
I recently planted Baby pink roses, Sunflowers, and Jasmine in my beautiful terrace garden. The garden sprawls with vegetables like Brinjal, Okra, Capsicum, etc. For the spices, I also have green chilies, fenugreek, and carom seeds planted a month back.
While maintaining a garden is expensive and a bit hard, the result is worth it. Through thick and thin, the blissful greenery and colorful flowers with calming aromas boost mental health.
How Gardening Helps?
It gives one purpose and boosts self-esteem as you feel capable of nurturing something.
Gardening boosts heart health as planting, weeding, tilling, etc., all burn calories and are like exercise.
It boosts serotonin, an anti-anxiety hormone, through vaccae, a healthy bacteria in the soil.
It improves gross motor skills and strengthens hands with all the manual labor involved.
Gardening can be the perfect place for bonding with family or friends.
It helps you get adequate sunlight and thus indirectly gives you a Vitamin D boost.
Gardening helps one grow food organically with no pesticides or insecticides, which is good for health.
Why Have a Hobby?
Lowers anxiety and improves the quality of sleep.
It helps build a strong social network, as you can join groups with people having the same tastes.
Higher life satisfaction as one immerses self while doing something with immense satisfaction.
It improves work performance as one recovers from the stress of everyday responsibilities.
One of the best exercises that betters one's concentration and focus.
It improves skills like patience and frees one from the trap of instant gratification while appreciating the process.
Conclusion – Essay on My Hobby
An essay on my hobby not just helps one gauge your personality but also helps express its essence in words. Writing down what you love boosts your mood while also improving your language skills on the way while you compose your experience in the written piece.