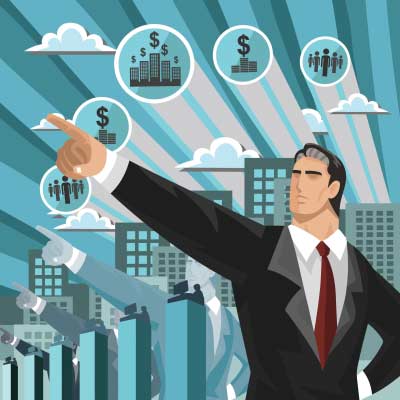 Successful Entrepreneur – The term entrepreneur can be referred to a person who starts and runs a new business or an organisation. Sometimes entrepreneur are also referred to as founder. He/She is responsible for developing a business plan in order to thrive in market, making financial arrangement, hires employees that can run business. The successful entrepreneur always starts a new business with a good idea. Later, when the business grows the entrepreneur becomes chief person of the business.
There is difference between successful entrepreneur and entrepreneurship. The first is person who runs the business whereas later is a the process followed by founder in order to make business a success.
Below are list of few Indian successful entrepreneur who made their business a great success :
| | |
| --- | --- |
| Entrepreneur Name | Related company |
| Azim Premji | WIPRO |
| Lakshmi Mittal | Arcelor Mittal |
| Dhirubhai Ambani | Reliance Industries |
| Anand Mahindra | Mahindra and Mahindra |
| Sachin and Binny Bansal | Flipkart |
| Narayana Murthy | Infosys |
| Shiv Nadar | HCL Technologies |
| Kiran Mazumdar-Shaw | Biocon |
| Sunil Mittal | Bharti Enterprises |
| Mangal Prabhat Lodha | Lodha Group |
| Jamsetji Tata | Tata Group |
| Verghese Kurien | Amul |
| V.G. Siddhartha | Cafe Coffee Day |
| Venugopla Dhoot | Videocon |
| Anil Agarwal | Vedanta Resources |
| Grandhi Mallikarjuna Rao | GMR Group |
| Karsanbhai Patel | Nirma |
| Shashi and Ravi Ruia | Essar Group |
If you read stories of above successful entrepreneur then you will find that they had made a big out of nothing. Below is an abstract of Narayana Murthy who is co-founder of Infosys.
N.R.N Murthy is prominent Indian IT industrialist who has founded Infosys along wit h few friends. Infosys is multinational company that provides business consulting, technology, engineering as well as outsourcing services. Murthy studied electrical engineering from University of Mysore and M.Tech from IIT Kanpur.
Murthy worked on India's first time-sharing computer system and designed as well as implemented BASIC interpreter for Electronics Corporation of India Limited. Later, he started a company named Softronics which failed after about a year and a half. He then joined Patni Computer Systems in Pune. He has also worked as chief systems programmer at IIM Ahmedabad.
Murthy along with six other software professionals founded Infosys in 1981. It had initial funding of INR.10,000 which was provided by his wife Sudha Murthy.He served as Chief Executive Officer from 1981 to 2002 and then as chairman from 2002 to 2011. Later in 2011, he stepped down from the board and then became Chairman Emeritus.
Today becoming an successful entrepreneur has comparatively became easy with incubators that helps startup business, angel investors who can fund startups. Also, Government of India is supporting startups by making ease of business, tax benefits, funding etc.
According to Small Business Administration, only one-third of new business is able to survive for about 10 years or more.
Here are few tips to become a Successful Entrepreneur.
Always love what you do
It is passion that is key to keep your business strategy moving. If you do your work with Half-heartedness then it will drive you away from success. In contrast if you do work with love then it is bound to succeed.
Perseverance (i.e. doing something despite having difficulty) is one important quality that guarantees to move anything over time, be it a person or job or the company. This quality of perseverance come when you really love what you do.
Develop habit of planning
Planning is the process of making plans for something. This is essential skill for entrepreneur in order to drive business towards success and to become a successful entrepreneur. Planning every aspect of your business is not only a must but it should be implemented and maintained.
The habit of business planning is required since it requires you to analyse business situation in detail. It sometime requires research as well as compile data and even make conclusions based on the facts that is derived through the research.
Business plan also serves as a second function, which is having your goals and then how you will achieve them, on paper. Entrepreneur should use the plan to create a road-map to take you towards business goal as well as to measure to degree of success of your plan.
Take baby steps
If you determine to succeed in business all at once then it is rarely ever possible. You need to have proper risk management in order to succeed in startup business.
There are success stories about people who have invested everything all at once and came out as a winners after a brief period of time. Here is an example of MakeMyTrip founder, Deep Karla who has invested all his saving to start an e-commerce business that provides online travel services such as flight tickets, hotel booking, rail and bus tickets, holiday packages etc.
If you are startup and want to thrive business for years then make sure you take baby steps i.e. taking small progressive steps. You can absorb losses more easily in business if you take smaller risks in the beginning. This will definitely provide a lesson that will be helpful in business later.
Recommended courses
Attitude matters
Attitude is a settled way of thinking or feeling about something. The importance of attitude can be determined by below famous quote
"Attitude is a little thing that makes a big difference."
– Winston Churchill
The attitude of the entrepreneur will set the tone for the business. Negativity, laziness, procrastination and other bad attitude can tarnish your reputation. The success of your business is more likely depends on making mistakes and then accepting it and later on rectifying it. A entrepreneur is who takes-up ownership and  faces challenges head-on in his/her business.
The above mentioned tips are necessary for success of business. Along with this taking care of yourself mentally as well as physically is also crucial. Sleep, exercise and diet plays important role in your well-being. All of these drives attitude, motivation as well as relationships.
Entrepreneurs who are really successful tend to follow a pre-defined daily schedule of rising early, exercising, having healthy snacks and socialising every evening.
Maintaining balance between personal and professional life can take a bit of time but working towards this list as a goal for starting your company will make real difference.
Learn art of self-promoting
Most of the successful entrepreneur have quality of promoting their business. If you have confidence as well as good communication skills then you can pitch your business to next level.
You can learn art of promoting business by believing in yourself. You should spend time in learning how to share your vision without misrepresenting it as "seller" to others.
Build your "A" team
Building your "A" team is more than just hiring experienced people. This demonstrate the type of organisation you want to be. You need to find people with right skill sets and attitude that can match your organisation goal. Such people can comprise to form "A" team.
These team also support the culture of the brand you want to promote will foster innovation and enhance your reputation. You can include folks that are from outside the company for the people you can rely on.  This will start a free marketing chain reaction and will build confidence in team as well as generate revenue.
Learn from others
Successful entrepreneur often learn from others be it a junior or a guard at office. successful entrepreneur often worked for others in the field they love before starting their own business.
It is really great if you spend few years working under mentor who teaches basics of business. This will be like a launch pad for your new startup.
Always learn from your earlier mistakes because that will thrive your business well. It will also improve business model. It is rightly said that if you stop learning you stop growing.
Tackle problem in innovative ways
Problems is a part of life. It come-up in personal as well as professional life. The only way to deal with problem is to tackle it in innovate way. I'm reminded of below quote when it comes to problem
"We cannot solve our problems with the same thinking we used when we created them"
– Albert Einstein
In order to tackle problem you need to think out-of-box. If you are an entrepreneur then problem always arise every moment. You should deal with problem in innovative ways.
It is often misunderstood that junior or blue collar worker does not solve managerial problem. In fact if you share problem with staff members then it is more number of brain is involved in solving it and can yield in perfect solution.
Remember that – Customer is king
The one major difference between large competitors and home grown entrepreneur is that the later can offer personalised attention to customer. This is the most significant competitive edge over larger competitors.
It is rightly said that customer is king and he is always right. Customer satisfaction is the most important thing in order to succeed in business.
According to research it is found that around 80% of business will come from repeat customers rather than any new customers. Hence, along with trying to draw new customers you should always woo your existing customers.
Always take action
Entrepreneur are always on their toe i.e. ready to take action at every moment. They are often referred as movers and shakers. They cannot afford to analyse everything in detail and if they do so they would fail in business.
There is completely no room for procrastination (i.e. action of delaying) for entrepreneurs. They have to complete task at very right time and at right place in order to succeed.
Being an entrepreneur you should be available 24/7 and 365 days. Successful Entrepreneur should always make a brief assessment of every action to be taken and move on it.
Learn from mistakes
Mistakes are inevitable i.e unavoidable. The key is to learn from mistakes and rectify it. I'm reminded by famous quote when it comes to mistakes.
"A person who never made a mistake never tried anything new."
One of my friend who is entrepreneur has outsourced its call center. The customer order were mostly had errors. There were situation during which call center couldn't handle customer in professional ways. Later my friend had immediately stopped outsourcing and personally contacted all the customers who were negatively affected.
He mentioned that it was really a great learning to test any new process of outsourcing. He had learned from mistake of outsourcing to poor partner can hamper business and this had helped in thriving business.
Take risks
Risk is a situation that involves exposure to danger, harm or loss. The most successful entrepreneur like Dhirubhai Ambani and Narayan Murthy didn't get to where they are by playing it safe.
If you are an entrepreneur then you need to take calculated risks in order to move your business forward. I'm reminded of famous quote by prominent american professional boxer quoted below
"He who is not courageous enough to take risks will accomplish nothing in life."
Successful Entrepreneurs should have courage to take entrepreneur risks. The result would be success which would be appreciated by all or failure that can teach you a good lesson.
Recommended Articles
Here are some articles that will help you to get more detail about the Successful Entrepreneur so just go through the link.