Updated June 9, 2023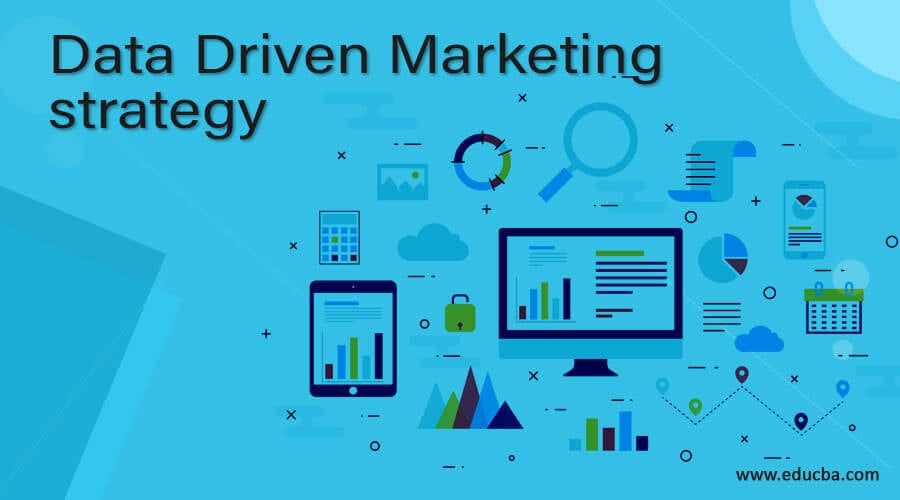 Introduction to Data-driven Marketing Strategy
Data-driven marketing strategy (DDM) requires a different mindset toward understanding customer requirements and being innovative enough to use the best data management tools available. A data-driven marketing strategy cannot be implemented with a perspective that was relevant two decades ago. Data-driven marketing strategies use technology, customer data, and analysis to find new leads, maintain an existing customer database, attract new customers, and drive revenue. A data-driven marketing strategy's potential is huge, but procedures vary across the industry.
Let us study much more about Data-Driven Marketing in Detail:
Marketing doesn't start after developing the product, but the preliminary process often begins by identifying a need or problem that needs a product or service to solve. Surveys or discussions in social media platforms like Quora Digest or an innovation from a university, research institution, or individual awaiting the commercialization of the idea typically identify such requirements.
However, for companies with products and services, the bulk of future development can take place with the data the company gets from customer interactions, secondary data, and tracking competitors' performance. This is the age of Big Data, and companies that do not store, understand, retrieve, and analyze customer interactions are likely to lose out to the competition in a big way.
Top 10 Steps for Data-Driven Marketing strategy Success
To succeed in data-driven marketing, you need to follow these steps:
1. Have a robust CRM and ERP system in place
With the increasing complexity of business operations – handling taxation, sales, inventory, multi-locational movement of goods, and tracking them, it pays to have a good customer relationship management (CRM) system supported by a good Enterprise Resource Planning (ERP) system in place as the backbone.
CRM enables companies to keep track of customer movements from placing a sales order to invoice generation and subsequent warranty and service events. These days companies also store mobile phones, email, names, ages, anniversaries, repeat purchases, and loyalty points earned. This, in turn, enables companies to understand the customers' buying patterns, behavior, and lifestyle and develop new products with those factors in mind. An ERP system as the backbone enables the company to integrate several functions from production, inventory control, marketing, sales, distribution, finance, and HR into an integrated whole, thereby promoting better decision making.
At one point in time, people believed that ERP and CRM were only suitable for big organizations. However, both are now available at affordable pricing for small and medium businesses too.
2. Have a data management platform ready
It is true that with an ERP and CRM in place, the company could be inundated with data daily. Marketers may require clarification on structured and unstructured data (raw data). For. To give meaning to a set of data showing sales of air conditioners, you need to structure it into region-wise or product-wise classifications. You may need to classify data on a monthly basis for relevant analysis and gather information on new models launched by competitors and their approximate sales data to work on future strategy.
For marketers to get the relevant data, there should be a data management platform (DMP) at the backend that works tirelessly. The DMPs can fetch data from various places, identify the segments to target messages, and direct media planners to position them in hoardings, banners, mass media, and social media.
The CRM and ERP will provide structured and unstructured data from different places and define the audiences for future marketing initiatives. In the case of data sourced from websites, it could be from existing customers and inquiries made or anonymous people tracked based on cookies or data sourced from data vendors. Following the creation of the audience profile, it is the job of DMP to buy ads to target these groups. After that, media planners are given the targets' information as instructions for delivering the message and determining the distribution methods.
DMPs are powerful because they can get new data based on Javascript code placed on websites, ads, mobile apps, and email campaigns and suggest new groups of consumers to target. Some major players in DMP are Oracle, IgnitionOne, Knotice, Rocket Fuel, Aggregate Knowledge, and Neustar.
With a proper DMP, the marketer may make more headway in digital marketing efforts, according to analysts.
3. Shop for the best data management tools
Many tools are available for tracking and analyzing data related to emails, the web, social media, competition, mobile apps, etc. With many offerings in the market, the digital marketer may need clarification about which ones to choose. NG Data has listed twenty such tools and their features, making it easier for marketers to estimate the size and quality of the audience on the website, create charts and tables based on the data, track web leads, and measure return on investment (ROI). While some tools are free, others come with a monthly subscription fee ranging from $79 to $300 per user. The top agencies are Ducksboard, Optimizely, Compete, DataHero, Litmus, Comscore, and Mindfire Studio.
Marketers must have integrated marketed management (IMM) to get the best results from data-driven marketing. It involves real-time data assessment, customer interactions, and ongoing innovations. The tools are available; what is required is to set goals for marketing and streamline the different departments to achieve the intended objectives.
4. Define your goals and objectives in data-driven marketing trends
Companies may be getting, storing, and analyzing data using the same set of tools and strategies, but what is important is that goals and targets differ. In some cases, it may be the launching of a new brand, sometimes it drives more sales and branding, or it could be to double subscriptions for a service. Can marketers rely on big data, or should they also depend on their gut instinct when implementing a new idea or launch of a product? If marketers view the data reports with skepticism, then gut instinct would score in their decision making, and hence a lot of effort on data analysis may become redundant. Therefore, the task of the data management platform is to ensure that they don't just come up with data but actionable ones that look credible and trustworthy.
5. Data-Driven Marketing Strategy should give a wholesome consumer experience
The objective of the data-driven marketing strategy may be increased market share and innovative offerings for consumers. But at the core of Data-driven marketing strategy philosophy is the theory that a bird in the hand is worth two in the bush. If that is the case, the company should provide existing customers with a wholesome experience that includes giving due value for their past purchases and loyalty towards the company, and using the data collected about the customer to provide better offerings in the future.
6. Leveraging best practices
A data-driven marketing strategy cannot be implemented with a mindset that was relevant two decades ago. It means changing marketing operations and customer interactions and having a go-to-market approach that takes time to implement a strategy. Having a five- to ten-year perspective on where the company wants to be in the industry is important. With that vision, working with marketing experts to derive maximum return on investment (ROI) is easier.
7. Learn from the competition & industry
Big data is about handling complexities with respect to consumer data and managing them for the future. Therefore, marketers must integrate their efforts with the technology team to manage such complexities and simplify the procedures. The marketer needs to understand what the competition is doing and adopt their best practices instead of developing new strategies that need to be proven in the market.
8. Work closely with the IT team
Big data is a combined effort of technology, marketing, and advertising teams with prominence in some parts of the effort to technology as the process of capturing, storing, structuring, and presenting reports are in the technological realm. However, as in an x-ray, CT Scan, or ECG in the field of medicine, technology does only half the job; the task of inferring something from the data and putting it to good use in the market is ultimately the marketer's job. It is not just enough to implement new technologies and processes but also assesses their impact on the top line and bottom line of the company. If the product or service fails or customer satisfaction levels dip, marketers are at the receiving end and not the Big Data.
9. Are you comfortable with the new paradigm data have driven marketing trends
Although the tall talk about big data drove marketing strategy, companies could still need to be more comfortable with the technology and its new processes. An Adobe Digital Roadblock study found that nearly two-thirds of marketers are satisfied with the latest technologies if they become mainstream. It means some companies are waiting for others to join the bandwagon before adopting innovative or riskier approaches. Some believe the early adoption phase is over, and those unwilling to try it out could miss out on building new customer relationships, adding incremental revenue, and several other advantages.
10. How to learn more about data have driven marketing trends
Marketers and IT specialists should undergo some of the available data-driven marketing strategy programs to understand big data's huge potential better. For example, Kellogg Northwestern University has announced a timetable for April this year that will help professionals implement Data-driven marketing strategies in their organization. Besides quality books on the subject, several online courses and university programs are available for data-driven marketing strategy. They cover branding, marketing metrics, technology, finance, and campaign management concepts. To stay updated on the latest data-driven marketing strategy trends, you can attend webinars, conferences, and workshops.
The conclusion of Data-driven marketing trends
The fashion industry could create a 'wow' factor regarding a trendy product made available; in some cases, the focus would be on repeat purchases.
With product life cycles becoming shorter and shorter such as in mobiles, watches, and laptops for 2-3 years, it's important to weigh the value of a data-driven marketing plan. It is already helping companies connect better with customers and provide a wholesome experience, especially in the travel and tourism industry.
Marketers are closely associating with the IT team to ensure the protection of customer data and use them for insights that ultimately benefit the customer, shareholder, and all stakeholders in the industry.
The increased use of mobile devices makes it essential for the industry to develop more innovative and secure apps to benefit customers. Big data analysis enables better targeting, which allows companies to communicate discounts, offers, and new product launches to discerning customers sooner.
Data-driven businesses accounted for $202 bn in 2014 in the USA, according to the Data-driven Direct Marketing Association. Of these, 50% is accounted for by data-driven marketing strategy services that deploy first-party data, 28% by value-added services that rely on third-party data. The biggest beneficiaries of DDM are e-commerce, digital audience assembly, and postal production in the USA.
According to surveys, there is significant pressure on the part of marketers to use Data-driven marketing strategies even as they doubt the readiness of the organization to implement them as a whole. And at this stage, marketers still feel more than 80% of data in an organization needs to be utilized.
Last year, a US study pointed out that the quality of data used by companies was poor, attributed to a lack of good data management practices. This, in turn, requires companies to improve their data management platforms, use better data-driven marketing strategy tools, and hire the right people are quite important for the success of a data-driven marketing strategy. It also depends on how the Data-driven marketing strategy is managed within the organization. For example, better results were found in companies where a single person was given ownership of the project. Centralized processes, maintaining the integrity of the customer data, and having the right data-driven marketing strategy document known to key team players will help DDM achieve better results.
Recommended Articles
Here are some articles that will help you to get more detail about the Data-driven marketing strategy so just go through the link