Updated June 6, 2023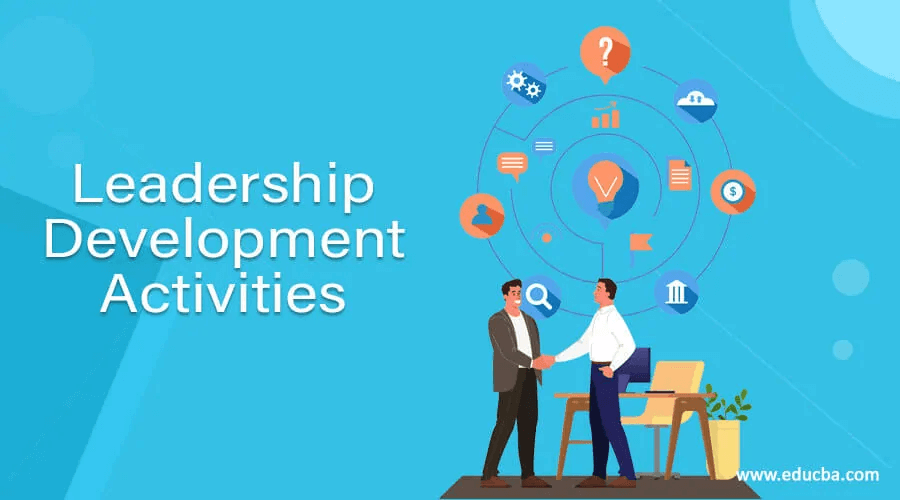 Introduction to Leadership Development Activities
Leadership Development activities are not about being a leader enthroned with the title but about responsibilities and traits of credibility, trust, worthiness, respect, loyalty, gentility, and gentleness. It is all about having.
Effective Leadership Development Activities
The following are the different activities:
1. Gain Confidence
If there is no confidence, there can be no leadership development activities. Leaders never allow their fears to overpower their confidence. The fear might be about trying something new or standing up for the right, facing the board of directors, or when the situation is getting out of your hands and things are not going as planned. This happens everywhere, anytime, and at any place, but a good leader never gets panicked and keeps up the confidence level high. It requires guts to take a step forward, take calculated risks and show changes during downturns.
If you would like to see yourself and your people making courageous moves, unravel these traits of your hidden personality:
Find out all your organization's facts regarding its profits, loss, production, manpower, issues, and competitors to estimate the quantum and nature of the work required and decisions to be made thereon.
Get the feedback and learn to listen and never hesitate to listen to the other's point of view and to get their feedback. Everything won't be white for you, but merely a few words or negative feedback can give you a new lease on life and help you enter into a new relationship and style.
Always show confidence in your personality and behavior, and never feel tensed about anything, but show spirit in your nature and character.
Work on your emotional intelligence, which is something you are born with but are not able to utilize to the total capacity.
2. Clarity in Vision
A leader should have clarity in their thought and vision. If there is any doubt, it is cleared without getting things and situations paralyzed and never allowing obstructive thoughts to come in their way.
Three important questions are required to sort out to get clarity in vision, and these are:
What do you want to achieve?
What Do You Want?
What exactly do you Want To Have?
3. Maintain the balance between spiritual life and Goals
Many people do not give importance to spirituality and the emotional facet of their life, but, in reality, we cannot separate the spiritual part from our vision. Spirituality is a part of our personality that makes us morally strong and inspires us to make the right decision. By being spiritual, a leader can carry along with others reasonably well and understand the needs of the people and all those working under him. He would feel himself mentally and physically strong and alert. Even Sir Aurobindo Ghosh said, "Materialism and spirituality cannot go together. One is about meeting the desires, and the other is about allowing the same to go.
4. Retain Your Self-Esteem
It is natural for every human being to protect themselves from the outside inimical forces that sometimes come at the cost of self-esteem. True leaders never allow their self-esteem to be overpowered at any price. The more you live on with your efforts, the more self-disciplined you will be and will able to build your self-esteem.
Steps to Achieve Self-Esteem:
Control your body and mind
Never show the negative side of yourself to others, and never get involved in self-criticism. Love yourself and see the positive side of things. Prepare a list of positive qualities in you, trust them, and believe in yourself.
Each person is suffering from one of the other problems, but why should you feel yours is greater than the other? By developing a negative feeling, you will feel isolated from others. Never allow this situation to come your way.
Give some time to relax your mind and body. You might have got a few minutes, but these few minutes are also enough to give your mind and body some rest.
Never shy of saying what you feel strongly about and what is suitable for the organization and yourself. A good leader will never be pressured to say anything or blackmailed to speak that goes against his tenants and the interest of the company for which he is working.
5. Prefer discipline To leisure
A true leader would always prefer a disciplined life instead of n leisure. We all need some moments, but those who have a vision wanted to achieve success can sacrifice their leisure time for the attainment of physical, mental, spiritual, and emotional growth. Whatever little time they have, they devote themselves to acquiring new skills or saving time for activities that would relax their mind. A disciplined life is sustaining your life with strict adherence to the rules and maintaining a tight schedule.
6. The desire to take the risk
A good leader is always ready to take risks. He would see the profit in action, focus on his leadership development activities, and find solutions to reach there. It is all about taking a calculated risk and then finding solutions instead of just pondering around the risks or obstacles that are associated with them.
But for many leaders, it is difficult to take the risk as established leaders have much to lose, and they can't stake their titles and money for something so unpredictable and new. But today, technological innovations are part of the risk-taking ventures of entrepreneurs, and leaders know without taking the risk too, they are sure to lose the race in the stiff industrial competition.
7. Manage your client's experiences
Reaching out to the people is the primary goal of branding, but how is that possible by making the people experience it?
Share your brand's idea and theme with the people
Explain how your brand is different than your competitors
The experience and feeling people would get from the brand
To whom would your brand serve
Differentiating a brand means building brand management with your price, product, place, or promotion. It would stand out if it delivers the customer's expectations and finds out ways to forge a connection with the customers. A good leader would build strategies while maintaining harmony between the branding and customer strategies and a solid and emotional relationship with them.
8. Managing the Profile
A leadership development profile is your management tool to keep yourself updated on all the aspects of your brand edited, and the methods applied thereon. It is a strategically developed document that will keep you updated continuously. Your profile includes the following:
Problems to solve
Methodology to be adopted
Expertise in the subject matter
Your Target audience
Industrial opportunities
Targeted media
Clients' expectations and anticipations
In the profile, you can measure and score your performance on the scale. Your self-assessment results can be placed on a scale and calculated accordingly.
9. An effective leader is a persuasive communicator
Great leaders are great communicators and persuasive in speeches. The best example I can give is that of Martin Luther King's "I Have A Dream." It was such a persuasive and famous speech that it was able to raise the consciousness of the people toward the freedom of blacks. A good leader can deliver the right message and words at the right time, the news that inspires, motivates, and reassures when delivered directly. When you have ignited the people's emotions toward action within your organization, you have communicated with persuasion, passion, and honesty with the leadership development activities.
10. Sensitive and responsive to the employee's needs
A leader should be sensitive toward his subordinates and care for their needs. He understands what motivates employees and enthuses them to perform better. He would show genuine concern for his employees and look after their needs. These leaders are transformational, as suggested by Phuong Callaway, Transformational leadership builds trust through their consistent actions among their followers, are sincere, personable, caring, and respond to the needs and interest of the others." They are ready to share and support their subordinates by providing leadership development resources and sorting out solutions to problems. They balance the needs of the employees with the organizational requirements to foster productivity and meet the organization's interests.
It has been a myth that leaders are born and genetic factors make a person a leader, but a leader is made. He is driven by adopting certain qualities and through rigorous training. Practical leadership development activities mean attaining unmatched grades and talent rarely found by anyone else. It requires consistent training in personality development, regular self-improvement, and the ability to adhere to any situation. Effective leadership development strategies are a strategic culture corporate organizations adopt to create leaders and formulate their goals and expectations.
Recommended Articles
We hope that this EDUCBA information on "ReactJs Interview Questions" was beneficial to you. You can view EDUCBA's recommended articles for more information,