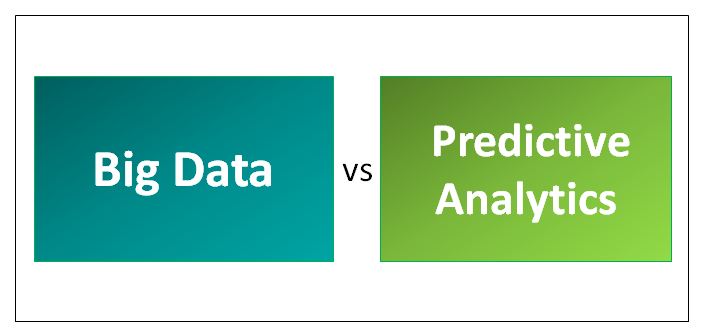 Difference Between Big Data and Predictive Analytics
As one of the most "hyped" terms in the market today, there is no consensus as to how to define Big Data and Predictive Analytics.
Big data is high-volume, high-velocity and/or high-variety information assets that demand cost-effective, innovative forms of information processing that enable enhanced insight, decision making, and process automation. Big Data has emerged as an important area of interest in study and research among practitioners and academicians. The exponential growth of data is fueled by the exponential growth of the internet and digital devices. Advancement in technology is making it economically feasible to store and analyze huge amounts of data. Big Data includes a mix of structured, semi-structured and unstructured real-time data originating from a variety of sources.
Predictive analytics encompasses a variety of statistical techniques from modeling, machine learning, and data mining that analyze current and historical facts to make predictions about the future, or otherwise unknown events. Predictive Analytics provides a methodology for tapping intelligence from large data sets. Many visionary companies such as Google, Amazon etc. have realized the potential of Big Data and Analytics in gaining competitive advantage. These techniques provide several opportunities like discovering patterns or better optimization algorithms. Managing and analyzing Big Data also constitutes few challenges – namely size, quality, reliability and completeness of data.
Head to Head Comparisons Between Big Data and Predictive Analytics (Infographics)
Below is the Top 6 Comparison Between Big Data and Predictive Analytics:

Key Differences Between Big Data and Predictive Analytics
Below is the list of points that describes the key difference between Big Data and Predictive Analytics :
Architecture
Big Data has to do with the quantity of data, typically in the range of .5 terabytes or more, where the capacity of relational database systems starts to degrade so the need of cloud-based pipelines like AWS and data warehouses are the needs of the hour. On the other hand, Predictive analytics has to do with the application of statistical models to existing data to forecast likely outcomes with the churned data sources.
Target Problem
"Big Data" describes the data itself, and the challenge of managing it, while "Predictive Analytics" describes a class of applications for the data, regardless of quantity. So, both of them represents mutually exclusive entities.
Social Media Use Cases
Social Media has proven to be the best use for both Big Data and Predictive Analytics. But both of them serve as a sequential chain to each other. As Social Media data comes from multiple sources but eventually gets into an MDM(Master data Management) which can be built via Big Data technologies only on which the Predictive Analytics and other algorithms can be fired to give the outcomes. This new type of data management solution bears the trademark of highly scalable, massively parallel, and cost-effective.
Technology Ecosystem in Big Data and Predictive Analytics 
The sweet spot for Big Data Platforms and Predictive Analytics, for instance, is dealing with high-value transactional data that is already structured, that needs to support a large amount of user and applications that ask repeated questions of known data (where a fixed schema and optimization pays off) with enterprise-level security and performance guarantee. So to deal with them we have different tools and technologies.
For Big Data,
AWS, Apache HDFS, Map Reduce/Spark, Cassandra/HBase.
For Predictive Analytics,
R, Statistical methods, forecasting, regression analysis, Data Mining, Data Warehouses.
Big Data and Predictive Analytics Comparison Table
Following is the comparison table between Big Data and Predictive Analytics.
| | | |
| --- | --- | --- |
| Basis of Comparison | Big Data | Predictive Analytics |
| The Basics | Big Data has to deal with cleansing and interpretation of vast amounts of information and it can be used in a broad area of business activities. |  Predictive analytics is a method of forecasting business events and market behavior. |
| Level of Advancement | It's high. Big Data engines have eventually upgraded themselves throughout the development processes and level of cross-platform compatibility. | Medium. Predictive Analytics, on the other hand, has a limited change of algorithmic patterns as they are giving them better score from the start with respect to their field and domain-specific work analysis. |
| Incorporates ML(Machine Learning) and AI(Artificial Intelligence) | Big Data engines like Spark and Hadoop comes with built-in Machine Learning libraries but the incorporation with AI is still an R&D task for the Data Engineers. | Predictive Analytics, on the other hand, deals with the platform based on the probability and mathematical calculation. So it's kind of feasible to embed ML and AI together with these platforms. |
| The UI and Dashboards Visualizations | Big Data comes with vast backend technology imports for Dashboards and Visualizations like D3js and some paid ones like Spotfire a TIBCO tool for reporting. | On the other hand, Predictive Analytics tools come with built-in integrations of the reporting tools like Microsoft BI tools. So, no need to fetch it from source or from some outside vendors. |
| Data Size and Performance | Enormous. It's not a best practice to use Big Data platforms for lesser data amounts as a performance of Big data platforms are exponential in nature. | Medium. Very large and Very less data sets can contribute to bad predictions and discoveries with respect to models and algorithms. |
| Popularity and Who uses them? | Currently, very hyped. Everyone in the market wants to enter the Big Data domain. Basically, all the coding and the implementations are handled by the Big Data Engineers and developers only. No, data Scientist are required for such kind of processes. | Popular only but not as Big Data. It depends on the use cases and type of organization implementing it. For example, It's very popular with the health care and fraud detection organizations because of the use case compatibility. On the other hand, Predictive analysis is taken care by Data Scientists and BA (Business Analyst) people and developers |
Conclusion
Big data vs Predictive Analysis, both are here and they are here to stay. Despite the hype, Big Data vs Predictive Analytics does offer tangible business benefit to organizations. It enables enhanced insight, decision making, and process automation. There is also a so-called paradigm shift in terms of analytic focus. That is a shift from descriptive analytics to predictive analytics. The combination of Big Data and Predictive Analytics in all domains has the great potential to positively affect decision support and operations such as cost management systems and resource allocation.
Recommended Articles
This has been a guide to Big Data vs Predictive Analytics. Here we have discussed Big Data vs Predictive Analytics head to head comparison, key difference along with infographics and comparison table. You may also look at the following articles to learn more –