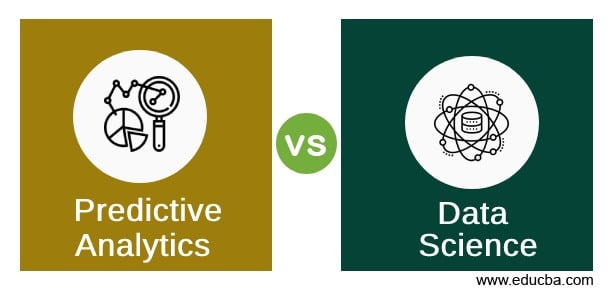 Difference Between Predictive Analytics vs Data Science
Predictive Analytics is a process of statistical techniques derived from data mining, machine learning and predictive modeling that obtain current and historical events to predict future events or unknown outcomes in the future.
Data Science is the study of various types of data such as structured, semi-structured and unstructured data in any form or formats available in order to get some information out of it.
Predictive analytics is an area within Statistical Sciences where the existing information will be extracted and processed to predict the trends and outcomes pattern. The core of the subject lies in the analysis of existing context to predict an unknown event.
Data Science consists of different technologies used to study data such as data mining, data storing, data purging, data archival, data transformation etc., in order to make it efficient and ordered.
The Predictive analytics can be applied to predict not only an unknown future event but also for the present and past events.
Data Science is useful in studying the internet users' behavior and habits by gathering information from the users' internet traffic and search history. This is the way how the recommended ads will be displayed for a user on their web browsing pages without their inputs.
Head to Head Comparison Between Predictive Analytics and Data Science (Infographics)
Below is the top 8 Difference Between Predictive Analytics and Data Science:

Key Differences Between Predictive Analytics and Data Science
Following is the difference between Predictive Analytics and Data Science
The Predictive Analytics is an area of Statistical Science where a study of mathematical elements is proven to be useful in order to predict different unknown events be it past or present or future. Data Science is an interdisciplinary area of multiple scientific methods and processes to extract knowledge out of existing data.
Predictive Analytics has different stages such as Data Modelling, Data Collection, Statistics and Deployment whereas Data Science has stages of Data Extraction, Data Processing, and Data Transformations to obtain some useful information out of it.
There are many techniques used in Predictive Analytics such as Data mining, Artificial Intelligence, Machine learning, Statistics, and modeling etc., to analyze existing data to predict unknown events of future. Data Science is processing of existing information to manage to organize and store in a required manner.
Predictive Analytics uncover the relation between different types of data such as structured, unstructured and semi-structured data. Structured data is from relational databases, unstructured is like file formats and semi-structured is like JSON data. Data Science consists of different tools to handle different types of data such as Data Integration and manipulation tools.
The steps in Predictive Analytics include Data Collection, Analysing and Reporting, Monitoring, and Predictive Analysis which is the main stage that determines the future outcome events whereas Data Science contains Data Collection, Data Analysis, extracting insights out of the analyzed data, utilizing the extracted data for the business purpose.
Predictive analytics has many applications in industries such as Banking and Financial Services, Fraud Detection, Risk Reduction, and improving operations. Data Science applications are digital advertisements, internet search, recommender systems, image and speech recognition, price comparison, route planning, and logistics etc.,
The Predictive Analytics applications cover industries such as Oil, Gas, Retail, manufacturing, health insurance and banking sectors. Data Science covers mostly technological industries.
Predictive Analytics comes as the sub set of Data Science. Data integration and data modeling come from predictive modeling. Data Science has everything from IT management to data analytics.
Predictive analytics is the process of creating predictive models and replicates the behavior of the application or system or business model whereas the Data Science is the one that is used to study the behavior of the created model which is about to be predicted.
For example, A banking or financial institution has a huge number of customers, where the customer behavior will be analyzed by collecting the data from existing information and predicting the future business and prospective customers where the customers are about to show their interest more in banking products. This helps the banking business growth efficiently by using predictive model.
The ultimate goal of the Predictive Analytics is to predict the unknown things from the known things by creating some predictive models in order to successfully drive the business goals whereas the goal of Data Science is to obviously provide deterministic insights into the information what we actually do not know.
Predictive Analytics and Data Science Comparison Table
Below is the comparison table between Predictive Analytics and Data Science.
BASIS FOR

COMPARISON

Predictive Analytics
Data Science
Definition
Process of predicting future or unknown events using existing data
Study of various forms of existing data to extract some useful information
Usage
To predict the businesses of a company
To manage and organize the customers' data
Benefits
To run businesses in a smooth way
Reduction in Data Redundancy and avoids confusion
Real-Time
Predicts past, present and future outcomes of a business
Maintenance and Handling of large volumes of customer data in a safe way
Study Area
A sub-area of Statistical Science that involves a lot of mathematics
A blend of Computer science concepts and its subarea
Industry
Business Process includes Predictive Analytic model to run projects
Most data-based companies started evolving with this area of subject
Applications
Applies to all fast-growing industries and dynamic businesses
Applies to companies where large-scale sensitive data is to be managed
Field
Many types of industries businesses' can be predicted with this methodology
Technological companies have lot of demand for Data Science expertise to organize their businesses   
Conclusion
Predictive Analytics is the process of capturing or predicting future outcomes or unknown event from existing data and Data Science is obtaining information from existing data. Predictive Analytics will be greatly useful for the companies to predict future business events or unknown happenings from the existing datasets.
Data Science will be useful for the processing and studying about data from the existing information to get useful and meaningful information out of it. Both the Predictive Analytics and Data Science play a key role in studying and driving the future of a company in a great way aligning to successful pathways.
The Predictive Analytics is the best way of representing the business models to the managers, business analysts and corporate leaders in a simple and excellent way on how the businesses are evolving in a day to day meetings.
Recommended Articles
This has been a guide to Predictive Analytics vs Data Science. Here we have discussed Predictive Analytics vs Data Science head to head comparison, key difference along with infographics and comparison table. You may also look at the following articles to learn more –