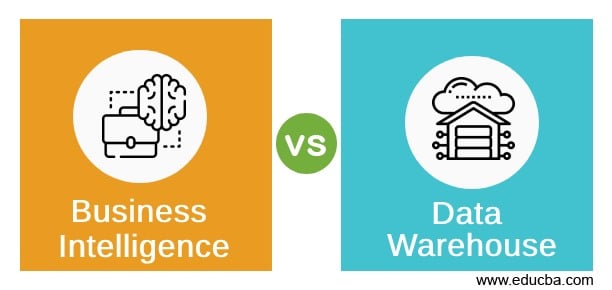 Difference Between Business Intelligence vs Data Warehouse
Business Intelligence (BI) is a set of methods and tools that are used by organizations for accessing and exploring data from diverse source systems to better understand how the business is performing and make the better-informed decision that improves performance and create new strategic opportunities for growth.
Data Warehouse (DW) is simply a consolidation of data from a variety of sources that set a foundation for Business Intelligence, which helps in making a better strategic and tactical decision. So I can say Data Warehouses have business meaning baked into them. Database stores data of different sources in a common format and The Warehouse is like Godown (Big Building) where many things may be stored, but with intelligent algorithms like Indexing which helps in locating and retrieving easily and on the same concept Data – Warehouse works.
Data Warehouse is similar to a relational database that is aimed for querying and analyzing the data rather than for transaction processing. It usually contains historical data derived from transaction data, but it can include data from various data sources. Data Warehouses hold data in Fact Tables (Tables which covers numbers such as revenue and Costs) and Dimensions (Group Facts by different attributes like region, office or week).
I will use certain abbreviations like BI for Business Intelligence and DW for Data Warehouse as it's easy to write. So far I hope you have got enough understanding about both Business Intelligence and Data Warehouse concepts which are so commonly used in the Data Analytics Domain. These are so mistakenly used that even people who are working in this domain also not sure what to use and when to.
Now let's understand exactly what is Business Intelligence which has created so much confusion in the Analytics industry as some people uses both terms interchangeably and lots of discussions is going on the internet.
BI is basically a Business Intelligence system which tells you what happened, or is happening right now in your business – it describes the situation to you. Not only that, a good BI platform describes this to you in real time in a granular, accurate and presentable form.
But on what basis it is able to do so, what is the source. How can it help me in taking a strategic decision?
I will tell you why it is so much intelligent, it's simple it makes use of Data. Data which is accumulated over a large amount of time from several disparate sources.
But now a very basic question arises where this data is. This data is stored in the Data Warehouse (DDS, Cubes). And BI systems make use of Data Warehouse data and lets you apply chosen metrics to potentially huge, unstructured data sets, and covers querying, data mining, online analytical processing (OLAP), and reporting as well as business performance monitoring, predictive and prescriptive analytics.
So now let's compare Business Intelligence and Data Warehouse to get a deeper understanding by comparing.
Head to Head Comparison Between Business Intelligence and Data Warehouse (Infographics)
Below is the top 5 comparison between Business Intelligence and Data Warehouse:

Key Differences Between Business Intelligence vs Data Warehouse
Following is the difference between Business Intelligence and Data Warehouse are as follows:
BI means finding insights which portray business current picture (How and What) by leveraging data from the Data Warehouse (DW).
BI is about accessing and exploring organization's data while Data Warehouse is about gathering, transforming and storing data.
DW outlines the actual Database creation and integration process along with Data Profiling and Business validation rules while Business Intelligence makes use of tools and techniques that focus on counts, statistics, and visualization to improve business performance.
BI deals with OLAP, data visualization, and data mining and query/reporting tools while DW deals with data acquisition, metadata management, data cleansing, data transformation, data distribution and data recovery/backup planning.
DW teams use tools like Ab Initio Software, Amazon Redshift, Informatica etc. while BI teams use tools like Cognos, MSBI, Oracle BI, Pentaho, QlikView, etc.
Software engineers mostly Data Engineers deal with DW while top executives, Managers deal with BI.
Business Intelligence vs Data Warehouse Comparison Table
Below is the comparison table between Business Intelligence and Data Warehouse mentioned.
| | | |
| --- | --- | --- |
| Basis for Comparison | Business Intelligence | Data Warehouse |
| What it is | System for deriving insights related to business. | Data Storage: historical along with the current. |
| Source |  Data from Data warehouse. | Data from several Data sources, applications. |
| Output | Business reports, charts, graphs | Data in fact and dimension tables for upstream applications or BI tools. |
| Audience | Top executives, Manager | Data Engineers, Data Analyst, Business Analyst. |
| Tools | MSBI, QlikView, Cognos, etc. | Ab Initio Software, Amazon Redshift, Informatica |
Conclusion
So I finally want to conclude this article as BI tools like QlikView, MSBI, Oracle BI all access data from Data Warehouses. And let business users create more granular and presentable reports, graphs, charts which help top executives to make a more effective business decision in different functional areas like finance, supply chain, human resources, sales & marketing, and customer service.
I would like to put more light on this as nowadays for Analytics we are moving towards Big Data Ecosystem to handle a large amount of data, but yes anyway, we are moving towards Enterprise Data Hub with distributed system and Map Reduce processing or in-memory execution engine like Spark.
Now I hope it has made a clear distinction between Business Intelligence and Data Warehouse and let me know your thoughts using the comment section.
Recommended Articles
This has been a guide to Business Intelligence vs Data Warehouse. Here we have discussed Business Intelligence vs Data Warehouse head to head comparison, key difference along with infographics and comparison table. You may also look at the following articles to learn more –