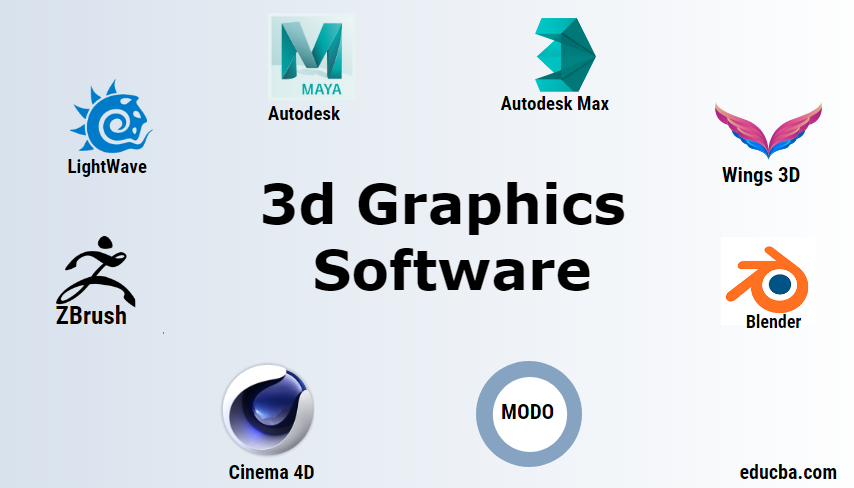 Introduction to 3D Graphics Software
3D Graphics software is those specially designed programs that are used to create 3d movies, games, and 3D graphics. The technology today has made a lot of advancements and has made it simpler and easier to create and give our imagination life and vision. Some of the 3D software are available in the market for free of cost, while some are highly paid. Most of them use simple primitive tools and basic shapes that are manipulated and structured according to the need of the designer. 3D programs are also very important with medical and army training. These 3D programs can be used to depict and visualize a situation or a scenario before doing the same.
The 3D Programs listed below are fun and exciting to work upon, and it fulfills the vision of creating amazing projects with simpler and easier tools.
Top 3D Graphics Software
Below is a list of the top 3d graphics software as follows:

1. Blender
This amazing piece of program has evolved itself during the years and has gained much popularity and attraction from all over the world. Initially, Blender was just a basic tool to design 3D graphics; now, the program has been updated and enhanced so much that it now supports an efficient and user-friendly interface, fun tools, and a strong set of 3D functions. Blender may be a bit confusing program to beginners, but once the tricks and techniques are practiced and learned, the software becomes a blessing to the needy. This program is available free of cost and has an efficient workflow. The program is loaded with lighting effects and texturing that is sufficient and well placed in the interface. Though Blender is a complex program, it is providing a platform to the people who want to learn 3D environments and their tools without Investing a penny.

2. ZBrush
This program is more specifically based on digital sculpting of 3D objects and materials. The program is vast and enormous and has the ability to control high-quality objects with large amounts of polygon count. The program allows the user to shift its interface to 2d and 3D modes. The user has benefited from a smooth transition between the 2d environment to 3d. The mixture of 2d illustration and 3d model is unrealistic and, at the same time, provides a fun element. ZBrush is a good program for those who are more into development and printing 3d Graphics. Moreover, for beginners, the program may be expensive and lengthy to learn.

3. LightWave 3D
This program is used in creating video games, visual effects, product design, virtual production, motion graphics, films, and advertising. The program has been used to create a lot of films and TV Series. The program comes in two different forms. The Modeler and Layout. The modeler has a lot of modeling tools and helps to create objects. While the layout is responsible for the animation and rendering part. The program has extremely helpful Hypervoxels that helps in the rendering of particle animation easily. The program also supports material shaders and Dynamics at length. Earlier used in many of the Hollywood movies and animation films, LightWave presently is less used and purchased.

4. Wings 3D
This program is available in the market for free of cost and is simple and open-source software. The program is designed specifically for advanced subdivision modeling purposes. The program has simple tools and is capable to create objects with low polygons counts. Wings 3D is a perfect program for freshers and hobbyists as well. This program can be more advanced by using plugins and external tools. The files created in the program can be exported to some other higher 3d program as well. The program is simple compared to other 3d programs, but if the user masters the same, it will benefit them accordingly. Although Wings 3D doesn't support animation and rendering purposes, it can be well used with advanced programs for advanced projects.

5. Modo
This program is also a 3D Graphics program that is capable of performing modeling, animation, and rendering to the objects. Modo uses direct tools as well as procedural techniques to create objects and materials. The program initially was a simple subdivision surface modeler and had limited tools and functions. Over a period, the program has evolved and gained popularity and demands as well. Currently, Modo has become a fully developed 3d graphics program that performs complex functions and gives high-quality outputs. The program already has a powerful subdivision surface modeler, and it also supports a mesh fusion Boolean interflow. The program can be operated on Windows, Linux, and on MAC operating systems. Modo also offers 3D printing to its users.

6. Cinema 4D
This program is widely used for creating motion graphics, illustrations, animations, and depictions. Cinema 4D has the ability to perform lighting, texturing, rendering, procedural and polygonal sub modeling, and animating 3d objects. Cinema 4D has parametric modeling tools and functions that are helpful and easier to use while creating complex 3d models. Cinema 4D is developed and created by MAXON computers in 1990. Currently, the company sells four versions of Cinema 4D. They sell a Prime application of Cinema 4D, a Broadcast Version, a Visualize version, and a Studio that has all the modules in it. The user can use Cinema 4D for advanced rendering as it has caustics, ambient occlusion, and HDRI Renders. The program can also perform Dynamic simulation and has a Myograph to track the Motion Graphics and procedural modeling. The program has a scripting language that can be used to create additional plugins and libraries for additional purposes. Cinema 4D is expensive software and can be useful to create high-end outputs.

7. Autodesk Max
This program is based on 3d Modelling purposes and techniques. Max is more used for modeling than for animation purposes. Although Autodesk Max can only be used on Windows operating systems, it can perform functions such as fluid simulations, character rigging, and animation. The program has an inbuilt render, and it uses different modeling techniques to create models and objects. Autodesk Max is an easier program to learn in comparison to its brother program that is Autodesk Maya. The program has a good purchase amount and a free trial version for 30 days prior to it. 3D Max is a simple and interesting program for beginners and 3d artists, which is easier to master and learn simultaneously. The latest version of 3D Max features ambient occlusion and subsurface scattering shaders, particle systems, global illumination, and a user interface that can be modified. It also supports its own scripting language. For animation purposes, the program has General Keyframing functions as well.

8. Autodesk Maya
The most popular and well-marketed animation and 3D graphics program is Autodesk Maya. The popular program is a master in creating animation films and video games. The most important feature of Maya is the ability to modify and adapt itself accordingly. The program supports scripting languages such as Python and Mel. These are helpful coding languages that help the user to create and customize the interface accordingly. Maya has a preinstalled render called Arnold. This render is also an advantage to the users of Maya as the render has its own menus and setting independent of the program. Although Maya is expensive, it comes with a free trial version for the users. Maya is a powerful and interesting program to use that has functions and a broad set of tools that are diverse in nature and flexible and elementary. The program also can export objects to other 3d programs such as Unity and Max. Maya is a dynamic and influential software that can create anything, and everything imagined if the user can master the program.
Conclusion
These are some of the software that is mostly used by 3d artists and developers presently. Some of the programs are open-source, while some require a good amount of money to be invested. The programs that are costlier offer more professional features and functions and helps in mastering the skills. Finally, the idea is to what the user wants to create and develop. This will give them the benefit to choose the right software with accurate and sufficient tools and functions.
Recommended Articles
This has been a guide to Top 3d Graphics Software. Here we have discussed some basic Concepts and the top 8 3d Graphics Software. You may also look at the following articles to learn more: