Updated June 2, 2023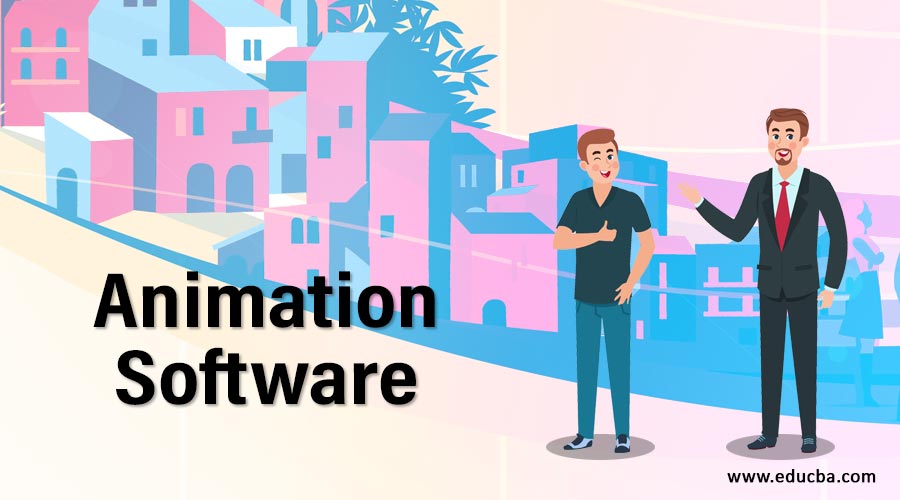 Introduction to Animation Software
Today, the popularity of animated videos is increasing day by day. Animation has a wide reach of applications in today's world, from creating visual content for your brand, creating animated movies, or creating social media content, and so on. You can create animation with the help of various animation software combining your skills and creativity. If you have some learning about animation techniques, it will be very easy for you to use this software. You can start by following tutorials even if you don't know much about them. Now the important question is where to find software for creating amazing animation videos.
Top Animation Software
Here we introduce you to various animation software available that are the best ones currently in use.

1. KeyShot
KeyShot is used to create interactive 3D renderings, animations, and visuals. It is a real-time Ray tracing tool that also comes with global illumination settings. Keyshot's architecture is CPU-based, allowing photorealistic rendering in real time. It can function smoothly in laptops with minimal hardware configurations. You do not need to invest heavily in purchasing a separate graphics card for your system. Another advantage of using Keyshot is that it allows the import of multiple 3d file formats, unlike any other software available. It can support up to 20 file formats to import. KeyShot's user interface is intuitive and user-friendly, with drag-and-drop options for adding material and environment presets, texture, mapping, lighting, animation, and more.

2. Powtoon
Powtoon is one of the easiest animation software available to create professional and clean videos and creative materials instantly. Anyone can use Powtoon without having any design or technical skills. Most fortune 500 companies use it, with a user base of over 20 million people. A company can use Powtoon to engage with customers, boost revenue, make internal communication with employees exciting, and effective brand marketing. Developed in 2012, today, Powtoon has offices around the world. By using Powtoon, you can save a lot of money spent on professional studios. You can create studio-quality videos and animations within minutes, all by yourself. To make things super easy for you, a broad catalog of high-quality templates is available in the media library. It contains graphic arts, audio tracks, text effects, image and video collection, props and characters, and the option to add your own media.

3. Autodesk 3ds Max
Autodesk 3ds Max is an advanced 3d computer graphics software created by Autodesk used for creating 3D animations, character models, games, and effects. It runs on the Windows OS platform. 3DX Max enables the user to create professional-grade output. Hence, it is a preferred program amongst 3D animation professionals for creating movies, games, and architectural visualization. It also comes loaded with a flexible plugin architecture. You can also create movie effects and pre-visualization elements using 3ds Max. The latest version of 3ds Max has advanced tools that feature dynamic simulation, lighting effects, radiosity, rendering and map, particle system, friendly user interface, fresh icons, and more.

4. Animaker
Similar to Powtoon, Animaker is another easy-to-use, do-it-yourself animation software available online. It is one of the world's largest libraries of animated assets, enabling its 3.5 million users across a number of countries to create stunning visuals and animation. You can create videos on par with professional quality production within minutes. Animaker also supports multiple language integration; you can use it without extensive training or guidance. Organizations use Animaker to transform static and boring data into attractive, engaging infographic artwork. It is also an excellent tool for explaining product details with 2D animated explainer videos. The users can also integrate character presets into their videos to make things exciting and fun.

5. Adobe Animate
Developed by Adobe, Animate is a computer animation and multimedia software used to create vector graphics and animation. You can use your creations on websites, videos, internet applications, TV programs, and games. Being an Adobe product, it has several similarities with its other applications, such as Adobe Illustrator. For example, using the stylus or pen tool, you can create vector brushes in your drawing of lines and strokes. You can master Adobe Animate by learning from tutorials and online learning resources. Whether you are a student, a creative professional, or a hobbyist, Animate is the perfect tool if you are already familiar with Adobe creative suite.

6. Autodesk Maya
Autodesk Maya is one of the most preferred 3D animation software for creating professional videos in animation films, studio programs, advertisements, and video games. It revolutionized the animation landscape, dominated by traditional 2D and hand-drawn techniques. Animators worldwide prefer Maya as it offers many activities such as realistic 3D animation, creating 3D environments, model creation, visual effects, and a lot more. Maya was released in the year 1998 as version 1.0 by Alias Wavefront. Autodesk acquired Maya in 2005 after 7 years; the rest is history.
Conclusion
This article illustrates a number of high-quality animation software currently used for making animation videos and presentations. Some of them are considered the industry gold standard and are used by many professional creators across the globe. Whether you want to market your brand, you are a beginner in the world of animation, or you simply want to explore creating visual content, the animation software featured in the above write-up can help you drastically.
It is said that practice makes a man perfect; the same applies to mastering animation — the more you practice, the more skilled you become. Most of the software is easy to use, and you can start your journey in the world of animation all by yourself. However, if you stumble across anything, you can refer to thousands of tutorials available across the internet to help you. So why wait anymore? Download the animation software that best suits your requirements and create amazing videos and visuals today.
Recommended Articles
This has been a guide to Animation Software. Here we discuss the introduction, basic concepts, and top six animation software. You can also go through our other suggested articles to learn more-