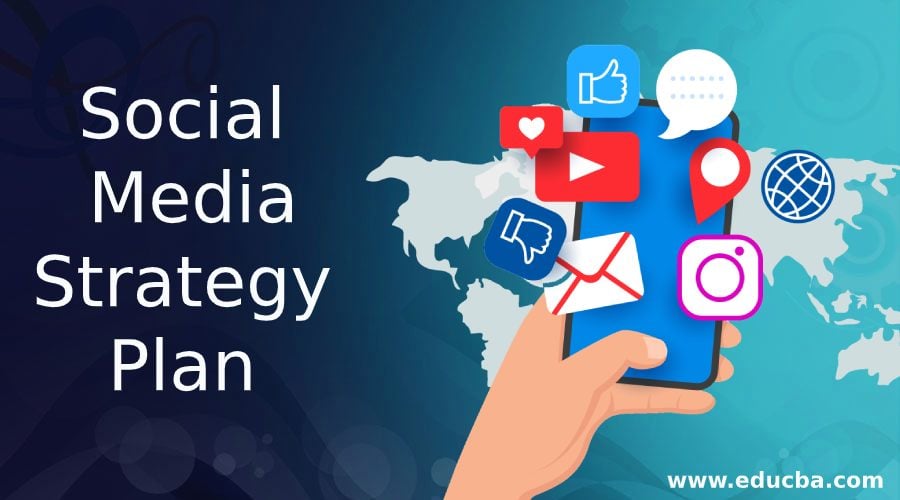 Introduction to Social Media Strategy Plan
Individuals and businesses are now increasingly seen to be having the presence in social media and trying to actively reach out to others with a desire to communicate, network and let others know what they are doing. The earliest networking efforts were through Hotmail/MSN Messenger and Google chat which was possible through identifying friends, colleagues, and associates on the email service platform.
However, that was more at the person-to-person levels and provided no business promotion opportunities. Orkut created a revolution in social networking but it soon petered out with the advent of Facebook, Twitter, and other services.
In simple terms, social media is an online platform for people, groups, and organizations to communicate, share and collaborate. Individuals use it to keep in touch with friends, while organizations use it now to promote their businesses, branding and create new customers.
Some of the most popular social media platforms are Facebook, Twitter, Pinterest, Google plus, Linkedin, Whatsapp, Reddit, and Hike.
Facebook: Facebook is by far the most popular social networking site. It enables users to upload profiles, photos, video, random postings, sharing posts of others, and having advertisements or campaigns.
Twitter: Twitter is a free micro-blogging service where users publish small podcasts called tweets with limitations on the number of words to be used. Although the account opening and maintenance is free, Twitter has now created a new service called Twitter for Business. Twitter allows businesses to put up their profile with photos, header bio, and pinned Tweet which should reflect the business identity and personality. It can be used to showcase the best social media strategy plan content of the company. It is also possible to place ads on Twitter.
Google plus: Google plus is Google's networking and sharing project although it is now being overshadowed by other competitors such as FB and Linkedin. However, for professionals, Linkedin is still a good way to share articles, information, photos, and data.
Reddit: It is a social media website where articles are socially curated and shared by members. There are thousands of sub-communities within Reddit called subreddits. Each such sub-community will have a topic such a technology, politics, marketing, music, business among others.
Pinterest: Pinterest was started with the objective of posting photos with a short description online. When a visitor clicks on the visual (photo or drawing) he is directed to the original containing more details on the topic. A visitor clicking a jewelry picture may be directed to a company that sells the product offline or online.
LinkedIn: It is a professional group meant to promote the business and professional goals of individuals and organizations. Here it is possible for individuals or corporates to join groups, participate in discussions, put up insightful articles in Linkedin Pulse and share content or photos with others. Companies can create good profiles and photos can be used effectively here too. Since it is a professional platform, jokes, politics, personal matters, and controversial topics are best avoided in this forum.
It Pays to Have a Budget for Social Media
If you ask businesses, small, medium, or large, most likely they will say they are in social media but their activities may be restricted to posting happenings in the company, sharing photos, and new product launches.
And most probably, employees and associates will be promoting more likes and visits to pages through their own friends or business networks. This social media marketing strategy may be good, to begin with but will not yield good results in the long run with only incremental growth in page visits, likes, and sharing of posts.
There is no entry barrier for promotion in social media and organizations are allowed to have accounts opened and maintained for free. But free social media strategy plan and services have their limits and hence it pays to keep some budget reserved for social media presence and promotion.
To begin with, it is important to have a good strategy for promoting business through social media to achieve the desired objectives of the social media strategy plan and the good return on investment (RoI).
Before the social media began to get noticed by marketers, the online promotion of businesses was mainly through websites, promoting it through Google adsense using keywords, email marketing and SMS (Short Messaging Services).
Five Steps to an Effective Social Media Strategy Plan and Tools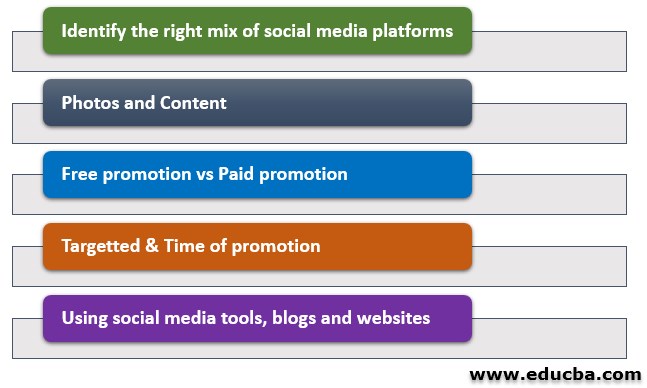 1. Identify the right mix of social media platforms
At the outset, it is very important to identify the best platform to promote your business. For textiles, fashion and other accessories, FaceBook along with Pinterest may be the right platform, for banking, finance and investment industries a mix of Facebook and LinkedIn may be appropriate while for news and publishing industry Facebook and Twitter may be apt.
According to content marketing professional advisor Neil Patel, Pinterest may be suitable for niche markets with 68% of its users being American female.
2. Photos and content
Photos and content posted and shared should be of professional quality and in tune with the content shared by other industry leaders. This helps the company to be in the professional loop. Ideally, logos, company products and key people in the company can be promoted through social media.
For eg. Professional aspects of a company related to its human resources and competencies can be promoted through Linkedin even as a FaceBook page could be saturated with several other happenings in the company such as events, new appointments, product launches and sharing of new industry insights in brief.
Care should be taken not to put company products, services and marketing promotion alone in social media postings. Instead of trying to get sales conversion right away, an effort should be made to exhibit the competency of the company in the industry domain by posting good insights, sharing and commenting on industry related issues so that stake holders in the industry are attracted to the social media pages of the company.
3. Free promotion vs Paid promotion
Some companies with social media strategy plan may spend several millions on traditional advertising channels such as print media, hoardings, television, and radio, however, they are not quite aware of the potential of investing a small proportion of their marketing spend on social media and instead relying on free postings.
Paid promotion with a better return on investment (RoI) can be achieved for example in FaceBook, Linkedin through advertisements, FB post boosts, event promotion, increasing page likes and shares. In social media, the effectiveness increases as more people like and share the pages or posts.
Some experts advice businesses to first try a free social platform before enabling paid services. Multiple posts should be scheduled across networks with a good media management tools.
4. Targetted & time of promotion
In traditional media such as print, television and radio, our marketing promotion reaches a huge audience across geographies, interests, age groups, economic and social status. However, it also reaches out to a huge number of people who are not our target audience but still has to be pay based on the perceived reach claimed by the media house.
In social media, it is possible to target the audience and hence get a small number of effective responses. Targetting can be in the form of setting the geography, age groups, interests, hobbies, social media keywords which in turn lowers the cost of marketing and brings most relevant enquiries that can help in sales conversion.
Social media unlike print medium, physical hoardings or displays are potentially visible to its audience 24/7. But there are peak and non-peak timings when it comes to visitors logging into a page and accessing content. With the growth in smart phones and net connectivity, it is possible to keep posted on social media updates even on the move.
However, during working hours in the day, it is possible that social media activity will be lower compared to morning and evenings. Hence it makes sense for advertisers to think of the time to launch an FB or Twitter campaign or paid promotion through Linkedin. Night, weekends, holidays are ideal for some campaigns and posts.
5. Using social media tools, blogs and websites
This is the age of automation, smart work rather than hard work. Therefore, it is vital that there is a good team of social media experts who are assisted by relevant social media strategy plan and tools available in the industry. It could be in the form of software, apps that either free or subscription driven which can be effectively used to automate certain social media activities.
According to Neil Patel, the social media strategy plan and tools help save time, get more results and ensure consistency of postings across different social media. Ankit Fadia's best seller Social: 50 ways to improve your professional life can help create an awareness about the huge potential of social media strategy plan and tools that can enhance your professional life and company prospects.
Neil Patel points out that the Buffer tool used for Pinterest can pin images automatically, create a posting schedule, easily add images to the queue and post to multiple networks.
For better results, companies could use social monitoring platform that tracks metrics. It enables corporates to check campaign performance and learn from the data.
These days many new businesses don't even have websites but create a good social media marketing strategy around FaceBook, LinkedIn etc. Some garments are exclusively sold by creating FB pages or in FB stores. However, for much of the small and large businesses, there is no alternative to have a good website with all the relevant details regarding promoters, products, projects and giving elaborate contact points for each department or wing.
The marketing promotion done through social media should land on the contacts page or landing page to capture relevant information of the prospective customers. Several organisations now effectively use blogs to write articles related to their industry, or a new product offering, the latest technologies and how it impact the market place.
The posts are also promoted through social media which is capable of establishing the competence or expertise of the firm in that domain.
Some companies with a social media strategy plan use Employee Advocacy programs that enable sales people to choose the approved sales campaign to be posted. It can get a specific social media strategy plan content based on sales function, territory and interests. When the sales force is freed to find the right content, they can organize themselves into great social sales people even when on the move.
Some Vital Stats on Social Media
According to Forbes magazine, 54% of salespeople reported that they had closed at least one deal using social media
International Business Times noted that most top brands are active on five to nine social media platforms.
Globally, the majority of the companies (87%) have a presence in Facebook and Twitter, the most popular platforms for social communication.
Women account for 80% of Pinterest users, the majority being in the USA.
Twitter is used by 55-64-year-old people more than any other age group.
Media Bistro reported 64% of Google+ users are male.
Forbes reported that 78% of salespeople using social media outsell their peers who didn't use social media.
Social Media Enhances Business Analysis, Metrics
As more people log into social media to communicate, make purchase decisions or share ideas and information, businesses are finding new ways to analyze such data and make business decisions. Social media analytics gathers data and information from blogs and social media sites for analysis which in turn helps in decision making. Customer sentiment is assessed for support activities by social media companies.
Social media optimization (SMO) is to social media as search engine optimization is for website content. The strategy helps to draw more visitors by adding links to social media strategy plan content such as RSS feeds and sharing buttons. It can also be done through status updates tweets or blog posts.
Social Customer Relationship Marketing is enabled through getting feedback from customers about a service or product. Social Media Strategy for small businesses enables businesses to respond quickly to both positive and negative feedback, attend to customer problems and maintain, regain or rebuild customer confidence.
Social media is an enabler of crowdsourcing. Here customers can utilize the platform to offer a social media strategy for small businesses and ideas for future products or tweaks to current ones.
Recommended Articles
This is a guide to Social Media Strategy Plan. Here we discuss five steps to an effective social media strategy plan, tools and some vital stats on social media. You can also go through our other suggested articles to learn more –