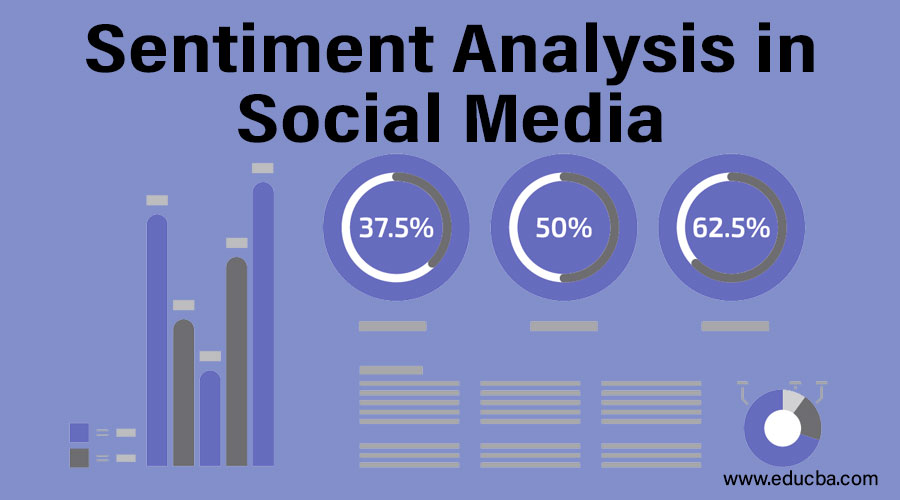 Introduction to Sentiment Analysis in Social Media
The following article provides an outline for Sentiment Analysis in Social Media. People are curious to know about what people think about others? No one spares an opportunity to find out what their friends, colleagues, neighbors, relatives think of them and most of the time our inference may not be correct but that doesn't keep anyone from guess working what others think about them.
In the business world, brands and their promoters are keen to know what others think of the company and the brand. It is achieved through sentiment analysis. Sentiment analysis has become automated thanks to the enormity of the task and the new tools that have emerged to make it easier.
Long ago, it wasn't easy to measure sentiments about the company but now feedback is quite instantaneous thanks to the wide reach of sentiment analysis in social media – it includes customer voices, opinions, product reviews, news, and analysis.
Sentiment analysis in social media is usually done on the basis of references to the company or brand on the web, print, electronic media, and in the news. Sentiment analysis in social media not only helps companies/marketers understand what others are thinking about them but it also helps in analyzing such data and taking remedial action is required on its basis. It is also used to monitor content (Inbound marketing) initiatives and how it is impacting perception about the company.
Strategies of Sentiment Analysis in Social Analysis
Here are 8 strategies to make the best use of sentiment analysis in social analysis and how best to utilize the tools available for it.
1. Make your sentiment analysis in social media as possible
Sentiment analysis would become meaningful only when it is done on a comprehensive scale. It should cover social media, your own CRM data (Customer Relationship Management), websites, news, blogs, and so on. This is possible with various tools available which are either subscription-driven or free.
The analysis should be done across Twitter, Facebook, Pinterest, Google+., Quora, LinkedIn, YouTube, Slideshare, Instagram, and LinkedIn. There should be a proper mechanism for pre-campaign and post-campaign evaluation to see how much impact the campaign has made on consumer sentiments towards the brand. There are a variety of tools available to do the job.
2. Monitor consumer sentiments beyond brand mentions or likes
Many times companies are bothered about how many times their company name or brand name is mentioned. Or in social media, they are more bothered about the likes. However, it is more important to monitor sentiments about the product, how competitors are being perceived by the consumers, and also how the public perception about key employees within the organization.
Are they friendly, hardworking, and responsive to the consumers? More importantly, does the company have a system in place to handle consumer queries and complaints? The online reputation of key players in the organization may also have an impact on the consumer sentiments towards the company.
Various tools that enable sentiment analysis in social media and the web are Meltwater, Google Alerts, People Browser, Google Analytics, HootSuite, Tweetstats, Facebook Insights, Pagelever, Social Mention, and Hubspot's Marketing Grader. With Marketing Grader it is possible to find out how active you are in blogs that are available for sentiment analysis in social media, and the web. It also enables marketers to find out how the sentiments are leading to sales conversions. Facebook pages with more than 30 likes are eligible for getting insights into visitor behavior such as likes, active users, demographics, external referrals, and more.
It is important not to be swayed by the volumes of likes, brand mentions, tweets but whether that is generating leads, sales conversions, or a positive image of the company. Quality metrics are often not measured but ignored. They include satisfaction ratings, replies, conversations, re-tweets, opinions among others.
Every effort involves time and cost, therefore, it makes sense to have a proper evaluation of the efforts.
Sentiment analysis dataset should not be used just to evaluate sentiments about your brand alone. It can be used to find out which brands are getting the highest engagement in social media, what topics related to your industry are more talked about, which influencers are talking more about your brand and your competition.
Using the right tools for sentiment analysis is important to achieve the desired result. For eg., IBM has the IBM Social Sentiment Index that can aggregate sentiments on social media. It is capable of distinguishing sarcasm, sincerity, selects which media commentary is relevant and which is just creating background noise. The software uses analytics and natural language processing (NLP) to come up with a more accurate view of what consumers feel.
3. Sharing of sentiment analysis dataset
The objective of sentiment analysis dataset collection and analysis is not to confine it to the marketing or corporate communications department. It has to be shared with stakeholders in the organization. All business heads and unit managers need to be aware of the sentiments consumers have about the company- it will help in the formulation of strategies, plans, and policies. Moreover, the sentiment analysis dataset is actionable – if there is a negative sentiment towards product quality or service, it has to be remedied and the first step is to make the concerned teams aware of this matter. The goal of the sentiment analysis dataset is not to confine it to a department but should be circulated to concerned stakeholders that in turn will help in the formulation of better policies.
4. Relying too much on automated sentiment analysis software
The problem with sentiment analysis is that for large organizations there is so much to track on websites, social media, and other digital media. To err is human, so are the machines or software. If a leading restaurant gets a review that is positive about food but negative about service which sentiment would be highlighted? Experts suggest that when using sentiment analysis tools, look for one that helps you to override sentiment and toss irrelevant results. Tools that enable manual override of sentiments help in getting alerts about high-level trends which can then be manually analyzed or monitored.
When there is a large volume of sentiment analysis datasets to be analyzed, using sentiment software would be less costly and efficient than human analysts. But experts point out that there should be an ideal mix of sentiment software analysis and manual analysis.
It is important to have auditing of sentiment analysis so that sarcasm and positive things can be distinguished. It requires a trained pool of people to verify and check the software provided by the sentiment analysis dataset. The report presentations have to be brief and simple so that they can be shared with other departments.
Sometimes, the nuances of grammar and usage can confuse the computer and come up with bad judgment. " The coffee tasted bitter, as it should be but was lacking in color". In such a sentence, will the positive or negative be highlighted? To override such sentiment results, some software use rules to find out how context may affect the content tone. This is done manually also.
5. Using Keyword processing and NLP is quite reliable
Keyword processing algorithms distinguish negative and positive words which are fast and inexpensive to implement and run. Natural Language Processing is created on the basis of the understanding of words, sentences, and phrases to get a feel for what is being communicated. Sometimes, NLP can also go wrong in language processing – how to distinguish 'sick' for cool or ill.
6. Using predictive analysis based on sentiments
Predictive analysis can be used to predict consumer behavior based on sentiments analysis in social media and websites. The prevailing tendency is to use article-level sentiments but more success can be achieved with entity-level sentiments, according to leading analysts.
7. Don't ignore the mobile
Many of the one-to-one and group conversations take place on mobile. Moreover, with the popularity of mobile apps, much of the communication happens on Android or iPhone. Several new tools have emerged that used sophisticated NLP to analyses chats, SMS, social media, hospitality and they are mostly cloud-based applications. Lexalytics which launched enterprise-level NLP for Android emphasizes the fact that all data analyzed are stored on phones and not sent to the cloud thus ensuring privacy. The product titled Salience immediately alerts users regarding negative and positive/praiseworthy emails and messages and a summary of such findings is given on a weekly and monthly basis.
In the modern context where mobile is achieving more penetration and universal applicability thanks to Android and Windows platforms, enterprises need to actively track mobile communications for possible clues about consumer sentiments towards their brands.
8. Beware of accurate claims
It is true that sentiment analysis is gaining popularity and increasing sophistication but beware of tall claims about the accuracy of this strategy. According to analysts, there are no standard measures to verify the accuracy of different sentiment analyzer tools and hence 70% reliability is more acceptable than 90% or above as some work on the entity level, some on the article level, some use NLP while others use different algorithms to arrive at what consumers feel about your product or brand.
It is very important to go for hybrid types that can combine article level, entity level, directional, quotation level, keyword-level sentiment across content web pages, blogs, and social media. One such application is IBM's Alchemy Sentiment Analysis
According to experts, sentiment analysis could have widespread implications on the way content is delivered across the media. For eg., Facebook could put in Newsfeed a priority for positive news related a leading industry or company or even vice versa. This, in turn, may help these media to provide better content in feeds that are engineered or selected using machine intelligence. It could definitely be a step above raw news feeds just done through random selection of topics based on user preferences.
Conclusion
It can help companies improve customer service, revive the fortunes of a sagging brand, help overcome competition and obtain business intelligence that is required to stay ahead. It has been found to be good in assessing the sentiments broadly into negative, positive, or neutral.
An online ticketing company StubHub decided not to refund tickets for a specific game. That lead to popular discontent on blogs and this was effectively captured by sentiment analysis that helped the company take remedial measures.
The intelligent software uses the influence or popularity of a person to assign more weight to their views. A Twitter user with a large following, a celebrity who gives an opinion will get more edge over a person who has a lower influence, fewer followers on social media and in professional life.
Sentiment analysis has come a long way since 2011 when Dow Jones in association with Columbia University, University of Notre Dame, created a 3700-word dictionary on sentiment. It was called Dow Jones Lexicon- some positive words included ingenuity, winner, and strength while those with negative connotations have colluded, risk, litigious. The sentiment analysis in social media is based on this lexicon on leading business newspapers were found to more accurately predict trading strategies and views of the public on the US economy. Thomson Reuters had also a similar tool for assessing the impact of positive or negative news on industry and companies. It was called Machine Readable News Service.
There is a huge demand for sentiment analysis in social media as it is capable of mining tens and thousands of documents to come up with sentiments consumers or users have of the brand or company The pitfalls of too much reliance on automated sentiment analysis have already been emphasized. Human language and writing have cultural differences, slang, misspellings and for machines to understand the context in which it was said or written is a daunting task. Even as experts point out the rapid improvements in automation, an adequate level of human intervention and analysis is required to make the whole process foolproof.
No software can measure skepticism, concern, anxiety, hope, or lack of it and therefore it is not an easy task to make it 100% reliable although organizations are probing ways to make its use more meaningful across industries.
Success in the assessment of consumer attitudes requires a marriage of semantics and sentiment analysis. When a user describes seats of the ugly Ford Explorer as great, it denotes a distaste for the brand but not of the upholstery of that model.
Recommended Articles
This has been a guide to Sentiment Analysis in Social Media. Here we discuss the basic concept with 8 best strategies of sentiment analysis in social media respectively. You may also look at the following articles to learn more –