Learn from Home Offer TAKE THIS BUNDLE
BUSINESS ANALYTICS Course Bundle - 22 Courses in 1
This Business Analytics Training Certification includes 22 courses with 89+ hours of video tutorials and Lifetime access. You will also get verifiable certificates (unique certification number and your unique URL) when you complete each of the courses. The training includes business analytics using programming languages such as R, SAS. Also learn Fraud Analytics, Customer Analytics, Marketing Analytics, Pricing Analytics.
TAKE THIS BUNDLE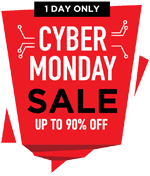 * One Time Payment & Get Lifetime Access
What you get in this BUSINESS ANALYTICS Course Bundle - 22 Courses in 1?
89+ Hours
22 Courses
Course Completion Certificates
Lifetime Access
Self-paced Courses
Technical Support
Mobile App Access
Case Studies
About BUSINESS ANALYTICS Course Bundle
---
| | |
| --- | --- |
| | |
| Courses | You get access to both the 22 courses, Projects. You do not need to purchase each course separately. |
| Hours | 89+ Video Hours |
| Core Coverage | Business Analytics using SAS, Business Analytics using R, Fraud Analytics, Customer Analytics, Marketing Analytics, Pricing Analytics, Financial Analytics, SEO Analytics, Video Analytics, Google Analytics, and others |
| Course Validity | Lifetime Access |
| Eligibility | Anyone who is serious about Business Analytics and wants to make a career in this field. |
| Pre-Requisites | Knowledge of R, SAS Programming Language would be useful |
| What do you get? | Certificate of Completion for each of the 22courses, Projects |
| Certification Type | Course Completion Certificates |
| Verifiable Certificates? | Yes, you get verifiable certificates for each course with a unique link. These link can be included in your resume/Linkedin profile to showcase your enhanced skills |
BUSINESS ANALYTICS Course Bundle Curriculum
The below table gives you a complete overview of all the Business Analytics courses and the list of chapters covered in this business analytics certification content –

MODULE 1: Business Analytics Essentials Training

| Courses | No. of Hours | Certificates | Details |
| --- | --- | --- | --- |
| SAS Business Analytics for Beginners | 10h 45m | ✔ | |
| Business Analytics using SAS Beginners | Business Analytics Courses | 8h 36m | ✔ | |
| Business Analytics using R - Hands-on! | 16h 21m | ✔ | |
| Time Series Analysis and Forecasting using R | 4h 23m | ✔ | |
| Project on R - Card Purchase Prediction | 2h 28m | ✔ | |
| Project - Fraud Analytics using R | 2h 34m | ✔ | |
| Project - Marketing Analytics using R and Microsoft Excel | 2h 9m | ✔ | |
| Case Study - Customer Analytics using Tableau and R | 2h 7m | ✔ | |
| Case Study - Pricing Analytics using Tableau and R | 2h 39m | ✔ | |

MODULE 2: Financial & Marketing Analytics

| Courses | No. of Hours | Certificates | Details |
| --- | --- | --- | --- |
| Financial Analytics and Statistical Tools | 1h 6m | ✔ | |
| SEO Analytics Strategies- Content Marketing Tools | 2h 13m | ✔ | |
| Customer Analytics Course | 1h 02m | ✔ | |
| Marketing Analytics Course - The Fundamentals | 52m | ✔ | |
| Marketing Analytics | 2h 12m | ✔ | |

MODULE 3: Learning from Practicals & Case Studies

| Courses | No. of Hours | Certificates | Details |
| --- | --- | --- | --- |
| Google Analytics | 4h 47m | ✔ | |
| Business & Data Analytics - Beginners | 2h 18m | ✔ | |
| Video Analytics using OpenCV and Python Shells | 2h 13m | ✔ | |
| Statistics Essentials for Analytics - Beginners | 2h 5m | ✔ | |
| MS Excel HR Dashboard | 5h 56m | ✔ | |
| Advanced HR Dashboard with MS Excel | 8h 15m | ✔ | |
| QM for Windows - Analytics using QM | 2h 9m | ✔ | |
| Data Analytics with QlikView | 5h 54m | ✔ | |
Goals
It aims to provide knowledge about the core of business analysis to build and start your business analyst career in the right way. It provides training to the folks about how datasets are useful and how they can be leveraged to solve problems and increase efficiency, productivity, and revenue of the business.
Objectives
To guide people who are passionate to learn about business analytics. This training program will include various courses which are beneficial for the trainee to work in any business organization. These methods as data extraction, data visualization, series matching, and analytical modeling to anticipate and optimize results and gain profit from the data will be done easily.
Course Highlights
SAS Business Analytics for Beginners is the first unit of this course in which the SAS business tool for analyzing statistical data is explained and how it is to be used. It is almost a nine hour-long video tutorial in which all the concepts are step by step or code by code explained for an easy and efficient learning experience. It will give you a brief introduction about the modules that will be covered  in the training program
Business Analytics Courses with SAS is the next unit in which ahead to a little advancement in the course in which how these SAS tools are used to analyze the business problem and how it can be used to  Maximize the profit for an organization is explained. It will be an 2-hour long video tutorial in which detailing will be done step by step to make understanding easy.
Financial Analytics and Statistical Tools is the third unit in which accessibility of data and tools that are making it easy to fetch data and analyze it where statistical software packages are used analyze financial data, spot trends, and develop forecasts will be explained to keep a check of their finance. It will be a two-hour long video tutorial in which all the statistical tools used in finance will be explained.
SEO Analytics Strategies- Content Marketing Tools it is the fourth unit where you will be explained about the search engine optimization strategies and how you can make changes in the content to make it appear on the search engines.
Business Analytics using R – Hands-on! will be next unit where you will learn about how you can analyze data using  'R Programming Language' which is an open-source programming language and a software environment designed by and for statisticians used for statistical computations and high-end graphics
Marketing Analytics Course – The Fundamentals will be the next unit in which the fundamentals of marketing analytics will be briefly explained with one-hour long video tutorials. It is the process which helps the marketers to measure the success of their marketing initiatives by measuring performance by gathering data from different marketing channels and combines it to form a marketing view.
10 More Courses and Projects There are more courses in business analysis training programs which are offered.
Project Highlights
Business Analytics Training program comprises various modules which are explained through video tutorials. The project will be based on the details given to you:
Project on R – Forecasting using R will be the first project in the course in which to forecast data using different resources. You will be focusing on all the topics that you would have covered in this course to draft a solution for this project.
Project – Fraud Analytics using R & Microsoft Excel will be the next project in which you will show how fraud can be seen using the instruction given to you in the course.
Project – Marketing Analytics using R and Microsoft Excel Projects on R – is one of the main projects of this course. In this project, the trainees will be learning about marketing analytics using R and Microsoft excel. This project will fortify your understanding of the course.
10 More Projects and courses will be there according to the course adopted. After completing all of these projects, you will be able to work effectively as a business analyst and will be able to draft all your problems in practical life.
---
Business Analytics Course – Certificate of Completion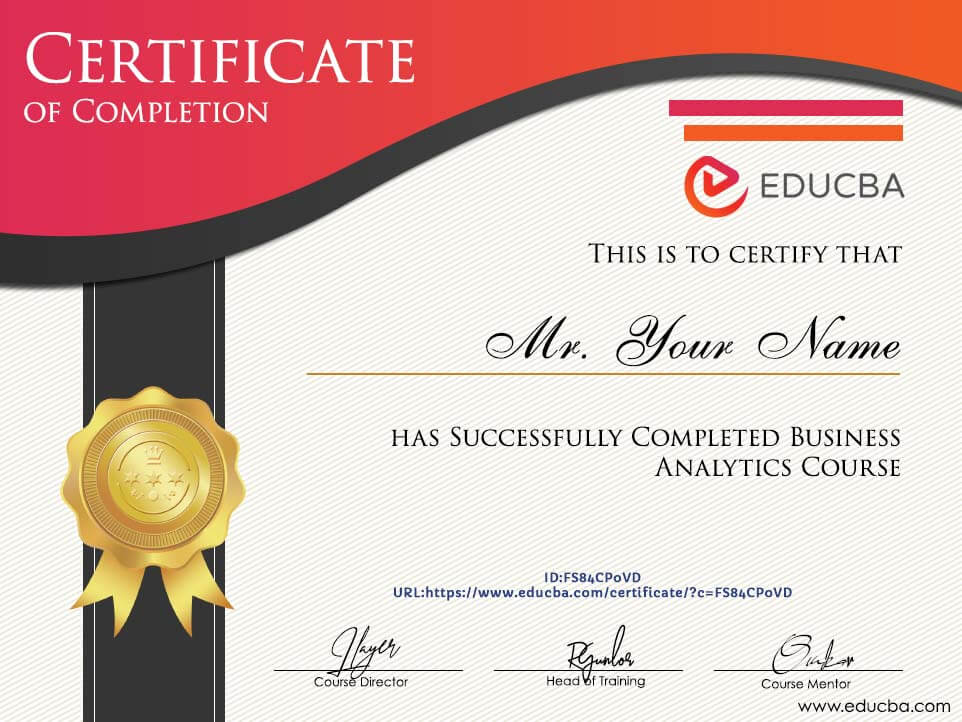 What is Business Analytics?
In today's world, companies are flooded with a large number of data and the business data are been a critical issue in an organization, organizations need to analyze based on past data. The main objective of Business is to achieve high revenues, low cost.  Business Analytics describes the data through statistical and operational analysis that deluge a business on a day -to- day basis, they require a quantitative tool. As big data composed of large volumes of data from external databases to improve the quality and accuracy of implementation software companies use business analytics for making good decisions and Strategic moves and delivered as an application suitable for the business user. The main scope of business analytics is Descriptive analytics, Predictive, Prescriptive Analytics.
The business Analytic process involves taking input from business reports, business cloud data storage, business database or dataset and these three components analyze the data to find opportunities in data. The outsourcing of the Business analytic process is related to business and improve business performance and business planning. BA requires Knowledge of Data Warehousing, analytics. Application of Business Analytic includes Market based analysis, Inventory management, Human Resource Management, pricing decisions. The primary benefits of Business Analytics are that they respond to the user on a timely basis and speed up the decision making process. Moreover, the business analyst identifies patterns in data to drive decisions and insights. Their job role includes predictions, risk management.

Industry Growth Trend
Global Business Analytics Market to grow from $40,814.6 million in 2014 to $66,719.8 million in 2019, at a Compound Annual Growth Rate (CAGR) of 10.3% from 2014 to 2019
[Source - MarketsandMarkets]
Average Salary
Average Salary
$75,629 per year
The average salary for a Business Analyst is $75,629 per year in the United States.
[Source - Indeed]
What tangible skills will I learn from this Business Analytics course?
Here are some of the skills you will learn from this Business analytics training to uplift your career growth.
After completing this Business analytics training course learners will be able to describe customers' data used by an organization and understand how this benefits business decision making. understanding good marketing decisions, expanding your skills in website search engine ranking and managing troubleshoot problems. You will develop some essential skills to lead an organization and acquire a relevant path on how to work with data.
Skills you will gain in marketing analytics are customer lifetime value, Regression analysis. Skills gained through SEO Analytics are how to indulge in social media marketing, keyword and content marketing. By the end of this Business analytics training, you will be able to perform analysis in finance using tools like R, python. Predictive Analytics, Marketing performance, and management are the added tangible skills to this Business analytics certification course.
Pre-requisites
There are no skills required as a pre-requisite for Market Analysis. Basic interest and those who have a passion for this field can take up this Business analytics training.
Business analytics training certification is beneficial to marketing Managers, Business Owners, Content writers, and entrepreneurs marketing professionals.
As long as candidates have working knowledge in analytical programming, they will successfully learn this Business analytics training. Knowledge of statistics and quantitative methodologies and a similar course in  QM1 are the prerequisites required for QM2 analytics.
Pre-requisite for customer analytic should have basic knowledge of marketing and knowledge in statistics is recommended.
Target Audience
Candidates should take away MS- Excel, business understanding, strong structure thinking, Analytical Problem solving, Advanced data architecture knowledge to shine in a business analytics career.
The Target Audience for SAS Analytics are researchers, statisticians, Business  Analysts, and SAS programmers. Marketing professionals with finance and economic background are the target audience in Market Analytics.
Finance professionals, Analysts, executives should attend this financial Analytics training.
Target Audience for HR Analytics is a Technical Administrator, Business Intelligence developer, data warehouse developers. Requirements for video analytics are fundamental knowledge of python and statistics.
Market managers, Business Development Managers, information Analysts, IT managers should attend this customer Analytic Course.
FAQ's- General Questions
What skills this Business analytics training certification trains for?

You will acquire skills to increase your business performance by getting trained in different schemes of the analytic process, and all these can put you to use in real life.
 What are the unique features to be concerned in this Business Analytics certification course?
This business analytics training course is aligned to present industry requirements and the tools, techniques used in this training are up to the market-leading advanced one.
Why should you learn this Business analytics course training?
The benefits are job growth, demand for people, high paid salary and lastly, it is a universal need.
What are the job opportunities in learning Business Analytics?
This Business analytics training certification qualifies you to become a managerial positions, data analyst, business intelligence analyst, operations research analyst with good pay across the world.
How this Business analytics certification program helps the candidates?
This Business analytics training certification helps you to gain in-depth knowledge /Exposure to business processes and sharpens your experience in analytical skills and problem-solving which you had learned in this Business analytics course.
Why You should do certification in HR Analytics?
To come up with HR analytics goals to work on. HR professional needs a career growth in an organization, so you need to upskill in this domain.
Do Background knowledge is necessary for this Business analytics training certification?
Not much in Advanced techniques, need basic foundations on MS-Excel, marketing, and fundamental data mining concepts.
Sample Preview
---
Career Benefits
Business Analytics has grown exponentially in wide areas and as a result, there is an increased need for employees with analytical skills to utilize data. Companies are looking for an analyst with an understanding of statistics and data modeling. You can become a Data scientist, who works on the technical side of business analytics and as a quantitative modeler used in the financial industry to support business decisions. candidates can have a fast job outlook with high growth with excellent prospects in this domain.
Testimonials
Pricing Analytics
It was a very comprehensive business analytics course with nice examples. It helped me in all aspects of pricing analytics like -descriptive, predictive and prescriptive. The explanation is supplemented with small exercises that help in gaining hands-on experience of a business problem. The case studies are carefully picked to explain the concepts. It helped me gain a better understanding of the market. Very helpful.
Linked
Abbas Singapurwala
Amazing First Sashay with Customer Analytics
If you're looking to dipping your toes into customer analytics, this business analytics training course is a good first start. It provides the foundation knowledge for customer analytics from mapping out the customer lifecycle and drilling down on what needs to be down per phase of the said lifecycle. I need to note that the course explains from a bank / financial service standpoint, though this I feel allows the course to explain the concepts better instead of not having any examples at all.
Linked
Acee Vitangcol
Great course
This is my first online course and I am satisfied with this program. This business analytics course is in-depth with customers' analysis. Clear teaching methods and hands-on examples. This business analytics certification course gives real-life data that explains how to use the data. I plan to take more courses in the future. I would recommend this course to a friend.
Ricky Ly
Customer-Centric
This is a great business analytics course that explains how customers relate directly with the different company departments and how each department relates to the vision of the company to satisfy the customers, I like the fact that the course it is given with the assumption that the business it is moving towards the customer-centric vision, and how customer analytics will be the key to success.
Linked
Jorge Dominguez
Customer Analytics
The business analytics certification course was very informative. The course takes a generally high-level approach to teach the basic understanding of marketing for customer interactions. Very detailed and comprehensive overview.
Linked
Steven D Hyden