Updated April 24, 2023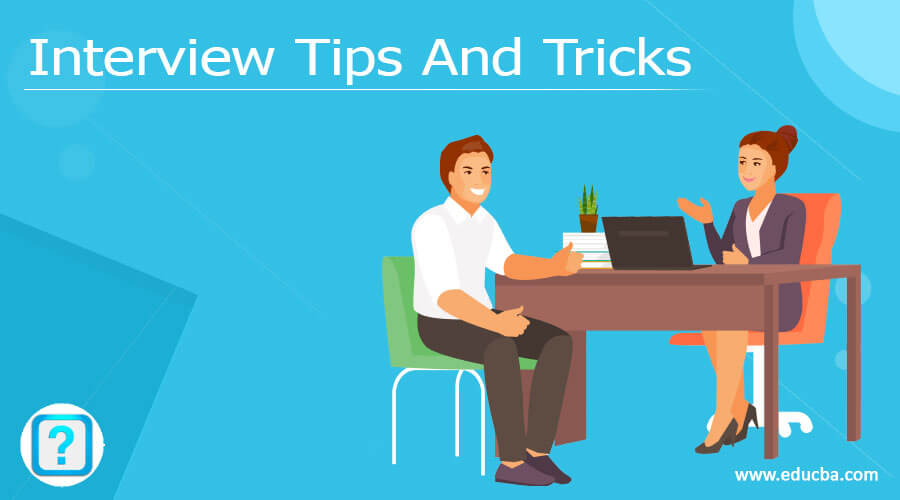 What are Interview Tips and Tricks?
The word Interview itself is a wrecking thing for new or experienced employees.  In spite of many years of work experience to boast of and hard work to feel proud of, he still feels nervous and petrified at the thought of preparation and interview board again. Their experience and track record are their positive plus, but cutting through a series of interviews is still a tricky thing as entrepreneurs are seeking talent who can add value to the company, are adjustable, have flexibility in their approach and attitude, and are professionally ordained with the capabilities in them to scale all the odds.
Best Interview Tips and tricks For Employees
Here I am presenting you a few Interview Tips and skills to help any seasoned employee get through the interview:
#1 – Interview Tips and tricks – Polish your resume
You already have one standard resume prepared and ample experience, but it is important to update it and give it a more professional look. It should be the best display of qualities and professionalism. Be specific in drafting your resume and reflect on your achievements. Also, mention social activities you have been into or whether you have adopted a charitable cause or have been an active alumnus. Think about your resume as your promotional tool, as it can easily hook and engage users. Always remember your resume is not about your personal history but is a document that displays your suitability for the job.
Remember that you need a different resume for each activity. Highlight your contribution to the company where you work now, professional training, etc. Lay emphasis on the jobs older than ten years, as many companies want to analyze your employment profile; prepare a list of your experiences and achievements older than fifteen years, and keep the same under a separate heading.
#2 – Interview Tips and Tricks – Develop Social Links
Social networking sites, especially Linkedin, are an added advantage; as you have been put off due to the office's heavy workload, you can pick up the latest updates and catch on with the current expectation or anticipation of the jobs and the hiring manager. It has been found that around 60 percent of Fortune companies use Linkedin to search for their employees. So this is a chance where you can put yourself in.
Highlight your achievements
Add the latest professional photographs
Add ten recommendations
Keyword optimized headlines
Awards or accolades you have received.
Other social networking sites are also the best platforms to reveal you as a sociable and professional person, discuss the issues with your experts and display a sense of belongingness that could increase your chance for reorganization and ultimately attain the next best job.
There are particular interview tips and tricks to Socialize, follow them, and see the success of rooting
If you want to socialize, engage with the people. Talk and answer their queries, but do not provide automatic responses. Your engagement with others displays your social person, nature, and behavior.
The social networking platform is also where you get your ideas and the best way to express yourself. It is your way to display your tenacity to express your knowledge and a person who is always ready to share his knowledge.
Show yourself a flexible person who is always ready to adapt to change, whether in socializing or professional areas. On any social networking site, you can beat one-time show yourself as a serious person and entertaining at the other moment. Keep changing your moods, making the platform lively, and people will be interested in talking to you.
People utilize social networking sites to refresh themselves and entertain themselves. Try to be funny and entertaining. Tell jokes and anecdotes and post funny images that make people enjoy, but never post anything annoying.
Show your concern for social issues:
Discuss prevalent social and political issues with your friends. This shows you keep updated with the current social and political events around you.
#3 – Interview Tips and Tricks – Display your executive capabilities
It's about how you are different than others. It is also called leadership skills. No explanation can confine the executive's tendencies to a particular brand. Yet, it is something you are and empowers you to carry you in your professional world. If you are an owner of a small business, it is your executive presence that would make you worthy. It could give you an edge over the others and help you build your business and the relationship with employees, customers, and associates.
Here are some traits that you all must have, but if you upgrade and improve on the same, it would enhance your capability:
Improve your conversation skills
Being aware of how people feel in your company is important. Building an executive presence is crucial to attracting people toward you. Being inclusive in group conversations is an effective method. Additionally, improving conversational skills is necessary to perform well in interview rounds.
It is a misconception that your executive presence means showing an authoritative attitude. You should never adopt this attitude as it could hamper your chance of getting a good job.  But you have to make your presence felt, which does not mean that you show your egoistic side; this simply means you can carry yourself very well with your colleagues and other people. You can express your thoughts and opinion well, which could attract people.
The best way to understand is to think about three energy circles described by Patsy Rodenburg's book, "the Second Circle: How To Use Positive Energy for Success In Every Situation". Rodenburg says it is about moving your skills toward the second circle of energy to make your presence felt.
One directs the first energy circle inwards and focuses on oneself, which is insular.
A second energy circle is when you see your energy focused on your audience.
The third energy circle is everywhere on each person's face, and you would experience it when people are there to talk and voices are considerably louder. It is energy replicated by those who have a commanding attitude.
Rodenburg suggests that when we are present in the place, we try to do our best and put on our best efforts to make our impression on others. In this stage, we do not focus too much on ourselves nor worry excessively about what others assume about us. (Source: Bruna Martinuzzi, President, and Founder, Clarion Enterprises Ltd for the open forum).
Show your maturity even in the most strenuous situation. Display your ability to retain your coolness and keep yourself poised.  You know well what stimulates and can keep you calm and self-composed. They know that you are skilled, but how well you can handle complex situations is what interview panelists want to see in you. They want to see your maturity level by analyzing your behavior and skill in handling situations when something goes wrong or does not happen as planned. Decide to select how you could respond next time if something wrong happens.
Frame Character and Authenticity
Showing your executive presence does not necessarily mean what dress you wear, how modulated your voice is, or how you behave, walk, and act. Of course, all these counts; these skills should be acquired, but nothing can be compared to the character or authenticity you are developing, which comes by developing strong inner values or beliefs and a strong sense of clear vision. Get a gist of what values are important for you and try to model the same, whether it is about having straight talks, showing confidence, good thoughts, and a simple vision.
#4 – Interview Tips and Skills – Think about the Future
Prepare for your next career move by adopting a perceiving capacity and reflecting on past mistakes. Define your next role and brand yourself accordingly. Consider the new role versus the current one before going to the interview.
The current post you are holding and your job profile
The level you are going to achieve
The main expertise areas that you would like to place in the new role
Something that is so personally unique about you
#5 – Interview Tips and tricks – Think about the past
While you are thinking about the future, also analyze your past,  understand your achievements and weaknesses, and the role you have been presenting. Knowing about the past helps you enter the future.  If you have many years in the industry and more understanding, you would have the information that can benefit if you display and which can match your intentions and accomplish your aim with current requirements. Also, understand what all have been bothering you during your past activities and try to overcome the same. Slight improvements can help you be at your best during the interview.
We are not devoid of weaknesses, but a better person keeps trying. How much best your work portfolio has been and has been in good books with your employee, yet with globalization, stiff competition, and disruptive changes taking place in our lives, it is imperative even for the senior person to upgrade his skills and show his best side. It has been a misconception that the leader is born, but leaders are made and can be crafted with adequate skills.  This is most required in the current corporate world and is expected from an executive.  But along with that, you should also be easily approachable and engaging, and that's what makes you the best. Follow these interview tips and skills and get something Best.
Recommended Articles
This guide helps experienced employees complete the interview by providing tips and tricks. These are the following external link related to the interview tips and tricks.