Updated May 4, 2023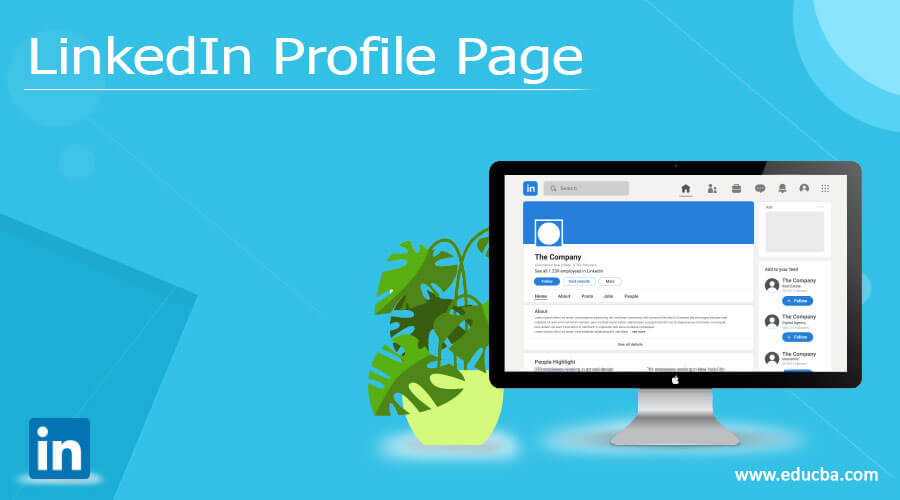 Introduction to LinkedIn Profile Page
Today there is a proliferation of activity on social media. Although people are using it for communication, sharing photos, or entertainment, there is one platform that is quite serious and useful for those who wish to advance their careers or business, i.e., Linkedin. It has many of the features that you may find on Facebook and Twitter, but the profile, quality of content, updates, and other features are all different in comparison to other platforms. If you are really serious about your career, you must have a good Linkedin profile page.
Many people believe having a LinkedIn account and increasing the number of connections would be sufficient to get noticed by the industry. However, it is far from true. It is not sufficient to be on LinkedIn but make your presence felt by creating a good profile. When someone searches your name on Google, Linkedin is likely to be among the first three results that show up. Therefore, it underlines the importance of having a good profile. To create a good profile, you must know your target audience and their requirements and decide what you have to convey to them.
The Linkedin profile is a compilation of your name, headlines, description, experience, profile photo, writing in pulse, updates, and so on. This is a great platform to show your talents to the corporate world. Thus, make an impression with your Linkedin Profile page.
10 Best Ways to Gain Professionally Through Linkedin Profile Page
The methods are as follows:
1. Have a professional-looking photo on the Linkedin profile page
The photo is perhaps the first thing any visitor to LinkedIn notices about you. On Facebook or Twitter, you could post a casual photo (in Tees and shorts), a film star's photo, or a family photo as your profile picture. However, such things are best to avoid on LinkedIn.
The best option is to show yourself in a suit, with a smile and possibly taken by a professional photographer, not a SELFIE you have taken with your mobile. But if you are using a selfie, take it with a selfie stick or timer to get the best results.
Have two or three photos taken with the same outfit or different outfits so that the LinkedIn profile page photo can be changed occasionally. For creative roles, a less formal-looking profile may seem alright but use it with caution. Don't leave the LinkedIn profile page photo section blank. Nobody would like to connect with a faceless professional.
Best LinkedIn photos have a close-up of your face, neck, shoulders, and, more importantly, smile. For some careers, having your work background may be good. For example, if you are in the airline industry, if the profile is shot with the company's own flight in the background, it makes a statement. Or if you are a television news reporter, a LinkedIn profile page picture framed on the location of a major event also makes sense. If you are in the construction industry or civil engineering, why not take a photo shot in the background of a construction site?
You should avoid many photo possibilities, like trekking up a mountain, working in front of a PC but your face is not visible, driving a car, and so on. Do not crop your picture from a group photo, as somebody's ears or hairline could crop up in your image too.
2. Create a good impression with your headline
Along with the LinkedIn profile page photo, the most visible part of your LinkedIn profile service is the headline. Most people write their designation and company name, but you can add a little more about yourself. For example, if you are a technical analyst in a broking firm, you could say "Technical Analyst, Oil, and Metals in XYBC Securities, informing investors of the right buyer, and selling opportunity in the future." If you are an independent consultant, you can have a position as a "Logistics Consultant, providing complete solutions for distribution, transportation, and delivery for the construction industry."
3. Make the best use of summary
The summary is the section where you have 2000 words to describe all services that you offer to your clients if you are a businessman and what skill sets you have with all the keywords your target audience will be looking for. You could also write briefly about the activities you have undertaken and what you are involved in. What are the salient features of it, and how it is relevant to your target audience? For example, Doug Dib working with EY has an impressive summary outlining his innovation in marketing at EY and the strides made in customer relationship management. He has also pointed out how his degree in history has taken him to diverse industries he couldn't predict.
The communication and keywords should be chosen with the target audience in mind, and never forget the many attachment possibilities in this section. You can upload links, videos, presentations, documents, and photos to boost your LinkedIn profile service.
4. Let people know where your expertise lies
The experience section has 1000 characters for you to help you describe what roles and duties you were assigned in your jobs beginning from your first job. Use keywords that may be of relevance to the target audience but don't be too descriptive. The use of bullet points and short sentences will help in better readability of the summary. It can also highlight the achievements on the job, the duration, and the key accomplishments. Here also, one must go beyond the textual information to add videos, photos, presentations, and links, among others.
The experience section is used to assess the suitability of your LinkedIn profile page for a particular job or a task or project in case you are in business, as it highlights the domains and experience in those areas.
5. Get enough recommendations/references
If you can get two references for each of the jobs you held, it will enhance your possibility of landing a new job. If you have worked in too many organizations, have recommendations for the most important job held and have at least 10 of them in all. It would be better to get recommendations from people influential in the industry. Sometimes, the employer may not contact them, but having a few well-known people to recommend shows your capability and standing in the profession.
6. Endorsements may not help
LinkedIn would tell you endorsements help and be liberal in giving and getting it from your colleagues, friends, and acquaintances. According to analysts, the problem with endorsements is that they are most often from people who are incapable of judging you on that skill. It may be because you are friends, colleagues, or schoolmates. Having many endorsements may not help, but there is no harm in getting a few and keeping the important ones. If somebody has endorsed you on a skill you don't have, you must delete it, as it conveys a wrong impression to the prospective employer or client. It is also possible that many people may not have given you endorsements for skill sets where you have a high degree of competence. Linkedin suggests you can request friends and colleagues to endorse you on your core competencies by emailing them.
7. Enlarge your LinkedIn network above 300
The more connections on Linkedin, the more beneficial it could be for you. Ideally, 300 to 500 would be a good number. It should be an ideal mix of friends, colleagues, former colleagues, leading influencers in the industry, and family. In that way, your status updates and profiles reach a large number of people and thereby gain from networking.
8. Project yourself as an expert
The best way to show your expertise in your chosen area is to write for the LinkedIn Pulse section, which many people follow in the network. You can write a personal opinion, a new viewpoint, a news analysis, or a new development in your industry. The LinkedIn community widely reads it as they are shared with members. The most important ones are kept on top for wider viewing. The LinkedIn Pulse can also be shared on Twitter and Facebook, thus enhancing our image before a wider target audience. It is also possible to share it as an update in the regular feed on Linkedin. If you are good at writing and have something useful to share, you should not lose this opportunity.
9. Be regular with updates
If you're a member but only occasionally log in to see what's happening, you are missing most of the action. The members could post interesting comments, discussions, and links. You can like, comment or give your updates to keep the activity going and get noticed by the target group.
If you find a good Pulse article, you can like, comment, and engage with the influencers. Also, congratulate people on their achievements, anniversaries, or new skills acquired. Also, let the members know if you have acquired a new degree, diploma, or skill you want to share.
10. Job seeker premium
LinkedIn provides many free features for employees, employers, and businessmen. But job seekers can use the premium job seeker status by paying anything from $20 to $250 per month to get their profile noticed by employers and get connected to hiring managers. Premium members can put larger profile photos, an expanded profile header, and more photos in the background. Your profile will be more visible in search results. The advantage is that Premium members can apply as featured applicants, so your application appears on top and attracts notice.
The success of your profile is dependent on how many views it attracts, and a non-premium member may not be able to know the details. Premium members also understand the keywords the viewers used to reach them and how many viewed them. You also get up to 10 Linkedin InMail credits per month to directly communicate with anyone, viz. members, employers, businessmen, or hiring managers. InMail has been found to be two times more effective than cold calls or emails.
Conclusion
There is no doubt about the Linkedin profile page's capability of connecting professionals across domains. There are groups related to a specific trade, specialty, or interest where one can join or post updates. To benefit from the membership, some effort is vital to optimize the profile, work history, and expertise. Make an effort to include keywords relevant to the target industry or audience. The most important part of being on a LinkedIn profile page is to get people to contact you. Provide the contact phone number and email ids. However, if you don't want to reveal the phone number, you can also connect through email or LinkedIn messaging.
If you are a blogger on popular sites or a columnist in leading publications, you can share the links in real-time on LinkedIn and other social media platforms to attract notice. At one point, Linkedin was more of a textual medium, but now the dynamics have changed, and like Facebook and Twitter, it has become more visual. This means members should be able to upload videos, photos, and documents.
Members must ensure that they have created a profile that differentiates them from the crowd and underscores the values and passions they stand for. In addition, one must display the accomplishments, awards, and recognition one has received. Unless important, it's better to avoid controversial topics on the LinkedIn platform. It is better to avoid gossip or controversial content merely to attract attention. On the other hand, your comments, discussions, and updates should reflect your caliber and stand out in the industry. When applying for jobs or pitching business, you can add your Linkedin details to locate you easily on the platform.
Recommended Articles
Here are some further articles to learn more: