Updated April 13, 2023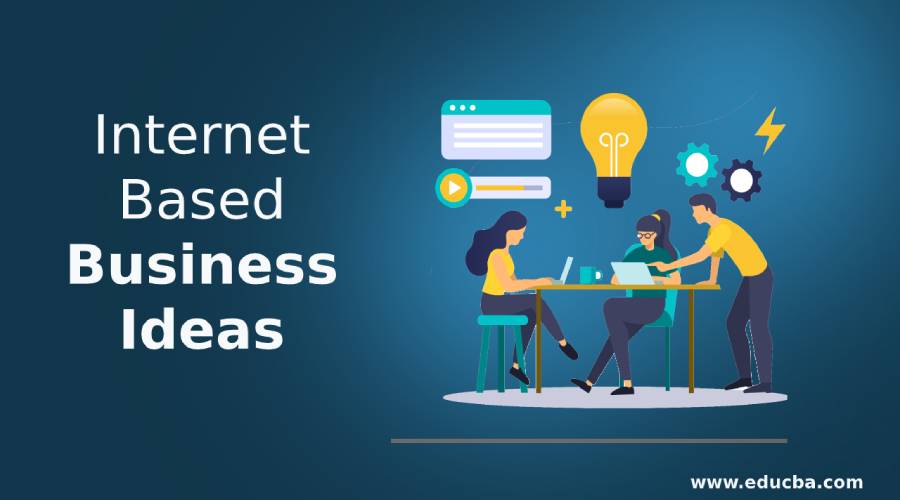 Introduction to Internet-Based Business Ideas
The idea of becoming an entrepreneur and being at the helm of affairs is something that excites everyone. Entrepreneurship is the best route whether you are a housewife looking to explore your latent talents or a retired professional yearning to make money. And times have never been more conducive for entrepreneurs. It is no longer the domain of a select few extraordinarily talented and motivated.
Today, the internet has made it very easy for anyone to start a business, which is why entrepreneurship has become such a popular career option for people from diverse backgrounds. With your given skill set and talent, you can easily make a decent amount of money and find fulfillment as a professional. I am sure you are eager to know about the businesses you can start with the investment-effective and innovative Internet.
You would be delighted to know that there are not just five or six internet-based business ideas to adopt. The list is quite long. These are the best internet-based business ideas that have proved successful for people in all parts of the world. You, too, can taste success by adopting them. So, here we go with the details.
Best Online Internet-based Business Ideas
Below are the top 10 Internet-based business ideas; let's have a look one by one
#1. Blogging
Since blogging platforms like WordPress, Tumblr, Blogger, Weebly, etc., arrived, blogging has become a lucrative internet-based business idea for writers. It has helped many writers earn millions, and you can make use of any of these platforms to start your own blog. You only need an internet connection to get started. Just create an account at any of these sites and get started with your blog. If you want, you can also purchase a domain name and pay a fixed sum to a service provider for hosting your blog. You can monetize your blog with Google Ad Sense and affiliate marketing.
To get started, choose a niche that you have knowledge about and that you are interested in. For eg, if you have a thing for fashion and like to follow the latest trends, you can create blog posts and articles around this niche. Similarly, if you are a food lover and like to cook, you can start a food blog. There is no dearth of niches, and with the numerous ideas buzzing on social media and the internet, you can easily generate and develop more content.
Points to keep in mind:
Stay original, be regular, and make use of images, graphs, and videos.
Get the hang of keywords and SEO to attract more traffic.
Interact with your readers on the blog as well as social media.
Believe in your writing and be unique.
#2. Affiliate Marketing
You can make a fine amount of money through affiliate marketing because, in the present times, word-of-mouth publicity works best for the promotion of any product. It is very reliable, and customers also view it as a credible sales pitch. So, companies are constantly looking for affiliates who can help them sell. If you have an interest in marketing and like to write product reviews and related articles, affiliate marketing will reward you profusely. The company/merchant will pay you a commission when buyers purchase through your site.
There are thousands of affiliate programs that you can choose from. Big names like Amazon, Flipkart, and Rakuten are quite popular, and many people have made a killing through their programs. The commission can range anything between 4% to 40% or more, depending on the program. You can promote the product/service of any company that has an affiliate program. You can take the help of social media, tutorials, reviews, and PPC advertising to drive your internet-based business ideas.
Points to keep in mind:
Choose the product/service that interests you and about which you have knowledge.
Research the customers and target the ones that will bring you sales.
Be patient as it takes time for money to flow in, but after a time, it does.
let's move to the next Internet-based business ideas.
#3. Coaching
E-learning in online coaching is one of the most popular and humanitarian internet-based business ideas you can try. It does not matter what skills or type of knowledge you possess. If it offers value to learners, then you have a long way to go in this field. It might be that you are very good at HTML coding or PHP or some other computer program. You can utilize your knowledge to impart coaching to people who want to learn these programs. Your coaching can be related to any other field like creative writing, taxation, business law, language, dieting, nutrition, cooking, pottery, drawing, handicraft, etc.
You can start your website, write articles, create video tutorials, tests, and quizzes, and take online classes through Skype or Google Hangouts; there are many e-learning management systems, like Canvas, eFront, Moodle, etc., to help you out. In the beginning, you need to offer a free service. Gradually, you can move up to the premium model, where learners would be charged a course/learning program fee. You can also opt for the mixed revenue model that allows free as well as paid coaching, the former with limited access to learners.
Points to keep in mind:
Create content in an interesting style that is easy to grasp.
Develop courses and tutorials with a timetable framework as it aids learners in tracking their progress.
Keep the training interactive and encourage collaborative learning through forums and social media communities/groups.
#4. Social Media Consultancy
Social media marketing has emerged as a very lucrative internet-based business idea for people who love social media and are aware of its functioning. Small and mid-scale internet businesses often outsource their social marketing work to consultants as they are hard-pressed for time and money. As a consultant, you can offer to manage the social media profiles of these companies and, in return, earn a decent amount. You can improve their online reputation by creating interesting posts and updates and presenting them to their target audience.
All you need to have is a passion for social networking and above-average communication skills so that you can write and develop creative posts. To find work, you can resort to LinkedIn or job boards like People Per Hour, Elance, etc., where assignments and projects are posted regularly. Once you earn a few projects, you can start getting work continuously through recommendations and referrals. This is one of the most profitable and smart internet-based business ideas that give you immense scope for marketing and growth.
Points to keep in mind:
Begin with a niche that interests you, and you are passionate about.
It is going to be a lot of hard work. So, be ready for trials and keep learning every day.
Network with other consultants who can provide great advice and tips. You can also collaborate and work together.
Use social media tools such as Google Analytics, HootSuite, LikeAlyzer, Social Rank, etc. Strategize and monitor your work.
#5. Digital marketing consultancy
Digital marketing is the umbrella that covers SEO, SEM, SMM, and other online marketing strategies. It makes for lucrative internet-based business ideas, provided you have the necessary skills and talent. If you are a webmaster proficient in online marketing techniques, you can get projects from business clients. You can outsource some of the work, such as SEO writing, web designing, affiliate marketing, and the like to freelancers to reduce the workload and meet the needs of the client.
As a digital marketer, you must keep an eye on all the tools and strategies being used. So, it is going to be one demanding internet business profile, but if you are competent enough, the rewards will also be commensurate with your efforts and hard work. You can find work at Elance, oDesk, Freelancer, People Per Hour, and other job sites.
Points to keep in mind:
Communicate openly with clients to understand what they want and how you can help them.
Focus on data and performance metrics for better control and management.
Be disciplined and punctual, as it helps you meet deadlines and earns you goodwill.
#6. E-commerce
E-commerce is one promising niche already seeing lots of action and will only escalate in the coming times. It offers you some great internet-based business ideas. You can start selling handmade products like wall hangings, crocheted blankets, used items, vintage collections, and creations such as paintings and artwork by setting up an e-store.
You can also act as a retailer and sell things that you do not own without even creating an inventory. Much open-source software lets you create an e-commerce site at a minimal cost. You can also get ready-made templates that let you create an e-store in a jiffy.
Points to keep in mind:
Create interesting and keyword-rich copies of the products so that they attract buyers.
Do your homework to find out what sells and what people are looking for.
Deal in a niche that excites you, and you are passionate about.
#7. Web Designing
A website is a must for every business these days, and if you know how to design one, you can easily get going with these cool internet-based business ideas. You can offer your web designing skills to such companies and make money in return. What you need are the requisite skills such as HTML coding, CSS, PHP, JavaScript, and the like. If you have a good sense of design and web presentation, then this is the field for you.
You can start as a freelancer by creating your personal portfolio site, LinkedIn profile, and profiles on other job sites. Job boards like Elance and oDesk can be of great help, as you can find projects here. This is one of the most profitable and smart internet-based business ideas that give you immense learning and growth scope. While working in this dynamic niche, you rarely encounter dullness or stagnancy.
let's move to the next Internet-based business ideas.
Points to keep in mind:
Plan beforehand and create a solid portfolio before you reach out to clients.
Always maintain a learning spirit and keep up to date with the latest web designing techniques. Take the help of learning sites and video tutorials.
Learn sales skills or find someone to market your skills and talents to clients.
#8. App Development
Mobiles are the future of the internet. 5 million downloadable apps are available on the Apple store and 1.6 million on the Google Play store. With growing smartphone usage, app development has emerged as the next big thing for software professionals. It is a brilliant internet-based business idea if you know to code and can create solutions. You can create your apps and sell them on app stores. There are a fair number of success stories to get inspired with.
Points to keep in mind:
Be proactive and persistent in your efforts, as this is a new field.
Believe in your idea but test it thoroughly before you get going.
Keep it simple and user-friendly.
#9. Freelancing
This is an inexpensive and friendly internet-based business idea best suited to people who want to earn some extra income while working from home. You can freelance as a writer, marketer, designer, translator, coach, and many more. You can take up projects and assignments from different clients and companies depending on your skill set and knowledge. There are many companies that hire contract workers to work for them.
Freelancing is a flexible business option as you can take projects from multiple clients per your needs and convenience. You can start off with Elance, People Per Hour, and similar platforms. Social media is also a great place to find clients and projects.
Points to keep in mind:
Market yourself through job sites, social networks, and personal portfolios.
Stay disciplined during projects, as deadlines can be met, which can be difficult to manage when working from home.
let's move to the last but not least, Internet-based business ideas.
#10. Video Making
The popular video site YouTube has turned many ordinary mortals into rockstar businessmen and businesswomen. The site certainly deserves accolades for giving the simple internet-based business ideas of video making such a glorious status. Referred to as YouTubers, many popular names like Lilly Singh, Salman Khan, Zaid Ali, etc., can be your inspiration. If you have anything to offer to people that fall under the categories of education, entertainment, and information, then video making is for you.
You can plan your content and then shoot videos with a camera. Upload the same on the site with your name, and you are done. If it manages to attract a fair number of eyeballs, then you can say you have arrived. You can make money through ads that advertisers post on YouTube.
Points to keep in mind:
Do your homework and offer something unique.
Market your work on social media channels and other video websites.
Have patience; it takes time to become popular and start making money.
So, pull up your socks and make hay while the sun shines. Choose any of these 10 ideas according to your temperament and talent. You will definitely land up with the riches and rewards that mark the entrepreneurial journey.
Recommended Articles
This has been a guide to Internet Based Business Ideas. This post is a complete heads-up on 10 Internet-based business ideas. Here are some articles that will help you get more details about Internet Based Business ideas, so just go through the link.