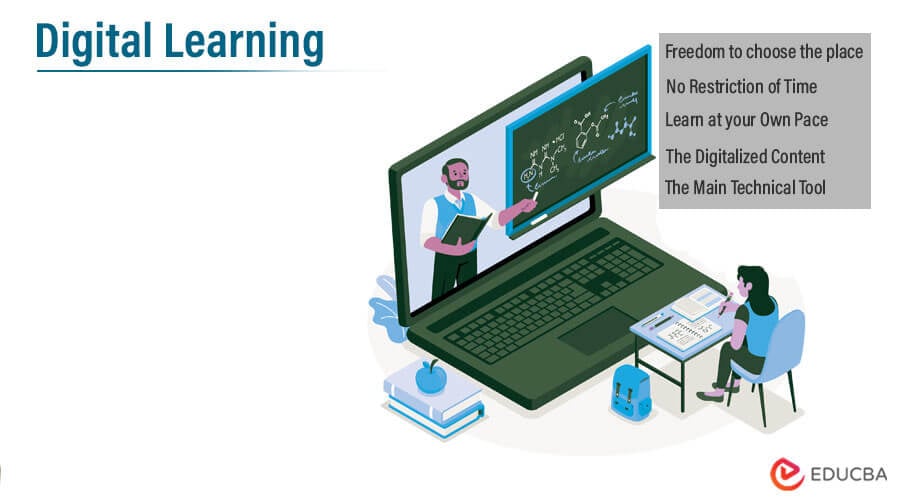 Introduction to Digital Learning
Digital Learning – The 21st century has been rightly termed the digital era. With the internet bringing a substantial change in people's lives, we are heavily dependent on technology even to complete simple tasks. Most of you must have heard about digital learning. E-Education has certainly ignited the teaching sector. Gone are the days of blackboards, chalk, and dusters. They have been substituted with web-based education, strengthening students' learning experience.
It can be defined as web-based learning that effectively uses information technology to impart knowledge to students. In fact, this was introduced only a few years ago and has got a tremendous response from all over the world. In other words, it is also known as the Smart Teaching Technique. As such, most schools and educational institutions have gladly adopted this method, thereby bringing a colossal change in the educational system. The kids are taught with the help of large LCD screens and projectors, which is beyond the conventional teaching methods. It facilitates the learning process anywhere and anytime. The teacher now does not have to take the pains of writing on the blackboard with white chalk and then erasing it afterward.
Teachers should be enhanced with Digital Learning Tools
First and foremost, it is the teacher's responsibility to get accustomed to the various digital learning tools and e-education tools and programs before they can apply them to teach students. Therefore, it is an optimal opportunity for the learners and the trainers to get empowered with hybrid learning or digital content resources. What is more beneficial about web-based digital learning education is that it has allowed educators to increase their efficiency and productivity.
However, to familiarize yourself with the different digital tools, you must give yourself some time to learn them. Then you can decide the best teaching method you can employ in the classroom to impart knowledge to your students. In addition, you also need to decide whether the teaching methodology is suitable for the students or the particular subject.
Some Institutes Offer Training Sessions
The school or the institute which has decided to opt for the e-learning teaching procedure does have a vital role to play here. Either they can hire teachers and tutors with comprehensive knowledge of e-education tools and methods, or they can make proper arrangements to train the teachers about how to use digital programs effectively. The training session is basically arranged for senior and old teachers who have been teaching there for several years. As such, most private school administrators and management are more than happy to adopt this new technology which is the need of the present hour. Furthermore, you can also take help from the internet to get accustomed to this new technique and teach others.
Important Aspects
Now you can look at some of the vital factors that guide the E-education procedure and separate it from conventional teaching methods. These include-
Freedom to choose the place
Digital learning or e-education is not bounded by the traditional classroom type of teaching, where every period was supposed to be forty minutes. Still, it has given the freedom to both the students as well as the teachers to choose their place. You can take online classes anywhere at your convenience, including attending them in the comfort of your home. However, this is applicable for mostly professional courses and not for school-going children.
No Restriction of Time
Another huge advantage that web-based learning has provided to students worldwide is that learning is no more restricted to specific times when the classes are conducted. You can choose your own flexible time and start learning when you are free. You can download videos of the classes from the internet and know what was taught in the class today.
Learn at your Own Pace
There is no need to compete with the rest of the class. Rather, e-learning allows you to learn at your own pace. The tutorial videos are available online, and you can view them as many times as you want to make your concepts clear about a topic. This means you do not have to spend much time on one lesson as the chapters become more interactive.
The Digitalized Content
Digitalized content means you get high-quality academic content that is easy to read and understand. It is delivered through various technical tools such as computers, laptops, smartphones, and other electronic gadgets. The content is written by highly experienced academic content writers and is very informative and supported by videos and images for better understanding.
The Main Technical Tool
The internet is the main technical tool behind digital learning, also known as its backbone. You need a computer or other gadget with an internet connection to start the e-learning process. However, it must be remembered that the internet is just a medium or tool and not instruction.
Online Tutors or Instructors
No teaching or learning can be considered complete without the presence of a teacher, and digital learning is no exception. Only their roles have undergone some changes, but the basic responsibility remains the same; to educate digital learning students. He can provide personalized guidance to every student.
Why Did All Schools need to Adopt Digital Learning?
There has been a thorough discussion that all educational institutes and academic centers should implement e-education which has gained immense popularity and support over the last few years. It will get more assistance as the number of internet users is increasing daily.
Support from the Government/Administration
Even it is getting the full support from the government who has initiated a few steps to move in this direction. If we talk about our country India, Prime Minister Narendra Modi himself is a supporter of digital India, which includes a number of activities under it. Intending to provide more computer-based education and interactive learning, he launched the E-Basta scheme in 2014 to promote e-learning. This scheme aims to free children from the burden of carrying books daily to school, which at times become quite heavy. Similarly, he also started an e-locker scheme wherein the person could store all his important documents (such as mark sheets and certificates) in one place in a digital form. He does not have to carry them wherever he goes.
Some other Wow Factors about Digital Learning
Following are some other wow factors about digital learning:
Digital Learning has made Research Work Simpler
Beyond any doubt, the digital learning procedure has made research work simpler, specifically in the field of medical science, information technology, and space. With information easily available on the internet, you can find a solution to any problem or question and carry your work further. Research scholars can easily prepare their thesis or dissertation without much difficulty. All the facts and statics provided on the internet are the latest, which adds an impetus to your work.
Digital Learning a Boon for the Parents as Well
The gift of digital learning has proved to be a blessing not only for teachers but even for parents who usually guide their children at home and help them with their studies and homework. They can consult the internet and online tutorials anytime in order to guide their kids in a better way. Moreover, e-learning, because of its interactive nature, becomes a fun-laden game for children who can grasp the topic more quickly than traditional methods.
Preparation for Exams becomes Easier
Yet another advantage of web-based learning is that it helps a great deal during the preparation for examinations. Nowadays, you will find most of the students preparing for higher exams surfing the internet to find answers to their questions. In addition, digital learning can be your best-trusted friend if you prepare for a competitive exam. You can consult online guidebooks and give the mock test to consolidate your preparation. Some online tutors can help in solving your problems, thus making your tasks easier.
Reduce the Burden of Paper Work
The introduction of e-learning in the present scenario has led to the reduction and elimination of the burdensome paperwork which was part of the earlier system. Since most of the exams are online, the teachers do not need to carry bundles of answer sheets to their homes for evaluation. Moreover, the questions today are usually Multiple Choice types (MCQs) which can be evaluated on the computer itself within no time. Because of this, the results are also declared very early, and there is more transparency and accuracy in it compared to traditional checking the paper.
Offers a Strong Platform for Better Communication
The increase in digital and internet-based learning has certainly provided a strong platform for better communication between teachers and students. You can live chat with the tutor with the help of a webcam and using various applications such as Skype or Google Hangout. Moreover, communication can be made even more enhanced with the help of social media platforms, blogs, and other discussion forums. You can clear your doubts about assignments and exams to better prepare for the subject.
What is Digital Pedagogy?
Digital Pedagogy is a procedure that helps in improving the instruction of students. In short, this term is an amalgamation of technical information, teaching, and students' understanding. It is altogether a new experience for both the students and the teachers and inspires them to do something constructive while gaining knowledge through advanced tools. In fact, digital can include traditional methods such as providing a classroom environment and using technology to impart knowledge to the students. You get more collaborative support which makes your concepts clearer regarding the topics.
Making Digital Learning Successful
So much has been discussed, and discussed e-learning which has gained momentum globally. However, we need to ensure a few vital steps to make this program successful, and the initiative must be taken jointly.
Spreading Awareness amongst the Masses
Although digital learning has been identified as one of the most popular paradigms and has been accepted globally, a lot still needs to be done to make more and more people aware of it. There are many developing and under-developed countries where this concept is still unknown to most of their population.
Making more and more People Computer Literate
Digital Learning cannot be successful without proper computer knowledge and training. But unfortunately, not everyone is familiar with this electronic machine and knows to operate it properly. Thus, the first job in hand is to make more and more people computer literate. Computer education should be a compulsory part of the curriculum in every school. In addition, computer training centers should encourage people to join it to learn the internet.
Digital Learning Courses should be made more User-Friendly
The digital learning courses' content and quality should be relevant and meaningful. It must be designed keeping in view the learner's learning ability and age. In short, it should be user-friendly and something which can be easily understood.
One way to do this is to use various e-learning/authoring tools that would make learning interesting.
The Attitude of the Teacher
The instructor's attitude also contributes to increasing students' anxiety or curiosity about internet-based learning. He should always encourage his students to use new tools while learning and enhancing knowledge.
Bringing more Diversity in Course and Assignments
To make e-learning all the more interesting and interactive, it is advisable and worthy to introduce new diverse courses that students can take related to their field of study. The more choices they have, the more attracted they would become to the new learning technique.
Conclusion
Digital Learning, introduced only a few years ago, has been warmly and graciously welcomed by the world. A lot has been achieved in this area, but still, the journey is not complete, and a long way to go. The digital learning and teaching community, as well as the learners, can take comprehensive advantage of the technology and make their profession more interesting, thereby breaking the shackles of conventional teaching methods. Modern-day education is to ascend many more steps further and bring an enormous change in society.
Recommended Articles
This is a guide to Digital Learning. Here we have discussed Institutes Offer Training Sessions, Important Aspects of  Why All Schools need to Adopt Digital Learning, and Some other Wow Factors about Digital Learning. You may look at the following articles to learn more –