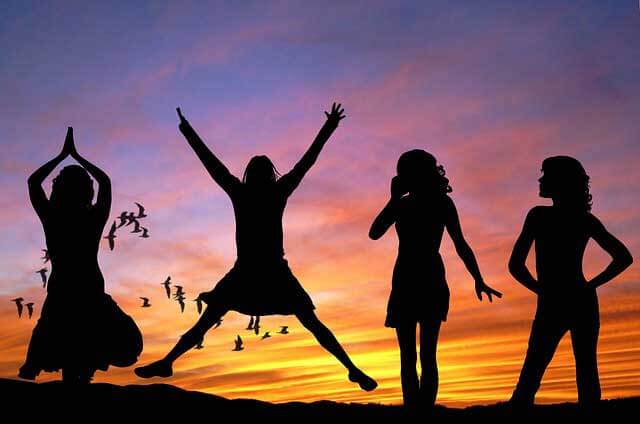 Self-motivated and dedicated
Wondering how can one stay motivated and dedicated to this world where you perform the same mundane tasks every day? I am sure all of us come across times where we feel we are just done with life and what it is offering you. In spite of all this, we need to go on, be happy, and stay motivated and dedicated for the larger purpose in life. In this article 10 Ways to Stay motivated and dedicated this is all, we are going to discuss. I hope you enjoy reading it and at the end of it actually, feel motivated and dedicated 🙂
"I always loved the drawing lectures more than the other boring subjects during my academics & I had really wished to become a famous painter" a friend of mine mentioned once sipping her coffee.
"Why didn't you give it a serious thought then?" I inquired instantly,
"Well, my parents didn't encourage me, they forced me to focus on my studies; so eventually I gave up that thought!" she sighed & looked away.
I didn't respond but this definitely got me thinking.
Really, do we never have an option? Just let our hopes & dreams fade in front of our eyes just because we do not have faith? Faith in people around us, our dream, or our own courage; what is it that actually becomes an obstacle?
"I finally left my mundane job, now I will be able to focus more on my auditions, my fitness plans & of course I can devote some time for my passion of dancing too," another friend of mine, in fact, a struggling actor shared in the excitement.
"Are you sure dear? How will you manage your monthly expenses?," I expressed my concern.
"Last year's savings, few investments here & there and will cut down on my unnecessary costs by making small sacrifices in my new lifestyle," she smiled confidently.
"Wow, you had this planned for a long time I guess," I was stunned by her zest.
"Not exactly, but yes, had this wish for a very long time & was tired of feeling lost and unhappy with my routine and beyond all, this I witnessed an incredible example. An ex-colleague of mine who had lost her ability to hear anything clearly in an accident that took place last year was rewarded at her workplace for continuing her job with the support of a hearing machine and not only that she managed to pursue her passion for singing despite the fact that she was not going to hear her own voice anymore. I really felt ashamed of my cowardliness, laziness or whatever you can call it. From that moment on, I really don't fear or worry about any obstacles that much!", that girl surely had a strong belief in her voice & some unwavering spark in her eyes!.
Meanwhile, I tried processing both these conversations in my head & wondered how nature unfolds its answers with time. Sometimes we blame our fate or argue with God for being unfair when things do not go our way or when we don't get what we expect. It becomes so obvious that our next step would be giving up totally without thinking too much. We lose hope & forget all the efforts put in to build that hope. "What a terrible way I have created to kill my own dreams," I thought to myself.
I surely admired both my friends & their dreams of becoming a painter & an actor. Both of them surely had their own challenges & difficulties in balancing their routine & passion. But undoubtedly I felt proud of the other friend who gave up her secured job to fulfill her dreams of acting. The self-motivated skills example of her physically challenged colleague kept playing in my mind. Her bravery is surely worth praising & both of their dedication & love for their passion surely teach us the magic of optimism.
What really changes? What is keeps you going in tough situations? What is gives you the strength to proceed no matter how thorny is your path? What really these girls possessed that kept them inspiring along their journey?
Well, many of us might wonder & would be curious to find answers.
Self-Motivated Skills Tips
Let's find out & learn a few self-motivated skills tips here that can help us to stay motivated and dedicated in life –
Realization of mortality
Define goals & Visualize
Find your passion & stick to it
Law of attraction
Be deaf to negative thoughts
Failure is always a learning
Remind yourself of your achievements
Follow a healthy routine
Show gratitude
Take charge of life
Realization of Mortality For being motivated and dedicated
"One is blessed if one can die working, standing tall. Goodbyes should be short, really short" – Dr. APJ Abdul Kalam
Have you read the article in which the palliative nurse counsels the people who are dying and sums up the most common regrets on their deathbed? Regrets like working too hard, living as per what people expect of you & not true to yourself, lacking the courage to express feelings, unable to give time to family & friends and keeping yourself away from happiness.
It's terrible to hear such stories & ridiculous to realize that we are too living like one of those who was lying on the deathbed with such regrets. We think we have all the time to live life on our terms once we get "SETTLED". Does God know when this miraculous goal is ever met? Whether after completion of studies, or after getting started with a job, or after owning a house or a car or land or any material possession?
Ironically we do everything to achieve material success. We learn to be bold, join the rat race, choose what comes our way, get jobs, make money, pay loans, fight every day's battle of stress; the overload of work, conflicts just to survive & create our worry-free future. Most of us neglect the needs related to our self-growth, we rapidly stray in the process & overlook our actual talent. What we had once planned or hoped for becomes unreal as days pass by. What helps us survive becomes our source of living & not what brings us real happiness.
You must have heard this plenty of times that "Once I retire I am planning to live a stress-free life, will fulfill my dreams, spend more quality time with my family." Fair enough; sounds very promising; but does it really happen always? Or do we have that much strength, good health to live this kind of dream? What's the guarantee? Especially the kind of lifestyle we have right now with so much burden & worries; it can barely give us any assurance of a peaceful, long & healthy life.
Is it possible to pause for a while & ask ourselves a simple question, are you happy today? Do you feel at peace with yourself? Do you feel the most alive when you are engrossed in your daily work? Does it make sense to take so much effort to pursue this career? And if the answer to any of these questions is a NO, then it's a signal for you to rethink what's your actual purpose is.
Do this simple exercise, ask yourself, 'What if today is the last day of your life?', give serious thought to this possibility, may be related to those misfortunate people in your life who have actually lost their life all of a sudden before they could live completely. Then list down all the activities you would like to do, the way you would like to live your life, the people you would like to meet or talk with, all the long waited for goals you would like to attain if you want to get indulged in any crazy adventure or anything you restrain yourself from doing under a lot of worries & fears.
Be totally honest & spontaneous while making the list. Once you are done with the list, make these tasks your guidelines & the purpose of your living. Life would certainly bring more happiness & satisfaction if you could show this much courage.
Yesterday is history, tomorrow is a mystery & today is a gift that's why it's called the present. If one can realize how precious this present is, that would be our first step in commencing the path of our destiny
Define Goals & Visualize them
"Dream is not that which you see while sleeping it is something that does not let you sleep." – Dr. APJ Abdul Kalam
Before we embark on the journey of pursuing our true passion it is essential to figure out what is the aim of our life. Amongst many worries which we generally have in mind about finance, daily survival, security & so forth, we also need to ask one of the most important questions of our existence & that is, "What is the purpose of my life?"
This simple question discloses a lot of unknown desires. It helps us to discover our current state and identify our strengths. While finding the answer the mind automatically pushes itself to seek the priorities of our daily tasks. You will start thinking of all those activities of the day which you enjoy the most.
The aspirant painter friend of mine was so thrilled about her art, but never had the faith in her own ability. She lacked the courage to envision herself leading a life of a painter. Her timid attitude towards her dream stopped her from seeing any possibilities of becoming a self-motivated skills professional artist ever.
Sometimes lacking the ability to have faith in your dream or even dreaming at all can destroy everything that naturally fascinates you. We are too much worried about the consequences even before initiating any new goal. Perhaps getting too involved in our environment results in such behavior. Naturally, we only believe what we see around us in the form of many conventional examples of self-motivated and dedicated people in our society. And here at this point, many dreams are killed unknowingly.
I remember listening to the plans & the actor's lifestyle from the actor friend for hours. This was long before she actually started living her dream. I have no clue how, but she had literally imagined herself being busy in the shoots, traveling, giving auditions, getting dressed. She engaged herself totally in reading the magazines, collecting information, increasing her network.
That was so amazing to see, to observe someone who clearly knew what she wanted. I always used to tease her saying that, "you always knew what are you born for!". And then subconsciously I asked myself, "High time for me to find my reason".
So as soon as possible take the first step & clearly focus on your plans. Rest all your obligations can wait. Invest all your time & energy in that one mission. Ask yourself how would you feel once you achieve your goal? How your life would be? How much satisfaction would it bring in your life?
Find your Passion & Stick to it
"The 2 most important days in your life are the day you are born and the day you find out why!"- Mark Twain
How many of us really know after completing formal education, which profession we really need to pursue? And if few of us know this answer then is it the ultimate profession we want to end up with? These and many other doubts are answered as you move further in the direction of work that really allures you.
Were all the famous & successful personalities always aware of their passion since the beginning? When you read the biographies of accomplished individuals do you always find their life journey well planned? Is it possible to have a clear vision in every case & every scenario?
If not then from where do we find this vision? What are the sources of identifying our goals? All the answers lie within your willingness to search. The more restless you become till the time you start doing some sensible task the better are your chances of
getting closer to a meaningful life.
It might sound impulsive or people might call you crazy. But it's always worth experimenting as much as you want with your career, especially in the beginning. Not many of us are blessed with the realization of the purpose of our living. Hence there's surely no harm in exploring as long as you enjoy doing so. This again doesn't mean undertaking any random task which you might not even like it and you might force yourself to do under some obligation. So before you start the exploration you need to be honest with yourself. Experience everything which has passed your mind. Give a try at all the possible alternatives.
And finally when you come across your aims respect them. Honor the time & efforts taken by you; to do so you need to be dedicated to this task. Depending on your preference this could be only one or series of tasks that keep you alive. But being persistent, do justice to your real passion.
Law of Attraction For Self motivated and dedicated
"And, when you want something, all the universe conspires in helping you to achieve it."- Paulo Coelho, The Alchemist
Ever tried this? Have you heard of this? The well-known concept of the best-selling novel "The Secret" by Rhonda Byrne! You naturally receive the kind of vibes you send out to the universe. The enormous power of positive thinking can create miracles. People can cure diseases by using this concept; they can achieve the impossible; can change any situation in their favor.
One has to practice this law in order to believe in it. The power in believing brings incredible outcomes. All through our lives, we keep wondering, 'what's the magical formula that transforms a person.' We feel the talent, the Self Motivated skills, the knowledge, the intelligence or the opportunities are the factors that contribute the success. However, these are only conventional thoughts that restrict you from seeing through reality.
The entertaining animated movie, "Kung Fu Panda", gave us this very motivating message. It's all within you. You need to first believe in yourself to make anything happen. Rest everything falls in place once you are brave enough to believe in your goals. Maybe there are many who might laugh at you, would find your ideas impractical but what really matters is what you really feel about your aims, how much faith you have in your dreams!
Tried & tested personally fellows! Go for it…. Try doing this with any of the challenges, assignments, goals that you currently have in your hand. For me personally, working as a freelancer wouldn't have been possible; once reaching on time for my training in the chaotic Mumbai traffic wouldn't have been possible; maintaining a healthy diet plan wouldn't have been possible. So right from the major to minor tasks, you can apply this anywhere. It would for sure work for you if you sincerely believe with all your heart!
Be Deaf to Negative Thoughts to stay motivated and dedicated
"Positive anything is better than negative nothing."– Elbert Hubbard
Well I feel, the main difference in the aspirant painter and actor friend of mine was one had let herself give in all the negative thinking and the other one had all the inclination towards positivity. As per the motivational speaker & author, Robin Sharma stated in his novel, "The monk who sold his Ferrari" one can actually practice turning all the negative thoughts in positive ones.
The moment you catch yourself thinking unpleasant your mind should be programmed to get rid of that pattern. Fight against it and let optimism win over it. This is very much doable if you make sure that you surround yourself only with positive people. You do not let any of the negative thinkers and their energies affect your cognition So stay motivated and dedicated.
Many other routine habits such as repeating affirmations (the positive thoughts) in the form of quotes, lectures, videos can be really helpful. Meditation is one more essential tool to have a pleasant & peaceful mind. Once you start assessing your daily life and picking all those activities which make you smile, fills you with mental satisfaction & brings enlightenment to your life should be recognized as the most precious ones and should be given the higher priority.
Failure is Always a Learning
"Don't read success stories you will only get a message. Read failure stories, you will get some ideas to get success."- Dr. APJ Abdul Kalam
Once my sister had told me something very beautiful when I had got disappointed as I had got fewer grades in some tests during my academic years. She mentioned, "Always remember this; whenever you win something with one hand at the same time you are losing something from the other and when you lose something from one hand, you always receive something from the other." For that moment I couldn't really understand what she really meant; just felt that she said something to make me feel good at that point.
When I thought over it a few months later, I realized that the message had a profound meaning. May be we do not observe this often, but if we try to, it's actually quite true. The greater achievements always bring some kind of responsibilities, expectations; one might become overwhelmed & forget the pressure of performance. Also, the defeats always have some or the other leanings which give us the opportunity to identify & correct our mistakes.
Hence it's very essential to never lose hope no matter what! Because if not today then some other day you will surely understand your lesson. Meanwhile, just maintain patience and try focusing more on the main purpose of that loss.
Remind Yourself of Your Achievements
"You have done it before and you can do it now. See the positive possibilities. Redirect the substantial energy of your frustration and turn it into positive, effective, unstoppable determination". – Ralph Martson.
The paradoxical experience I had got after watching the Bollywood movie 'Karthik calling Karthik' quite surprised me. Apart from all the psychological deficiencies of the main character which were mainly highlighted in the movie didn't grab my attention much, unlike the other audience. Instead, his wonderful habit of constantly talking to himself and reminding his worth was quite a remarkable part of the movie.
This actually brought attention to a greater perspective. How one can lift their own spirit in hard times by remembering all the accomplishments you have had so far. When nothing feels positive try collecting the incidences that made you feel proud of yourself. For instance- when you perform badly in your stage show remind yourself of some past victory which you had in some other competition. If there was no victory at all then remind how your own efforts had made you feel encouraged. If you give a poor presentation then remind yourself of a great speech you once informally gave in your group.
If you try to think and link such scenarios you will surely find the successful ones. Perhaps that achievement might not have been recognized by an award or certification but the appreciation, praising by others & your own satisfaction serves as proof of conquest.
Follow a Healthy Routine to stay motivated and dedicated
"He who has health has hope; and he who has hope, has everything"- Arabian Proverb
Physical fitness is as important as keeping a healthy mind. After all, health is wealth. You must have experienced irritation, restlessness when you do not eat on time, don't intake enough nutrition, deprived of sleep. All such phases become very tiring, stressful & take a huge toll on your both physical & mental health.
Hence pay equal attention to ensure fitness. Regular exercising, yoga, meditation, brisk walks, cardio, etc. are a different range of activities one can choose from. Pick any one or two that suits you and religiously make them part of your routine.
Eating right at the right time is essential too. Junk or fatty food can be savored once in a while but you got to watch if you are not overeating such stuff. We all are bombarded with a lot of advice online & through our social circles on maintaining our health. If we can pay attention to a few doable things, then that can actually bring a lot of energy in our lives. You will automatically feel rejuvenated. Ensure you sleep at least for 7-8 hours. Watch your habit of eating out. Switch to salads, fruits & healthy diets.
A healthy body reflects on the mind. So be serious about your physical health as well and stay motivated and dedicated.
"When you are thankful for what you have, you are always rewarded with more."- Oprah Winfrey
I am always pleased to meet people who appreciate their life the way it is. People who have no despairs or no regrets. Looking at them you get a feeling as if they are at peace with themselves and with the entire universe.
Mom always used to say this when she caught me being upset, "Always compare yourself with those who are less privileged than you are." This certainly makes you notice how it would feel not to have the things which you possess right now. The thought naturally makes you thank the almighty for 'what is' rather than complaining about 'what could be'.
God always has a better plan for us. So just have faith and be content with your present status and be self-motivated and dedicated.
Take Charge of Your Life To become motivated and dedicated
"If you don't build your dream, someone will hire you to help build theirs"- Dhirubhai Ambani
Stop giving mundane replies like, "Same old, same old" every time when your friends ask about your life. No doubt the routine can get monotonous after a while. But try to add some spice, upgrade yourself with the necessary knowledge, take risks at the job, communicate your creative ideas, participate in community work, try alternatives of solving a problem, take breaks when you feel stressed, manage your time, organize your daily work, perform tasks with one hundred percent passion, so on & so forth.
You can, in fact, create your own ways of making life more interesting for yourself & others who peep inside your world. Read, explore, travel, communicate, indulge in parties, fun, adventure trips, etc. Take out that extra time for your own entertainment. You deserve leisure time to pamper yourself and also to maintain your hobbies. Try to be connected with your inner voice which always directs you to your ultimate desires. Do not suppress the things which bring you divine happiness.
Let just not days, months & years pass by without accomplishing some personal goals apart from the material & financial success. Just constantly ask yourself whether living in this manner would bring me closer to my dream or not. Don't leave any desire unattained and always stay motivated and dedicated. Ensure that you have almost no regrets & only peace on your deathbed!
Recommended Articles
This has been a guide to stay motivated and dedicated to the larger purpose in life. In this article 10 Ways to Stay motivated and dedicated this is all, we are going to discuss. I hope you enjoy reading it and at the end of it actually, feel motivated and dedicated. These are the following external link related to motivation and dedication.