Updated June 15, 2023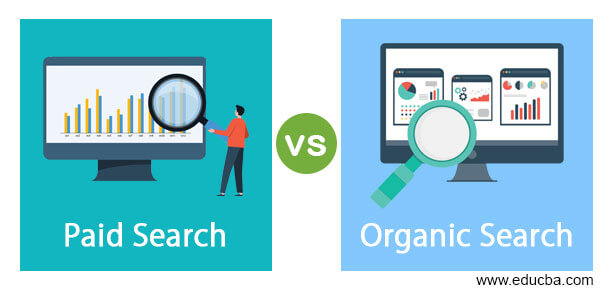 Paid Search vs Organic Search
Organizations have started realizing the importance of online marketing these days and specially through search engines. It is found out from a research that 81% of the users find their solution through a search engine. It proves that a strong search engine presence of your business will help to reach your target audience and get higher profit in return. But still there is an important decision to make about what to choose – Whether SEO or PPC?
Have you ever wondered why certain pages appear on the top of the page when you search for something in search engines ?
Making their site appear at the top of the SERPs is not an easy job at all. The SERP ranking of a site is usually affected by two main strategies.
Search results plays an important role in driving traffic to your site through search engines. If your website appears in 3rd or 4th page of the SERPs for the searched keywords then it becomes less likely that it will be visited by the browsers. Sometimes you might get no clicks at all. A recent study has proved that business people tend to give more importance to make their ads appear near the top of the page whether it may be organic or paid.
The article on Paid search vs Organic search is structured as below –
What is organic search results?
Organic search results are the listings of web pages returned by the search engines to the browsers. This result matches closely with the browser's search query based on the relevancy of the site. Organic search results is also known as natural search results. Marketers use SEO tactics to get higher ranking in SERPs. Their goal is to make the site appear within the fourth rank of the search engine result page. Organic search result comes from the algorithm of the search engine.
Benefits of organic search
Trust and credibility – If your site is ranked in the first page of the search engine, it makes the searchers believe that your site is more trust worthy and credible. Higher ranking indicates industry leadership. Higher rate of trust will increase the likelihood of the searcher to click through to your site.
Evergreen – Always have fresh content for your site. New content on your site will give a overall new look to the site. And the site with new content will list in the higher position for a long time than the other sites.
Ranking – Once you get high ranking through organic search, it is very easy to maintain that rank. Higher ranking also helps to gain the trust of the searchers as well as the search engines.
Click through rates – The click through rates are always high for organic search results. This factor is very important for a business to increase their conversion rate.
Inbound marketing – Organic search strategy requires the marketers to create quality content to achieve it. Content is the main thing that attracts the user and move them further towards the purchase process.
Drawbacks of Organic search
Time – To get higher ranking in search engine it takes a lot of time depending on the competition of the selected keywords. You should have lot of patience.
Resources – To achieve higher rank in SERPs you should use both content and SEO tactics in a proper way. It is very difficult and sometimes frustrating. You should require special persons to do these activities.
What is Paid Search Results?
Paid search results are nothing but advertisements. It is also known as Pay Per Click advertisement. A business owner has to pay certain amount to display their ads in when searchers enter a specific keyword in the search box of the search engine. These paid ads are usually displayed either on the top or to the right of the of the organic search results. An example is shown in the picture below for your reference.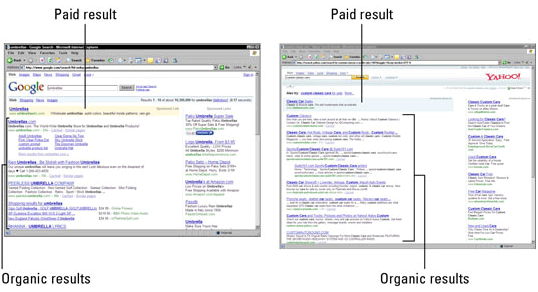 The placement of the paid ads is decided by means of bidding and quality score. The fees you pay for such advertisements depend on the number of clicks or views received by your ads.
Benefits of Paid Ads or PPC
Less Time – Paid results are not like organic search results. Paid results will appear at the top of the ranking once you pay for it. So you can get your output more quicker than organic search.
Specific Targeting – Paid ads can be tailor made to reach the specific type of audience which your business need to target. You can segment the ads based on factors like income, age, qualification, fields and others.
Click through rates – When a browser enters search terms that indicates high chances of purchase then paid ads get more clicks than organic search. It also increases your revenue from such search terms.
Drawbacks of Paid Ads
Cost – The main drawback is the cost involved in Paid ads. The higher the competition for a keyword, the more will be the bid price for such keyword for each click. So you should be more cautious in choosing your paid ads keywords. If not you will have to spend a lot of money for PPC.
Temporary – Paid ads are just temporary. It will disappear once you stop paying for them.
Distrust – Users don't trust paid ads like they trust organic search. They often avoid them.
Click through rates are less – The clicks of paid ads are very less except for high purchase intent keyword searches. The click through rate of organic search is less when compared to organic search. Organic search results are considered more reliable and trustable by the searchers.
Paid search vs Organic search results
When you enter your search query in a search engine, it returns two types of results : paid search vs organic search. We have learnt enough about its meaning in the above section. Now let's see its differences.
Do you know the differences between paid search vs organic search? In a recent survey it was found that almost half of the people do not know the differences.
But in your everyday search result you can see the paid search as well as organic search.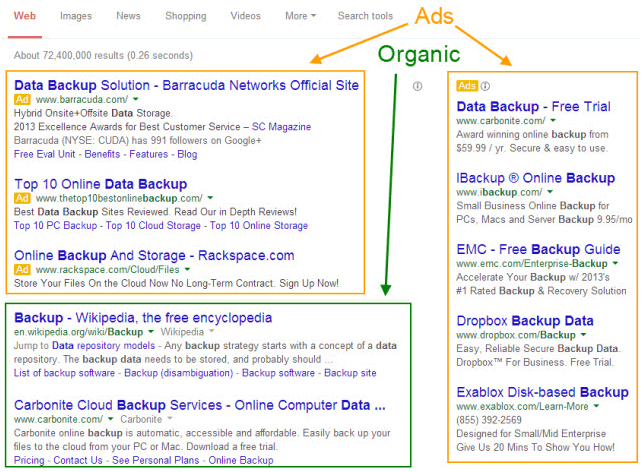 When you start to think about its differences, it's very crucial that you have the desired results in your mind. Both the search results aim to attract customers to the site and uses different types of tactics to do them.
Why choose Paid ads ?
The most important benefit of paid ads are they appear at the top of the page and the searchers eyes find them first. The searchers do not often find out the difference between the paid search and organic search as the font and style of both are always same. So they click without hesitation.
Another important advantage is that paid ads can be made visible on the first page of the SERPs once you pay for them. It does not require much technical work like organic search.
If you have a particular type of customer profile in your mind then prepare your ads targeting the right audience. You can also target particular region, age group, income group and on other factors.
Why organic ?
Most of the searchers avoid paid ads and prefer organic search results because of its trustable feature and credibility. It does not change just because you stopped paying. It is a result of your continuous efforts for several weeks or months or years.
Organic search is gained by using various SEO tactics and techniques. Getting higher ranking is organic search result is not an easy job as you think. It requires lot of technical efforts from many potential people. Organic search result is complex process than paid ads.
Once you reach the top position through organic search results then it is easy for you to stay there for a long time. You can maintain your brand reputation and create more trust among the users.
Organic search is also more cheap than paid ads. But it can be more frustrating and confusing for a person who is not technically trained.
Organic search does not involve a huge cost and some people call the organic search results as free clicks because they don't need to pay to Google or Bing to get higher position in SERPs.
Most companies are not able to do organic search SEO on their own and they hire some professionals to do it for them.
You should have patience and wait to reach higher positions in Search engines through organic search results.
Organic Search Results and Click Through Rates
Website owners always focus on the top 10 results that appears on Google and Bing. Because the higher the rank, the more will be the clicks on your site and in turn higher traffic and ROI on your site. The lower the rank, lesser the clicks and traffic to your site. Thus ranking on the first page is the main objective of every website.
In a study it was proved that the top three results on the SERPs were clicked 68 percent of the users and the remaining only 32 percent.
Paid Search and Click Through Rates
It is proved in a research that Women are more likely to click on paid ads than men. 53 percent of women click on paid ads whereas only 47 percent of men click on paid ads.
Age is also considered as a factor for PPC. People who are less than 35 years account to click on such paid ads only 35 percent. The remaining 65 percent of the people who click on paid ads belong to the age group of 35 and above.
Which is better paid search vs organic search?
The best approach usually depends on the type of business, the objective of your business and your budget. If you have a business that is service oriented then organic search result is best for you. This is because it has a sense of reputability and authority. If your business is product or brand specific then paid ads will serve best for your business. It can help to drive more traffic to your site which in turn will help to increase the conversion rate.
Paid search results main advantage are its speed and expansiveness.
Organic search has an evergreen presence over the internet because they have the ability to rank for a long time after the content is produced. It has a voice of authority. Paid ads disappear once you stop paying for them but gives immediate top ranking. In a recent survey, it is proved that organic results are clicked more than paid results. So the opportunity from organic search is always higher than paid search results.
If given a chance to select between paid search vs organic search the overwhelming logical choice for most of the SEO experts would be Organic search. Because we all know it's not easy to get top ranking in Google and other search engines without any effort. True SEO always takes time but it is worth doing.
There are also times when PPC can serve best. For example if you are launching a new company then it is very important to create a brand awareness first and for that purpose PPC serves best. If you are providing special discounts or some special offer then PPC is the most effective way to expose it to the users.
But still or some businesses the best approach is a combination of both paid search vs organic search results. Both can be needed to develop a strong marketing strategy to drive traffic to your site. It all depends on the nature of the business.
Paid search vs Organic search Conclusion
So what should you select for your marketing ? Paid search or Organic search ? It depends purely on your marketing needs. You can select it based on the method which gives you the maximum customer turnover rate and return on investment.
From this article you would have known all the advantages and disadvantages of both the type of search results. Hope this would help you in your decision making.