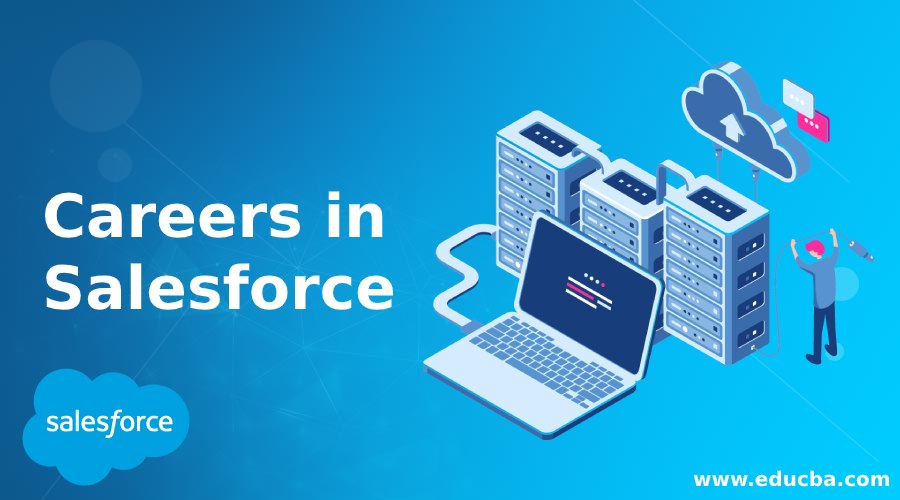 Introduction to Careers in Salesforce
The following article provides an outline for Careers in Salesforce. Salesforce (abbreviated as SF or SFDC) is an American cloud computing company headquartered in San Francisco, California. Mark Benioff and Parkier Harris is the founder (founded in 1999) of the company.
Products:
Sales Cloud
Service Cloud
Platform
Marketing Cloud
Commerce Cloud
Community Cloud
Salesforce is a cloud-based (cloud-based means that application is delivered via the Internet and runs or is compatible with any web-browser) CRM platform. CRM (Customer Relationship Management) is software that stores every detail of your customer. The details can be anything from names, addresses, phone, website visits, phone calls, emails, and many more.
Education for Careers in Salesforce
Analyst says that the Careers in Salesforce economy is growing exponentially and is believed to create 3.3 million new job vacancies by 2022. Salesforce educations have been designed as per the different job opportunities it creates in the market. These education categories depend upon the role played by an individual in the organization.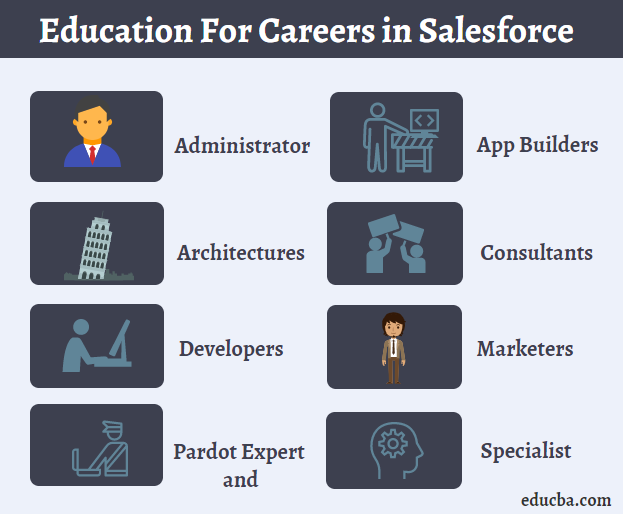 Administrator
App Builders
Architectures
Consultants
Developers
Marketers
Pardot Expert
Specialist
Again these educational streams' demands may vary depending upon the requirements and efficient candidates. Talking of efficient candidates means multiple tasking; to illustrate this is a better way, I would like to cite Develop and Tester roles. Many companies do not hire testers, or to that extent, they hire a developer. They believe a developer will compensate for the tester's roles and responsibilities, if not completely, then to some extent.
Career Path in Salesforce
Given below are the career path in salesforce:
1. Administrator
Intended for individuals who have experience as a Salesforce Administrator. Individuals looking to make a career as Salesforce Administrator must show their expertise while working with stakeholders to identify their requirements, customized implementation ( as per client requirement), and apply ideology from the end-users perspective.
The Salesforce Administrator career path has 2 sublevels, namely:
Salesforce Certified Advanced Administrator
2. App Builder
A certified Salesforce App builder is an individual who has skills in designing and who can implement these skillsets using lightning components.
3. Architects
Designed for individuals having experience in Technical Architect positions. As a certified Salesforce Architect, one has analyzed customers(study their background business), finding a feasible solution that best matches their business background, communicating these solutions to business partners to ensure quality and potential to meet success. These solutions have to be figured out on the Lightning platform.
The Salesforce Architect career path has 3 sublevels, namely:
The Salesforce Certified Architecture Designer
The Salesforce Certified Application Architect and System Architect
The Salesforce Certified Technical Architect (CTA)
4. Consultants
These are professionals who are dedicated to the success of the client. Here individual's skills are tested in solving real-world problems. This is a mixture of technicality with experience.
The Salesforce consultants career path has 6 sublevels, namely:
Salesforce Certified Community Cloud Consultant
Salesforce Certified Field Service Lightning Consultant
Salesforce Certified Marketing Cloud Consultant
Salesforce Certified Pardot Consultant
Salesforce Certified Sales Cloud Consultant
Salesforce Certified Service Cloud Consultant
5. Developers
A certified Salesforce developers are individuals who have relevant skills in programming. They customize the application from the backend on the Lightning Platform.
The Salesforce developers career path has 3 sublevels, namely:
Salesforce Certified Commerce Cloud Digital Developer
Salesforce Certified Platform Developer
Salesforce Certified Platform Developer II
6. Marketers
Markets professionals are the ones having skills in direct customer handling while interacting with the team. They are efficient in Salesforce Marketing, abundant knowledge of the cloud and its capabilities. These activities are coupled with email and social campaigns. The Salesforce marketers career path has 3 sublevels, namely
Salesforce Certified Marketing Cloud Consultant
Salesforce Certified Marketing Cloud Email Specialist
Salesforce Certified Marketing Cloud Social Specialist
7. Pardot Experts
These business professionals use their skills to enhance their business engagement.
Under this, a professional has 2 levels of career path, namely:
Salesforce Certified Pardot Consultant
Salesforce Certified Pardot Specialist
8. Specialists
The Salesforce Certified CPQ Specialist credential targets individuals having experience in utilizing the Salesforce CPQ solution. This certification confirms an individual's expertise in building bundle configurations, pricing and generating renewals and amendments.
Application Areas for Career in Salesforce
Given below are the application areas for career in salesforce:
Automation Testing – Application testing using QTP and Selenium has great market value worldwide.
Cold Calling – Customer service.
Insights Generation – Weekly/monthly/quarterly/half-yearly and yearly tracking the inputs for better and effective insights generation. This proved to be a great analysis of data with proven abilities.
SaaS – Software as a Service.
PaaS – Platform as a Service.
Salary (US Data and Not India Specific Figures)
The average Salesforce salary in the USA is $82,301 per year or $42 per hour.
A general market study of Salesforce (US region) has the below-mentioned facts with figures:
Entry level positions – $58,000
Experienced level positions – $115,000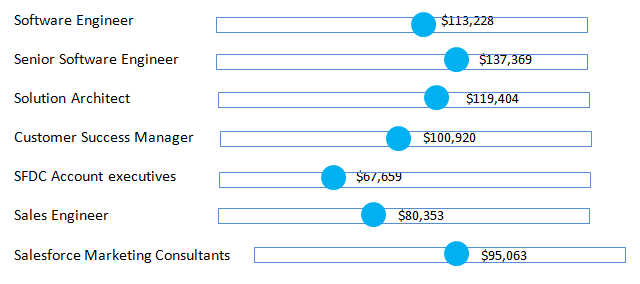 Conclusion – Careers in Salesforce
Salesforce is more than a CRM tool; its cloud presence and flexibility make its demand increasing and constantly impact the global market. According to Gartner, the overall CRM market will be around 39.5 billion USD by 2017. Salesforce is right at the top, with a total contribution of more than 20% of the overall CRM industry. A Career in this demonstrates your potential in transforming companies (big or small) by witnessing real word issues. This, as a result, has created an everlasting demand for careers in Salesforce professionals all across the globe.
Generally, conclusions are not so one-liner as in the case of Salesforce. Since every business has its customer and customer management, it is vital for any business to survive and grow. Hence, a career in this is a very good opportunity for aspirants looking to build their careers in a cloud, CRM, development, architect, and other skills related to it. Ultimately a good career will lead to better salaries.
Recommended Articles
This is a guide to Careers in Salesforce. Here we discuss the education required for salesforce, career path, salary, career outlook in salesforce, etc. You may also look at the following article to learn more –