Updated September 5, 2023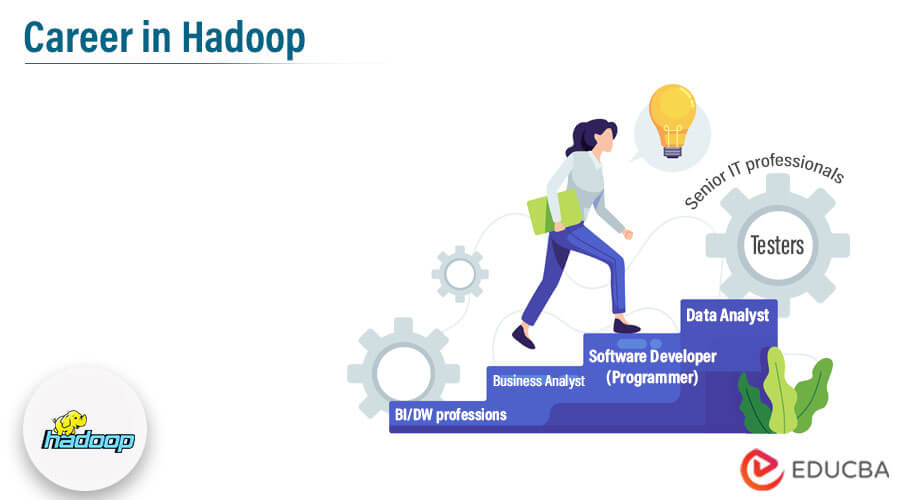 Introduction to Career in Hadoop
Hadoop is not a mere framework in the Big Data world. It has a wide ecosystem with an umbrella of related technologies. For the same reason, a career in Hadoop is promising. If you have a good understanding of Hadoop fundamentals, it will be a foundation for a great career in Hadoop.
Education Required for Career in Hadoop
Like many emerging data technologies, Hadoop doesn't demand any specific educational background as such. Around half of Hadoop developers are from non-computer science backgrounds like Statistics or Physics. So it is clear that the background is not a hindrance to entering the world of Hadoop, provided you are ready to learn fundamentals. There are good online courses cover Hadoop  – the one from eduCBA is the best example – master-Apache-Hadoop
Further, if you want to move deeper into a specific area of Hadoop cluster management or data modeling in Hive materials on each specific topic available as online courses and textbooks, most of the time, Hadoop clusters will be set up in a cloud vendor like AWS or Azure. So getting familiar with any cloud vendor you choose will help a lot. The Hadoop service from AWS is called EMR.
The popular specialization includes :
Career Path in Hadoop
As per Stack Overflow Survey 2017 results, Hadoop is leading in the most popular and most loved framework in the Big Data space (Survey Link). This is possible only because people from different IT perspectives found Hadoop a potential career path and want to switch.
Whatever your current role is in IT, there will be an easily adaptable switch to a career in the Hadoop world. Some popular examples –
Job Positions
The Hadoop ecosystem offers a variety of career paths.
Salary
An average salary of a Software developer in the US is $98,618 per year, while the average salary of a Hadoop developer is way higher – $118,234 per year ( As per Indeed.com 2023 – indeed.com )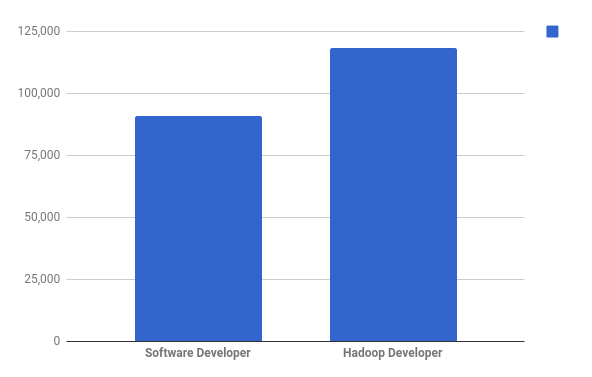 Salaries of Hadoop developers in top companies in the US 2023 (Ref: indeed.com)
| | |
| --- | --- |
| eBay | $146 per hour |
| Stefanini IT Solution | $127 per hour |
| Barclays | $114 per hour |
| X by 2 | $109 per hour |
| Informatica | $106per hour |
| Prutech Solutions | $104 per hour |
| Emonics | $103 per hour |
| HCSC | $81.93 per hour |
| APLOMB Technologies | $63.81 per hour |
| Silverlink Technologies Pvt Ltd | $52.08 per hour |
Career Outlook
Hadoop ecosystem is getting diverged a lot to meet a change in business needs. As data generated is increasing exponentially and more and more organizations become data-driven, the Hadoop system's relevance will only increase.
Some of the notable trends :
As a fundamental aspect of Big Data processing lies on fault-tolerant distributed and horizontally scalable systems, which Hadoop well implements, Hadoop will continue as a leading ecosystem for data processing.
Recommended Articles
This has been a guide to Career in Hadoop. Here we have discussed the introduction, education, and skills required along with job position, salary, and career outlook in Hadoop. You may also look at the following article to learn more –