Updated July 3, 2023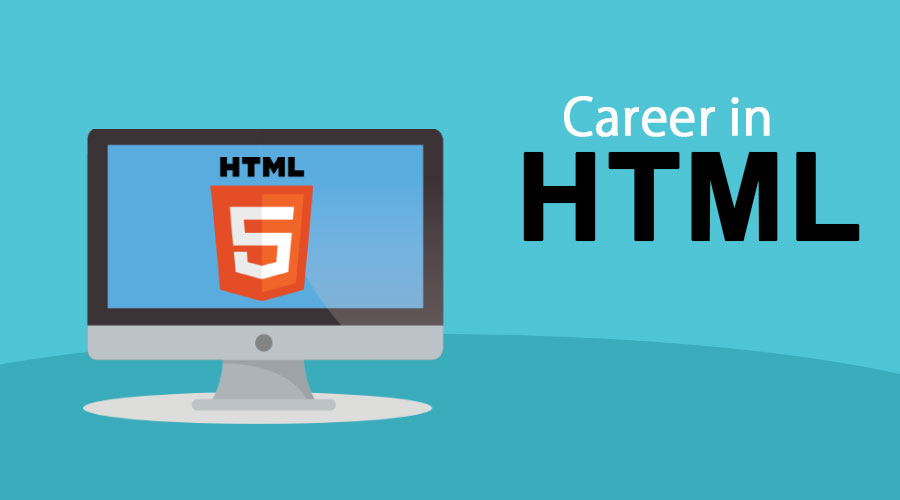 Introduction to a Career in HTML
HTML full form is Hypertext Mark-Up language. It creates web pages, web applications, and sites. It mainly collaborates with CSS (Cascading style sheet), Javascript, and another scripting language to provide the User interface for the website or the web application. It was initially released in the year 1993. W3C and WHATWG developed it. HTML elements represent tags and serve as the building blocks of HTML pages. Every browser and the elements like images, text, or other audible and visual web pages can interpret HTML language. With the help of CSS, the developer can change the feel and look of the website, or you can customize the web application accordingly.
Education Required for a Career in HTML
HTML developers or programmers should have a bachelor's degree in computer science. Other graphic or web design certifications can be added on, and knowledge on the same. Many online portals, videos, and community forms are available for HTML developers and programmers to help upskill them in HTML. With the help of HTML, an individual can create web pages and websites for different vendors and their own.
HTML developers or programmers mainly work with a team to create the website. They should be able to translate the change into the code and design the UI as requested. In learning HTML, you can learn other scripting languages that can embed the code, like Javascript. Learning HTML is easy; you can check the output once the change is done on a web page.
Career Path in HTML
An HTML developer or programmer has a well-defined career path. After learning HTML and having the degree, one can start their career at an entry-level position and, after getting experience in the same field for 3-5 years, can be at mid-level and then to senior-level positions. HTML and CSS is the critical skill for any front-end developer, whether that developer is working on the web application or web pages only.
HTML developers can also find employment in software development to make the software product's design and look more user-friendly. Many employers are actively looking for HTML developers. These developers primarily work on applications that users can operate in a mobile browser such as Safari, Chrome, and others. Additionally, the same applications can also be used in a desktop browser. HTML gives the freedom and flexibility to use the application across different platforms.
Job Positions or Application Areas
There are different job positions or application areas for careers in HTML developers: Web developer, Junior web developer, senior web developer, Graphic designer, Computer programmer, Web designer, web architect, and webmaster. Other roles require HTML skills, like JavaScript developer, Asp.Net developer, and MVC developer. These are also one of the main skills of HTML. Developers widely use different versions of HTML for application development. The other professions for this skill are social manager, website producer, website manager, content manager, Quality assurance engineer, etc. Understanding the different aspects of an application in the software industry requires every developer to have HTML knowledge.
Salary
The HTML developer can earn from 50k USD to 120k USD. The average salary of the HTML developer or programmer is mostly about 75k – 80k USD. The salary of the developers varies according to the organization. Most organizations work on a project-by-project basis, and freelancing help individual showcases their skill and grab the highest salary per their work.
Junior developers earn around 50k USD, while senior developers or web developers receive payments ranging from 70k USD to 90k USD. Principal engineers or lead developers typically earn approximately 115k USD to 120k USD. The demand for HTML developers has increased a lot in the last few years, and it will be up with other technology for the next years as well that will help the developers to get good salaries and wages as per their demands across the globe.
Career Outlook in HTML
There are good opportunities available for HTML developers or programmers. The HTML developers interested in visual and functional design can opt for web development. A web developer is a general term for careers like webmasters, web designers, etc. The qualities of web developers are having concentration as they have to write code longer. The other is Creativity; they ensure that the functional and UI parts appeal to the user.
The career of HTML developers is fast growing these days, and in the future as well, it will have good job opportunities. As we know, websites can be built anywhere in the world so the opportunities might go to the country with lower wages, but this is the second part. The HTML developers have the skill to develop the website effectively, and they can get the job through freelancing and from other areas.
Conclusion
HTML developers' career is expected to grow and its growth over the years. E-commerce is growing at a faster rate, because of which online purchasing is expected to grow faster in the retail industry. Whenever online offerings increase, it will increase the demand for online applications, whether desktop web applications or mobile web applications, increasing the demand for HTML developers or web developers.
As HTML primarily integrates with other scripting languages, its scope always remains within the top organization. It finds applications in various web development contexts, such as web pages and web applications, aiding in creating applications and web pages. Employers offer excellent salaries to web developers or HTML developers who can utilize HTML alongside multiple languages. HTML gives you the freedom to customize the features with less effort. Ultimately, a career in HTML is fast-growing, and learn it to create your websites.
Recommended Articles
We hope that this EDUCBA information on "Career in HTML" was beneficial to you. You can view EDUCBA's recommended articles for more information.