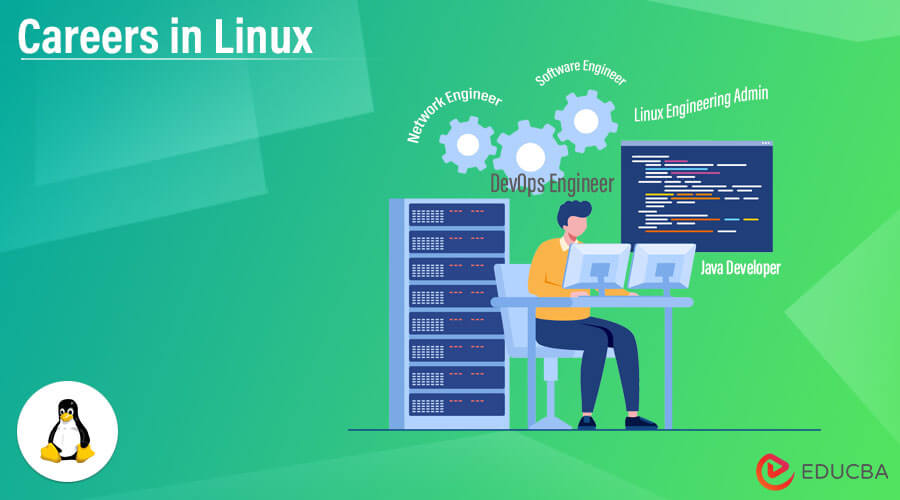 Introduction to Careers in Linux
If you are planning to pursue a course of Careers in Linux but are not very sure if it's the right decision, then you have landed on the right post. We are going to help you in solving your apprehensions and questions related to choosing careers in Linux of this technology. The demand for Linux professionals is never-ending, especially if you have a certification in Linux. Now a day, companies do not ask for a TechOps resource who is just experienced in working with Linux technology, but they are more interested in hiring a full stack developer who is capable of managing servers, cron jobs, schedule batches, apply load balances and basically can do everything that should be done by using a shell script. You do not need to worry about the jargon used in the last line. You will learn them as you start to work on Linux.
Education to Careers in Linux
There is no special prerequisite needed to learn Linux and choosing careers in Linux in this domain is simple. You just need to be a graduate in any computer-related discipline preferably and yes you should be familiar with search engines and using the internet because most of the free information related to Linux is available online.
Career Path in Linux
Let me show you the path you can opt for if you are new to this technology and look ahead in choosing careers in Linux.
Install Linux: It is undoubtedly the first step as you would not want to end up having just a theoretical knowledge of the subject.
Take LFS101x: This course will help you immensely in creating your Linux backbone. You can explore various tools and techniques often used by Linux administrators and end to end-users. This course will help you by providing both graphical and command-line knowledge.
Go for LFS201: After you have completed LFS101x, taking this course is recommended to learn advanced techniques and complicated tasks. This course will help you in getting a real hands-on working experience by providing you a detailed and useful knowledge.
Practice: There is no such thing that can beat this. The more you practice, the easier it becomes for you.
Get a certification: Getting a certification is quite important as this makes you visible in front of recruiters and helps them understand the threshold level of knowledge you possess.
Get involved: Consider joining a local User's Group(LUG) if there is one in your area. These kinds of groups will help you in collaborating with the right set of people.
Let us also have a look at the career options you have once you choose with this technology.
Systems administrator: The professional is responsible to manage important services like HTTP, FTP, Cron jobs, DNS, creating backups, and other server related tasks. He is also the one who looks after the security and firewall related settings in the organization. The server-oriented distributions upon which the work is generally done include Red Hat Enterprises, Debian, CentOS, and Ubuntu.
Application and Web programmer: A major part of web content related publishing business is run on Linux, PHP, Apache, MySQL, and therefore the programmers who can write code in multiple languages or are able to design different databases and applications are preferred over the conventional ones.
Technician Job: The professional is responsible to handle workstations and desktops. The crucial areas include an understanding of partitioning, installation, providing services, troubleshooting networks, managing users, basic scripting, and operating system related problems. Getting a practical exposure in this domain is also quite easy as schools, colleges, and organizations often have requirements for candidates possessing this skillset. Getting an experience here will open a pathway for you to become an efficient Linux administrator.
Support: You can also be among those organizations that are looking to extend support to all the professionals globally who are currently working on Linux. With the extensive growth of Linux in enterprise and corporate areas, firms choose Linux over licensed windows.
Teaching and Writing: This is one other domain where you can see yourself employed. The above-mentioned aspirants need tutors to learn this course and you can be one of them. You can choose to do this privately or in any school, college, or any other institution. Writing can be related to providing documentation for large companies and the ones related to technical papers. You can also choose to work as a freelancer in teaching or writing.
Job Positions
We have listed down the top 15 jobs for you which you can expect after you come out with Linux expertise.
DevOps Engineer
Java Developer
Software Engineer
Systems Administrator
Systems Engineer
Senior Software Engineer
Python Developer
Network Engineer
Software Developer
Linux Engineering Admin
Software Developer
Linux Engineer
TechOps Engineer
Senior Java Developer
Build release management Engineer
Even though only a few of them have the word Linux written against them, it doesn't mean that the opportunity is just for those positions. According to the organization and project need, you can get any designation as per your skill set.
Salary
After having a look at the kind of job profiles, let us also have a look at the salaries a Linux professional can expect to draw. Though this figure is quite very relative because of varied roles and responsibilities in diversified domains, still an average of $90,000 is the amount one can expect. This can range from as low as $60,000 to as high as $150,000 and this totally depends on your experience, expertise, geographical location, and the organization you are going to work for.
You will find plenty of niche skills where Linux techniques can make a difference. With the increase in opportunities in the field of Linux and with the advent of cloud technology the market capture only seems to increase. Go ahead, acquire the right attitude, skill, and expertise and I am sure you are going to come out with flying colors. I hope this post helped you in resolving your queries. Feel free to write to us in case of any further queries, we would be happy to help. Stay tuned to our blog for more articles.
Recommended Article
This has been a guide to Careers in Linux. Here we have discussed the introduction, education, career path in Linux, salary, and career outlook in Linux. you may also look at the following article to learn more –