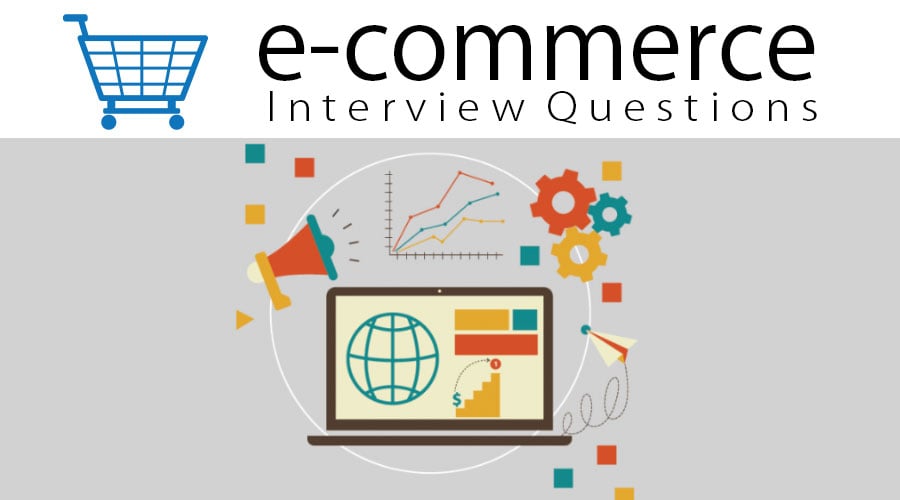 Introduction to E-Commerce Interview Questions and Answers
E-commerce is also known as electronic commerce. It is a methodology of doing modern business and addresses the requirements of organizations, vendors, and customers to reduce the cost. It also ensures that cost reduction on commodities and improves the quality of goods and services and add on with the delivery speed. E-commerce does the exchange of business through Electronic data exchange (EDI), electronic mail (E-mail), electronic bulletin boards, electronic fund transfer (EFT) and other network-based technologies.
Now, if you are looking for a job which is related to E-commerce then you need to prepare for the 2020 E-commerce Interview Questions. It is true that every interview is different as per the different job profiles. Here, we have prepared the important E-commerce Interview Questions and Answers which will help you get success in your interview.
In this 2020 E-commerce Interview Questions article, we shall present 10 most important and frequently used E-commerce interview questions. These top interview questions are divided into two parts are as follows:
Part 1 – E-commerce Interview Questions (Basic)
This first part covers basic Interview Questions and Answers.
Q1. What are the features of E-commerce?
Answer:
The features of e-commerce are non-cash payment, service availability (24*7), Improved sales, support, advertising and marketing, inventory management, communication efficient, faster, reliable, less time consuming, on the go service and saving time. It is available at any time and anywhere, helps in making a better management of product and services.
Q2. Difference between E-commerce and Traditional Commerce?
Answer:
Traditional Commerce is mainly dependent on the exchange of information from one person to other whereas E-commerce has very less dependency on the same. In traditional commerce, transactions or communication are done synchronously. It means manual intervention is required for any communication or transaction, but in e-commerce transactions or communications can be done asynchronously. Mainly all the process is automated one. Traditional, communications of business depend on individual skills but in e-commerce, there is no manual intervention. In traditional, it is difficult to maintain and establish standard practices whereas in e-commerce uniform strategy can be easily maintained and established. In traditional commerce, there is the unavailability of uniform as it mainly depends on the personal communication whereas, in e-commerce, there is one uniform platform provided where all the information is available and it provides the platform to support the different business activities across the globe which is not possible in traditional commerce.
Q3. What are the advantages to the organization?
Answer:
With help of e-commerce, organizations can extend their business or markets to national or international markets by investing less capital. It can easily locate more customers, suppliers, and partners as well. It helps the organizations to reduce their cost on process creation, distribute and manage the paper-based information. It also helps in improving the brand image of the company. E-commerce generally helps in providing better customer service and simplify the business process and makes it faster, secure and efficient. It helps in automating the deliveries and reducing other unnecessary work.
Q4. What are the different e-commerce business models?
Answer:
This is the common E-commerce Interview Questions asked in an interview. The different e-commerce business models are Business to Business (B2B), Business to Consumer (B2C), Consumer to Consumer (C2C), Consumer to Business (C2B), Business to Government (B2G), Government to Business (G2B) and Government to Citizen (G2C).
Q5. Explain the technical disadvantages of e-commerce?
Answer:
In e-commerce, there can be a lack of security of data, system, reliability and might be the poor standards of implementation as well. It is still getting or finding it and keeps on changing rapidly. There can be issues with the network in some areas, high-speed internet connectivity is required for accessing the websites on the desktop or mobile or any other gadgets. Existing applications and databases are difficult to integrate with e-commerce applications or software. There can be the issues with software compatibility and hardware with some operating system or might be any other incompatibility with the system.
Part 2 – E-commerce Interview Questions (Advanced)
Let us now have a look at the advanced Interview Questions.
Q6. Explain the advantages to society because of e-commerce?
Answer:
It helps in reducing the cost of products because of which more and more people can use the product. It helps in enabling the rural areas to access the service and products because of which they can use any product what all others are using in town or cities. It helps the government to deliver public services such as healthcare, education, and social service at minimal cost and in a better manner. Most importantly no need to travel anywhere, the products will be delivered to the defined address and which benefits the customer, organization, and environment as well.
Q7. Tell us which different sector e-commerce applications are available in the market?
Answer:
The applications are mainly available for many different sectors or areas, from those areas some are like books, music, financial services, home electronics, mobiles, entertainment, apparels, travel services, toys, movie tickets, information, gifts and computer products, accessories etc.
Q8. What are the short-comings of e-commerce?
Answer:
E-commerce required lot of initial set up cost for creating the website of application. There can be the trust issue on site as traditional buyers like to go for traditional commerce with interaction or communication. It is really difficult to ensure the security or privacy to online transactions and stored data. We can just view the product virtually not in reality as sometimes the delivered product looks different from the expectation. Internet access is still not available for everyone and everywhere, which makes difficult for organization reach there and expand their market like remote villages. There can be a delay in launching the application or website because of mistakes, issues or unavoidable circumstance and lack of experience.
Q9. Explain the B2C business model briefly?
Answer:
This is the advanced E-commerce Interview Questions asked in an interview. This B2C business model sells the product directly to customers. The customers can easily view the products on the website and choose the product from the different varieties and order the product accordingly. The ordered product will be delivered to the address and in between all the transit updates are sent to the customer via SMS or email notification as per the choice of the customer only.
Q10. How does e-commerce work?
Answer:
When a customer needs any product to buy, a customer goes to the website and choose the product that he wants to buy. After selection of product, a customer will select the mode of payment whether it is online or offline and after that product will checkout and ordered. The ordered products information has been exchanged to customer and delivery logistics. This process is being done in just matter of minutes only. For e-commerce enablement, getting internet merchant bank account, webs hosting, obtaining the digital certificate, provider for online transactions and purchasing or creating the shopping cart software.
Recommended Articles
This has been a guide to list Of E-Commerce Interview Questions and Answers so that the candidate can crackdown these E-Commerce Interview Questions easily. Here in this post, we have studied top E-Commerce Interview Questions which are often asked in interviews. You may also look at the following articles to learn more –