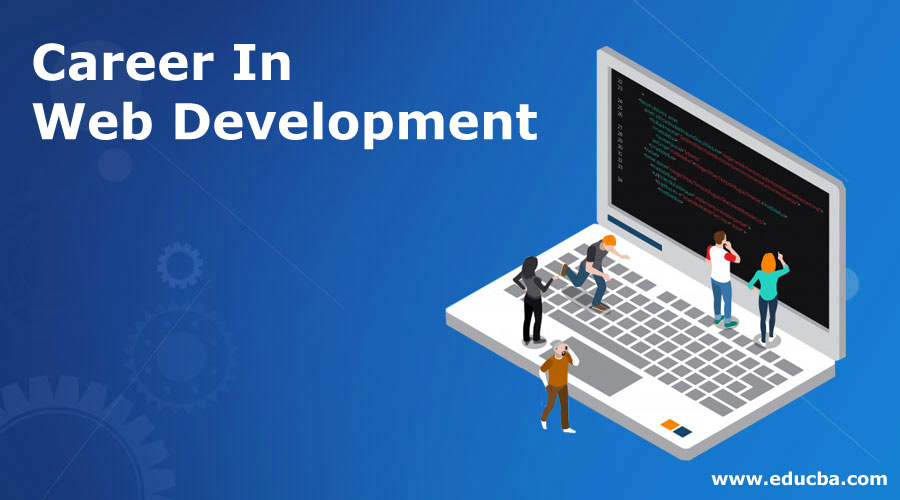 Introduction to Career In Web Development
In the present scenario, all of us somewhere is dependent on the internet. But, going deeper, the internet that we browse consists of a huge number of websites, web applications, and web pages. These websites and web applications are made or designed by people we commonly refer to as web developers, also known as website developers.
The work of developing websites and hosting them via the internet or internet is broadly referred to as web development. Among a huge number of processes, some of the important ones involve web designing, website content development, scripting on client-side/server-side, and network security configuration.
The web development hierarchy is as follows:
Coding on the client-side.
Coding at the server-side.
Database technology.
Education Required For Career in Web Development
There is software used for designing and programming. For example, such software is used by web developers for creating internet websites.
The content of a website is determined by web developers. Furthermore, the implementation of tools, links, and other aspects are done by them for bringing up the effectiveness and efficiency of websites and web applications. Summing up, a web developer is completely responsible for the end-user experience of using his developed website or web application.
A career in web development generally requires a bachelor's degree in computer science. However, there are some exceptions for web developers with relevant professional experience and exposure to required skills. Professionals working in the field of web development and designing must have an understanding of programming languages, database management systems, and also web designing skills.
While many business organizations prefer web developers to hold a bachelor's degree in computer science, some are also considered a certification course in web development.
Certificate courses involve training in programming, mathematics, Web designing and database management system and networking.
In some cases, professional certification and industrial work experience make a good substitute for formal education.
An applicant without a bachelor's degree may benefit from certifications Career in the web development system and software. Many software companies, professional associations, and education institutes offer such certifications.
Career Path in Web Development
An aspirant can get a job in web development with job titles including web designer, web developer, and website graphic artist. Furthermore, with enhanced work experience, one can seek senior-level job profiles like senior web developer, senior web designer, and senior software designer and developer. According to the U.S. Bureau of Labour Statistics (BLS), a growth of 27% between 2014 and 2024 is forecasted for careers in Web development.
In this era of rapidly changing technologies, a web developer can be classified into two categories – a person who works on a particular technology and skills and stick to that and secondly a person who constantly keeps on learning new technologies. The first kind of person capitalizes on their knowledge at an early stage and is likely to become successful quickly. The second kind gets accustomed to the rapidly changing technologies and is likely to survive and succeed in the industry in the long run. The second kind is more valuable to employers because of their continued learning mindset.
Job Positions or Application Areas For Career in Web Development
In most companies, people working on web development and designing are designated as software engineers or software developers instead of web designers and web developers. Not to be confused, these software developers still work on web development technologies. The job role of the web developer is further classified into the following.
Front-end developers – These developers work on building the interface of a web application or website. Skills required for getting jobs in front-end development include knowledge of designing technologies like HTML, CSS, and JavaScript. In addition, skills in frameworks like Vue, Angular, React, etc., are the major requirement for front-end development jobs.
Back-end developers — Back-end developers require programming language skills in technologies like JavaScript, PHP, Java, Python, C#, etc. A developer also requires knowledge of frameworks similar to the front-end. Based on a programming language, frameworks also differ. For example, working with Python as the back-end programming language, Python-based frameworks such as Pyramid, Flask, or Django are advantageous.
Full-stack developers —a full-stack developer works on both front-end and back-end. Hence, a developer needs to know both the technologies of front-end and back-end development.
Salary
In India, the salary of a fresher in web development can range anywhere between 2LPA -12 LPA. According to www.glassdoor.com, the following are the salaries of web developers in some of the product based companies —
Flipkart pays an average annual salary of 10 lakhs per annum and above to fresher employees.
InMobi — this ad network company pays an average annual salary of 13 lakh per year, which increases to 20 lakh or more per annum within a few years of experience.
Amazon — this company pays an average annual salary of 13 lakh per annum, which increases to more than 30 lakh per annum within a few years of experience.
Directi — this company pays an average annual salary of 13 lakhs per annum which advances to more than 20 lakh per annum with little experience in the same company.
Apart from product-based companies offering such huge salaries, service-based companies such as Cognizant Technology Solutions, Tata Consultancy Services, Accenture, Infosys, Tech Mahindra, etc., offer an annual package of 2.5 to 3.5 lakhs per annum to fresher developers. Moreover, small and medium web development companies also offer jobs to fresher web developers offering a package even less than 2 lakh per annum.
Career Outlook in Web Development
Web Development is a very broad term, and there is broad scope in this domain. With the growing use of mobiles and digitalization, there is a huge requirement in this industry for web developers. Going paperless is also giving rise to many online web applications. Therefore, basic skills and knowledge about relevant technologies are required to getting a job in this field. Among everything to say, an urge to consistently update our knowledge base with rapid technology updates is the key to survival in this industry.
Recommended Article
This has been a guide to a Career in Web Development. Here we have discussed the Introduction, Education, Career Path in Web Development, Job Position, Salary, and Career Outlook in Web Development. You may also look at the following article to learn more –