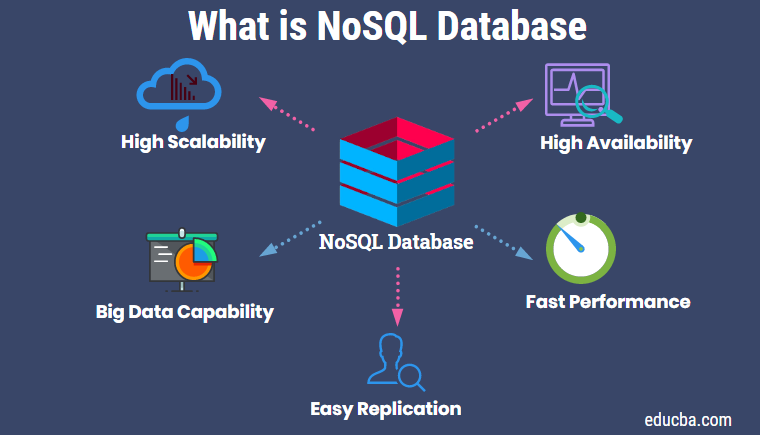 Introduction to NoSQL Database
NoSQL database is used when working with large sets of distributed data. They are used in real-time web applications, and their usage is increasing with time. A NoSQL database has a simple design, fine control over availability and simple horizontal scaling to clusters of machines. The operations of NoSQL are faster than relational databases due to the use of different data structures. The type of problem is the deciding factor for the suitability of the database.
The data structures used in databases are more flexible than the tables used in relational databases. Availability, partition tolerance and speed are given more preference than consistency in many NoSQL stores. Most NoSQL stores do not follow the ACID (Atomicity, Consistency, Isolation, Durability) properties of transactions, but some databases like Aerospike, Google Spanner, MarkLogic, OrientDB and Symas LMDB have made these properties as a centre to their designs.
What is NoSQL Database?
NoSQL Database is a database implementation method used for stacking, managing and fetching the data from the relational databases that are structured in any model but not in the typical tabular formatted relationship model. These types of databases are also known as 'Not only SQL', 'non-SQL' or 'non-relational databases, as it also allows and supports SQL programming languages. The NoSQL databases are progressively applied to big data applications, as well as many other web-based applications.
Difference Between SQL Database and NoSQL Database
Given below is the difference between SQL database and NoSQL database:
| | | |
| --- | --- | --- |
| Sr. No | SQL Database | NoSQL Database |
| 1 | Same type with fewer variations. | Different types like document databases, Key-value stores, graph databases, and wide–column stores are available. |
| 2 | They were developed in the 1970s to handle data storage applications. | They were developed in the 21st century to overcome the limitations of SQL databases such as multi-structured data, agile development sprints, and scalability. |
| 3 | Data is stored in tabular format. | Data storage varies with database type. |
| 4 | Data types and structures are fixed beforehand. Then, the entire database needs to be altered to add a new data item. | Dynamic storage. Dissimilar data can be stored together, which is not the case with SQL databases. |
| 5 | Vertical scalability. | Horizontal scalability. |
| 6 | Open technologies and closed source databases are used as a development model. | Open technologies are only used. |
| 7 | It supports multi-record ACID transactions. | Mostly does not support them. |
| 8 | Data manipulation is done using specific data manipulation language. | Data manipulation is done through object-oriented APIs. |
| 9 | Strong consistency. | Some products provide strong whereas others provide eventual consistency. |
| 10 | The velocity of data is moderate. | The velocity of data is very high. |
| 11 | Suitable for structured data. | Suitable for structured, semi-structured as well as unstructured data. |
| 12 | Examples are MySQL, Oracle Database, Postgres. | Examples are MongoDB, HBase, Cassandra, Neo4j. |
Features of NoSQL
Below are some of the important features as follows: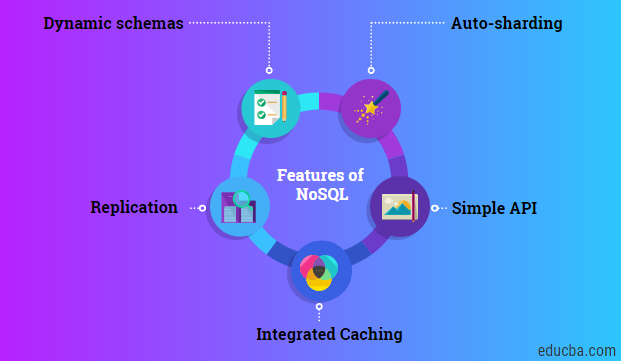 1. Dynamic Schemas
NoSQL databases permit to insert of the data without the predefined schema. As a result, real-time application changes can be made easily without the need to worry about service interruptions. This makes development faster, more reliable and less time consuming for the database administrator.
2. Auto-Sharding
Horizontal scaling is done in a NoSQL database, i.e. servers are added instead of increasing the capacity of a single server. It provides an auto-sharding feature, i.e. it automatically spread data across various numbers of servers. Application need not be aware of the composition of the server pool. A load of data and queries are automatically balanced among the servers. If any server fails, then it is replaced quickly and transparently without disrupting the application.
3. Replication
The database allows automatic database replication. It is done to maintain availability in case of outages. Some sophisticated NoSQL databases provide automated recovery and are fully self-healing. To enable data localization and to withstand regional failures, it can distribute the database across multiple geographic regions. NoSQL does not require a separate application to implement replication.
3. Integrated Caching
NoSQL databases have integrated caching capability, i.e. they keep frequently used data in system memory and remove the need for a separate caching layer.
4. Simple API
NoSQL offers interfaces that are easy to use for storing and querying data. APIs allow selection methods and low-level data manipulation. It uses no standard based query language.
Why Should we Use NoSQL Database?
Analytics: NoSQL database is suitable for doing analytical queries. Querying language used for atomic queries can also be used for analytical queries.
Scale: The database is preferred because it is designed to scale. They are designed to easily scale out when they grow. Data is divided and balanced among multiple nodes in a cluster, and by default, aggregate queries are divided.
Redundancy: The database is designed while keeping redundancy in concern. The database is designed to handle hardware failures instead of treating them. The problem of hardware failure is handled during the time of development.
Flexibility: There is huge flexibility in how the data is stored, which increases the performance in the NoSQL database.
Rapid Development: The database provides an easy way to change the way data is stored or change the queries that are running. Batch processing and simple refactoring are done to accomplish massive changes.
Types of NoSQL Database
There are four primary NoSQL databases types, i.e., key-value stores, Document databases, wide-column stores, and graph stores.
1. Key-Value Stores: These databases work on a simple data model that has a pair of unique keys and a value associated with it. These databases perform efficiently and show high scalability for caching in web applications and session management. They work with RAM, disk drives, or solid-state drives.
2. Document Databases: These databases store semi-structured data and their descriptions in document format. They do not refer to the master schema for creating and updating programs. Their usage has increased with the use of JavaScript and JSON (JavaScript Object Notation). These are used for mobile application data handling and content management.
3. Wide-column Stores: These databases organize data in columns instead of rows. As a result, they can query large data sets faster than other conventional databases. These are used for catalogues, fraud detection, and recommendation engines.
4. Graph Stores: These databases organize data as nodes and edges that show connections between nodes. These are used where map relationships are needed, like customer relationships or reservation systems management.
Advantages and Disadvantages
Below are the advantages and disadvantages mentioned:
Advantages:
High scalability
High availability
Big data capability
Easy replication
Fast performance
High flexibility
Disadvantages:
Narrow focus
Open-source
Management challenge
GUI not available
Large document size
Conclusion
This article tells about the basics of the NoSQL database, which are used to store and retrieve large data sets or to handle big data. They were developed to overcome the limitations of Relational databases.
Recommended Articles
This has been a guide to What is NoSQL Database? Here we discussed the basic concept, features, types, advantages, and disadvantages. You can also go through our other suggested articles to learn more –