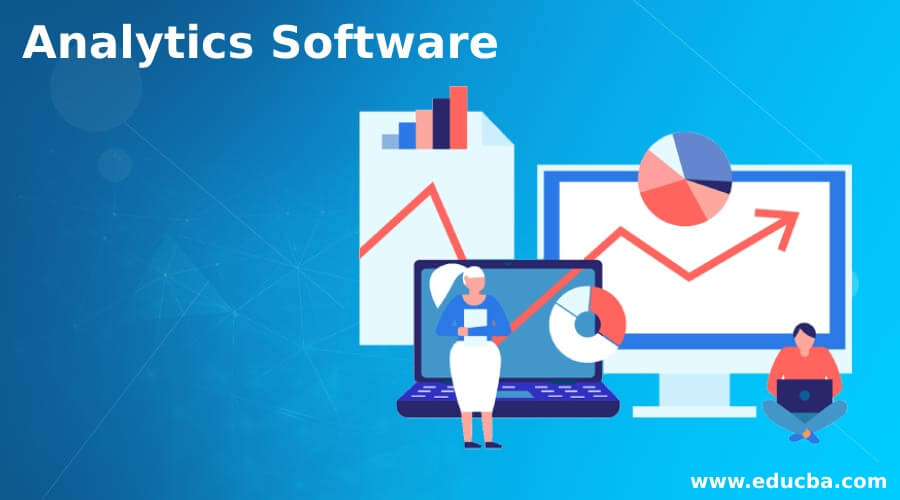 Introduction to Analytics Software
Business Analytics Software – Business Analytics Software is the most popular software in the world. This Business Analytics software gives all the information which a marketer needs to develop his business. Business analytics software also helps the business people to optimize strategies for their business.
You might know that it has great features. It is one of the best analytics applications but before starting to use it to its maximum just know that there are some secret paths to discover in Google Analytics.
From analytics software, you can get a ton of statistics which might be confusing for you. So first you need to know where to go, what to look for and what should be compared. If used correctly analytics software is a great tool to improve your site and increase your conversion rate.
Examples of Analytics Software
Here are few examples which the analytics software hides from you and which are more confusing and conflicting.
Internal Traffic
Google Analytics software will tell you how many people are visiting your site and how much time do they spend on your site. As a site owner, you might visit your site daily once or multiple times in a day. But if you have the number of employees who visit your site often then this thing is a great issue to deal with. Google Analytics hides from you the fact that the visitor's statistics and other data which they produce does not include the site owner, webmasters, employees of the company and others who visit your site often. If such things are happening just think what will happen to your bounce rate.
To avoid such things you can include an IP address that needs to be excluded from Google Analytics. This can be done by following this simple step
Go to your website. Click on Profile settings – Filter – New Filter
Provide a name to your filter and from the drop-down box select the Exclude option and then enter your IP address which needs to be excluded.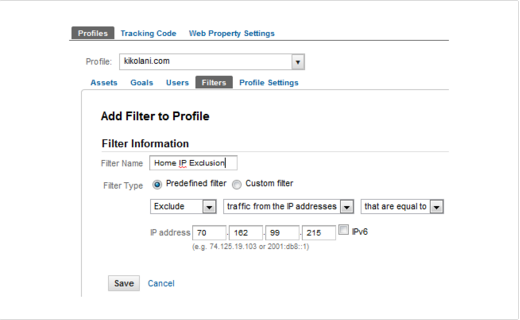 If you are not sure about your IP address then you can use the Google to find it out. If you want to exclude a range of IP addresses then you can do it using IP address range tool. Enter the first and last IP address in the range. The below picture shows it clearly.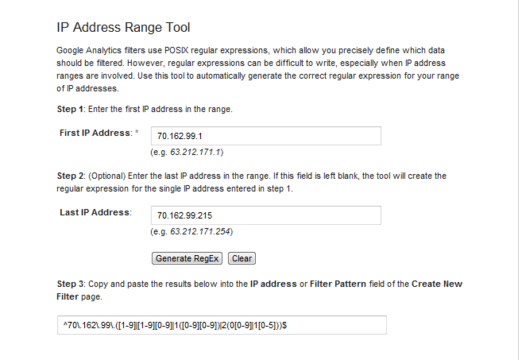 Direct Traffic
The next missing piece of information is direct traffic. You can go to Direct traffic by
Traffic sources – Sources – All traffic (Direct or None)
This is the traffic which is not obtained from social media, search engines or any referred URL's.
Direct traffic is obtained by a site through the following ways
Typing the site URL directly into the address bar of the browser
When your site is bookmarked in the browser's bookmark section
When a user clicks on any link in the email or document
When the site is reached from another site that has an inactive link to your site. The inactive link means it has to be copied and pasted to the browser's address bar
People who have security settings that do not allow a referring URL to pass to another site
The direct traffic's behavior can be tracked by Google Analytics but you will not know where you have derived these traffic. There are also other traffic types in Google Analytics.

There are few advantages of getting Direct traffic to your site
It produces lesser bounce rate
Higher average time on site
The higher rate of goal achievements
Mobile Traffic
Google Analytics lets you know various information regarding mobile users. It also gives you data about the mobile vs non-mobile users.

Google Analytics also allows you to view information about specific mobile device users.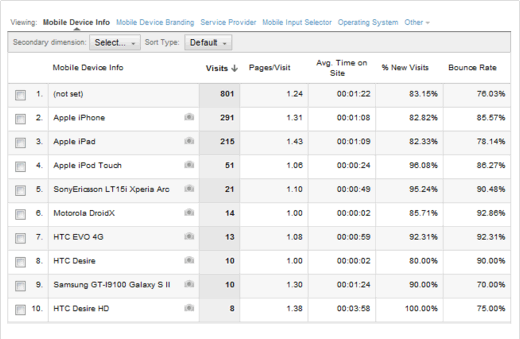 Google Analytics will not give you a complete picture of a large number of devices. It also cannot track the latest versions of the mobile devices. But Google Analytics can tell you the screen resolution of the mobile device used.
Google Analytics does not track traffic from mobile applications.
Private Browsing Traffic
The option to use private browsing is now provided by most popular browsers. If a user is using private browsing option then their activity on the site will not be tracked by any tool including Google Analytics.
Google also offers an Add-On to its users which are called Google Analytics Opt-Out Browser Add-on. This add-on will protect the users to prevent their data being used by Google Analytics. To use this Add-on user must download and install the Add-on in their browser. This Add-on is also available for other browsers including Internet Explorer, Chrome, Firefox, Safari, and Opera.
There are also a lot of other add-ons available for specific browsers to block all kinds of analytics software tracking. So through this method, Google Analytics will definitely miss some data.
Keyword Traffic
Google Analytics has recently changed its algorithm. As per this change, there is a loss of keyword data from the organic search. You can go to Organic search through Traffic Sources – Sources – Search – Organic Search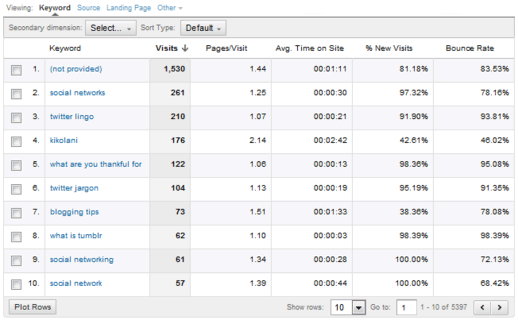 This change makes a change in the way the users search through Google. If a user searches through Google when he is logged into his account then Google takes that he is searching in SSL mode. When the users search through this method then it will not allow the analytics tool to see the keywords which the users use to search. This method allows more privacy to users.
Such a change was made by Google mainly for the sake of users privacy. But still if such logged in users click on a paid advertisement then it will be shown in Google Analytics.
Even if the data is cannot be accessed by Google Analytics webmasters but it is still being tracked. You can view your web history to know your search behaviour which is collected by Google.

How to get the hidden keywords in Google Analytics Software?
Not provided keyword is a keyword without referral data. The referral data is the one that tells you from where the traffic was directed to your site. There are two kinds of keywords referral data – one is organic keywords referral data and the other one paid keywords referral data.
Organic keywords referral data tells you when a person clicks on a search engine listing in Google.
Google has provided an option to hide the organic keywords referral data from the year 2011. This is done by Google to provide user privacy and security.
If the organic keyword referral data is hidden by the search engine then any analytics tool cannot track it. Google Analytics will display "Not provided" in the place of keywords in their organic search traffic reports.
But there are other ways to uncover such keywords. Below listed are the ways used
Use Google webmaster tools
Google webmaster tool can provide some of the keywords which google analytics will not show up. This will definitely help you.
Enable site search
Setting up site search will help you to know what the browsers have entered in the search box on your site. To activate this go to View settings à Site search settings à Do track site search. The site search settings dialog box is shown in the picture below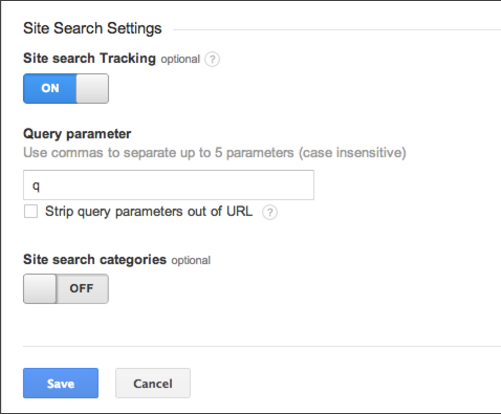 After completing this dialog box, go to Behaviour – Site search – Search terms to see what the visitors are searching on your site.
Bing keyword data
Bing is not considered best that Google as it does not get that much traffic when compared with Google. But it shares all the information related to your site traffic.
Google keyword planner
Google has stopped its keyword tool which was once used to do keyword research. But still, you can use the Google Keyword Planner for getting keyword recommendations. To use this option you need to create an Adwords account. Creating an Adwords account is very simple. Just use your Gmail account and set your time zone.
After logging in to find the Keyword planner follow the mentioned path
Go to Tools and Analysis – Keyword Planner. Keyword planner will give you four options as listed below
Search for new keyword and ad group ideas – If you select this option you will get the dialog box as shown in the diagram below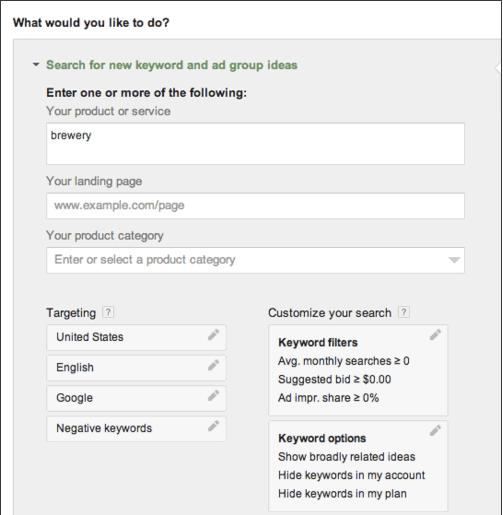 Get search volume for a list of keywords
Get traffic estimates for a list of keywords
Multiple keywords list to get new keyword ideas
Google related searches
Google will provide some recommended searches at the bottom of the Search Engine Result pages (SERPs). This is one of the easiest and quickest methods to find out related keywords. An added advantage is that the related searches are already popular in the search engine and that is why they are displayed there. So these searches will boost your traffic.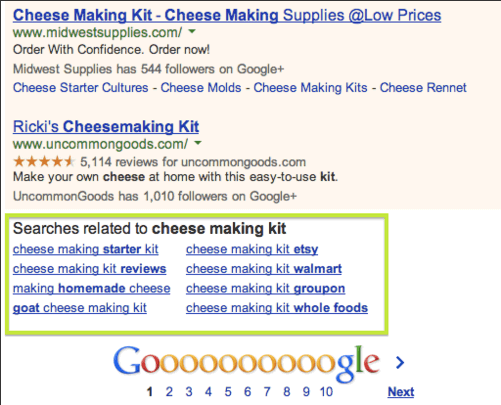 Google trends
Brand monitoring and topical ideas – Google trend is a tool used for brand monitoring. You can type in your brand name to see the searches for your business. You can also compare the searches. The Hot searches will show you the top searches of recent days.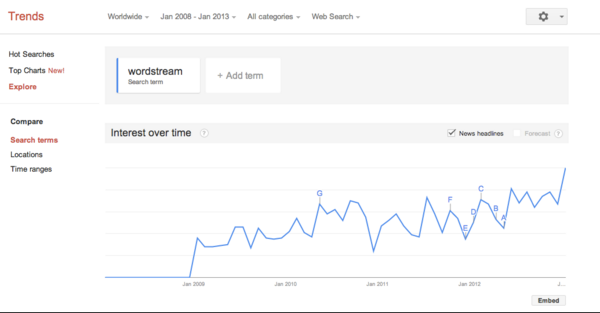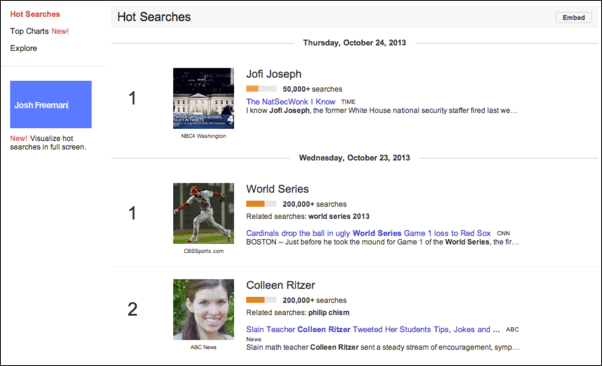 Another useful section in Google trends is "top charts". This section displays the most popular search term category wise.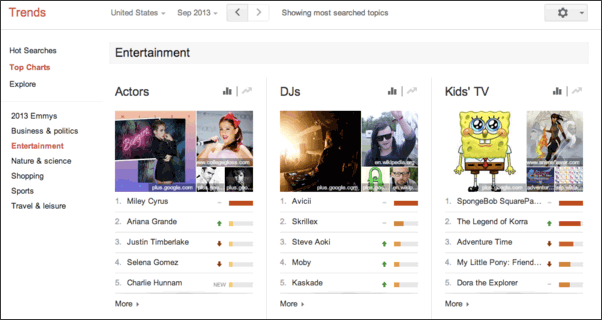 Join the PPC
You can get the hidden keyword list if you use paid advertising on Google Adwords. Google analytics say that they hide the data for privacy purposes but such "Not Provided" keywords are given access to paid users through PPC. So from this, you can understand that Adwords users can get the full advantage of keywords while others don't. The advantages of PPC are listed below
Users get keyword traffic data from all sources
Paid ads are given more importance these days
Google has started focussing more on PPC because of its ad extensions. So obviously you should also start focussing on PPC.
Create good content and forget the keyword thought
Of course, your brain is the most powerful analytics tool of all. No search engine can understand your audience better than you do. So don't worry about the "Not provided" keyword. Keep trusting that there will be new technologies coming up to overcome this problem.
Efficiently using organic search campaigns without keyword referral data
Analytics data can be optimized for search campaigns to find out "Not provided" keywords. So it is proven that we can also survive without keyword referral data but it is not going to be that easy. Below are the steps to conduct an organic keyword search campaign
Step 1 – Perform a keyword research
Step 2 – Develop contents for the keywords which you have gathered through keyword research
Step 3 – Develop product landing pages for these keywords
Step 4 – Track your organic search rankings for the targeted keywords
Step 5 – Measure the performance of the pages rather than measuring the performance of the keywords. You can perform this using page value metrics in Google Analytics.
Page value = (Total E-Commerce revenue generated +  Total value of the goals achieved by the page)/ a Total number of unique views of the page before conversions.
Step 6 – If your landing pages are not performing well then you can optimize them for making conversions by the use of "landing page optimization option"
Social Media
Google Analytics through its advanced features will help you to know which social media drives more traffic to your site. You can also compare social media traffic with other referral traffic. There are several applications Bitly, Hootsuite, and others which will show you a data of the click-through of your links provided social  media sites. When you compare such data with Google Analytics data you will be in a surprise. Because the data will not match and Google Analytics will take this data to the mobile application traffic, direct traffic or traffic derived from private browsing.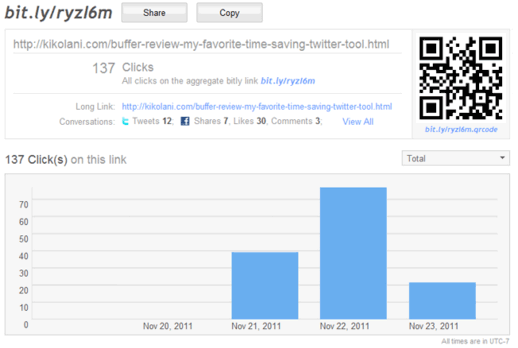 Conclusion
Thus you should understand the concept fully to become an expert in Google Analytics. Hope this article would have helped you to gain knowledge about the hidden facts of analytics.
Recommended Articles
This has been a guide to Analytics Software. Here we have discussed the basic concept, examples, How to get the hidden keywords in Google Analytics Software?. You may look at the following articles to learn more –