Updated April 21, 2023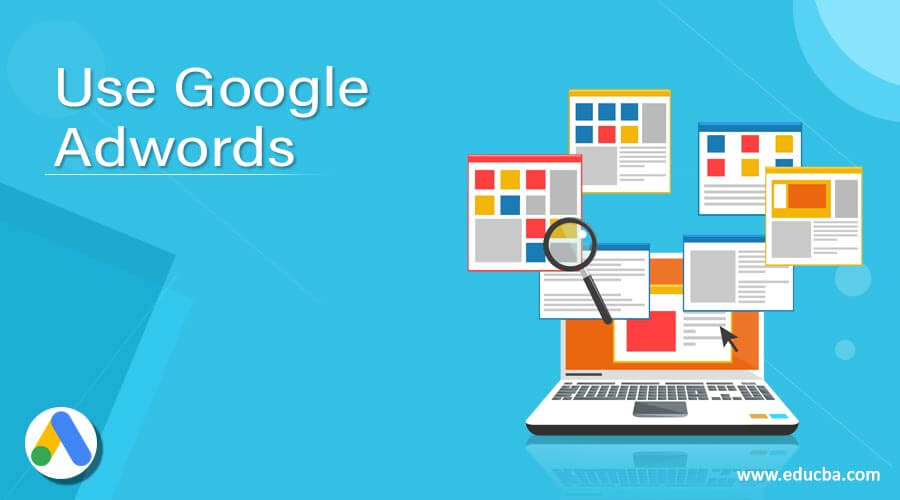 Use of Google Adwords – Advertising is crucial for every business to increase sales. But the question is how to get the maximum benefit from such advertisements at the lowest possible cost.
What is Google Adwords
Google Adwords is owned and operated by Google as an online advertising platform. It is the most popular and widely used online advertising network globally. A large number of business people use Google Adwords to reach a large number of customers and to expand their business.
Through Adwords, business people can focus on two main types of networks: Search and Display.
Search network includes PPC advertising, where the business people or advertisers bid for particular keywords relevant to their business, product, or service. When a user enters that particular keyword in the search query box of the search engines, then the advertiser will have a chance to display their PPC advertisement to the users. This is also known as paid search.
A display network is where advertisers can place banners on websites that provide information about their business or product. Display network has a wide reach to users when compared with search network.
Getting started with Google Adwords
Before starting with advertising, you must set up a Google Adwords account. Opening an account in Google Adwords is easy and simple.
You can open an Adwords account using the existing Google account or sign up for a new one. After creating the account you can provide basic information like your location and time zone. You can also provide the billing details finally.
Adwords Account Structure
After creating the account, the next step is to structure your account. You can structure your account based on the business needs and goals. A properly structured Adwords account will bring your site more relevant traffic and clicks. It will bring higher quality scores and make it easy to maintain the account. Below here is an example of the best structure of an Adwords account, which can give you maximum performance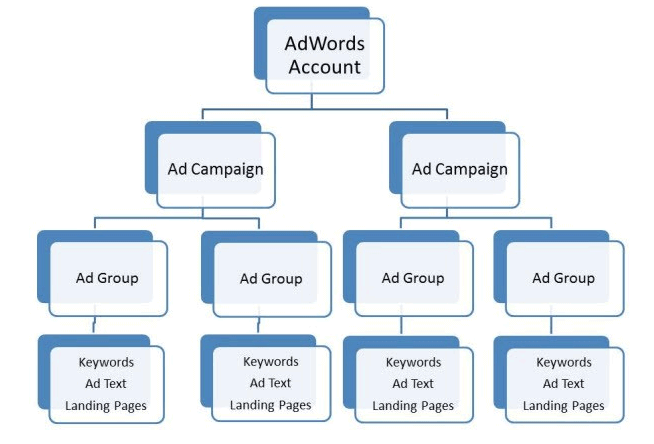 How much to spend on Google Adwords?
Beating Adwords or placing your Ads in the right position at the lowest possible cost needs a few strategies to be followed.
First, Understand what Google Adwords can do for you. When you start using Adwords, you can see that Google decides what type of Ads are displayed and where they are displayed on the page.
You need to spend money to make money. Of course, Adwords is going to cost you something. The amount of money you are willing to invest in your Adwords is important in deciding what you will get back. With small budgets, you can't go very far, and you can see your ROI decrease very soon.
Building Campaign
Each campaign in Adwords should have its own budget. The key factor for creating campaigns is location. This will help to have a difference in your Adwords campaign between your branches. You need to have separate campaigns for the Search network and Display network. It is important to have separate types of campaigns because each type of marketing will have different behavior and yield different results.
Building an Adwords Adgroup
Google and other search engines always look for relevant content. So create Adgroups with tightly themed subjects related to your product or service. For example, if you are creating a campaign for Dresses, then you can create Adgroups like Men's dresses, Women's Dresses, Children's Dresses, and others. Under each Adgroup have a minimum of 3 Ads.
Strategies to Run an Effective Google Adwords Campaign
Here is a list of Adwords Optimization techniques that will help you to increase your long-term results from Campaigns.
1. Quality Score
Quality score is based on factors that Google considers for determining where the advertisement should be placed on the site. The factors include
Relevance of Ad copy
Relevance of Ads to landing pages
CTR
Account Performance History and others
To get high-quality scores, you need to have a strong organization. High-quality scores will help you to get the most out of Adwords and maximize your profit.
2. Keyword Research
Keywords are the terms or phrases the browsers enter in the search query box. Choosing keywords is an important factor in any online marketing process. You must be very smart in choosing the keywords. In Adwords, advertisers bid on keywords instead of buying them. Adwords are similar to auctions; only advertisers with large investments can succeed in PPC.
Adwords Keyword tool will provide you with the right keywords. When you enter a word or term and select a category, Adwords will provide you with a big list of all relevant keywords and their traffic. Before bidding on a keyword, you should know whether the keyword is worth your bidding. There are factors in deciding this
Select a keyword that matches closely with the content of the landing pages
Also, select negative keywords, which will help to streamline your ad
Don't select keywords that rank too high as it will have a heavy competition
Selecting the top keyword will also be too expensive
There is a lot of Keyword tool to help you to select the right keywords. Wordstream is one such keyword tool. This tool integrates with Adwords with ease and can give you many keywords that are highly relevant to the content. This tool will let you know the search volume of each keyword and its competition. This tool performs the following tasks:
Frequent keyword research
Allows PPC management to be simple and effective
Keyword grouping and organization
Monitors your SEO campaign's progress
Avoids negative keywords
Helps you to do careful bidding
Helps you to write attractive content for your advertisement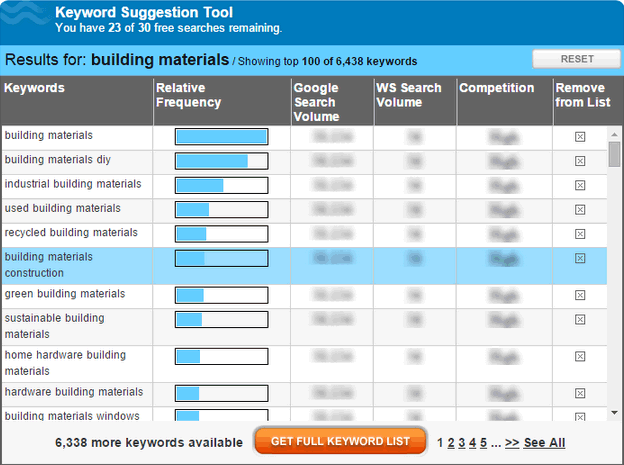 Wordstream also helps in doing the following functions
PPC Keyword research – Wordstream has a custom-built Query stream tool that gathers the right data and lets you find out new keywords, which has more potential to drive more traffic to your site.
Keyword grouping – Wordstream lets you group the keywords with ease. It offers the best suggestions considering elements like search volume and relevance.
PPC Ad groups – Wordstream will help to turn your keyword groups into Adwords groups
3. Write Compelling Ads
Ads should have very attractive words that make the viewers click on the advertisement. There are a lot of formats available in Google Adwords. But text ads form the most popular type of ad.
Writing text for ads is a very challenging job. There are a lot of restrictions, like ad space and a limited number of words. There are a lot of things to be taken into account while writing a text ad. They are as follows
Selection of language – Concentrate more on the tone of your advertisement
Concentrate on keywords that are relevant and have a direct connection with the audience
Have an option called Call to Action in your text advertisement
Include the solutions as keywords in the headlines that the visitors want to know
Use countdown timers within your text ads
Update your ads to the current events
Get super specific and include numbers that are more attractive to the visitors
Focus more on the customer's needs and make things personal
Think local – Limit your ads to your local area first. Make the users feel that you are very near to helping them. Proximity will increase your conversion rate.
There are four important elements of text advertising
Headline – Needs to be very attractive and include your keyword in your headline
Description Line 1 and Line 2 – Describe your product or service and what the advantages of it
Display URL – Don't copy-paste your domain name in the ad. Instead, include a keyword or USP or anything that will attract your customers to the URL
4. Competitor Intelligence
Try to reduce your risk by knowing the competitor's strategy. From your competitor research, you can know some keywords that rank high and those that do not rank best in your market.
There is also a competitive intelligence tool that letting you look into your competitor's Adwords account to know the information. An example of one such tool is KeywordSpy. This tool lets you have easy entry to your competitor's advertising information.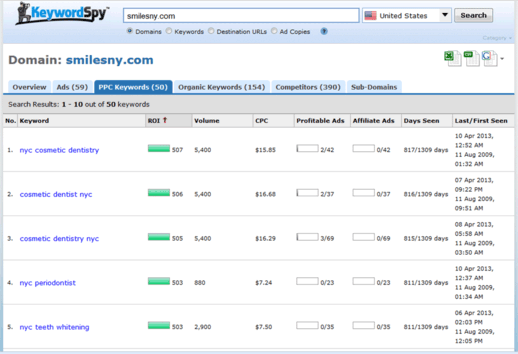 You can simply enter your competitor's domain name and click the search button. Then click on the PPC keywords to know your competitor's focussed keywords. Then you can select the keywords you want to use and add them to your keyword list.
Now you can click on the Ads tab to see a copy of your competitor's ads. You can view all the details of the Ads, like when it was published and the reaction to the ad.
5. Unique Selling Proposition
USP makes your ad stand ahead of all your competitor's advertisements. There are three major reasons to create a USP
It will drive more traffic to your site
Reduces the unwanted clicks
It will increase your sales conversion rate
Price becomes a secondary factor for visitors when there is a powerful USP. You can also increase the prices without worrying about your competitor's product pricing.
So you want to know how to create such USP? Here are a few tips provided
Concentrate on your strengths
Get feedback from your customers. Ask them why they do business with you
Do research about your competitor's strategy
Find out for a gap between your competitor's ads and say something unique and attractive to the customers
6. Irresistible Offer
What can be so attractive in your Adwords Campaign? How can you stand apart from all your competitors? The answer to your question is an irresistible offer. This consists of four main elements
Valuable – Your product should be more valuable than its price. Define the value of your product to your customer.
Believable – Give an offer to your customer with a valid reason. For example, if you are offering a discount on your product, tell your customers why you are offering the discount, like a clearance sale or yearend sale.
Reverse Risk – Give hope and trust to your customers about your product. Provide them a money-back guarantee and some kind of guarantee to your customers.
Call to Action – Make it easy for your customers to call you. Use a strong call to action. Keep it simple and stupid.
7. Conversion Tracking
You need to track your keywords and ads to know how effectively it works and boost your sales. Conversion tracking helps you to know the number of sales made through your Adwords campaign. You can find the conversion tracking code in your Adwords account using
Tools and Analysis – Conversions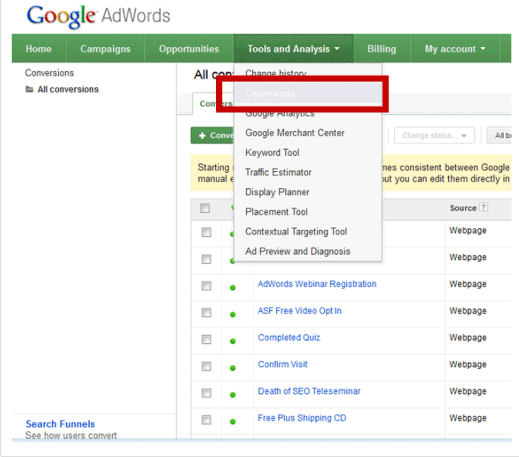 If a visitor on your site reaches the receipt or thank you page, then Adwords will automatically track your conversions.
There are three strategies to follow in conversions
Have a conversion page in your sales process
Have unique coupon codes so that you can identify which keyword or ad has derived the sale
Have tracking phone numbers in your ads and landing pages
8. Adwords settings for Success
You need to do a few important settings in Adwords to make your ads more effective. Here is the list of important settings to watch out for.
Select the search network for your particular campaign type. Select Display network for different campaigns to target each network.

Always have a mobile-friendly website. Until you develop a mobile-friendly website, please switch off your advertisements for mobile devices. You can do that using
Settings – Devices – Mobile devices with full browsers – In the pop-up, select the 'Decrease by 100% option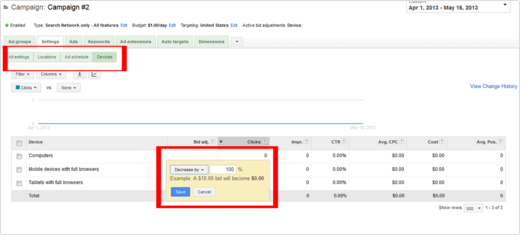 It wastes time and money if you have irrelevant search terms or phrases. There are three important keyword match types
Broad – It is the default match type. It will show ads that Google thinks are relevant to your keyword. This is not highly recommended
Phrase – This will show you ads that contain the keywords you entered in the ad. To make a keyword Phrase match, simply add quotes to the keyword
Exact – This keyword match type will display ads that match your keyword. To set an Exact match include square brackets around your keywords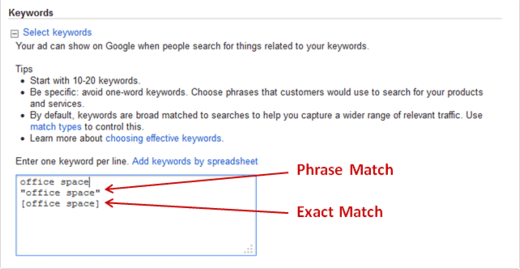 Negative keywords will help you to block certain keywords from triggering your ads. In order to add negative keywords, go to
Keywords Tab – Negative Keyword link – Add button
Now you can start optimizing your Adwords campaign.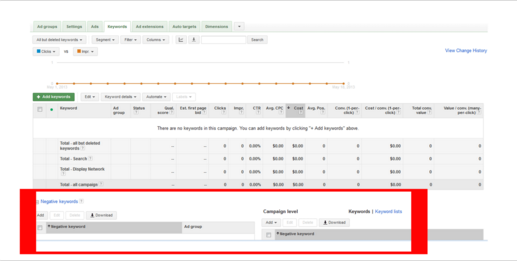 Conclusion
The above-mentioned tips are considered the best for getting better results from Google Adwords. All these will help you to have a high conversion rate and get more profits than before. If you follow all these steps, you will be on your way to a more profitable Google Adwords Campaign.
Recommended Articles
This is a guide to Using Google Adwords. Here we discuss the basic meaning and strategies to run an effective Google Adwords Campaign. You may also have a look at the following articles to learn more –