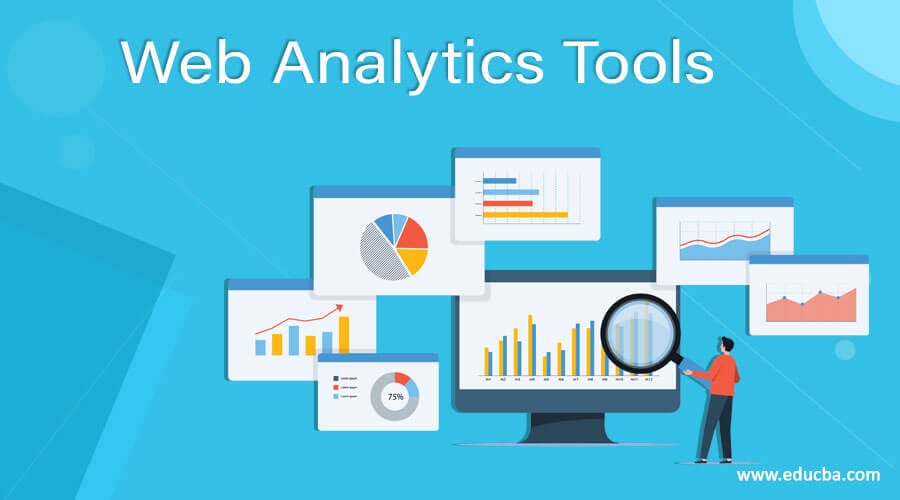 Introduction to Web Analytics Tools
Web analytics tools are used to track user activity on the website. optimizing the content is easy by tracking activities across the website. It also includes interactions with mobile apps and social media, which is known as digital analytics. Information gathered from web analytics tools determines and improves the online presence of clients. It also increases visitors' traffic to the website, Improves customer engagement as well as customer retention.
Features of Web Analytics Tools
Before proceeding towards Web Analytics software available in the market, we have to look at the features and capabilities of the tools, which are given as follows:
Individual-level tracking
Real-time analysis
A/B testing
E-commerce website tracking
Event tracking
Benchmarking
Attribution modeling
Cross-device tracking
Session recording, heatmaps, mouse tracking
Privacy compliance
Web Analytics Tools
Here is a list of various web analytics tools which are given as follows.
1. Google Analytics
Google Analytics is one of the most widely used analytics tools. It is free and open-source. It offers features like Search, Display, and YouTube TrueView, etc. Google Analytics is easy to install and quickly integrates with CRM. Google Analytics collects data and determines segment audiences, behavior flow, increases site traffic, report on conversions, track events.
Features of Google Analytics
It offers great User Management in which it permits safe and secure access across teams.
It provides Real-Time Data reporting and provides insights to site activity.
It has Custom UTM Parameters that track paid campaigns from Facebook Ads and Google Ads.
Users can customize the dashboard based on preference.
It has Multiple Properties feature by which users can add more than one property to their account.
2. Adobe Analytics
Adobe Analytics is a popular web analytics tool that helps in better understanding of customers by analyzing data from websites, email campaigns, and mobile applications campaigns.
Features of Adobe Analytics
It has a user-friendly and intuitive user interface.
It has an easy-to-navigate GUI which is great for work efficiently and faster.
It is easy to track and measure click rates on multiple channels.
It integrates with other Adobe software applications like Adobe Campaigns, which has helped our experience with Adobe Analytics become a lot richer.
3. AT Internet
AT Internet is a popular web analytics tool that is used to get a better understanding of online users' behavior of online content services like text, audio, and video. It is used for monitoring consumption patterns which help digital marketers and editors to enhance services and make better content decisions. with the help of this tool, analysts are able to understand important drivers of consumption patterns using big data analysis. It monitors users arrival rate, number of visits, bounce rate, time spent on the website.
Features of AT Internet
It offers real-time data gathering using rapid data processing.
It has advanced tools for analyzing usage patterns and content consumption.
It offers various API options to deliver data in the required format.
It is easy to create a reporting board on AT Internet.
It has GDPR compliance.
It extracts information with the help of The Data Query tool.
4. Crazy Egg
Crazy Egg is a widely-used web analytics tool that is used to determine visitor interactivity and improvement on a website. It has a great feature called Heat mapping which efficiently evaluates click rate and traffic
Features of Crazy Egg
It provides Easy on-site implementation.
It provides A/B testing.
It provides simple visual reporting.
It offers a great user interface that is easy to understand.
It can record ongoing sessions from visitors; hence it is easy to monitor users' activities.
It simplifies interaction with confetti, overlay, heatmap, scroll map, etc.
5. IBM Digital Analytics
IBM Digital Analytics is robust enterprise software that tracks the incoming traffic and evaluates the ROI of engagement goals, element tags, marketing programs, and conversion rates. It is also used to create and manage marketing strategy which increases sales. It also provides data security based on regulatory concerns.
Features of IBM Digital Analytics
It offers easy Scheduling and exporting of data and reports.
It generates reports automatically.
It has a simple and easy-to-use GUI.
Its Dashboard offers to display measures and metrics in different types of graphs and charts.
6. Kissmetrics
Kissmetrics is used to determine how users activities enhance the website performance and ensure fulfillment of what user needs. It always offers new features for monitoring, testing, and management which helps in data gathering and analyzing customer behavior. It provides keywords as well as Campaign Tracking. Extensive data and insights are offered by this tool.
Features of Kissmetrics
It helps in implementing and managing campaigns, measuring conversion rates, A/B testing.
It offers easy deployment and setup.
It provides fast report extraction based on the Sales funnel with zoom-in capability, which analyses the root cause of user behavior.
It offers Engagement scenario planning as well as A/B testing.
It offers Great configuration options and visualization.
It monitors website popup performance.
Conclusion
In this article, we have seen what is a web analytics tool, its features, and how it helps in understanding user behavior and increasing traffic to the website. You can choose any of the web analytics tools mentioned above based on your requirements. We hope you will find this article helpful.
Recommended Articles
This is a guide to Web Analytics Tools. Here we discuss the Introduction, features, and List of Various Web Analytics Tools. You may also have a look at the following articles to learn more –