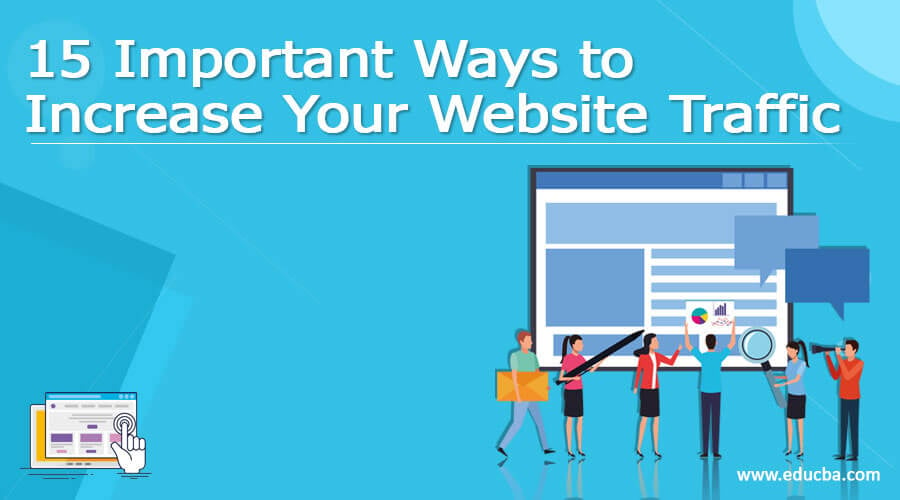 What will be most important thing a marketer want?
Obviously "More customers" will be their answer.
How to bring more customers to your site in online marketing?
It is by means of increasing the traffic to your site. Traffic is the lifeblood of any online business. If there is No website Traffic then there is No Leads and as a result No Sales. No sales will obviously lead your business to loss.
To increase the traffic to your site, first make it visible and attractive.
Lack of website traffic is one of the most common challenges faced by large number of site owners these days. Many studies have shown that there is a high percentage of loss of traffic to the sites over the recent years.
Ways to Increase Website Traffic
There are a lot of ways to increase the traffic to your site. In this article we are going to share few of the important ways to increase the website traffic. Let's look at it.
1. Focus on the long tail keywords
Focussing on single keyword is out of date. Particularly if you are a new site then it will be difficult for you to find the most popular keywords. Write as many articles as you wish and all with quality contents that includes long tail keywords. The main advantage of long tail keywords is they help for better conversion. There are a lot of tools available to help you frame long tail keywords. This will bring targeted search visitors to your site.
2. Advertise your site
This is one of the most important factor. There are several ways to advertise your site like paid search, social media advertising and display advertising. These ads will help to attract more visitors and create brand knowledge among the people. Each type of advertisement has its own advantages and disadvantages. So select an advertisement type which suits your business need and objectives.
3. Start a forum about your website
The more you produce quality content in online the more will be your visibility in search engine results. An active forum or blog with a bunch of articles will work too good for you. They will help to decrease your bounce rate, increase the time spent on the site and help to build a community. If you carry out these activities for a long term then you can make huge difference online.
4. Get social
It is not just enough if you produce quality content about your site. You should make it visible and you have to be proactive. One of the best method to promote your content is to use social network. There are a lot of famous social networking sites like Facebook, Twitter, Google+ and others. There are also image sharing social sites like Pinterest.
5. Optimize your articles
In depth article contributes a major part for making your pages appear in search results page. There are three main elements of an article to make it successful – meta titles, description and keywords. The article should contain quality words. Keyword stuffing should be avoided. If you do it correctly in every article you write then you will start to rank for your keywords much faster and better.
6. Facebook marketing
Facebook has become a great promotion tool. You can install a Facebook tracking pixel on your site to market your site to the customers who have visited your site. You can also remarket your site to audiences.
Start a group for your site in Facebook where customers can post their feedbacks and they can also ask questions and get support from you.
And the email list which you collected through any other source can be given a second life through Facebook. You can upload the email list into Facebook and find out the social accounts of your customer or anyone who has visited your site. This will help you to market the site directly to the users.
7. On page SEO
SEO is always the main factor that affects the ranking of a page. Optimizing the content for search engines is still one of the worth doing things for your site. Take care of the issues such as keywords research, indexing, crawling, duplicate content, site structure, image optimization, internal links, meta descriptions and other factors of on page SEO. All these factors will help you to drive organic traffic to your site. Make your site look as good as possible for the search engines that crawls to your site. Make your visitors more engaged with your site and enjoy reading. This will make them share your site as a reference
8. Blog, Blog, Blog
Blog really works great to drive traffic to your site. Blogging often will increase your website traffic double the time it was ever before. There are few things to do in blogging
Start guest blogging – Getting a guest post on a reputed site can increase your website traffic and it also improves your brand preference. If you try to spam the guest blogs then there are more chances for you to get penalized by the search engines. So be cautious.
Invite others to write blogs for your site – Guest blogging is always two way. If you write a blog for some other site then do invite them to write a blog on your site. This will help to bring new readers to your site. But one main thing to consider here is that the content should be of high quality and it should be original.
Promote your blogs on Facebook – If you post social media posts in Facebook, it will not attract many people. Instead a good option is to post something often that is related to your blog. Target such posts to your custom audience and remarketing audience.
Promote your blogs through Email – If you have a email list of your customers then include one or two links to your blog when you send mails to them. This will help to increase the traffic to your site. But remember this should not be your only motive of sending email to your customers.
Join a blogging community – Joining a blogging community will help you to mingle with other bloggers and to promote each other's content. Some of the best blogging communities are ProBlogger and Copyblogger.
Submit your blogs in StumbleUpon. This really works in improving your website traffic
Exchange blog posts with other sites – Sharing your blog on other sites is another trick to drive traffic to your site. For doing this, first you need to find out blogs that are similar to your kind of business in terms of size and audience. Next step is to contact the site owner and request them if they are interested to swap the blog articles. But in such cases you should be very careful that there is no duplicate content. By this way you can get more number of new customers.
9. Work on your headlines
Headlines form an important component of your content. 80 percent of the people will read your headline first than your ad content. Your headline is the first thing that attracts your customers. So spend more time on drafting a perfect headline. If you don't have an catchy headline then the most interesting blog post can also go unread by the users. The most interesting headline will drive more website traffic and leads. So select the best headline for your content and think twice before you publish it.
10. Link building
Creating a proper link is also a greatest advantage for a site to get more traffic. Links that include the keywords are the main element of off page search engine optimization. Links can also be got free. Check out with your vendors, partners, customers and other sources if they can embed your keyword into their site so that they can have people clicking on the link and reaching your site. And if the referring source has a high page rank then your site will also increase their ranking in less time.
Internal links can also help to do SEO and provides best experience for the users. Better user experience will lead to increased traffic to your site.
11. Make your site more responsive and fast
After internet browsing came into effect the era of desktop PC's are gone. Today people are using mobile to use the internet. So make your site mobile friendly. If you make the navigation difficult for the mobile customers then obviously they will move to other sites. Make sure that your site offers good and easy navigation in all kinds of devices whether it is a PC or a smart phone.
Do you like to visit any site that takes more than 30 seconds to load ? Definitely Not. The same is with your customer.
If your site takes long time to load, it will lead to an increase in the bounce rate of your site. Make your site highly optimized. Be careful about the image size, page structure and functionality of a third party. If all these things are taken care of, it will make the page load faster and better.
12. Find partners in your field
Find persons who are running a business in the same field and have a working relationship with them. You can have a partnership opportunity with them and can include your site details in their website. This will give many organic inbound links and will also help to get referral website traffic.
13. Foster a sense of community
Starting a community inside your site is a great way to start communicating with the visitors and users of your site. Through this community people can speak their minds and they can ask questions related to your business. You can have a robust commenting system or you can also have a dedicated forum where people can post questions and you can answer for them. Proper Management of your community is a must.
14. Host a webinar
Webinars are an interesting way to present what you know to the people who are willing to learn and gain knowledge. It is very simple, just find out a topic in which you are an expert and then create a fun filled engaging presentation for the audience. Combining the webinars with a social promotion campaign will definitely increase the traffic to your site. Send emails to the interested people about the webinars including the date of the presentation, the last date to register and also send them reminders. Promote your webinars through social media so that it reaches widely.
15. Become a contributor and a commenter
You may come across large number of sites that are related to your business and there may be conversations going on about a topic. Why not join the conversation ? Providing a knowledgeable and thought provoking comment on an industry blog or in any site that is related to your business can make you identified by a lot of people in that industry. This in turn will result in an increase in the website traffic. But one thing you need to remember here is, post quality comments and relevant links.
Contributing to other websites is another trick to drive traffic. If you find any website that is related to yours then leave up a writing there along with a link to your site. This method will not give you immediate result but you can definitely get the benefits. Such referral traffic has more chances for conversion. To become a contributor start writing today. Start with a small work. Write something about your business every single day. The more you write, the more chances to become a better contributor.
There are also a lot of other techniques to get website traffic. These techniques are mentioned in brief below:
Submit all your pages to Google Index
Automate your emails
Implement Schema Microdata
Email Marketing
Examine your analytics data
Make videos
Research the competition
Create a Podcast
Snippet Optimization
Increase your international audience
Conclusion
You don't need to be an marketing expert to bring traffic to your site. Simple things like adjusting the keyword or changing the titles can also increase the traffic. So you just need to know the tactics and follow it continuously. Hope this article would have helped you to some extent in knowing how to drive website traffic.