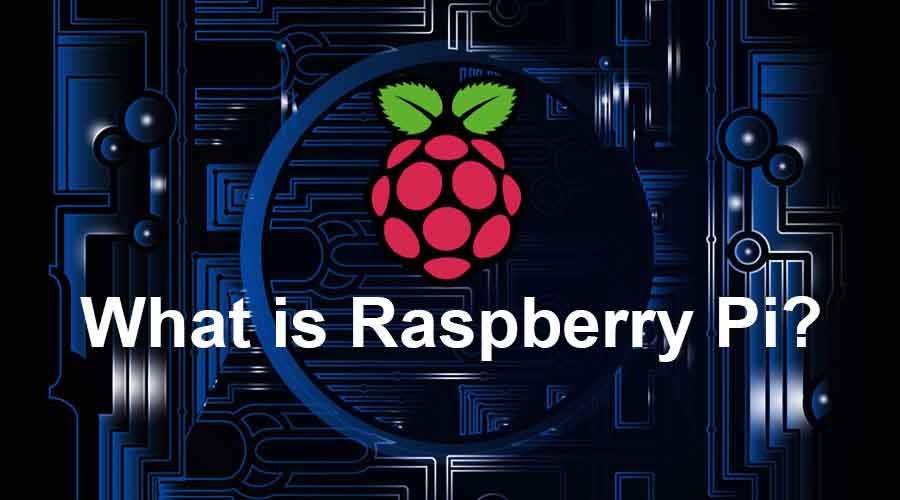 Introduction to What is Raspberry Pi
Originally intended to be a microcomputer for childer to teach coding, the Raspberry Pi foundation was founded in 2008 to develop a solution with a low-cost, credit-card-sized computer to inspire children and make it more accessible. It is a computer that plugs into a computer monitor or TV and uses a standard keyboard and mouse.
It can be used to learn and programs in languages like Scratch and Python. It can do everything and anything you had to expect a desktop computer or laptop to do, from browsing the internet, playing high-definition video and browsing the internet, making word-processing, spreadsheets, and playing games.
It has the skills to communicate with the outside world and has been used in a broad array of digital projects, from parent detectors and music machines to weather tweeting birdhouses and stations with infra-red cameras.
It was started with the educational charity foundation for making kids learn how to program and understand how computers work. So as a whole, we can say Raspberry Pi was used to learn to do home automation, programming skills, build hardware projects, and even use them in industrial applications.
There are totally 3 generations available in the market with different subsets, which are :
Raspberry Pi Zero
Raspberry Pi 1
Raspberry Pi 2
Raspberry Pi 3
It operates in the open-source environment, i.e. it runs on, and its main supported operating system, Raspbian, is open source and runs a bundle of open-source software.
Hardware combination of raspberry pi
Coming to the hardware combination, we need to discuss the following things:
Processor
Raspberry Pi 1 (First generation) comprises a processor of 700 MHz ARM11 76JZF-S and a graphics processing unit (GPU) called Video Core IV.
Raspberry Pi 2 ( second generation) comprises the processor, which is Broadcom BCM2836 SoC 900 MHz 32-bit, quad-core ARM Cortex-A7 processor L2 cache of 256 KB.
Raspberry Pi 3 & 3+ (third-generation) comprises a Broadcom BCM2837B0 SoC 1.4 GHz 64-bit quad-core ARM Cortex-A53 processor with ram storage of 512 KB.
Raspberry Pi Zero comprises the same processor used in Pi3+, i.e. Broadcom BCM2835 SoC, with a clock speed of 1 GHz.
Performance
The first generation provides a real-world performance approximately equivalent to 0.041 GFLOPS.
For general-purpose computing performance, GPU comprises of 1.5 Gpixel/s or 1 Gtexel/s of GPU or 24 GFLOPS.
Raspberry Pi 2 V1.1 was described as 4–6 times more powerful than its predecessor.
Raspberry Pi 3 is estimated as having a processing speed of more than ten times as compared to Raspberry Pi 1.
Overclocking
It can be overclocked to 800 MHz – 1000 MHz. There are mainly seven preset overclock.
None overclock comprises of 700 MHz ARM, 400 MHz SDRAM, 250 MHz core, 0 overvolting.
Modest overclock comprises of 800 MHz ARM, 400 MHz SDRAM, 250 MHz core, 0 overvolting.
Medium overclock comprises of 900 MHz ARM, 450 MHz SDRAM, 250 MHz core, 2 overvolting.
High overclock comprises of 950 MHz ARM, 450 MHz SDRAM, 250 MHz core, 6 overvolting.
Turbo overclock comprises of 1000 MHz ARM, 600 MHz SDRAM, 500 MHz core, 6 overvolting.
Now we need to know why it is emerging as a microcomputer nowadays, so here are the reasons for that :
Host a website.
Use it as a desktop PC.
Teach kids (or yourself) how to code.
Easily make a media center with Rasplex or an always-on downloading machine.
Make your own retro gaming console.
Build a motion capture DIY or pan security camera and tilt camera with  RPi.
Make your own retro gaming console.
We can make a world clock or an FM radio with the Pi Zero.
Create your own DIY Google Home.
Assemble together a low-cost time-lapse photography camera with the camera module.
Some of the projects that you can tackle with Raspberry Pi very easily can be :
Block ads on your network with pi-hole.
Set up a Postgres database on a Raspberry Pi.
Make your own Twitter bot with Python and Raspberry Pi.
Build projects using the RPi camera.
Set up WordPress on an RPi.
Advantages and disadvantages
After knowing and understanding the features, we also need to understand their advantages and its disadvantages.
Advantages
It module takes only the size of your credit card.
The working principle is the same as the normal computer at the expense of a very low price.
Internal or external web traffic handling can be done at a relatively very low cost.
It works as a server is more cost-efficient as compared to the normal server.
The presence of GPIO (General Purpose Input Output pins) is what distinguishes an RPI from traditional computers.
RPI has Wi-Fi and Bluetooth built-in, which allows us to take projects into wireless mode easily.
 Disadvantages
There is not any fuse protection on the Rpi, so if you connect pins incorrectly, you can damage the board.
It is not as fast in terms of CPU processing speed.
It has as much memory as a traditional PC or laptops, which definitely very low.
There is no built-in analog to digital conversion on the GPIO pins like there is an Arduino.
It is Slow all hell
Only HDMI CEC for remotes unless you want to build your own IR receiver
The success of this technology has two important implications for the future:
It's a harbinger for the prowess of the IoT.
It shows that radically inexpensive devices are good enough for many people and a lot of tasks.
So as to conclude me, I can say it is too good for the learning aspect for kids as well as for everyone who has an interest in microcomputers and programming and for those who are code-geeks.
Recommended Articles
This has been a guide to What is Raspberry Pi?. Here we discuss the introduction, Its 3 generations, process,  performance, advantages, and disadvantages. You can also go through our other suggested articles to learn more –