Updated March 22, 2023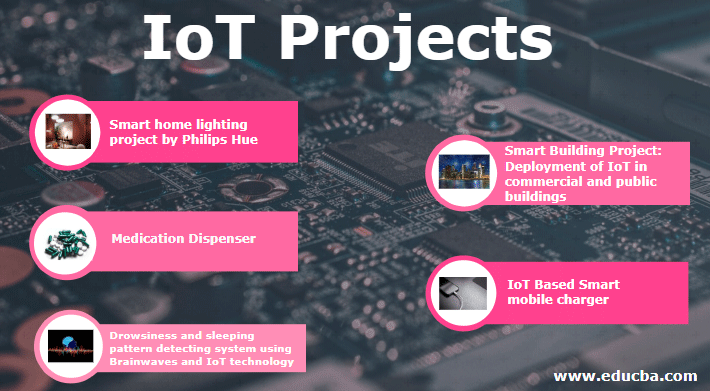 Introduction to Iot Projects
In the European Research Project report, IoT is mentioned as an essential part of the Internet future, as IoT acts as a bridge between the internet and things, thus establishing the connection between them. IoT projects have been implemented in different areas, for example, transport, education, smart homes, etc. However, single IoT architecture may not accommodate multiple projects, and thus there is a need for standard IoT architecture in order to improve convergence and receptiveness. In recent days IoT archetype has been considered and is being funded by governments across the USA, UK, and China. In this article, we will look at the different acclaimed projects and steps undertaken by various governments in order to implement projects based on IoT technology.
IoT Projects
Many countries, including the EU, China, and the USA, are undertaking various IoT projects to further develop the economy of their country. Europe has established ERC, an organization for the development of IoT, and is currently funding more than 50 projects. United Nation's Department of Network and Information Technology provides the base for research in IoT technology which is completely managed by the National Science Foundation. Most of the projects are targeted to improve the living and health conditions of the public.
Let us see a few of the IoT big-time IoT projects undertaken by the governments and public sector around the world.
IoT-Enhanced Human Experience
Today's society is progressing towards the age of technology, and people are coming across many electronic devices such as mobiles, tablets, smartwatches, and various other forms of electronics in day to day life, also referred to as the Internet of things. By the end of this decade, more than 40 billion devices are predicted to be deployed in our surroundings. The data generated by these devices will be uploaded to the internet periodically, which can be further used for automation and decision-making purposes. Multiple companies around the globe are considering IoT for enhancing the experience in the form of customer satisfaction and wellbeing of the employees; fine-grained services in health, wellbeing, fitness, transport, logistics, environment and manufacturing are a few of the areas IoT can enhance the human experience.
1. Health services
Patients now wear digital sensors embedded band across their wrist so the doctor can monitor their wellbeing and remotely monitor the patient's condition. The sensors embedded within the band help collect data such as heart rate and liquid intake. Physicians and doctors have access to various tools to improve a patient's quality of life.
2. Public safety
Public safety workers and disaster management teams can now be connected with each other and send signals during distress situations. During an operation, workers safety can be monitored with the help of live feed, stress and heart rate detector, thus establishing better team co-ordination during the search and rescue operations.
Private Sector Project
Here is the list of the following private sector projects mentioned below:
1. Smart home lighting project by philips hue
Philips Hue is a revolutionary technology for a modern home that lets you remotely control the lights installed in your home. One can schedule the lights to go and off for a duration of time. Lights are further embedded with sensors to detect human presence and turn on and off accordingly.
The technology can go further beyond, enhancing the movie experience by auto-adjusting brightness based on the kind of movie being watched. For instance, if you're watching a horror movie, the brightness of the room will go down, giving the user a better experience.
2. Medication dispenser
This medication dispenser by Philips is designed for elderly patients who are unable to keep track of their daily medication. This device helps in keeping track of their medication and dispenses the required dosage in pre-filled cups. This device further notifies the user when it needs to be refilled or serviced.
3. Drowsiness and sleeping pattern detecting system using brainwaves and IoT technology
A new system will be able to detect brainwave frequency and raise the alarm when it detects drowsiness in the user. According to a study, the adult brain consists of billions of neurons interconnected to each other. These neurons in a fully awake state generate an electrical charge which contributes to generating a small range of electrical charges around our scalp.
This charge can be detected with the help of sensors. If the user is in a drowsy state of mind while driving the automobile, the system can detect inactiveness and sound an alarm on the user's mobile device to awake the user.
After a hard day, people tend to fall asleep. Because of a lot of work pressure, even after working hours, one may have to put extra effort into it. It becomes hard to concentrate in today's world when the brain feels drowsy or sleepy. The Things Internet (IoT) has a wide variety of applications.
IoT includes a wide range of systems, sensors and networking products, advances in computational power, electronic miniaturization and network interconnections to provide many applications that were not available before. Every individual's sleep pattern is different, so all user data is stored in the cloud.
Based on the age group, this data can be analyzed, and sleep pattern graphs can be generated. And users who sleep information can also be used to assess whether a user leaves a healthy life for their health conditions.
It is possible to create an Android application that will keep track of the sleep pattern of the user. The client will have to set a timer, and the device will do its job in that time frame. The sleep pattern information will be stored and used for future reference.
A Drowsiness Detection Module based on the EEG was proposed for people who still have pending work to do after a hectic day and need to stay awake to complete the same. So, it's hard to keep up and complete the work after a tiring day. With the aid of Brain Waves, this device can sense an individual's mental state.
On the mobile application, the user sets a timer, and the module is in an ON state until the timer is on. The program will also hold the sleep pattern for the users, and this information will be stored in the cloud. The Application will track the pattern and make suggestions as needed.
4. Smart building project: deployment of IoT in commercial and public buildings
This project is based on the Internet of Things coexisting alongside buildings to build a cost-effective energy management system for commercial buildings. Automated energy management in buildings takes advantage of occupancy identification and forecasting since occupancy is directly associated with the use of energy.
Hence there is a possibility of detecting occupancy in a residential building using only commonly available and low-cost sensors, making it possible to integrate occupancy detection and subsequently occupancy prediction service in a building's energy management system. Further, this system is capable enough to distinguish occupants' activities and remotely control devices such as cameras.
Occupancy forecasting can help improve automated energy management systems for buildings by improving the estimation of energy consumption for the house. In addition, if the occupancy forecast is realized as a stand-alone microservice, the occupancy data may also be used by other applications, such as building automation. We are therefore working to extend our approach with additional sensors to facilitate a more reliable detection and prediction of the population.
IoT plays a key role in making our buildings and cities smart. Smart buildings are designed to protect the occupants from theft, attack, fire and natural disasters. This can be accomplished by assessment of the building and its surroundings and then deploying the required measures such as detecting unknown presence that is detecting people who are not part of the community and have trespassed.
The safety measures have been categorized into three steps security operations, the system of the building and countermeasures.
The buildings of today are a complex combination of structures and technologies. Every element inside a building has been improved and developed over time, offering building occupants the ability to control heating, ventilation, air conditioning, lighting, entertainment, and security systems by pressing a button or even configure their surroundings to adapt autonomously to their lifestyle and activity. In order to operate, smart building management systems use embedded sensor devices.
Sensors provide information about current occupants in a building, including lighting, heating, ventilation, electrical and other mechanical systems. A single light sensor can be used to detect people's passage through doorways or chokepoints. While certainly more cost-effective than smart doors or motion detectors, none of these methods is useful in real-time monitoring of room occupancy.
The first approach had us position a sensor at the top of a door frame so that the door could block the sensor when it was opened. The second method was to position sensors at waist height, pointing across the window.
5. IoT based smart mobile charger
During the 2018 annual IoT conference, a program was suggested that can simplify the mobile and laptop charging process. This system would only be able to switch on and off when the electronic device is connected and charged when it is necessary and can be further enhanced to control other devices. Further improvements can be made to the system to improve the performance of the hardware.
A machine capable of tracking and managing power consumption would significantly help to reduce energy waste. This system would only be able to turn on and off when the device is connected and charged when it is needed, and it can be further improved to monitor other devices. There are several modules available that will transform the adapter into an IoT-based device when combined with the charging circuit, such as ESP8266, Particle Photon, and other Arduino-based Wi-Fi modules.
This Project was undertaken to introduce a smart charging system that uses the charged device to automatically monitor its actions through the cloud. In IoT, systems can be designed to reduce power consumption as well as human effort.
The system being used is an ESP8266, the webserver is the IoT network, and the device can be separated from the platform. The system is designed to communicate with the webserver based on IoT and relays commands to the webserver. The device helps to monitor other devices and automatically sends notifications to the phone.
A system is designed to help control the power supply from the charger and monitor the amount of power the device consumes. Using this program, one can help prevent devices such as cell phones and laptops from being disabled or overloaded. Three basic components, namely an IoT device, an IoT platform, and a client device, will be used to design this system.
IoT has enormous potential in almost every field to develop new smart applications. Using techniques that extend the battery life of the IoT device and decrease its power consumption, their efficiency can be increased in energy-based IoT devices. This machine can be then used to manage the charge in mobiles, laptops and other electronic devices.
Conclusion
In this new digital landscape, the IoT plays an ever-important role, offering us ways to make our world more intelligent and interconnected than ever before. That said, there are still major challenges ahead that need to be addressed in order to enable companies to make the most of the IoT. As a key component of the smart revolution, the Internet of Things has great promise. This provides both increased efficiency and new services to improve citizens ' lives by allowing easy collection of data from the surrounding. In order to realize this dream, adequate application models and programming abstractions are needed to overcome the complexities of the physical world and help developers build applications faster and in a more efficient way.
Recommended Articles
This is a guide to IoT Projects. Here we discuss the introduction, IoT-Enhanced human experience, and private sector project. You may also have a look at the following articles to learn more –