Updated August 10, 2023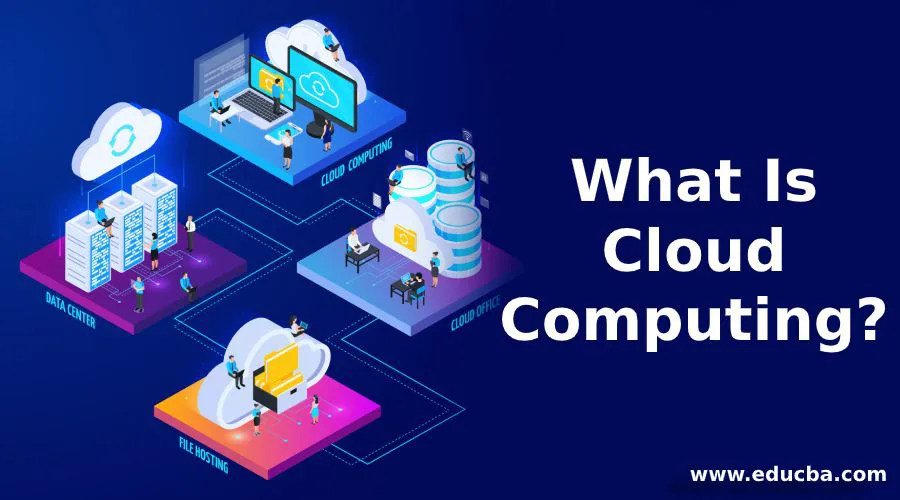 Introduction to Cloud Computing
Nowadays, everyone seems to be discussing "What is Cloud Computing." We are seeing technology shifting to the cloud more and more these days. People have moved from traditional storage software to the Internet progressively over the past 10 years. But what is it? Cloud computing provides different facilities and amenities like databases, servers, storage, applications, etc., through the Internet. For example, instead of storing data in local storage on a hard drive, cloud computing helps us in storing and saving data on a remote database. Given that the device we are using has access to the internet, it will have access to the data as well.
Basically, cloud computing is somewhat outsourcing computer programs. These computer programs are hosted by an external party and are located in the cloud. Because of this, the users have no worries about storage and power and can be at ease where their data is concerned. Nowadays, many people are opting for cloud computing for a variety of reasons, including increased productivity, better monetary value, time and speed efficiency, security, and performance.
Understanding Cloud Computing
Traditional applications were always complex and expensive because the number of hardware and software required to run these applications was intimidating. We needed to install and configure, run and test, secure and maintain these huge applications. Cloud computing helped to eliminate the problems that came with storing one's own data by reducing the headache of managing the software and hardware. We could pay for storing the data remotely to vendors, who would charge us only on a need basis, making it easy for scaling upwards or downwards.
Cloud computing is so named because the information and data that we are trying to access are discovered remotely in the cloud, which is nothing but virtual space. Cloud users can store files, data, and applications on remote servers and access this data with the help of the Internet. This helps in a way that the user doesn't have to be in a precise location to acquire access to the data and can retrieve the data from anywhere. Cloud computing reduces the processing involved with the huge amount of data and gets the computer to do all that work.
We have public and private services in Cloud computing. Public cloud services are offered for a charge over the Internet, whereas private cloud services are offered only to a particular set of people. We also have a third option known as a hybrid option that combines elements from both services.
We have various functions that can be achieved with the help of cloud computing services like:
Email
Storage, backup, and data recovery
Scrutinizing data
Building and testing apps
Providing software on demand
Audio and video streaming
Working of cloud computing
Cloud computing makes it easy to use servers, databases, storage, and a wide-ranging set of application facilities over the Internet. A cloud platform possesses and maintains the hardware connected to the network essential for these services while we use whatever we need with the help of a web application. This application is usually a user-friendly dashboard that helps the users to supervise their accounts.
Cloud Computing Deployments
A single type of cloud computing may not be accurate for all kinds of businesses. That is why there are many different clouds out there, each offering different kinds of deployments and services to help provide us with a precise solution for our needs.
There are three kinds of cloud deployments or cloud computing architecture to choose from for implementing our cloud services. We could deploy these services on public, private, or a hybrid cloud.
1. Public cloud
Public clouds are owned and maintained by third-party providers of cloud services that offer their resources like servers, databases, and storage over the Internet. Microsoft Azure and Salesforce are examples of public clouds. By means of a public cloud, all the infrastructure is managed by the third-party cloud provider. We just use these services and control our accounts using a web browser provided by them.
2. Private cloud
A private cloud suggests that cloud computing resources are being used entirely by a single entity, either a business or an organization. Physically, a private cloud is usually located on the company site. Optionally, a few companies get their private cloud hosted by third-party service providers. The network used in a private cloud is a private network that is responsible for its services and infrastructure.
3. Hybrid cloud
A hybrid cloud uses elements from both the public cloud and private cloud and combines them, binding them with technology that permits their data and applications to be shared. By consenting data and applications to travel between public and private clouds, a hybrid cloud provides more flexibility, in turn helping in optimizing the existing infrastructure.
Cloud Computing Services
Now that we have seen the type of deployments that cloud computing can provide let us look at the type of Cloud services we can have. Mainly, cloud computing services can be infrastructure as a service (IaaS), platform as a service (PaaS), software as a service (SaaS), and serverless. Cloud services are sometimes also called the cloud computing stack as they form on top of one another. It can be easier to achieve our mission if we know what each of these services means and how they are apart from each other.
1. Infrastructure as a service (IaaS)
Infrastructure as a service (IaaS) falls under the simplest kind of cloud computing service. In IaaS, we rent the IT infrastructure that we need, like servers, databases, storage, etc., from the cloud provider. We proceed with this service on a pay-as-you-go basis. It provides an on-demand service and contains a method to deliver everything from OS to servers by means of IP-based connectivity. Users need not purchase any infrastructure but instead just acquire these resources on demand. A few examples of IaaS comprise Microsoft Azure and IBM Cloud.
2. Platform as a service (PaaS)
Platform as a service (PaaS) is a type of cloud computing service that delivers a platform or an environment on a demand basis to develop, test, and manage software applications. It is designed in a way to make creating applications easier and quicker for the developers without having to worry about handling the infrastructure of databases, servers, and storage that are required for the development. It is one of the most complex cloud services. A few examples of PaaS are Heroku and Force.com.
PaaS shares some similarities with SaaS, the primary difference being that instead of delivering software online, it is actually a platform for creating software that is delivered via the Internet.
3. Software as a service (SaaS)
Software as a service (SaaS) is a cloud computing service where we deliver software applications to users over the Internet on a subscription and demand basis. In this service, the third-party cloud providers own and maintain the software application and any infrastructure required with it. They also handle issues like security patching and software updates. With the aid of a web browser, users can easily connect to the application over the Internet.
4. Serverless computing
Serverless computing concentrates on building the functionality of the application without wasting time in managing the infrastructure and servers continuously. The hardware and setup of the infrastructure are managed by the cloud provider. This kind of architecture is highly scalable, using resources only when a precise function occurs.
Uses of Cloud Computing
We use cloud computing in our everyday life without even realizing it. Sending an email through an online service provider, listening to music, playing games, or even just storing pictures and documents on our mobile all of this possibly uses cloud computing.
Let us look at what all can be done using Cloud Computing.
Creating new applications: Cloud computing helps us in building and deploying web and mobile applications quickly on any platform. Cloud computing services help us in accessing the resources needed to meet our application's requirements.
Store, backup, or retrieve data: Cloud computing helps in protecting our data by moving it over the Internet to a remote cloud storage system efficiently. This can be done at a large scale, and this data can be reachable from any place and any device.
Analyzing data: It helps in unifying our data amidst teams and locations by helping us discover visions and insights using machine learning and artificial intelligence. This helps us in making informed decisions.
Streaming media: It helps us in connecting with people anyplace and at any time, using any device having audio and video distribution.
Embedding intelligence: It helps us in engaging customers by using intelligent models. This can help in providing us with valuable information from the data that has been captured.
Delivering software on demand-basis: This helps you to stay on top of the latest technology and updates without having to purchase it.
Benefits of Cloud Computing
It is easy for users to come up with resources on demand for nearly any type of application functionality; hence there is no need for IT administrators to provide resources.
Organizations can scale up as requirements rise and scale down as requirements fall. This reduces the investment cost in infrastructure.
It allows users to pay merely for the resources and infrastructure they are using.
With the help of cloud computing, organizations can easily shift certain areas of their application back and forth from the cloud or to another platform, if and when required, according to their budget or to keep themselves updated with the latest technology.
It makes it easier to develop adaptable applications that are easily customizable while allowing users to complete control over the code.
Cloud services provide an opportunity to use modified applications to numerous customers at a time.
As it is hosted by a third party, companies have more reliability. If any issue arises, they can easily contact customer support.
It helps us save on the heavy capital investment for infrastructure.
With the help of cloud computing, we can easily deploy our applications globally with merely a few clicks.
Skills
As more and more businesses are accepting and practicing cloud computing, the demand for cloud skills is also increasing progressively.
With the following skills, we can expect to soar high in cloud computing.
1. Machine learning and AI
All the key cloud computing vendors are providing an increased number of services that permit organizations to use Machine learning and AI in their applications. These tools are simple to configure, and there are many tutorials available to learn online. However, to actually understand these technologies, we will need to have strong data science skills.
2. Cloud security
Security is crucial for every business. For professionals targeting to major in cloud security skills, there are various standard qualifications available, with CCSP (Certified Cloud Security Professional) being the most popular qualification. CCSP builds on the understanding of the CISSP certification.
3. Automation
Jenkins, Chef, and Terraform are all prevalent tools that help in permitting automation within various platforms. Individuals should aim to add these skills in their pockets.
4. Serverless architecture
Professionals can start learning online about serverless application development, but to do that, a platform will need to be chosen first. For example, if we choose AWS, then we can start on the Lambda tutorials and webinars. The key to starting your career in cloud computing is to achieve cross-platform skills. We should focus on widening our skillset to contain certifications from Google Cloud and AWS, in addition to other certifications.
Scope and Career Growth
It is arising as an essential element of today's IT world. Giants, as well as small organizations, have deployed cloud within their capacity. IT professionals are being hired if they know their way with 'the cloud'.
Aspirants motivated to diving into Cloud computing can choose from a variety of career paths such as Cloud engineers, architects, developers, and security experts. Jobs in the Cloud Computing stream include noticeably high salaries, comparable to other IT jobs. Even entry-level jobs have quite a good paycheck, making the sector very productive.
It is growing more and more popular, numerous companies are shifting their systems to cloud computing. It is just about a decade old, and already a wide range of organizations, from small startups to global giants, are adopting it due to its various benefits and ease in developing applications.
Recommended Articles
This has been a guide to What is Cloud Computing? Here we discussed the deployments, benefits, services, and skills respectively. You can also go through our other suggested articles to learn more –