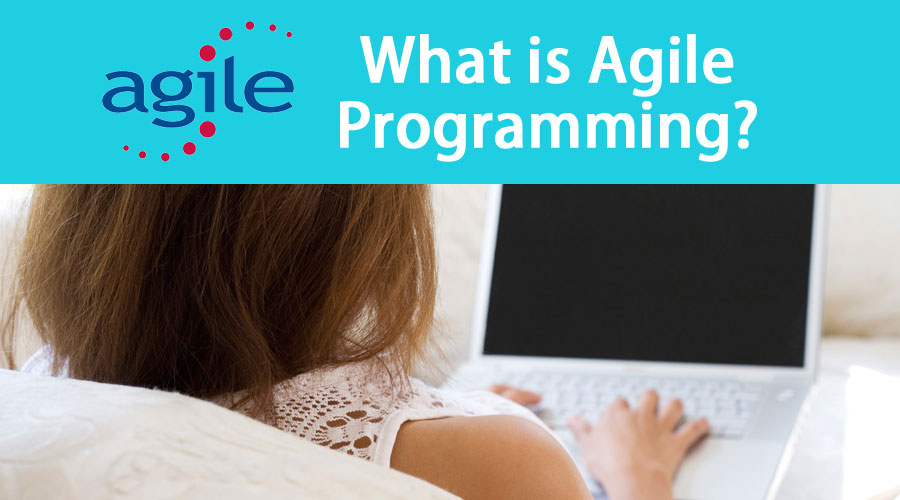 What is Agile Programming?
Agile programming is a method or technique used to develop and create new software; it uses the iterative approach, which means as and when new or additional requirements are discovered and found, they are added to the process.
When a software engineer decides to come up with new software, there are certain steps that he follows like getting the list of all the requirements needed to complete this software, planning out the architecture and design of the software, writes the test code, testing the software, and finally working out any bugs. These are certain basic and fundamental steps that go into developing new software of any kind.
However, as software became more complicated, this approach no longer seemed to be practical as, in a way, you are assuming that the developer already knows what he will need before the project even begins. With new software projects, developers do not know what all things they will require before the project begins.
This is where agile programming came into effect, as and when new requirements are found, they are added to the process.
How does agile programming make work easy?
Over the years, agile programming has been compared with waterfall approaches a lot; in the waterfall approach, coders work alone then pass it on to the tester; from there, it moves to production. Often the software is not tested for bugs or is tested late in the production stage. Whereas for agile, the advantages are as follows
Everyone was involved in the development of the software
Communication was part of the development of software
Agile has been adapted and modified to fit organizations of all sizes and types
Agile also allowed and, in a way, promoted software development. New and innovative ways were used to build and create software.
What can be done with Agile?
Below is a list of some of the things that make developers like Agile a lot
1. Frequent Testing
The software is tested at every stage of the development cycle; this greatly helps in lowering the workload at the end, when it is near the completion stages, and it is to be delivered to the client, and the company finds out there are a lot of issues and bugs that need to be resolved before it can be dispatched.
2. Adaptable
The product is very much adaptable, which means at any stage of the development cycle, new additional features or hidden bugs can be added and removed.
3. Savings
Keeping the above two points in mind, overall, it leads to cost-saving because the team is working on all issues at the initial stage of the product and not at the end. This allows them to deliver it on time, not waste extra time, and by doing so, they don't spend extra.
4. Teamwork
All the teams are involved in the development of the product, the coding team, the testing team, and clients. With so many people involved, a range of ideas and options become available, and the team can select the ones that are best and match the client's needs.
Education Requirement
To be able to use agile programming and build software, one needs a degree in computer science or software engineering, electronic engineering, or a related stream. This can be followed by Masters or specialization degree in engineering.
Agile Software development principles
Manifesto for agile software development is based on twelve principles
Customer satisfaction – This is the utmost priority, one of the ways this is strived by early and continuous delivery of valuable software
Welcoming changes – any up gradation or changes in the fundamental design of software are welcomed even in late stages of development
Coordination – All teams of the organization, from developers, testers, and even customers, are in constant communication with each other to create efficient software
Communication – Open communication is encouraged so that new ideas are welcomed and encouraged.
Excellence – Continuous attention to technical excellence and good design should be strived for
Simplicity – The art of maximizing the amount of work not done is essential
The software is delivered frequently
Projects are built around motivated individuals, who should be trusted
Working software is the primary measure of progress
Development should happen as per scheduled timelines, a timeline must be maintained, and all departments must finish their task within the stipulated time frame
Best architectures, requirements, and designs emerge from a self-organizing team
Regularly, the team reflects on how to become more effective and adjusts accordingly
Methodologies
Below is a list of some widely used agile methodologies
Agile scrum methodologies
Lean and Kanban software development
Extreme programming
Crystal
Dynamic Systems Development Method (DSDM)
Feature Driven Development
Source- https://www.blueprintsys.com/agile-development-101/agile-methodologies
Why do we need agile programming?
We need agile programming to foster a culture of teamwork, as agile promotes people working together; solutions evolve through collaboration between self-organizing cross-functional teams utilizing the appropriate practices for their context.
Managers make sure team members have the necessary and right skill sets. Managers provide an environment that allows the team to be successful. Managers mostly step back and let their team figure out how they are going to deliver products.
Why use agile programming?
Agile software development methods have been extensively used for the development of software products. However, these techniques can be applied to the development of non-software products, such as computers, motor vehicles, medical devices, food, clothing, and music.
Some of the wider principles of agile software development have also found application in general management (e.g., strategy, governance, risk, finance) under the terms business agility or agile business management.
Conclusion
Thus I would like to conclude this article by stating that agile programming is a way to develop software. Teams in the organization work together at every stage of development. Any new additional features or bugs are added and rectified at any stage of the development. And all work is done to maximize customer satisfaction and experience.
Recommended Articles
This has been a guide to What is Agile Programming. Here we discussed the basic concepts with the development of software and why we need agile programming. You can also go through our other suggested articles to learn more –