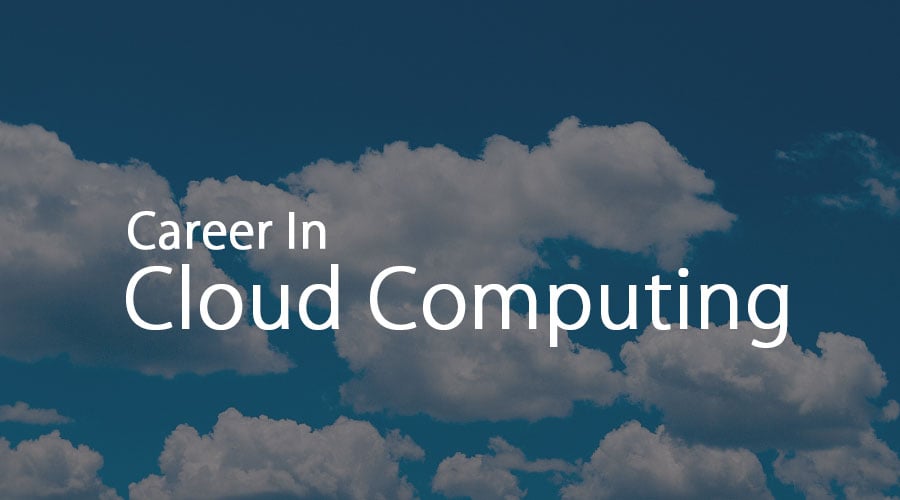 Introduction – Career In Cloud Computing
Cloud computing is currently one of the popular approaches to maintain multiple systems or configure the environment. It is mainly used as a shared pool where different system resources or computer can be configured easily and provide very high level require services with very minimum effort on shared server management.
Education required for Career In Cloud Computing
The main requirement of the big popularity cloud computing is, they mainly target to make the web application as much as possible to serverless. A career in Cloud Computing is constantly involved with a variety of technologies growth, and they are always targeting to improve computing as much as possible. If a candidate is planning to gain knowledge specifically on cloud computing then they have to be confident about specifically how it will work and what can be the specific utility of the same. As well as they have some pre-knowledge on hardware and software configuration, network advance knowledge, varieties server set up, a clear understanding of performance tuning for hardware or software or any specific server.
Career Path in Cloud Computing
Cloud computing is no doubt a wonderful option as choosing a career for any candidate who is working in the IT industry. A career in Cloud computing is now one of the big buzzes in the market and expected to be a very high paid job which will be available on the same very frequently. IT people can give attention to the same very closely and try to understand the upgrading of cloud environment frequently for their very successful career in cloud computing. There have been two kinds of option specifically in career path on cloud computing.
Choosing one specific vendor for cloud computing: In case of choosing one specific vendor in cloud computing, people will be experts on that, take a lot of certification on that specific field and gain their career path for that tool and one of the popular tools is AWS for cloud computing. So maximum candidates are going for AWS certification and make them certified with a solution architect kind of role. That is also a big popular opportunity for any candidate for their cloud computing interesting future. Any candidate experienced in AWS certification can easily get a job as the market trend clearly mentions it is one of the highlighted growing career paths.
Choosing on generalist view in cloud computing: Some professional might not go for any specific vendor specifically for cloud computing. They are gaining their knowledge on various parts of hardware, software or advanced networking in cloud computing, gaining a clear understanding of deploying critical application easily in multiple or clustering server in a cloud environment will help them for working any kind of tool, and easily adjusting themselves in any set of cloud computing without any constant on a specific tool. Also, professionals are given preference on that due to investment, if you are not doing any certification in a specific tool, there will have no value added in your career, so certification is one of the mandatory requirement for gaining experience in the specific tool of cloud computing. And this kind of certification is little costly than usual.
Job Positions or Application Areas For Career In Cloud Computing
There has been no doubt about huge job opportunities available in the current market if the candidate really experiences in cloud computing. And if we are trying to follow current buzz in today's industry then no doubt cloud computing is a very good career opportunity. There have been various job opportunities available in cloud computing, for example:
Build scalable and load balancing solution in cloud computing: It is normally looking for some experienced candidate who is real experts in cloud computing, please note, it does not require any special knowledge on any specific tool. Candidate should have a clear knowledge of hardware configuration, software configuration, server unexpectedly set up, server booting, network environment set up, or any kind of critical performance tuning ability. Candidate should mainly concentrate on server scalability and proper load balancing to avoid any kind of unavailability of slow performance issue in the application.
Preparing one biggest market we're dealing with a price like a share market, targeting to adjust cloud computing space dynamically: Here candidate again should need to be more advanced on cloud computing, have a clear concept or knowledge on memory allocation or server space set up for assigning space dynamically in cloud computing.
Except for this kind of unique job, some common jobs are already very much available in the market like Cloud computing developer, Cloud database administrator, Cloud computing product manager etc which are easily available jobs in cloud computing for fresher's or experienced.
Salary
Salary always can vary based on experience, in the case of cloud computing, salaries are always high, but it varies based on your experience or certification in a specific tool or simple cloud computing knowledge. As per current buzz in the market, salary can be assumed between $90000 to $125000, even for a fresh candidate who have expertise on this specific topic and might also get offers from a different organization with an almost similar package. But still certification on any specific tool like AWS will give more chances to the candidate for getting a job in a quick manner and high paid as well. The entire global market is really very serious on that specific topic, so expected it will grow more in the upcoming future.
Career Outlook In Cloud Computing
A career in Cloud computing no doubt is now playing a key role in the current market specifically in career growth, job satisfaction or salary point of view. As mostly everyone is targeting their career for a good salary, in that case, cloud computing is obviously one of the good options without any exception. But certification on some specific tool will always give the candidate special preference in the current competitive job market.
Conclusion – Career in Cloud Computing
A Career in Cloud computing is not at all one static approach of gaining knowledge. One time knowledge will not be enough for a candidate to be updated in their career. Candidates have to always update themselves with current changes or experiment happening with cloud computing. Some professionals think that taking one certificate is enough for getting the job. But for that renewal of certification is also very much required in case of cloud computing, as it is quickly updating in current IT market.
Recommended Article
This has been a guide to Career in Cloud Computing. Here we have discussed the Introduction, Education, Career Path in cloud computing, Job Position, Salary and Career Outlook in cloud computing. You may also look at the following article to learn more –