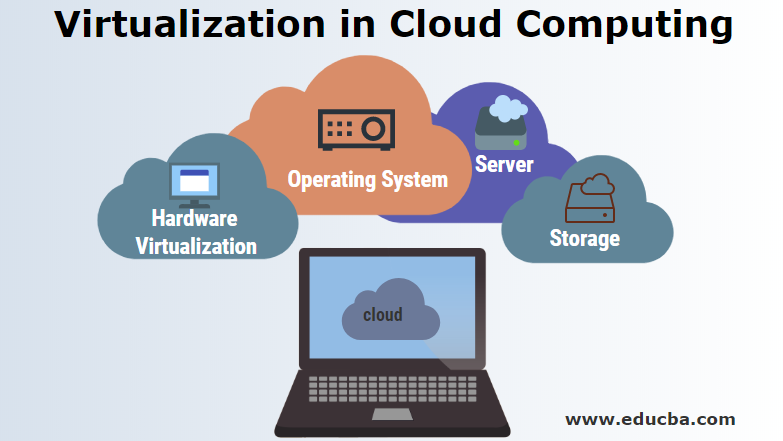 Introduction to Virtualization in Cloud Computing
Virtualization in Cloud Computing is a technology that enables the sharing of the physical instance of a single server or resources among multiple users or multiple organizations; in other words, it is basically making a virtual platform of the server OS (Operating System), storage devices, a desktop or network resources. When we talk about virtualization in the cloud, virtualization occurs with the help of resources that are available in the cloud, which are then shared across users to make cloud virtualization possible.
Working of Virtualization in Cloud Computing
There can be few ways to run multiple applications and multiple users by using a single server, and one such technique is to configure virtual machines to move from one host to another one by implementing some software and never allowing them to shut down while they are on work. This method is also known as Live Migration. The other approach involves the technique of load balancing, where the load is balanced among multiple hosts to better utilize virtual machine resources. This procedure is also known as Dynamic Resource Handling.
When we talk about cloud computing, it is not only about users sharing their data, but they also share their infrastructure in order to build virtualization techniques that can be helpful in almost every organization. It is then utilized to provide standard versions of the application for cloud computing to the users. Once the latest version gets released, it can be efficiently be provided to the cloud and to the users.
Following are the couple of ways that allows us to enable virtualization in the cloud those are:
OS Level Virtualization: In this virtualization of cloud computing, multiple instances of an application can run in a single OS.
Hypervisor-based Virtualization: In this process, the OS shares the hardware of the host computer, and hence it allows multiple OS (Operating Systems) to run on a single host.
Grid Approach: Here, a given workload is distributed to many physical servers, and once the result is calculated, it is delivered back. This type of service is mainly used for scientific purposes.
Types of Virtualization in Cloud Computing

Some important types are mentioned below:
Hardware Virtualization
Operating System Virtualization
Server Virtualization
Storage Virtualization
1. Hardware Virtualization
In hardware virtualization, the virtual machine manager, i.e. VMM, is located and installed on the hardware system. The VMM installs as software in the hardware system, and hardware virtualization is enabled. The main use of hypervisor over here is to monitor and control the memory, processor and other resources of hardware. Once hardware virtualization is enabled, one can install a different OS (Operating system) on it, and many applications can be run on installed operating systems.
2. Operating System Virtualization
In operating system virtualization, the VMM (virtual machine manager) or the virtual machine software gets installed in the Operating system (OS) of a host than to hardware. The main use of operating system virtualization is for testing the applications on different operating systems, i.e. over a different platform of OS.
3. Server Virtualization
In server virtualization, the VMM (Virtual Machine Manager) or the virtual machine software is directly installed on the server system, where it can be divided into many servers based on resource usage with the help of load balancing. This is done to fulfill the demand of resources, and the server administrator plays the role of dividing a physical server into many servers.
4. Storage Virtualization
In storage virtualization, a grouping of physical storage from different servers (That are from different network devices/places) happens. Once this is done, it looks like a single storage device. These all are managed by the virtual storage system. It can also be implemented using software applications. In storage Virtualization, in Cloud Computing, the servers are not known about the location of data storage. The main usage of storage virtualization is to provide a backup and recovery process.
Advantages of Virtualization in Cloud Computing
Given below are the advantages mentioned:
Security: Security in virtualization is provided with the help of firewalls and encryption. This ensures that all that lies inside the virtualization cloud is kept protected, and any unauthorized access can be prevented. The data can also be protected from cyber-attacks and threats related to files such as malware, worms, and viruses.
More Economical: As we have seen, virtualization saves us the cost for physical machines, examples of which are servers and hardware. It is also environmentally friendly as when the number of server usage gets reduced; we save electricity. This makes any organization run multiple OS (operating systems).
Enabling Agile: By Cloud virtualization, we enable far more flexible operation, which is very efficient and agile supportive. The scientific or more complex technical problems can be solved with the approach of grid computing, which is achieved via cloud virtualization. It also prevents the need for recovering data from corrupted devices.
Promotes high availability and disaster recovery.
Efficient and Flexible Data Transfer: In Cloud virtualization, the users are not required to find the hard drives or storage for the purpose of data transfer or retrieval. It can be done almost at any time using cloud virtualization. It becomes very easy to locate the data and to transfer or retrieve them.
No Risk of System Failure: In Cloud virtualization, the risk of system failure is eliminated as the data which is stored in the cloud can be retrieved or transferred at any time from any device. In a traditional scenario, there are chances that while an operation is performed, the server might crash which eventually may damage the organization's operational tasks. Clustering is also always enabled in cloud virtualization so that even if one server crashes, the other is always ready to take up the job.
Conclusion
In this article, we have seen about the definition of cloud virtualization, working behind it. We also saw the types of cloud virtualization that exist today and the benefits associated with the use of cloud computing virtualization. So any organization can easily enable a robust cloud computing mechanism by making use of virtualization.
Recommended Articles
This has been a guide to Virtualization in Cloud Computing. Here we discuss the working, advantages and different types of virtualization in cloud computing. You may also look at the following articles to learn more –