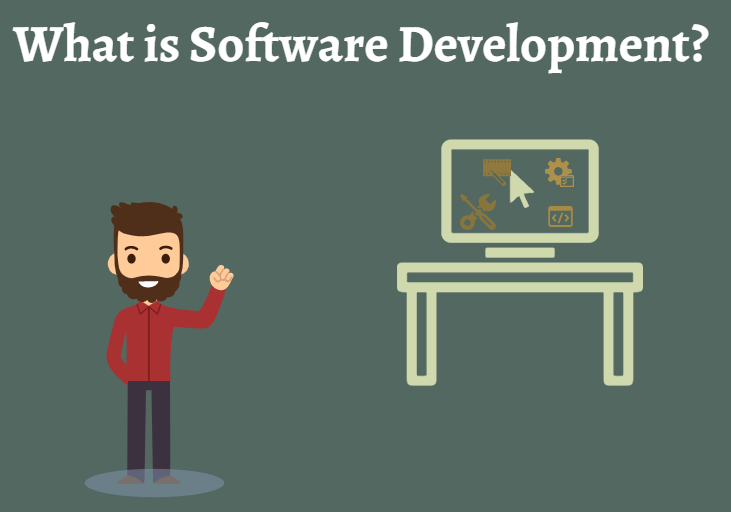 What is Software Development?
Software development is an iterative logical process of developing individual software using a specific programming language. This process could be bifurcated into conceiving, specifying, designing, programming, documenting, testing, bug fixing.
This may also include research, prototyping, modification, re-engineering, and re-utilization. Development of a series of code with interrelated functionalities is used to develop software.
Synonymous words for software development are Software design, Application development.
Software development life cycle SDLC is a framework that includes certain steps(as the shown figure below):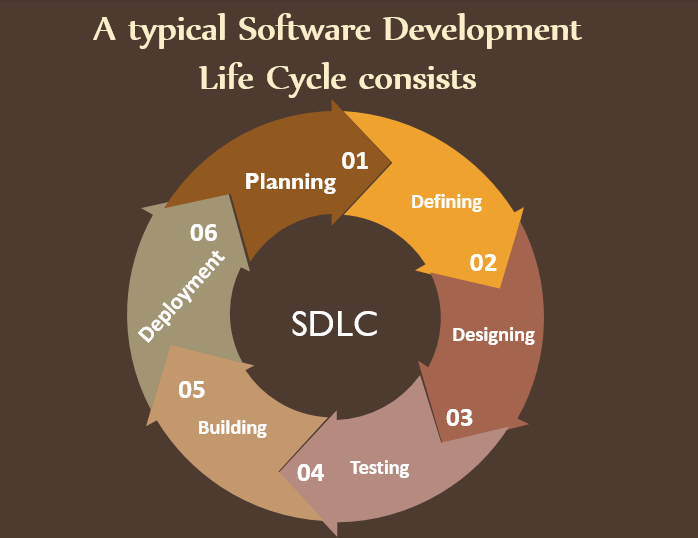 Fig 1
A typical Software Development Life Cycle consists of the following stages −
Planning: Planning & Requirement analysis is the initial, vital and fundamental stage in SDLC, which is performed by the senior members of the team with inputs taken from customers, sales department, domain experts, market surveys in the industry. This all information is then accumulated and used to plan the basic project approach, conduct a product feasibility study in all the ways from economical, operational till technical areas. The feasibility study opens many doors to implement the project, however, the approach is decided based on the highest quality factor with minimal risk.
Defining: Post Requirement analysis, defining & documenting the requirements in a lucid way is very important. Once that is done, those documented requirements need to get approved by either customers/market analysts. SRS (Software Requirement Specification) comes into picture for doing this, which contains all the product requirements to be designed and developed during the project life cycle.
Designing: SRS is considered as the reference for product architects, to come up with the best architecture for the product to be developed. Based on the requirements captured, more than one approach is proposed for product architecture. This all is documented in DDS (Design Document Specification). Then DDS gets reviewed and analyzed by important members/stakeholders based on various factors such as market risks, design modularity, budget constraints, time constraints, product robustness, best design approach etc. Design approach carries all info. About architectural module of the product in form of a data flow diagram. Internal or external, each minutest details should be present in a design document.
Building: This is the stage where the actual development of the product starts, and the product is built. Referring to the data flow diagram in the design document, the programming code is generated. The clearer is designed to document, the more hassle-free is the code generation. Coders/Developers should follow the coding guidelines defined by their organization and programming tools like interpreters, compilers, debuggers, etc. to make the code more readable and lucid.
Testing: Testing is part of most of all stages in SDLC, hence we can say testing is a subset of all the stages. Testing is a stage, where defects of the products are reported, tracked, fixed and retested until the product reaches the defined quality standards as per SRS.
Deployment: When a product is tested completely and ready to be observed by the market, a formal release is done in the appropriate market by that organization. Deployment of a product can also happen in slots, by releasing it for limited users in the real-time business environment and testing the response end to end for that product (UAT i.e. User acceptance testing). Based on product feedback from users, the required features are implemented and released as the newer version. Further maintenance is done for existing users.
Software Development Models
Below mentioned are the Software Development Life Cycle Models which are most popular among industries:
Agile Model
Spiral Model
V-Model
Big Bang Model
Waterfall Model:
One of the Simplest software development model. As per this, all phases of SDLC work one after other, in a linear fashion.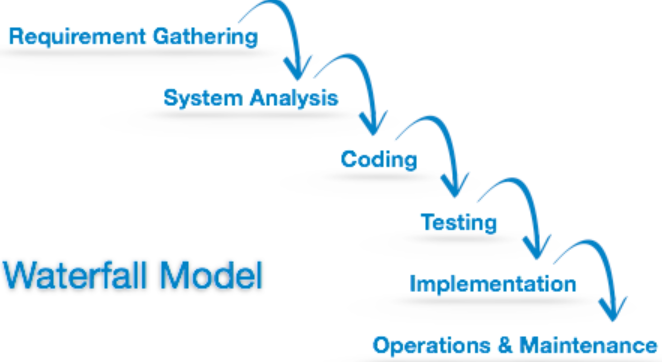 Fig 2
https://www.tutorialspoint.com/
This model suits when developers are already aware of the design and have developed similar kind of software in past.
RAD Model:
Rapid application development is an incremental model, where functions and components are developed in parallel.
The figure shown below shows the phases of this model.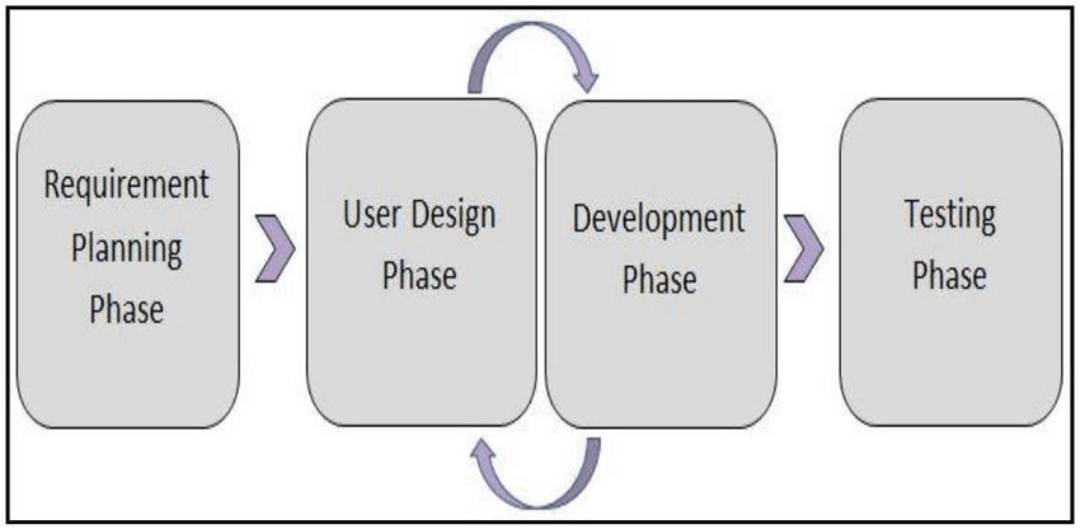 Fig 3
https://www.researchgate.net/figure/
Iterative Model:
The iterative model projects the project execution in a cyclic manner.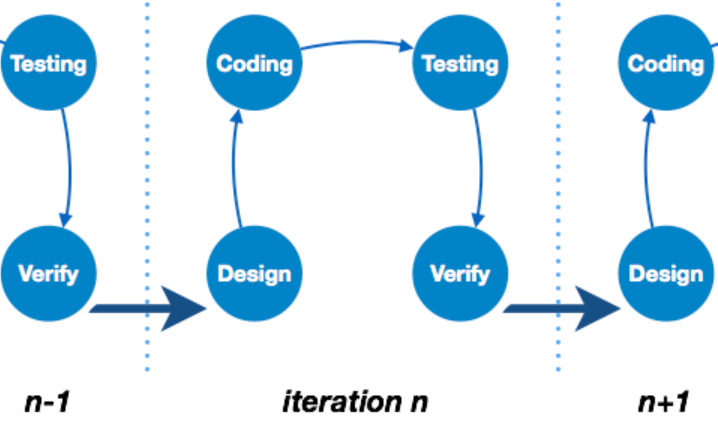 Fig 4
https://www.tutorialspoint.com/
The software is first built on a small scale with basic features. Then all steps are followed again, by adding more and more features. Each iteration can be analyzed by the management team on risk factor, and then can be moved to next iteration.
Spiral Model:
This model is the fusion of two models – SDLC and Iterative model.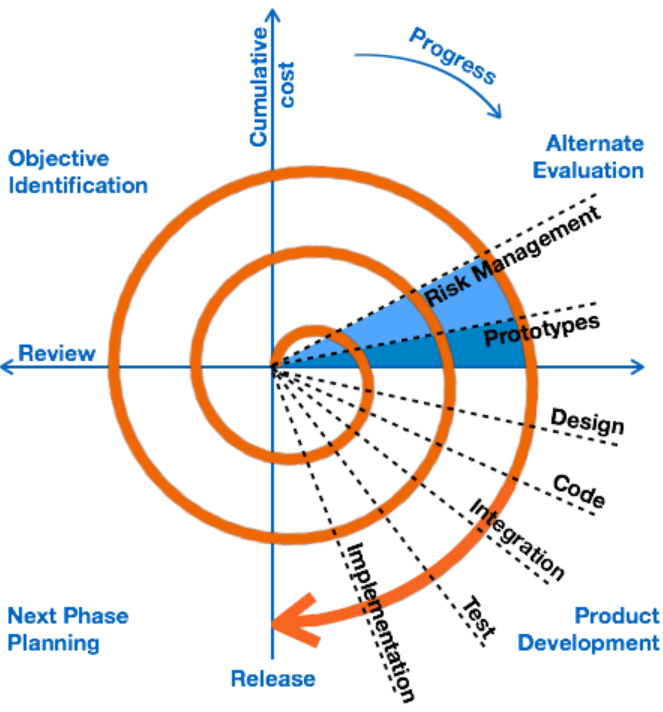 Fig 5
https://www.tutorialspoint.com/
All objective, constraint's and risk are considered at the very first stage of this model, and then comes is prototyping of the software.
V Model:
This model overcomes the drawback of the waterfall model. As per the waterfall model, the next step is processed only when the present step gets executed and there is no way to correct the mistake of the last step. V model takes this point into consideration and provides a way to test software at each stage in a reverse manner.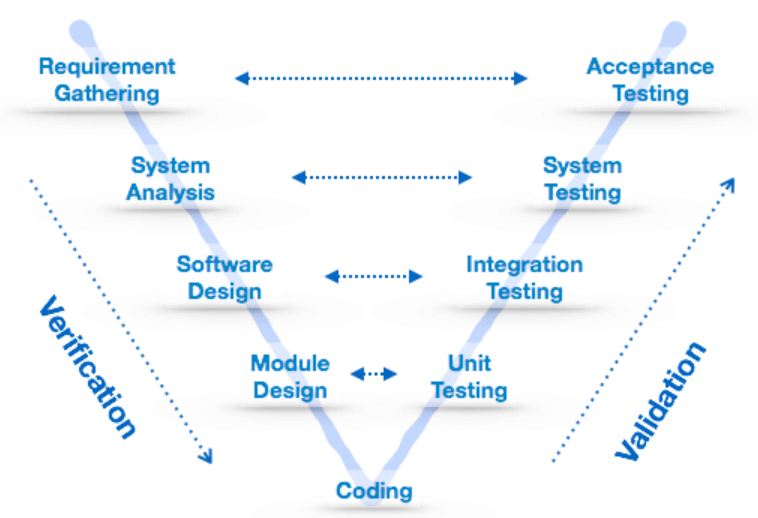 Fig 6
https://www.tutorialspoint.com/
All test plans and strategies are verified at each stage. Hence this model is also known as the "verification and validation model".
Big Bang Model:
This is a simple model, which requires a lot of fund and planning. This has been conceptualized around big bang theory of the universe. As like big bang contains lots of galaxies, planets, stars. Same way, putting together lots of fund and programming ensure best software product.
The focus is always kept on programming and delivering the best product, very less focus on planning and risk analysis.

Fig 7
https://www.tutorialride.com/
In short, software development is used by all organization to perform varieties of the task that can address and ease out work for people/fulfills requirements of the customer.
Recommended Articles
This has been a guide to what is Software Development. Here we discussed the life cycle of Software Development and it's different phases and also with that, we discuss various models. You can also go through our other suggested articles-