Updated June 2, 2023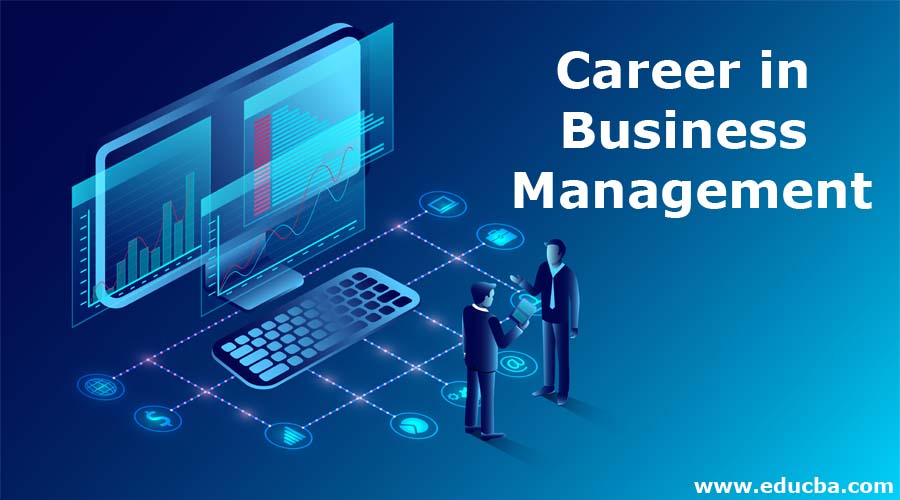 Career in Business Management
A business management degree prepares you for a career in business, the opportunities for the Business development are available in any sector, or industry & that is the best part of this course that you don't have to wait for any specific industry.
 A business management degree is unique in that it prepares you to work in a variety of fields.
One can gain work experience at the university through extracurricular activities, such as club membership or taking a role in a society that will develop your team-building, business, or finance skills.
Education required for Making a Career in business management
If you are thinking to make your career in Business Management, then, at a minimum, you need a bachelor degree BBA with your choice of trade listed in the introduction. BBA is a 4-year program while the master's degree takes 1 or 2 years depending upon the experience you have after your bachelor's degree program; there are 7 business management degree programs.
Sales representative
Marketing manager
Sales manager
Management analyst
General and operations manager
Financial analyst
Financial manager
Career Path in Business Management
Management is a popular course around the world because it prepares you for a wide range of carrier options from sales, operations to HR. The trick to choose the right program depends majorly upon your interest which makes you grow fast in the management carrier.
Finance, Sales, HR services – If you are interested in talking to people over the phone, email, etc., then this course is perfectly suitable for you. Whether you are interested in the sale, operation or human resources, this degree applies to you.
Charity, Environmental work – If you love to work for the community, want to contribute to the growth of your country, then this degree is suitable for you. This is a gateway to use your managerial skills while enjoying the work & working for a non-profit whose mission statements align with yours.
Manufacturing, Industrial Development – In manufacturing, you can work on different skill sets. For example, if you don't have the technical skills to work on different technology, your management degree can make your work in a management department like managing a team, planning, organizing, etc.
Government work – If you think about job security and have a family so you can approach a government job that also has various departments. You can check online for government jobs posted on various job sites. Some government restricts applicant to residents of certain areas.
Job at school – If you want to stay at school & want to make it a profession, then consider staying in school. A bachelor's degree can springboard you to a master's in administration, finance, information systems, and other valuable programs.
With a management degree, you can choose from a lot of different paths.
Job Positions or Application Areas
Your interests, skills & personal values will influence your final choice of a career, but below are some alternatives to consider as you go through the decision-making process.
Accounts, Finance
Accountants help organizations save money, filing tax returns, maximizing profit, finance their operations, making cash flows abide by government regulations. They keep track of the financial situation for the organization so that they can save financial crisis in the organization. Accountants represent and communicate business information that is used by colleagues to operate more effectively and by investors to make sound decisions about their investments. Accountants conduct audits, provide consulting and tax planning services. They often move on to leadership positions within the finance division of their organization or client organizations. All types of business, governmental non-profit, and educational organizations enlist the services of accountants.
Management Consultancy
Consultants help clients to make work smooth & easier as well as cost-effective. They apply their managerial skills in problem-solving skills to the projects & utilizes teamwork & presentation skills. They use their analytical skills to make the process easier for their clients & make the business profitable in less time as well as cost. Consultants or business analysts are experts at gathering information, organizing it, and composing reports with their findings. Analysts are power users of technology as they process and represent data for their clients. They enlist the spreadsheet, database, and presentation tools so often applied to their class projects as business majors.
Finance Analyst
They analyze the financial situation of the company & future investment as well as focus on the future financial situation of the company. They interpret financial statements, calculate ratios and other metrics, and write reports with recommendations for investments and the allocation of corporate resources.
They use their skills which they got from college study in accounting, finance, economics & mathematics which is traditionally part of a business major.
Business Operations Management
Operations management handles various strategic issues, including determining the size of manufacturing plants and project management methods and implementing the structure of information technology networks. Other operational issues include the management of inventory levels, including work-in-process levels and raw materials acquisition; quality control; materials handling; and maintenance policies.
Depending upon the course you have done, you can use one of these to start your corporate life.
Salary (US data)
The below table shows the average salaries of different position per annum.
| | | |
| --- | --- | --- |
| Job Profile  | Average Salaries (per annum) | Projected job growth (2016 – 2026) |
| Sales representative | $60,530 | 6% |
| Marketing manager | $127,560 | 9% |
| Sales manager | $117,960 | 7% |
| Management analyst | $81,330 | 12% |
| General and operations manager | $99,310 | 8% |
| Financial analyst | $81,760 | 11% |
| Financial manager | $121,750 | 19% |
Reference: Click Here
Conclusion or Outlook of Career in Business Management
In today's competitive globalized modern world, it's a laborious task for one to be ahead of the curve without proper planning, strategy, organization, marketing; it has become a backbone for a company; however, all comes only with sound and efficient management. For which companies spend a huge amount of $ to bring that efficiency and achieve their desired goals and outcomes.
A career in Business Management is a good career because Business management is one of the most important parts of any business. All the success and failure depends upon this. If the business is not managed properly, like no plans, no goals, no strategy, etc., then a business cannot go in the right direction. So, having a managed business is very important.
Recommended Articles
This has been a guide to a Career in Business Management. Here we discussed the Education Required and the job position of Career in Business Management. You can also go through our other suggested articles to learn more –