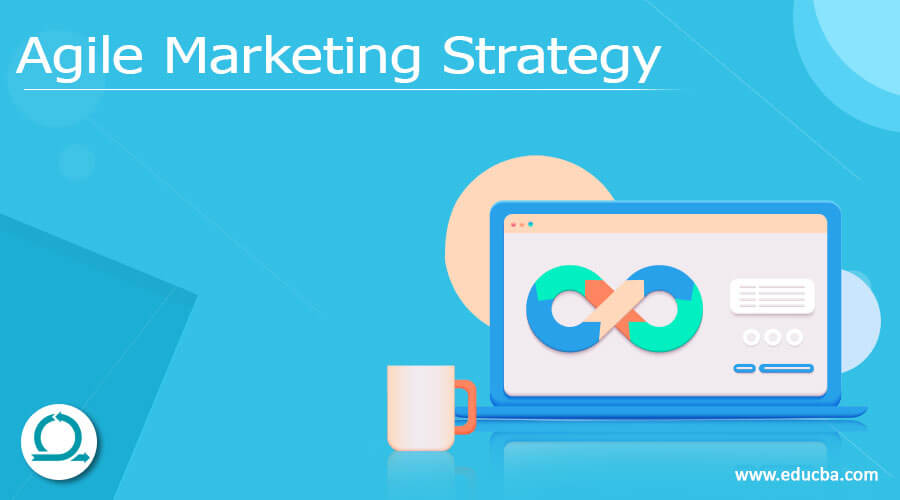 Introduction to Agile Marketing Strategy
This is an outline on Agile marketing strategy. In many organizations, marketing strategy is a long-term process. Once a plan has been approved during joint meetings with the product, marketing team, and media planners, much change is not affected as budgets are also approved in advance.
This strategy works well when there is no change in market or technology trends and new competition doesn't emerge fast in the market. However, firms need to be dynamic these days as new competition or technologies emerge, and marketing messages and campaigns must be changed to reflect the changes happening not only in the marketplace but also in other spheres of life-technology, politics, environment, lifestyle, movies,, and sports.
In India, Amul, the leading milk and milk products brand, has a reputation for coming up with clever, witty promotional campaigns throughout the year reflecting the trends in society, films, politics, and sports. Worldwide there are many success stories,, including Oreo's Superbowl XLVIII Tweet of 2013- 'you can still dunk in the dark that was shared by millions of people.
Welcome to the world of agile marketing. It is a strategy where a team of marketers, creative people, and media planners work on short-duration marketing campaigns that respond to rapid changes in the market, consumer behavior,, and technological trends.
In the the software industry, developers break a large project into incremental processes,, which enable the team to get instant feed from the customers and devise changes along the way that makes the final product relatively bug free. When the concept of agility is implemented in marketing, it can be rewarding for the organization, according to analysts. This is because they are ongoing customer-centric activities.
Success with Agile Marketing Strategy
Here are seven steps to achieve success with Agile marketing strategy.
Have a dynamic team to drive the concept
The success of any agile marketing strategy effort depends on having a good team to work on it. Hire ad agency veterans as they are used to working at a feverish pace and delivering good creativity compared to the in-house team. Some companies employ cross-functional teams from adjacent departments such as sales, operations,, and finance. They should be capable of understanding the process and serve as advocates for the entire team. Executive sponsorship is vital for buy-in by the team members.
It is important to eliminate fear in the organization and help the creative people to come out with innovative themes. They should be provided with dynamic tools for collaboration and sharing ideas in real-time. There is no room for long-drawn-out strategy meetings and discussions. They should have the right leadership to guide them daily. They should focus more on near-term deliverables that drive more leads and customer engagement.
The team is driven by three key players- the campaign owner, scrum master, and delivery team. The owner is responsible for overall coordination of activities such as holding meets and workshops, owning project backlog, and releasing the sprint (typically a few weeks or months during which the team completes a task and delivers). The scrum master is in charge of the budgets, planning, training, and addressing issues related to the the delivery of the campaigns. The teams are cross-functional and will handle the agile campaign apart from their day-to-day activities.
Don't think the campaign, only an outline
Plan big campaigns in detail, months ahead. According to Jayson DeMers, CEO of AudienceBloom, a content-social media agency based in Seattle, they may not be flexible or alterable according to changing business dynamics. Start with small campaigns, evaluate the results, and make appropriate changes mid-way. To begin, an email campaign followed by a Google CPC (Pay Per Click), sending press releases, brochures, and banners on your websites will be sufficient. This can be followed up in the subsequent month with blogs and social media posts.
This can be followed up with print, TV ads, or hoardings per the marketing team's budget and requirements. Sometimes, in the initial test campaigns on Google CPC and email, a product may not perform well, giving the framework to analyze whether it is a problem with the product or the campaign.
If the campaign has been successful, more budgets can be allocated to widen the reach while or an attractive option comes along, the marker can change track and go for it.
Some companies try out a perspective plan where 70% of the campaigns are planned, 20 percent programmatic-with automated response to market data, and 10% responsive to current news and events. This can overcome the problems associated with too much reliance on unplanned content.
Keep content ready ahead of events
If certain sporting and and political events such as elections are announced earlier, the campaign team should be ready with visuals and content that may need just a few edits before it goes live. Although even the best designers and content writers may require time to develop a good copy, it is better to foresee events and be prepared with draft images and words.
Have regular short briefings and meetings
Unlike conventional marketing, agile marketing requires a quick response to events and happenings. Hence there should be constant review and appraisal. The tasks are divided into sprints comprising a few weeks duration. Sometimes, larger tasks can be split into several sprints for ease of implementation.
Have small stand-up meetings that help the team members review what they did the previous day and what they plan for the day. If issues are to be resolved quickly, they should be trashed at the meetings. The team members can have sticky notes in front of their desks, so they don't forget to do routine things or have a specialized app such as Asana to monitor the progress of various tasks and assignments. The success of an agile campaign depends on teamwork; ownership is with the entire team, not individuals.
Agile marketing depends on teamwork, regular monitoring of market trends, and the campaign's progress, among other things. The team has to learn from past successes and failures. In addition, it helps in constantly evaluating the strategies and goals.
Utilize the power of social media with care
Some successful agile marketing campaigns have utilized the power of social media, such as Oreo's Superbowl XLVIII campaign. When a power blackout occurred at night during the event, Oreo posted a marginally illuminated biscuit on Twitter with the description 'you can still dunk in the dark which became viral and was retweeted 20,000 times and received 525 mn media impressions. The next year Oreo tweeted, "Hey guys.. enjoy the game. We're going dark. #OreoOut." Adidas tweeted during the underground tube strike in London thus: #boostlondon, encouraging commuters to run rather than queue up for public transport alternatives. It was intended to help boost the company's Boost sportswear range.
Similarly, Facebook and other platforms can effectively widen the reach of agile marketing efforts and make them go viral.
Social media has the power to reach a wider audience quickly, but negative news also spreads very fast, so most care has to be taken not to use offensive language or jokes that backfire. For example, the owners of the American Baking company, which was featured in a television show, treated the host of the show badly and followed it up with an FB Post, which called the consumers stupid for describing their cake as expensive. It said that it was because they couldn't afford quality- the Yelpers and Reddit need to back off.
Every tweet, FaceBook post, or Instagram upload reflects your brand, and don't let an inexperienced team manage it in the content department.
Don't try to profit from the tragedy when a natural calamity strikes. For example, when a hurricane struck the US East Coast, millions were stranded in their homes. One company tweeted that that this storm blows (but free shipping doesn't). Also, avoid false and undeliverable promises, just as Abe Circle Pro, a workout machine manufacturer, said using the machine for 3 minutes was equivalent to taking 100 sit-ups. It costs the company heavily in terms of refund and loss of face.
Relying too much on automated replies and posts can also harm agile marketing, as in American Air's case. To a tweet describing the airlines as the shittiest one in the world, the automated reply was Thanks for your support! We look forward to a bright future!
Speed is important; give room for improvisation
In Agile marketing, how fast you respond to events and happenings are very important. The focus should not be too much on punctuation or every tweet but on developing a Minimum Viable Product (MVP) and doing improvisation. Conventional marketers may find the concept tough to digest, but MVPs should be commonplace over time.
However, speed should not end up as an excuse for making mistakes. On the contrary, according to analysts, it is one of the dangers of moving too fast with agile. For example, the British Embassy in Washington sent the following tweet to commemorate the White House burning in 1812: Commemorating the 200th anniversary of the burning of the White House. Only sparklers this time! Such thought-less posts can cause embarrassment for any organization and lead to a loss of brand value.
Develop a culture of agile marketing
Agile marketing would not succeed unless a culture is developed within the organization and is achieved through marketing agility. Continuous learning, fostering creativity, and providing flexible marketing assets such as gift cards or vouchers are important for the success of agile marketing. Some companies implement formal training and reward teams for performance excellence. Marketing agility can be developed only when the organization considers Big Data, which helps better understand the customers and the market. According to experts, the marketing teams should be lean and not hierarchical, but a flatter structure is more suited for agile strategies.
The concept of agility should be implemented right through the organization, even on the shop floor, as the Toyota production team has done. For every problem, they ask five 'Why's in succession, leading them to the root of the problem and, hence, easier to address. Similarly, such a 5-why's approach can lead us to the root cause of why a social media campaign is not leading to sales conversions. For example, the first Why may get you the answer; social media reach is down, the second why could give the answer links aren't shared, the third 'why' may say it is because of lesser images and videos, and so on.
The Agile Marketing Academy was formed in Chicago in January this year, and they are planning to provide 2-day in-person training leading to the award of Certified Agile Marketing Specialist.
Conclusion
Software developers developed the concept of 'agile' in 2001 following unhappiness with the industry over traditional document-led development. As a result, the Agile Alliance consisted of 17 thought leaders in the IT industry. The core principles driving agility in the IT industry were the importance given to individuals, interaction, collaboration, working software, and faster response to feedback. This replaced the earlier emphasis on tools & processes, full documentation, and contract negotiations. As a result, the IT industry quickly absorbed and adapted agile development.
The concept of agility also came to be imbibed by marketers as realization dawned that the purchase funnel was no longer linear. Instead, there was a network of interactions through social media, telemarketing, direct marketing, mass media, and so on. The concept has caught on in marketing to thanks to its customer-centricity, continuous innovation, and measurement possibilities. It also encourages collaboration, taking calculated risks, and empowers individuals with decision-making in a team framework.
Agile marketing can work across industries marketing, although the concept was first implemented in software development. The rapid advances in Big Data analytics, social media growth,, and paradigm shift in management practices have become helpful for the successful implementation of agile marketing.
Recommended Articles
This is a guide to Agile Marketing Strategy. Here we discuss the introduction and the steps to achieve success with Agile marketing strategy. You can also look at the following articles to learn more –