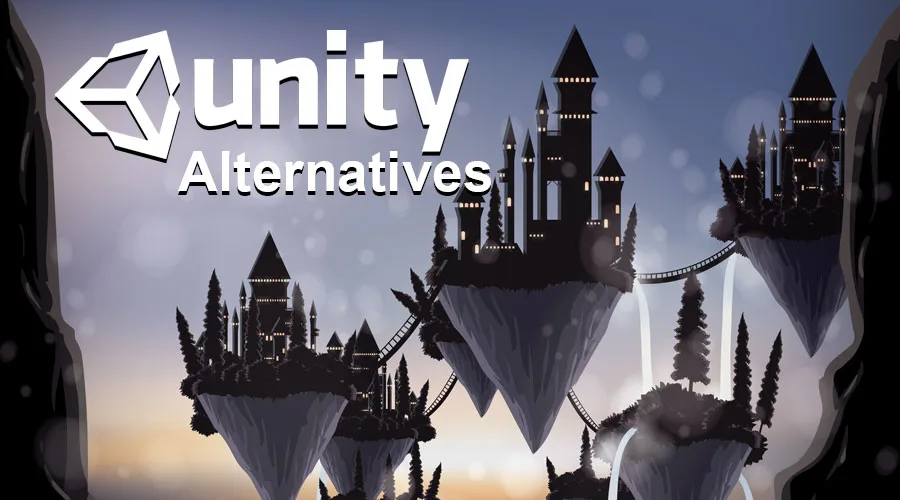 Introduction to Unity Alternatives
Here is this article we are going to see about Unity Alternatives before moving forward we will see what Unity is Unity is a popular cross-platform game engine. It is widely used by game artist and developers. Initially, the program was released only on Apple's Mac OS. Presently, the program is used on more than 25 platforms across the world. Unity is a Gaming motor that helps the user to make diversions in both 2D and 3D and offers a scripting API in C#.
Unity was created by Unity Technologies is a cross-stage game motor. Learning Unity can acquaint us with the best of the two universes – 2D and 3D game improvement and it opens the ways to bring us into the focused universe of gaming. It helps the user to create 2d materials and sprites and 3d objects and particles. It is an excellent example of blending both environments and creating stunning games and visuals.
Unity is compatible and is operational on Windows, Linux, Mac OS, and other platforms. The program is based on component thinking. The program consists of prefabs, which help the users and game developers to a lot of extents and they can easily create objects and games with more efficiency and accuracy. Within the program, the users get a huge library of supplies and materials required to create games and objects. This library can be very useful for game developers as they can save a lot of time and at the same time learn many other things.
Alternatives of Unity
Some of the Alternatives of Unity are –
1. Unreal Engine 4
This program is the perfect alternative to the Unity game engine. Although the program is based on visual scripting and supports C++ language, it is used extensively among the game developers. The developers can have full access over the game engine and the scripting part using this program. The C++ coding system allows for immediate modifications and updates. This program is also in a lot of demand because of its amazing and powerful shader and supper effects features. Being a powerful program, the Unreal Engine may sometime be a difficult program for beginners. The beginners may find the program a bit confusing and slow in the learning process.
2. App Game Kit
It is compatible with Windows, Linux, and Mac operating systems. This program can be worked and tested for multiple machines and its working performance is commendable. This software supports various plugins for Windows and can also be used for advanced scripting in the C++ language. Although, it is a good gaming program, but it doesn't support game mechanics, history and events. Also, the code editing process is quite complicated and messy. It's a basic 3D program with limited features and effects.
3. Construct 2
This program is based on JavaScript language. It is compatible with Windows operating system. This program is mostly used by beginners or non-coders. This program involves very less scripting and is based on drag and drop features. The user needs to purchase the program only once, and he will be receiving all the future updates. The software has a default internal animation editor that helps the user to create animations and objects with simplicity and without confusion. The prime most drawback of this program is that it only supports the Windows operating system.
4. JMonkeyEngine 3
This application is completely available in the market free of cost and is an open-source application. Mac OS, Windows, and Linux can be used for this application. The application works on Java and it proves to be a great game development platform. The application is easier and faster to use and create games. The application is a storehouse and compels to provide a medium that can control rendering, physics, cinematics, and other animations. The application is compatible and supports multiple platforms and devices. The application can be improved in terms of APIs and release cycles. Also, this program will be a bit difficult for total freshers.
5. Godot
This application is available for free of cost and is an open-source for the users. The application supports a powerful 2d engine that performs a lot of 2d effects and used in making 2d games. It is a multiple platform application, the user can develop games on desktop, smartphone, and web as well. The program is portable to use and uses storage of less than 45 MB. The user can easily modify scenes and projects by adding characters, materials and other properties to the scenes. Also, this application supports drag and drop feature, which doesn't require much coding knowledge. The game development and scripting are done on a single platform called the engine editor. The application doesn't require any additional editors or plugins. If a user who has already worked on the Unity game engine will use this program, he will find the application limited and difficult to get it. Also, rewriting the data is difficult and hard with this application.
Conclusion
Unity is powerful and multitasking software, it is very popular among the developers. In case, users don't find the Unity program easier, they can go for the above-mentioned alternatives. These alternatives are more or less similar to the Unity game engine and will certainly help the game developers, coders, programming artists and game artist with a possible substitute for their requirements.
Recommended Articles
This has been a guide on Unity Alternatives. Here we have discussed the top 5 Unity Alternatives with their pros and cons. You may also look at the following article to learn more –