Updated May 20, 2023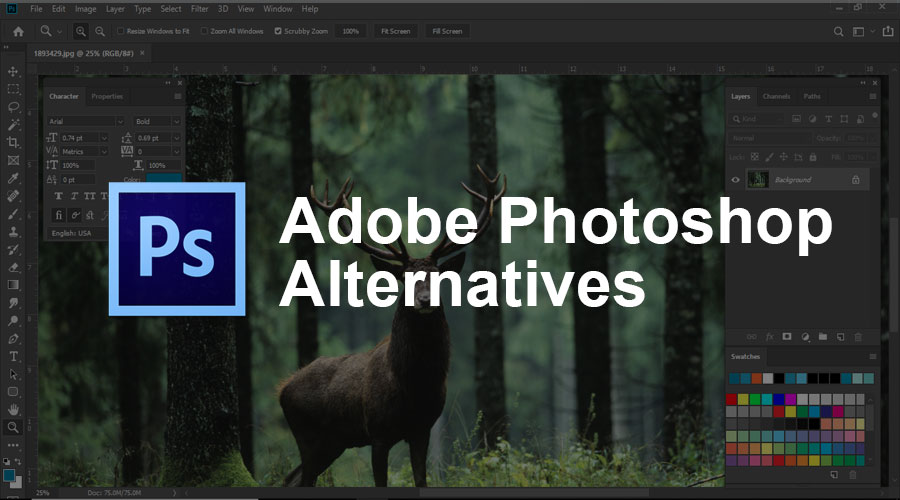 Introduction to Adobe Photoshop Alternatives
Photoshop is the first thing that appears when we think of image editing. Whether professionals or students in the creative field, everyone knows the features and benefits it brings. The only problem is the huge cost required to purchase and use it in your system. For those looking for similar software for editing and manipulating images, we have listed below those applications that don't cost much and can be a powerful design tool for your needs.
Affinity Photo, Sketch, Pixlr, GIMP, Inkscape, SumoPaint, Canva, Paint.net, and Krita are some of the alternatives for Photoshop which you could consider. After reviewing this Adobe Photoshop alternative article, choose one appropriately based on your requirements. Some of these tools are as powerful and easy to use as Photoshop.
What is Photoshop?
Adobe Photoshop is industry-standard software when it comes to image editing and manipulation. It is a raster-based graphics application developed by Adobe Inc. and first released in 1988. It runs on both Windows and Mac operating systems. Photoshop is a favorite tool for creative professionals around the globe that makes their work a lot easier and more effective. The work area of Photoshop has three parts where you can access the various tools and settings. The tools are on the left, the options are on the top, and the panels are on the right.
Top 9 Adobe Photoshop Alternatives
Given below are the top 9 Adobe Photoshop Alternatives:
1. Affinity Photo
Affinity Photo is compatible with many file formats, including Photoshop. It can be made and used by designers and photographers alike as it offers professional features and quality matching with Photoshop. Affinity Photo is also very cheap, making it one of the best alternatives to Photoshop. It boasts superior speeds, stable functioning, and limitless updos; however, most of these features depend on your system hardware. It is recommended to have at least a quad-core one. You can use Affinity on Windows and Mac.
2. Sketch
Sketch is a flexible vector graphics application made particularly for designers offering them a flexible tool. It is good at working with multiple resolutions with vector shapes and infinite zoom features. For your design needs, there are tools like primitive shapes, pencils, etc. The interface of Sketch is user-friendly and resembles that of Adobe Photoshop and Illustrator. It features layers, gradient options, style presets, and much more. In addition, there are plenty of plugins available online for you to use in your project.
3. Pixlr
The USP of Pixlr is that it has 600 effects, overlays, and borders. It is a good image editor with all the expected essential features. You can crop, resize, and manipulate color, and so on. If one is familiar with Photoshop, it is easy to learn Pixlr. This free-to-use application can be used as a web app or on the Android and iOS platforms.
4. GIMP
Like Photoshop, GIMP has a wide range of presets for professional image manipulation. It is a powerful graphics tool available to use free of cost. The UI is different from that of Photoshop, but there is a GIMP version that resembles Adobe's interface for those migrating from Photoshop. GIMP was released in 1995; it soon became a popular photo editing application loved by millions of users.
5. Inkscape
Another free graphics tool on the list is Inkscape. The interesting thing about Inkscape is its intelligent drawing features. It is a well-built application for professional uses, supports importing/exporting multiple files, is customizable, and supports various languages.
6. SumoPaint
A browser-based software, SumoPaint is a highly capable photo editor. It is a lightweight tool that is quick to load. It has both paid and free versions for use. The interface includes shapes, brushes, pencils, text, cloning, etc. They are available in the toolbar. You can work on your saved files on the hard drive. Therefore, SumoPaint is an excellent alternative to Photoshop.
7. Canva
Canva is also a browser-based design application for professionals. It has a huge collection of fonts, filters, icons, photos, etc., to make your design work easier. Just drag and drop the images you need to edit into the Canva box and start your job. Canva has a user base of over 10 million people.
8. Paint.net
Paint.net is free-to-use open-source software with support for user-created plugins and tools. It was developed as a rival to MS Paint. Today it has evolved into a proper image editor. Paint.net comes with auto filters and editing tools. Users can mask, work with layers, manipulate images, and more. The interface is also simple for anyone to learn. You can work with multiple photos on Paint.net. You can pull photos from multiple tabs for easier working. It also displays thumbnails to represent images. Paint.net is an effective alternative to Photoshop, but better than that; it runs smoothly on low-configured computers. You can save any number of images locally.
9. Krita
Krita is aimed at concept artists; it is a digital sketching program that allows users to create artwork from scratch. There are plenty of features in the store that will help you. Krita offers learning resources for its users. Hence, you can quickly learn the new program. Krita supports PSD files as well. So if you have many fascinating ideas and want to bring them into reality, Krita is the tool for you.
Conclusion
Design Software doesn't have to cost much photoshop is a valuable design software from Adobe with an unrivaled presence in the creative industry. However, it is not available free of cost, and one needs to pay a subscription amount for its license. If you do not want to pay for Photoshop, you can consider using alternative applications with similar features and an effective user interface. These design programs are also available free of cost or in economical packages. Affinity Photo, Sketch, Pixlr, GIMP, Inkscape, SumoPaint, Canva, Paint.net, and Krita are all good design tools that can offer the features of Photoshop. You can use the above software to design logos, edit, resize, crop images, etc.
Recommended Articles
This has been a guide to Adobe Photoshop Alternatives. Here we have discussed the basic concept and top 9 Adobe Photoshop Alternatives. You may also look at the following articles to learn more –