Updated June 9, 2023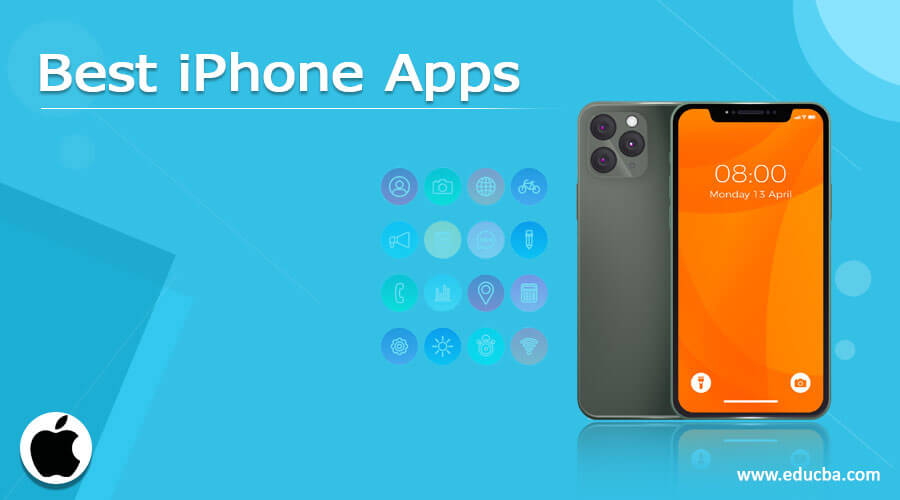 Appy Days Are Here Again: Top 6 Best iPhone Apps of All Time
What makes the Apple iOS platform amazing? Well, it's the iPhone app. The applications are so superb that Apple's mobile platform easily outperforms its rivals. They want to know which apps from Apple have been highly appreciated this year. Get ready to make life easier because an amazing iPhone Application each day keeps the troubles away! Find out more in this review of the top 6 Best iPhone Apps of All Time.
App 1: Hoorray – Haven for Foodies
Food lovers will welcome this app for iPhone, which lets users utilize their social network to share recipes. Users can also find recipes to cook and share their experiences with others.
Features
What's Cookin' is the app's live social feed providing inspiration for users, where you can get awesome tips and advice.
You also have the option to like, share or comment on the feed
You can also post the best dishes on social network sites like FB and Pinterest through this iPhone App
Explore the world of cooking and discover new as well as classic items, to suit every palate
From Vegan to Paleo, there's something for everyone on Hoorray
Access scores of digital recipe collections put together by food lovers and professional chefs
Share the secret recipes you always wanted to with the live social feed.
These Best iPhone Apps of All Time allow users to easily find out more about different recipe collections and browse through them. Whether you are a connoisseur or a health-conscious diet follower, Hoorray has much to offer.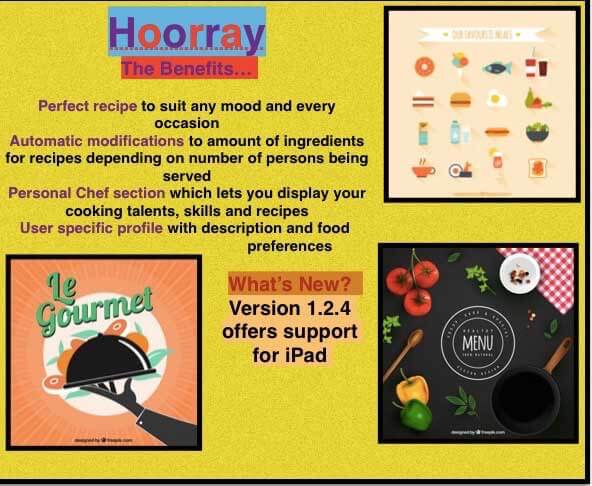 Bon Appetite! Hooray is perfect for aspiring chefs and passionate foodies. With so many interesting features, it is an asset in the kitchen.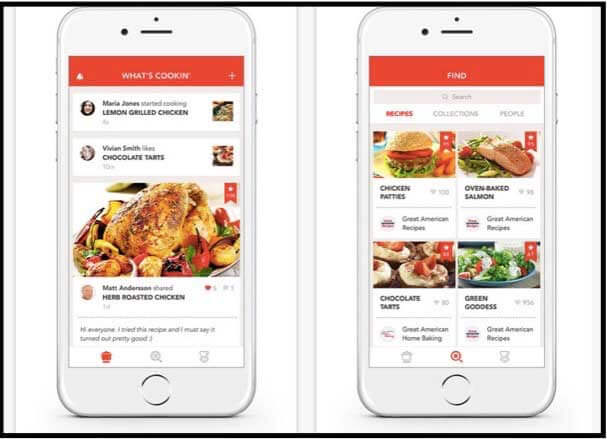 App 2: Where To?- Finds The Right Location Every Time
This must-have best iPhone app is back with a massive update. Where To? a travel and tourism app, supports shortcuts for iPhone 6 users to find the place faster. Another huge plus point is additional support for Spotlight search.
Don't forget the Siri reminders, either. Apart from this, the iPhone App also translates reviews from foreign languages and has a Suggest Edit feature to correct data.

If you are looking for the best places to hang out, eat, party, or shop, this iPhone App is the way to go.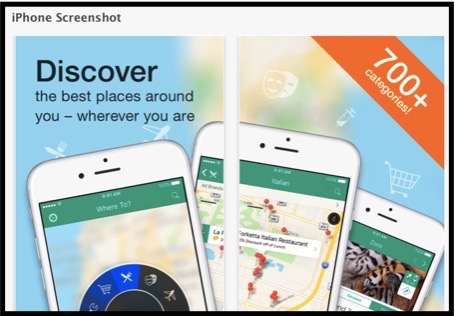 Features
Destination Locators: You can find any place within seconds on Where To? From a bank branch to a dance club, get to your preferred location in minutes in any town, city, or country. Check out new places using this easy, fun-filled app requiring zero typing.
Excellent Interface: The interface is amazing and can be customized to suit personal preferences. You can locate any place with a few taps, whether you want a detailed map or a listing.
Information Storehouse: Where To? beats the local tourist guide by a wide margin. Get videos, photos, descriptions, opening hours, special discount offers, and more using this best iPhone app. Moreover, this app displays results on Apple Watch so you can catch the city's pulse any time of the day or night.
Foodies Delight: Another massive bonus point is that Where To? has dinner menus for over 500,000 eateries and restaurants. Where To? is a step in the right direction because it lets you choose everything from the menu to the seating.
Location Reviews: Check out the ambiance and facilities of any location by reading reviews on Where To?
Support for standard Map apps: Navigon, Google Maps, and TomTom are some of the many apps supported by Where To?
Car Integration: This app integrates with the car and equips it with a guide through onboard navigation systems to reach the desired location instantly.
Supports Pebble SmartWatch: Where To? uses GPS to generate updates for a specific location to Pebble. The downside? GPS in the background cuts down on battery life.
Find Your Favorite Restaurants: Save your favorite locations to discover them easily next time. Use this iPhone App across multiple iOS devices.
Sharing is Caring: If you want to share a particular location with someone, this app lets you transmit the information in the following ways:

AirDrop
Email
Text Message
Facebook
Twitter
Multilingual Expert- This app searches in 11 different languages so you don't get lost in a foreign land.
Awards and Accolades- This app has won the iPhone App of the Week and iPhone App Store Rewind status; It has also been a successive winner of Best App Ever Awards for being the top travel application.
App 3: Microsoft Outlook- Version 2.0 Manages Your Schedule
Microsoft Outlook for iOS has been upgraded recently. This latest best iPhone App includes the Sunrise calendar feature provided by Microsoft. The upside? This app can access read and to-be-read messages, emails, and appointments through Apple Watch. Enhanced performance and the best iPhone app design touch add to the benefits.
This app has been described as the "best email app" by Verge. Outlook for iOS lets users connect calendars, files, and email accounts under one roof.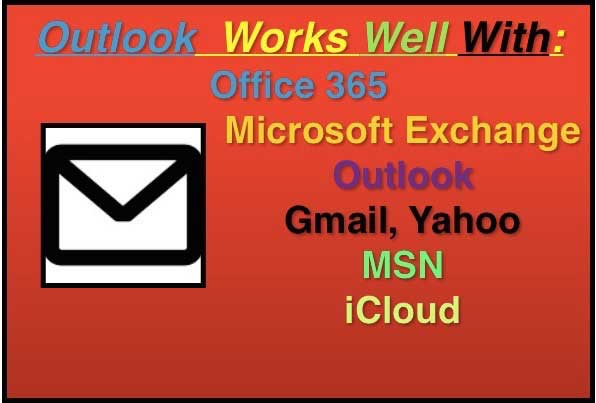 Outlook: The Benefits
Effortless and seamless inbox management: Focused inbox
Easily accessible calendars and files: See and attach files from DropBox, Email and much more without any downloads
Work on the move: Excel, Office, or any other MS document can be edited and sent via email on the iPhone
Check all your messages and multi-task: Full Split View support in iOS 9 will add to the benefits
What's New?
Outlook has a fresh look from its email list to its icon. Apple Watch users will be pleased to know the app is now native, boosting the performance and taking the design to a new level.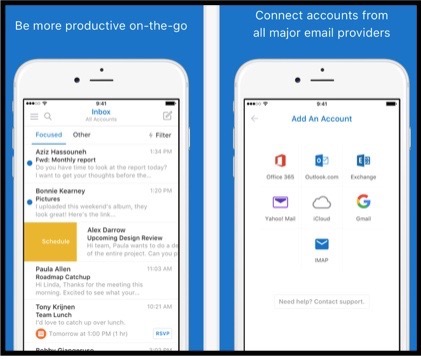 App 4: Skype 6.5- New 3D Touch Quick Action
This iPhone app lets users access the 3D Quick Action Touch from the home screen's icon. Get live updates, the latest messages, and video calls in seconds.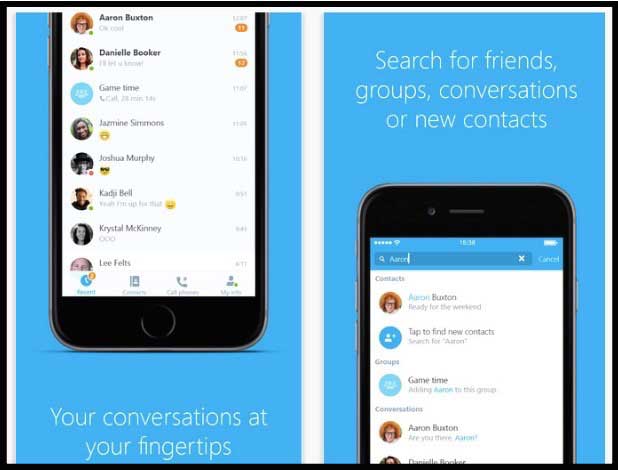 The update also offers improved communication and connectivity levels. Share and delete information, photos, contacts, and URLs with this app in just a few minutes.
Instant video message filters and emoticons, plus staying in touch with this free best iPhone app, i.e., free video calls and voice calls, make messaging on this app a cakewalk.
Features
Reach people in seconds
Place calls for free
Make low-cost calls across landlines and mobiles
Share and keep in touch with those you care for
Available for Apple Watch wearers
Compatible with multiple devices and iOS 7.0 or above.
What's New?
Quick start actions to jumpstart Skype on your home screen
Force Touch shared locations, contacts, photos, and sneak previews make this iPhone app a winner
Hide conversations and share snapshots with a flick of the finger thanks to the touch screen features
App 5: Sky Guide- Star Gazing with a Difference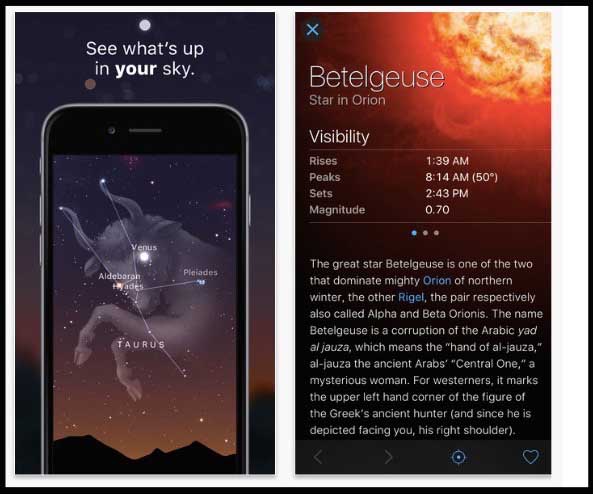 This is an awesome stargazing Apple app. Users can easily scan the skies through finger movements on the screen. It is also the most usable.
Added Bonus: Today's View Widget provides planetary information such as rising and setting time. It also lets you know about the status of the sun.
The Benefits
Find stars, planets, satellites, and constellations by tapping your iPhone.
This app is as beautiful as it is informative.
Search for thousands of celestial sights in one of
SkyGuide also has a feature for tracking and locating visible satellites
You can even receive updates from the International Space Station on Apple Watch with this app
The amazing visuals of this app and its ample content, plus its ease of functioning, make it a 5-Star app.
Sky Guide works with/sans Wi-Fi, data, and GPS so that it can be used in the most isolated areas.
It contains immersive visual features which are simply amazing
Check out the exclusive imagery and high-resolution photos
Get the illusion of spacewalking through this realistic and thrilling stargazing app
SkyGuide may have fewer buttons, but it has a lot of content. Its articles by well-known figures in astronomy are well-illustrated and cross-linked.
Features
Apple Watch enabled
3D Touch Quick Action
Widget for Notification Centre
Time Lapse effects
Red night mode
Filtering and exploring the sky's wondrous features
The downside is that Sky Guide needs a gyroscope, so it cannot work with iPhone 3Gs and earlier.
What's New?
You can access Search, Satellites, or Favourites by pressing the Sky Guide icon, and that's not all. Get ready for multi-tasking, spotlight search, landscape orientation for various iPhone models, and deep zoom for planetary sightseeing. You can also explore and magnify the planets and discover wonderful 3D models in multiple articles. Version 5 of this app offers two additional comets, enhanced performance, and fixed compass problems on the latest iPhones.
From the rings of Saturn to the terrain of Mars, every elusive mystery in space can be studied through this app. Get ready for multipage article data and Do Not Disturb hours customized for satellite notifications. These best apps for iPhone improve launch time and performance, and the minimum requirements for Apple Watch are Watch OS2 and associated features.
App 6: iMovie- The Show Never Stops
iMovie is the perfect app for editing videos on your iPhone. Expect only the best from this app, whether it involves themes, credits, soundtrack creation, or more.
Enjoy videos and tell stories meant to be shared with this app. Create lovely movies and watch them across devices in iMovie theatre.
The Benefits
Make memorable videos
Browse and share videos with others
Quickly transmit clips or portions
Mark favorite moments in videos for later viewing
Save video clips in photo libraries
View videos on full-screen browsers
Add extensions to enhance the quality of video clips
Add video filter, animated title, and soundtrack
Features
The Trailer….
This app lets you make professional trailers with creative graphics and original scores created by top music composers.
You can customize movie studio logos and cast names as well as credits. Choose the best videos and photos you need through animated drop zones
Video can be recorded directly for the trailer in iMovie
The Movies
You can choose from as many as eight unique movie-making themes
10 Apple-designed video filters are there to give your movies a professional feel
Don't cut back on special effects with slow-mo, fast forwards, picture in picture and split-screen effect
You can compose your soundtrack and even connect keyboards to use shortcuts for movie editing thanks to this app iPhone
What Makes iMovie Unique?
Shift projects between iPod, iPad, and iPhone with ease
Send projects via airdrop or iCloud
Share finished movies and completed trailers across multiple devices with iCloud iMovie on iPhone 6, 6s Plus, iPad Air 2, and Pro.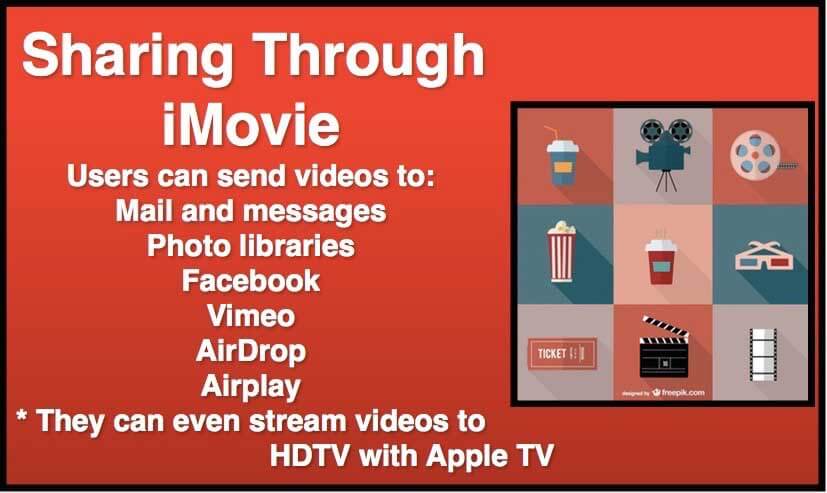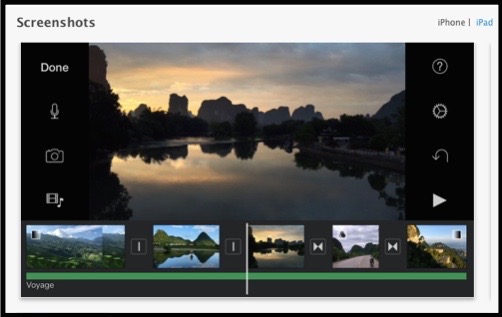 Appending Times are Here: Best iPhone Apps of all time
A brief round-up of the best iPhone apps of all time covered here can be obtained from the official Apple website. But several other apps are around the corner, and many have been released recently. These apps have the right mix of technology and feature to ensure easy functioning. What makes these iPhone apps special are their unique features and advanced mode of functioning. Whether you consider iMovie for video editing or Hooray for social networking in the field of food, these apps form the cutting edge of technology which can change life for the better.
Expect seamless integration across multiple iOS devices, which will leave you amazed. Therefore, these top iPhone apps have been designed to ensure you can work on the go and function at your optimal best. Choose one of these great apps and watch life become easier in seconds. After all, apps are shortcuts that make life less complex and more enjoyable. Opt for these apps and see how technology can improve your life.
Recommended Article
So here are some related articles that will help you get more detail about the best iPhone Apps. So just go through the link which is given below.