Updated April 26, 2023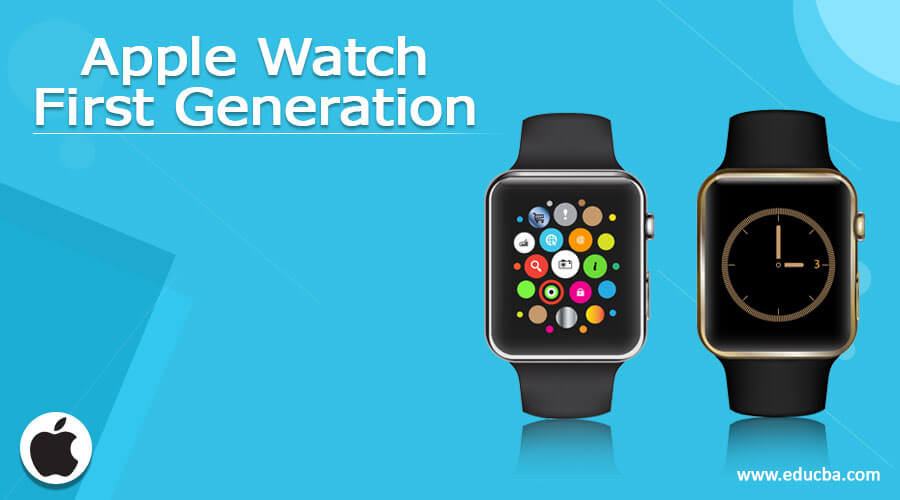 Apple Watch first generation Features Tips and Trick –
Apple Watch's first generation is a wearable gadget developed by Apple Inc. It is more than a normal watch can offer, hence the coin as the smartwatch. This watch has integrated health-related functionality, such as distance walking or running, amount of calories consumed, caffeine intake, blood pressure, heartbeat, and in some cases, quality of sleep.
It was first introduced on September 9, 2014, along with iPhone 6 at a press conference. Apple released a watch officially on April 24, 2015.
It is integrated with iOS; hence, you can connect well with your Apple product and services such as Mac, iPhone, iTunes account, etc. Apple Watch's first generation is the only product developed by Apple that comes under wearable technology. This smartwatch device is available in three different categories (shown in screenshots A, B, and C):
Watch Sport
Apple Watch
Apple Watch Edition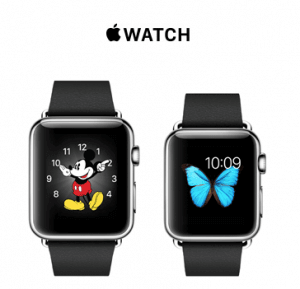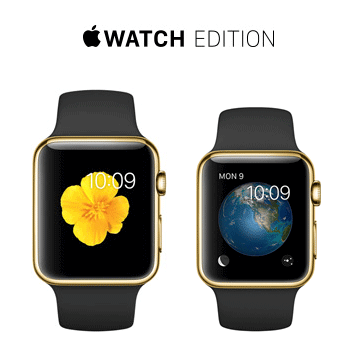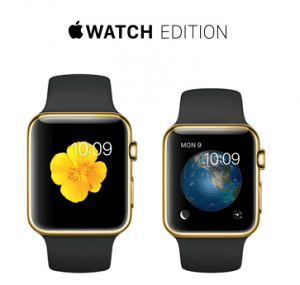 All three watches are distinguished by their bodies. The sports edition is made up of aluminum. The watch comprises stainless steel, and the Watch edition has 18-karat gold. Each has two versions i.e. 38 mm and Apple watch case 42mm. The Apple watch's first generation 42mm model has a bigger screen and Apple watch battery as compared to the 32 mm model.
Configuration :
Let us check the configuration for the Apple Watch's first generation.
The Apple Watch first generation can cost you somewhere between US $ 350 to US $10,000 depending upon the Apple watch model and version you are purchasing.
The back part is made up of Composite for Sports model and Ceramics for Watch / Watch edition model.
Two versions are available, 38 mm and 42 mm
Dimension for 38 mm is 6 * 33.3 * 10.5 mm (in l*w*h format) whereas for 42 mm is 42 * 35.9 * 10.5 mm
The screen for the Sports model is made up of Strengthened Ion-X glass, and Watch, Watch edition model is made up of Sapphire crystal.
Battery for 38 mm is 205 mAh, and 42 mm is 246 mAh. Once charged, it can last up to 18 hours.
OS used is Apply Watch OS 2.0, has been announced at WWDC 2015 keynote.
Storage is 8 GB distributed as 2 GB for music and 75 MB for photos
Let's check the feature that Apple Watch first generation offers:
Siri
Time Travel
Apple Pay
Read Mail
Nightstand
FaceTime calls
Health and Fitness tracking
Transit
1. Siri
You can get help from an Apple device using Siri. Siri is an intelligent personal assistant built for the iOS platform by Apple Inc. This is available on iPhones from iPhone 4S onwards. If you are familiar with Siri on iPhone, then using this feature on the first Apple Watch will be easy.
Below are steps to use Siri on Apple Watch first generation :
– Raise your wrist and bring it close to your mouth.
– Long-press the Digital Crown (present on the right side of the watch) on the Apple Watch first generation to activate Siri.
– Ask Siri any question you wish to. For example, Hey Siri, remind me to attend the meeting after lunch hours.
There might be a situation when Siri won't work on your Apple Watch first generation. This may be due to any one of the reasons:
– You have navigated to the watch face by pressing Digital Crown from another view.
– The microphone of the Apple Watch first generation might be blocked. This is present on the sides of the casing. If you have woolen clothes covering the sides of the watch, it may not activate Siri.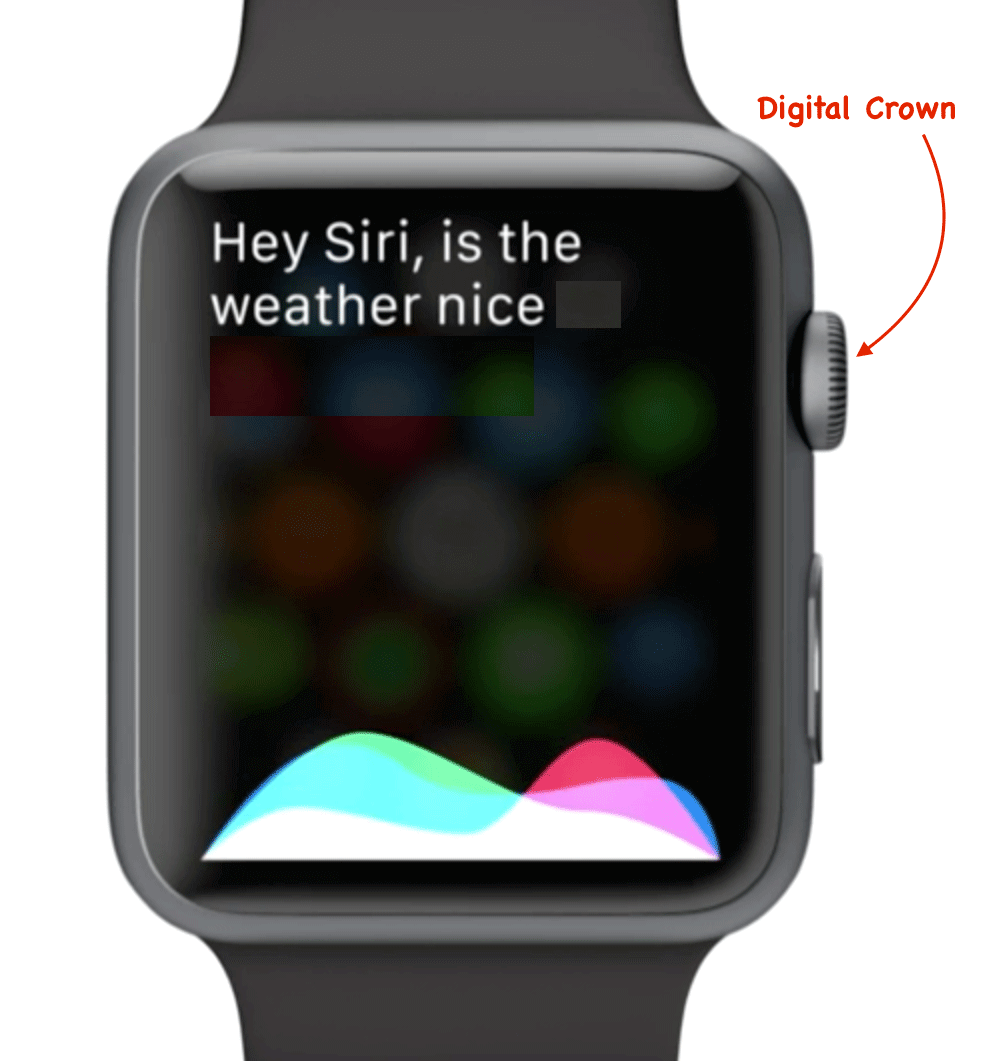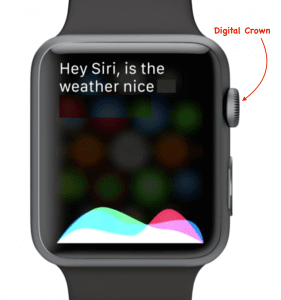 2. Time Travel
Sometimes smartwatch becomes difficult to operate because of their small size. Apple has taken care of this problem by providing a cool feature called Digital Crown.
It is a knob present on the watch's right edge (shown in screenshot 1) that acts like a home button similar to an iPhone device. When you press on Digital Crown, you return to the main screen. You can zoom into any apps or scroll through options in the interface by turning on Digital Crown.
Apple announced Time Travel – a new feature in watchOS2, at WWDC 2015 keynote. Time Travel allows you to see the list of future stuff, such as whether today evening, meeting scheduled post lunch, etc.
You can travel in the future by rotating Digital Crown in the clockwise direction, whereas rotating it in the anti-clockwise direction will take you to the past. While performing this Time Travel, you can return to the current time by pressing Digital Crown. It also lets you see what has happened, such as yesterday's weather, meetings attended, etc.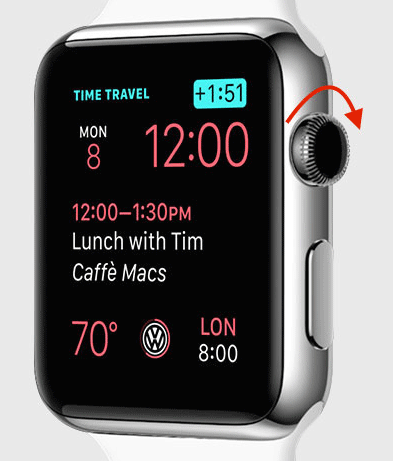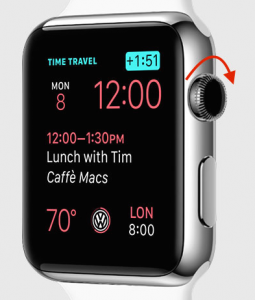 3. Apple Pay
Apple Inc has introduced a mobile payment and digital wallet service called Apple Pay. It allows users to make payments using compatible devices. Below is the list of devices that conforms to Apple Pay specifications :
iPhone 6, iPhone 6 Plus
iPhone 5, iPhone 5s, and iPhone 5c
iPad Air 2, iPad mini 3
Apple Watch first generation
Apple Pay uses the service to communicate wirelessly with the point of Apple Watch's first-generation sales systems: Near Field Communication (NFC) antenna, Apple's Touch ID, and Passbook.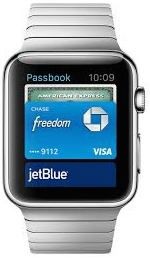 To make payment at the store using iPhone, just hold your device near the contactless reader with your finger on Touch ID (applicable for iPhone 6 and iPhone 6 plus). Using this, you don't even have to look at the screen to know your details of payment. When payment is successful, a subtle vibration and beep occur.
You can make payment using Apple Watch first generation, simply double-click the side button (referred to as Digital Crown) and hold the display of the Apple Watch first generation near to contactless reader (shown in screenshot 4). You can confirm payment information with a gentle tap and beep.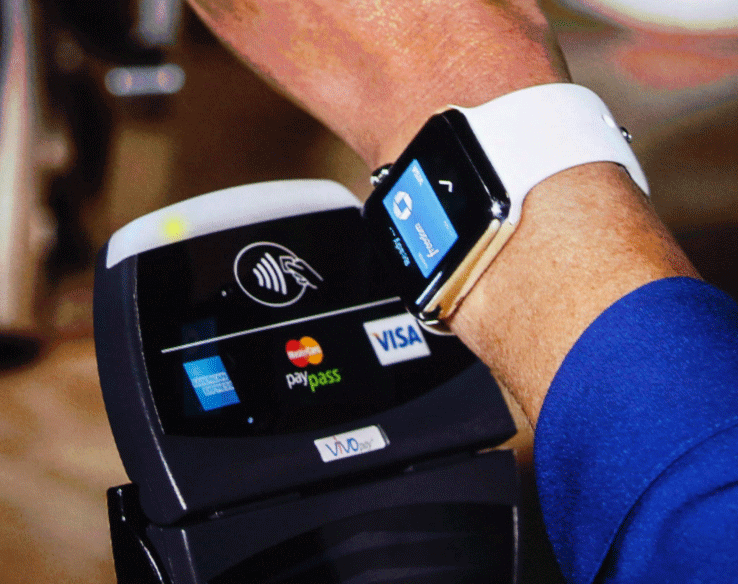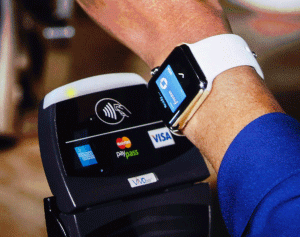 4. Read the Mail
WatchOS allows you to read mail on your Apple Watch right away. Handling emails on Apple Watch seems to be quite unfeasible due to screen size. However, there may be a scenario in which you need to read email at the earliest; hence, this feature of the Apple Watch comes to your rescue.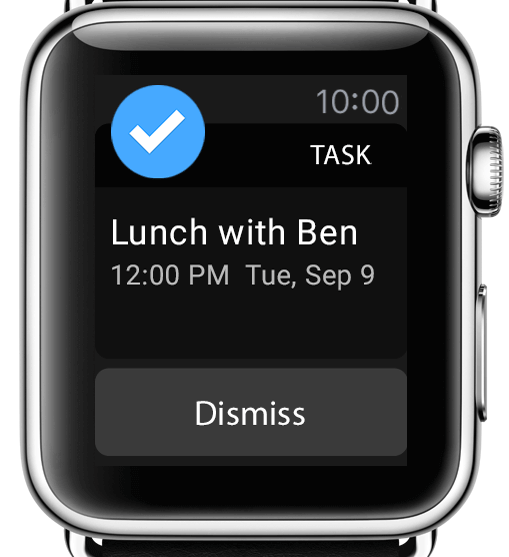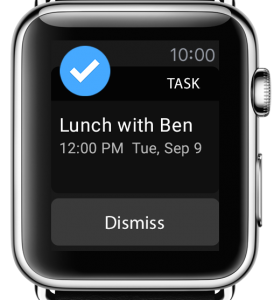 You can read emails right from Apple Watch functions. It supports Data detectors that allow you to tap on the phone number or addresses to launch the automatic app from an email.
Below are the steps to read the email from your Apple Watch Tips :
Press Digital Crown and navigate to the home screen
Locate the Mail app icon
Open mail with a single tap on it
Scroll your inbox using Digital Crown viz, clockwise for scroll-down and anti-clock for scroll-up. You can also use your fingers, viz, drag your finger up for scroll-up and finger down for scroll-down on the watch screen.
The single tap on the email you want to read
Operations such as marking an email as unread, flagging it, or trashing it can be performed from the email body itself.
If you want to reply to mail immediately, you have to switch to iPhone or Mac device. This is because emails on Apple Watch are in read-only mode. Some emails won't be displayed on the Apple Watch device.
IOS 8 provides a Handoff feature. This feature allows you to open the same mail on another device, such as iPhone or Mac, so you can immediately reply to emails. In such a scenario, you must switch to iPhone or Mac device.
In the case of the iPhone device, you can see the Handoff mail app icon in the lower-left corner of the screen (shown in screenshot 6). On the other hand, in OS X Yosemite, you can see the Handoff mail app icon at the front of the Apple watch dock (shown in screenshot 7).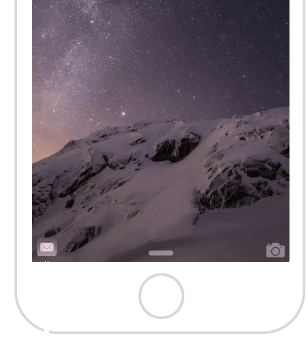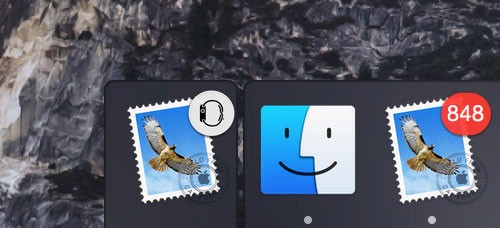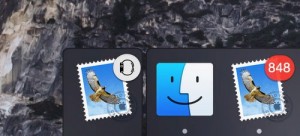 5. Nightstand
WatchOS 2, announced in WWDC 2015 keynote, has introduced apple watch new feature called Nightstand mode for Apple Watch. This allows you to use Apple Watch as a timepiece while Apple watches charge during bedtime. This can replace your bedside alarm clock literally. While in nightstand mode apple watch switches to landscape mode, giving a better view of time.
This model has zero reconfigurability i.e.. It's either on or off. When it is on, you can see a digital clock in the center with the date and time details below, a battery indicator depicting the percentage charged in the upper right corner, an alarm icon in the upper left corner if you have set the alarm (shown in screenshot 8).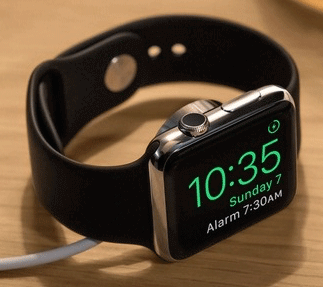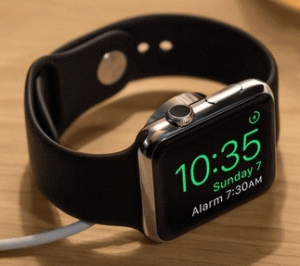 Note:
Become an iPhone App Developer
Become an iOS developer that turns ideas into tangible apps. Developing and enhancing a world-class iOS mobile application. Get hands-on experience in using the best technologies for app creation.
6. FaceTime Call
FaceTime allows you to make video calls from the device. Apple announced the FaceTime feature for Apple Watch in its WWDC 2015 keynote.
This new FaceTime camera will be built into the Apple Watch's top bezel, allowing users to make and receive FaceTime calls on the move via their wrists. The coming WatchOS2 will have a new FaceTime Audio feature for Wi-Fi-based calling.
It also allows Apple Watch users to reject or answer FaceTime video calls directly through any paired iPhone or iPad device (shown in screenshot 9).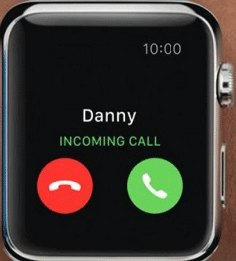 7. Health and Fitness Tracking
Apple Watch functions include new health and fitness features that can help in keeping track of your health. This feature is really great with all the health-related statistics on your wrist. It can count the number of steps, your caffeine intake, count your calories, your blood pulse, and even monitor your heart rate.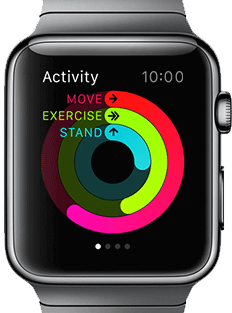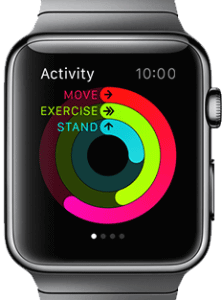 You can set a calorie goal with Activity for Apple Watch (shown in screenshot 11). This goal contains only active calories and not resting ones. The Apple Watch functions will distinguish between calories you burn by simply being alive and those you burn using brisk walking or workout at the gym.
The activity app in the Apple Watch functions and allows you to see health statistics anytime. It keeps track of three areas: move, stand, and exercise (shown in screenshot 10). A colored ring in the activity app represents each of them. The ring indicates the number of Apple watches at the target you have achieved. If the ring is completely closed, it indicates you have achieved your goal.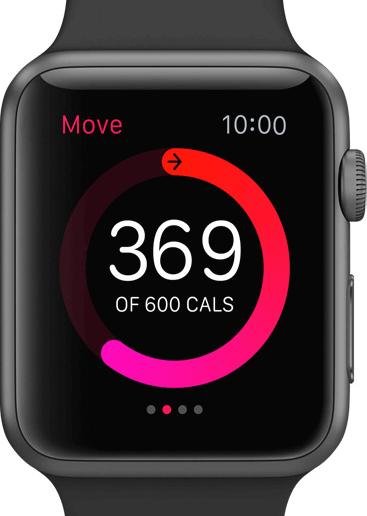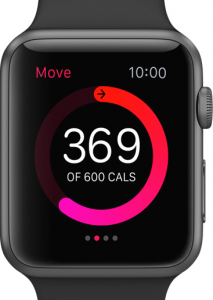 You can even see the total step count of the day right inside the Activity app.
Apple Watch functions have an inbuilt heart rate sensor that makes calorie counts during workouts (shown in screenshot 12). By default, the Apple Watch functions will check your heart rate every ten minutes. However, you can change this setting in the Activity app. You can manually check your heart rate anytime from this Activity app.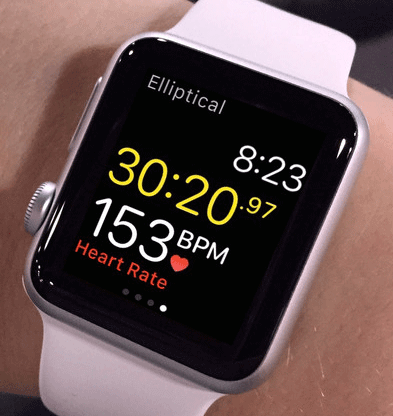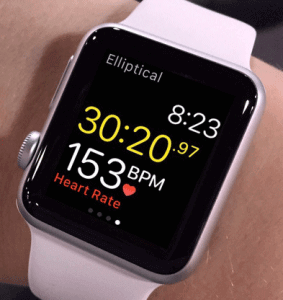 8. Transit
Transit allows you to navigate your city smoothly by providing directions. Tap on the Transit app to open it up. It'll give you the button to get directions to your home or office and another button that provides locations where you've traveled recently.
The rest of the screen scrolls through the nearest public transit stops, only displaying the transit options (such as subway, bus, trains, etc.).
Once you get desired directions from Transit, the entire journey is displayed on one screen in a simple, condensed manner. If you want to know more about a specific location, just tap on that specific step to pull up a map.
The plus point of Transit is that it displays the entire list of steps on one scrolling screen.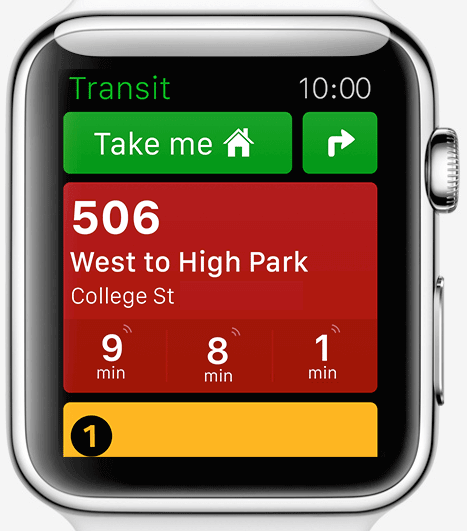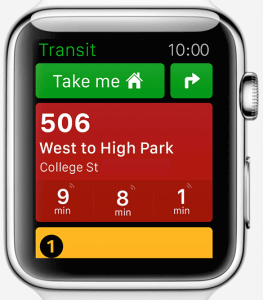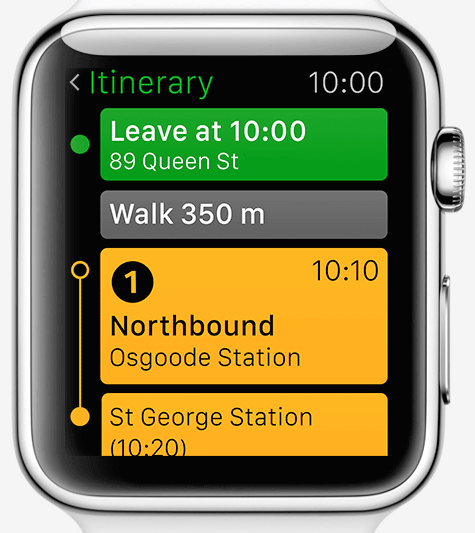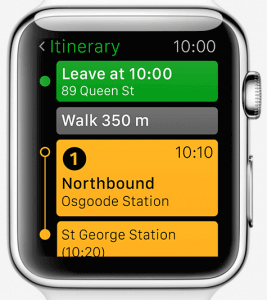 First Image Source: pixabay.com
Recommended Article
So here are some related Articles that will help you to get more detail about the Apple Watch first generation.