Learn from Home Offer TAKE THIS BUNDLE
MS OFFICE Course Bundle - 13 Courses in 1 | 5 Mock Tests
This MS Office Course Online includes 13 courses with 61+ hours of video tutorials and Lifetime access and several mock tests for practice. You will also get verifiable certificates (unique certification number and your unique URL) when you complete each of the courses. It is an all-inclusive training on notable Office products such as Excel, Word, PowerPoint, Access, Outlook, OneNote, Project, Sway and Visio.
TAKE THIS BUNDLE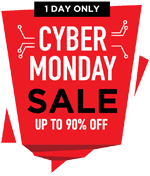 * One Time Payment & Get Lifetime Access
What you get in this MS OFFICE Course Bundle - 13 Courses in 1 | 5 Mock Tests?
61+ Hours
13 Courses
Mock Tests
Course Completion Certificates
Lifetime Access
Self-paced Courses
Technical Support
Mobile App Access
Case Studies
About MS OFFICE Course Bundle
---
| | |
| --- | --- |
| | |
| Courses | You get access to all the 13 courses, Projects. You do not need to purchase each course separately. |
| Hours | 61+ Video Hours |
| Core Coverage | You will learn Microsoft products such as Excel, Word, PowerPoint, Access, Outlook, OneNote, Project, Sway and Visio |
| Course Validity | Lifetime Access |
| Eligibility | Anyone serious about mastering Microsoft Office Suite |
| Pre-Requisites | None |
| What do you get? | Certificate of Completion for each of the 13 courses, Projects |
| Certification Type | Course Completion Certificates |
| Verifiable Certificates? | Yes, you get verifiable certificates for each course with a unique link. These link can be included in your resume/Linkedin profile to showcase your enhanced skills |
| Type of Training | Video Course – Self Paced Learning |
MS OFFICE Course Bundle Curriculum
---
Without further ado, let's get into the curriculum of the course. And you would see how comprehensive the course is:

MODULE 1: Office Productivity Tools

| Courses | No. of Hours | Certificates | Details |
| --- | --- | --- | --- |
| Advanced Excel Practicals: Essentials for the Real World | 3h 25m | ✔ | |
| Microsoft Word - Beginners to Beyond | 5h 2m | ✔ | |
| Project on Microsoft Word | 1h 56m | ✔ | |
| Microsoft Excel - Master Basic Excel Skills in 6 Hours | 6h 48m | ✔ | |
| Learn Microsoft Excel from A-Z: Advanced Level | 9h 21m | ✔ | |
| Microsoft Excel 2016 | 9h 34m | ✔ | |
| Microsoft PowerPoint 2016 | 5h 19m | ✔ | |

MODULE 2: Advanced Microsoft Office Applications

| Courses | No. of Hours | Certificates | Details |
| --- | --- | --- | --- |
| Microsoft Access 2016 Training Courses For Beginner and Advanced | 6h 42m | ✔ | |
| Microsoft Outlook 2016 | 4h 12m | ✔ | |
| Microsoft OneNote 2016 Training | 3h 38m | ✔ | |
| Microsoft Project - Managing Project with MS Project | 1h 58m | ✔ | |
| Microsoft Sway 2016 Training | 2h 32m | ✔ | |
| Microsoft Visio 2016 - The Masterclass | 5h 22m | ✔ | |

MODULE 3: Mock Exams & Quizzes

Courses
No. of Hours
Certificates
Details
Test - Excel 2023 Test Series
Test - Excel Assessment Test
Test - 2023 Complete Excel Exam
Test - Excel Mini Quiz
Test - Ultimate Excel Test 2023
Goals
The purpose of this course is to take learners through various applications that form part of MS Office. The course is appropriate for all those students as well as professionals who wish to master the skills of certain applications of MS Office.
Objectives
The course is based on useful applications of Microsoft Office such as MS Word, MS Excel, MS PowerPoint, MS Access, MS Outlook, MS OneNote, MS Sway and MS Visio. The learners will get a working knowledge of all these applications.
Course Highlights
Let us have a glimpse of all the concepts that are going to be unfolded in the various stages of this course.
We will learn from scratch to an advanced level about MS Word 2016. Concepts such as text, text formatting, saving the document, page layout and designs tab, document proofing, printing options, paragraph formatting, styles and themes, tables, mail merge, document protection, etc. shall be covered.
A detailed tutorial will be conducted to provide an understanding of Excel 2016. Learners will learn about data entry, calculations, formulas, formatting, updating calculations, conditional formatting, graphs, charts, sorting and filter, form controls, names and dynamic range and so on.
Basic training will be carried out to gain conceptual clarity on MS PowerPoint 2016. Topics such as presentations, slides, inserting pictures, inserting content, inserting shapes and diagrams, animations, presentation techniques and much more will be discussed.
As a next step, learners will get to know various features and concepts relating to MS Access 2016. We will discuss quick access toolbar, backstage view, creating a database, designing a table, creating queries, creating and modifying forms, creating reports and so on.
We will then shift our energies to basic and advanced concepts of MS Outlook 2016 and learn about email reading, its creation, sending, forwarding, replying, calendar use, scheduling meeting and related concepts.
Learners will then get an overview of MS OneNote 2016 in the next segment. In doing so, they will develop insight about adding content, content formatting, organizing information, working with templates, formatting changes, using OneNote writing tools and so on.
The introduction will be provided concerning various options available in MS Sway 2016.
A masterclass will be conducted on MS Visio 2016. Concepts such as smart shapes and basic charts, pages and colors, visual aids and task panes, organization charts, brainstorming diagrams, timelines, calendars, etc. will be covered.
Project Highlights
Two projects are included in the course curriculum.
The first project will deal with MS Word. It will cover basic concepts that are useful in MS word as well as advanced concepts such as mail merge.
In the subsequent project, learners will brush up their skills related to Microsoft, and will also get introduced to advanced Microsoft 2016.
---
Certificate of Completion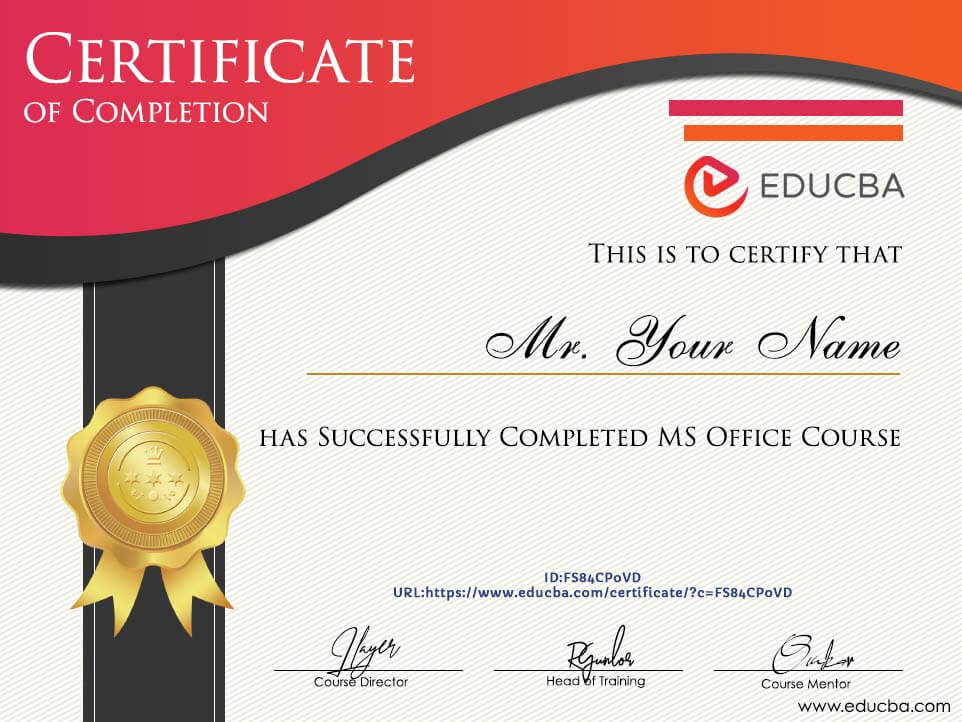 ---
What is MS Office and Why it is Useful?
Around 1.2 billion people use MS Office in the world. Does that depict something about MS Office? Of course, it does. It means in every 7 people, 1 individual uses MS Office.
And if you're reading this, most probably you're that individual out of those seven people on earth. But you don't know how to use MS Office other than just the basics of MS Word or MS Excel.
From that need to equip you with the complete MS Office functionalities, we built this course. This Online MS Office course is so comprehensive that we bet once you do this course, you don't need to do any other course on MS Office.
Sounding too good to be true? Well, let's talk about the tangible skills you will learn in this course and you would see how beautifully we have woven this course. This MS Office course is easy to digest. You can do this course from anywhere at your own pace. And you can practice what you learn from the course immediately. What else one can expect from a singular course?

Let's dive into tangible skills you will learn in this course.
What tangible skills will I learn from this MS Office course?
You will learn a lot in this course. We're highlighting the significant ones –
MS Access: Not every MS Office course includes this. And even if they do, they don't go in-depth. Along with learning MS Word and MS Excel, you will learn MS Access in detail.
MS Sway: MS Sway is also not taught in every course of MS Office. So we took it upon ourselves to teach this to you as well.
MS Visio: You will not only learn MS Visio, but you will also learn the nitty-gritty of MS Visio at an advanced level.
Other than these three, we will cover everything that you need to know like Microsoft Project, Microsoft One-Note, Microsoft Outlook, and many more.
Just take it upon yourself to complete this course and practice. If you work on this course, you would be able to extract the maximum value out of it.
Pre-requisites
Willingness to learn MS Office: Not everyone would be keen to learn a comprehensive course on MS Office. But if you use any part of MS Office, this course is a must. But you must be willing and committed to doing this course. This course will not work until you're interested.
A basic sense/understanding of MS Office: You can be a total newbie, but if you have basic knowledge, it will help you extract the best out of this course.
Target Audience
Students: Any student from any domain can do this course. We would go ahead and say that this course would change the trajectory of a student's career if s/he learns to apply the material well.
Professionals: If you're a professional, you need this course. Learning MS Office completely will give you an edge over your peers.
Anyone: No matter what is your profession or what you want to be, this course would add value because in any job/entrepreneurship you need to use MS Office
MS Office Course FAQ's- General Questions
---
Why should I do this MS Office course?
Because this is the most comprehensive Online MS Office course you would ever find in the market. And also this course can be done from anywhere and you can do it anytime you choose.
How to use this Online MS Office course for maximum output?
After doing each module, practice the lessons. Try out yourself on MS Office and see whether you're able to understand. If yes, great, go to the next module. If no, revisit the module and go through it again and repeat it.
I'm from the Psychology domain. Can I do this MS Office course?
Yes, why not. If you need to use MS Office quite frequently, you should do this course. And once you begin to use MS Office well, you will that your career and your productivity will skyrocket.
Sample Preview
---
Career Benefits
You will know way more about MS Office than 80% of the population: MS Office is a boon. But most of the people never take the time to learn MS Office fully. After doing this course, you would know 80% of the population. Think of what that would do for your career.
You will perform much better in your career: Knowing MS Office will help you become more productive. As a result, you will perform much better in your career. And you would see that you're producing more meaningful results instead of getting seduced by the trivialities.
You will reach the higher rung quite easily: Once you do this course, it would be easier for you to reach way higher than your peers. You would be able to manage projects well and you would learn to do the most valuable tasks by using MS OneNote, MS Access, etc. As a result, getting a promotion would be quite easier.
MS Office Course Testimonials
---
Nice Online MS Office Course!
A nice and neat course explaining the whole Microsoft project in more detailed and clear follow with many of examples and explanation, give us a clear view on how, what, where to proceed and progress our work task in Microsoft project with more advanced techniques and impressive method to impress the third party.
Linked
Louis Hong
Microsoft Excel Training Course
This Excel training course was one of the best, if not the best, that I have ever watched. The videos and tutorials walk you through everything you need to know from the get-go of opening the Excel program. I have seen a few other video tutorials of Excel where they just take off and leave the learner behind, but these were very informative and very well done!
Linked
Jacob H. Brooks
Microsoft Access 2016 – Beginners
Great course for the basics. I thought I knew all of this but learned a few tricks. It was nice to throw in the mail merge at the end. I know some people will think that it is a bit advanced. It isn't, very easy to accomplish. I will be moving on to the more advanced. I think I know most of it but I want to see some more tricks.
Steven Pilgreen
Efficient breakdown of Both basic and advanced techniques for Office 2016
The Online MS Office course covers a wide range of topics across Word, Excel, PowerPoint, Outlook, Access and One Note. There are both basic and advanced topics for most of these programs. The teachers are well-spoken and know their stuff. I would use EDU CBA again in the future for more Microsoft based learning!
Linked
Clinton Van Kampen
Intro to Visio
I am brand new to Microsoft Visio and I learned a lot. I wasn't sure what to expect, but many subjects were being discussed, such as creating charts, diagrams, calendars, etc. The biggest surprise for me when learning the basics of using this program was how easy it looked. I am glad that the instructor was easy to follow.
Linked
Grant Eric