Updated May 6, 2023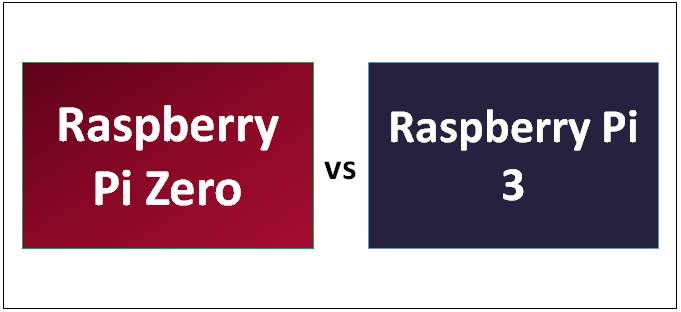 Difference Between Raspberry Pi Zero vs 3
Raspberry Pi is a small single-board series of a computer which is based out of the United Kingdom. The Raspberry Pi Foundation created it to promote primary computer science teaching in schools and developing countries. It is an ARM credit card-sized Single Board Computer (SBC) that runs on Debian based Linux Operating system.
The name is raspberry pi Zero, a $5 computer and thereby a modern small computer among its competitors. This incredibly cheap computer is smaller than a credit card with the dimensions of 65mm X 30mm X 5mm with a thickness and weighing just 9 gms. This product doesn't lack any features which its competitors have. Its single-core CPU is clocked at 1GHz, increasing the speed by 40 percent higher than the original. If you factorize based on the 512 MB, the speed can be three times higher than the original Raspberry Pi.
The new version of Raspberry Pi is Pi 3. It has onboard support for Bluetooth and wifi and a 64-bit processor. Engineers, students, and makers will find it exciting. It has enhanced USB boot capabilities, a 1.4 GHz quad-core processor, and a three times faster gigabit Ethernet internet network. Let us now understand the differences between Raspberry Pi Zero vs 3 in detail.
Head-to-Head Comparison Between Raspberry Pi Zero and 3 (Infographics)
Below is the top 34 difference between Raspberry Pi Zero vs 3:

Key differences between Raspberry Pi Zero and 3
Let us discuss some of the significant Difference Between Raspberry Pi Zero and Raspberry Pi 3:
Raspberry Pi Zero has the size of half of the Raspberry A+ model with a low-cost mini-computer. It is also less powerful, whereas Raspberry Pi 3 is the third generation computer system of the Raspberry series, which has replaced its predecessor Raspberry Pi 2 Model B.
The features of Pi Zero include 1 GHz of CPU, micro USB power, 512 MB of RAM, micro USB OTG cable, mini HDMI port, composite video and reset headers, CSI camera connectors, and a HAT-compatible pin header. In contrast, Raspberry 3 has the features such as 1 GB of RAM, a total HDMI port, a micro HD card slot, an Ethernet port, four USB ports, 40 pins, and a combination of a composite video and a 3.5 mm audio jack, display and camera interface with VideoCore IV 3D graphics core.
If you need an analog video output, both Raspberry Pi Zero vs 3 has different systems to cater to the needs in their own way. With Raspberry Pi Zero, you will find an unpopulated pin, whereas, in the case of Raspberry Pi 3, the shared audio pin is used.
LCD panels are not supported in Raspberry Pi Zero but are kept in Raspberry Pi 3. This means a touchscreen can be added easily to the Pi 3 model as it already supports and has a dedicated connection.
Raspberry Pi Zero and Raspberry Pi 3 Comparison Table
The primary comparison between them is discussed below:
Basis of Comparison between Raspberry Pi Zero vs 3

Raspberry Pi Zero

Raspberry 3

Definition
A small cheap computer that consists of a micro SD card slot, a mini-HDMI socket, and a video header
The newer version of Raspberry Pi supports Bluetooth, wifi, and a 64-bit processor.
Price
$5
$35
Release Date
30 Nov 2015
29 Feb 2016
Core Type
ARM1176JZF-S
Cortex-A53 64 bit
GPU
VideoCore IV
VideoCore IV 1080p@30
CPU Clock
1 GHz
1.2 GHz
RAM
512 MB
1 GB DDR2
No. of cores
1
4
Soc Type
Broadcom BCM2835
Broadcom BCM2837
USB ports
Micro + micro OTG
4x USB 2.0
Provision for Ethernet
No
Yes
HDMI port
Mini port
Yes
Analog Audio Out
HDMI audio
Yes
Analog Video Out
Via unpopulated pin
Shared with audio pin
I2C
Yes
Yes
SPI
Yes
Yes
GPIO
40-pin header with pinout identical to Model A+, B+, 2B
40 pins (IIC, UART, SPI, IIS (audio))
Camera
Yes
Yes
LCD Panel
Yes
No
SD/MMC
Micro SD
Micro SD
Bluetooth
No
4.1 LE
Wifi
No
802.11n
Power Ratings
160 mA
1.34A @ 5V
Power Consumption
160 mA (USB)
350 mA (USB)
Power Sources
microUSB or GPIO
microUSB or GPIO
Width
2.55 in (65 mm)
2.22 in (56.5 mm)
Height
1.18 in (85.6 mm)
3.37 in (85.6 mm)
Depth
0.19685 in (5 mm)
0.66929 in (17 mm)
Weight
0.31746 oz (9 gm)
1.58 oz (45 gm)
LCD Panel
Not Supported
Supported
OS Supported
Linux
Linux, Windows 10 IoT Core, Android Things
Camera Interface
Yes
Yes
Advantages

Largest and most active community
Extremely portable
Extremely Cheap
Easily chargeable
Capable of running full HD display at 60FPS
Official OS is easy to install
If OS is adequately compiled, then it is fast

The active and largest community
Built-in wifi
Affordable
Default OS is great for learning to create software
Great legacy gaming support
Easy setup
Fully functional multimedia center
Good GPIO functionality
A wide range of OS
It can be used as an everyday PC
Native Bluetooth Capability
Can perform daily operations
Good documentation
A wide range of apps available
Upgrading storage facility

Disadvantages

Difficult to find a seller selling for $5
No Ethernet port
It needs Micro-B USB to USB-A converter
Only two micro USB ports
No built-in storage
No built-in wifi facility

Combined USB and NIC controller
GPU and closed-source bootloader
Slow wifi
No built-in storage
Limited onboard NIC facilities
GPIO voltage too low for some projects
No Analog to digital converter
No onboard microphone
There is no Analog to digital converter.
You cannot easily boot from a USB
Power-hungry
Lacks mainlined Linux
ARM processor
Conclusion
There are many Raspberry products, and choosing the right product per your need can sometimes be challenging. But this should be done based on your project's requirements and the capital you can invest. Raspberry Pi Zero can be recommended for users thinking of embedding in their mini-computer related to low power. Stay tuned to our blogs for more articles like this.
Recommended Articles
This has been a guide to the top differences between Raspberry Pi Zero vs 3. Here we have discussed head-to-head comparison, key differences, infographics, and comparison tables. You may also have a look at the following  Raspberry Pi Zero vs 3 articles to learn more –